Online music editor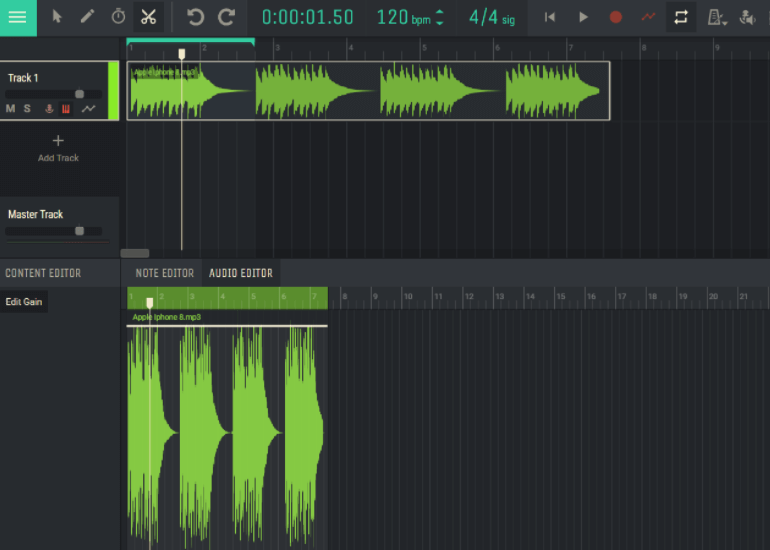 Our online music editor consists of tools for manipulating and editing audio files, such as the ability to trim, cut and splice audio clips, adjust volume and equalization, add effects such as reverb and echo, and more. Some online music editors also include features for creating and arranging music, such as virtual instruments and a sequencer.
The advantages of using an online music editor include the ability to access your projects from any device with an internet connection, the ability to make a joint project with others in real-time, and the ability to use the software without having to install any software on your computer.
To use an online music editor, you'll typically need to create an account, upload your audio files, and then use the provided tools to edit and manipulate the audio. The specific steps will vary depending on the specific editor you're using, but most will have tutorials or user guides to help you get started.
Ampedstudio online DAW, or digital audio workstation, is software that is used for audio recording, editing, and production. An online DAW is a version of this software that is accessible through a web browser and can be used remotely.
To use an online DAW, you will typically need to create an account and log in. Once you are logged in, you will have access to the software's various tools and features, such as a digital audio editor, a mixer, and various effects. You can then use these tools to record, edit, and produce your own audio projects.
Moreover, in our online DAW you will find the possibility of arranging STEMS PROJECTS, we believe this will allow you to start creating music online as simply and quickly as possible. All you need to do is find a STEM project and open it in our online studio.
Here are the general steps to change a STEMS project:
Open your DAW or music production software and import the STEMS file.
Once the STEMS file is loaded into the DAW, you will be able to access and edit each of the individual tracks or stems.
Use the editing tools in the DAW to make changes to the individual tracks, such as adjusting the volume, adding effects, or cutting and splicing sections of the audio.
Once you have made your changes, you can export the new version of the STEMS file.
Note that the steps may vary depending on the specific DAW or music production software you are using, but the overall process should be similar.