Music editor online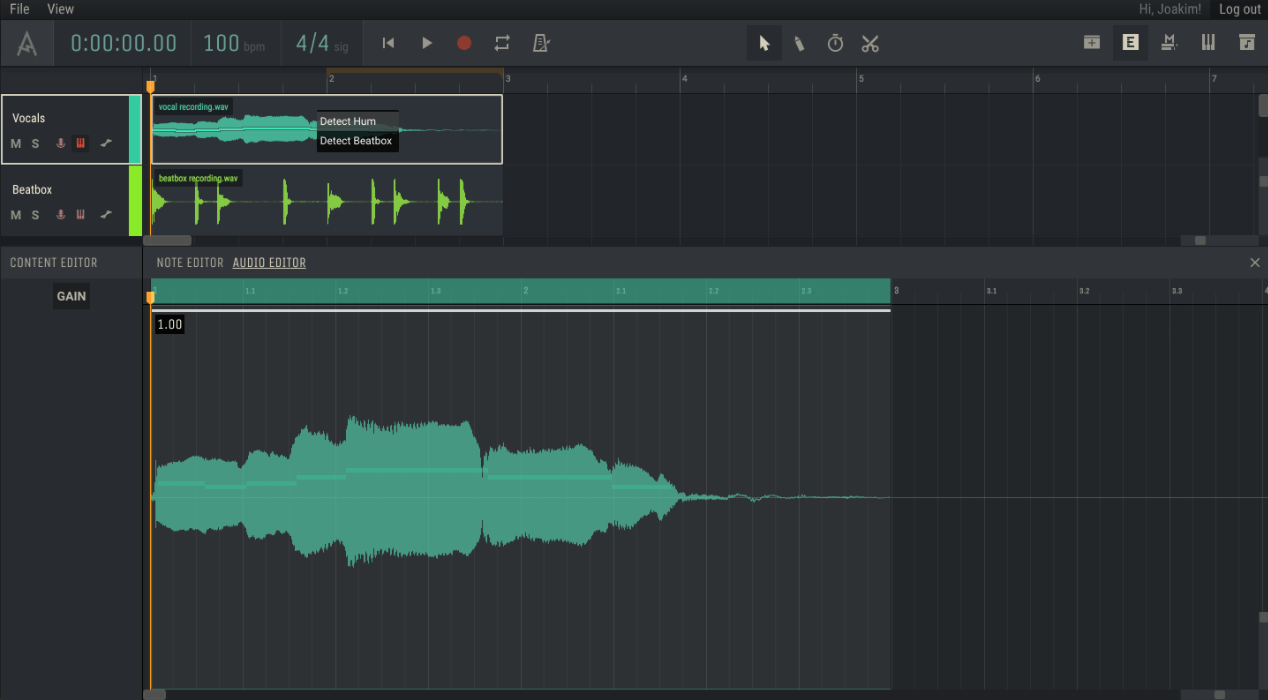 The music editor built into the Amped Studio online sequencer allows you to perform both simple and complex manipulations with audio files of any format. Here you can quickly cut ringtones for your phone, files for arrangements, samples, loops, etc. In addition to simple cutting, sound files can be superimposed on each other, as well as processed with all sorts of effects.
The application supports multi-track mode, which allows you to overlay different audio files on top of each other, creating full-fledged compositions.
At its core, Amped Studio is a complete online DAW. The application is designed for making music, mixing and mastering, sound engineering. At the same time, the program has a fairly simple interface, which even a beginner can easily understand.
Amped Studio is an online beat maker that runs in the browser. You do not need to download and install stationary software, which saves you time and resources of your computer. In addition, you can record new files, as well as a large number of other operations related to music editing.
The files are stored on the app server. It is enough to create a project and save it, after which it will be available to you anytime and anywhere.
It should be understood that with a free account, the functionality of music editing is significantly limited, but by purchasing a subscription you get almost limitless possibilities in terms of working with sound.
The main functions of the online music editor:
cutting a piece of audio;
combining several audio fragments into one;
set up automation of parameters and effects (smooth increase and decrease of volume, filtering, equalization, etc.).
Benefits of online music editors Amped Studio
Recording capability
Amped Studio allows you to record vocals, guitar and any other instruments. The program is a full-fledged online studio.
Export/Import various sound formats
All popular audio file formats are supported: MP3, WAV, OOG, etc.
Sound quality
Supported files with a sampling rate of 16, 24 and 32 bits. The conversion is performed using a built-in high quality conversion algorithm.
VST support
The application supports the ability to connect VST plugins, both instruments and effects, with which you can perform additional processing of audio files.
Simplicity and ease of use
The Amped Studio online music editor has a simple and intuitive interface that anyone, even a novice user, can easily figure out. There are a large number of hot keys for ease of management.
Audio analysis
The music editor provides a full range of tools for detailed analysis of sound parameters, in particular the frequency spectrum, individual ranges of which can be edited at your own discretion.
Security
All files uploaded to the online music editor are stored on the service's own servers. Only you have access to them, they are completely protected from any encroachment by third parties, so you can not worry about their confidentiality and safety.
How to edit an audio file in the online music editor Amped Studio
1. Just drag and drop the audio file into the music editor window: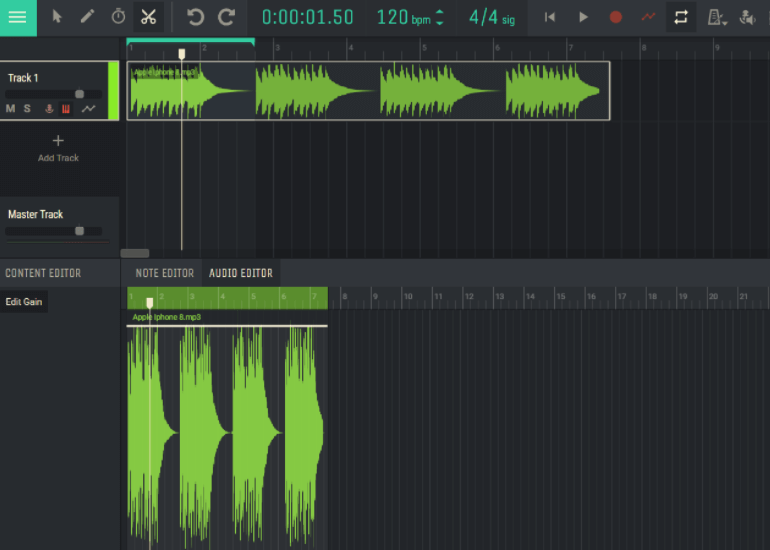 2. Select the scissors tool and click on the location of the audio file where you want to cut it: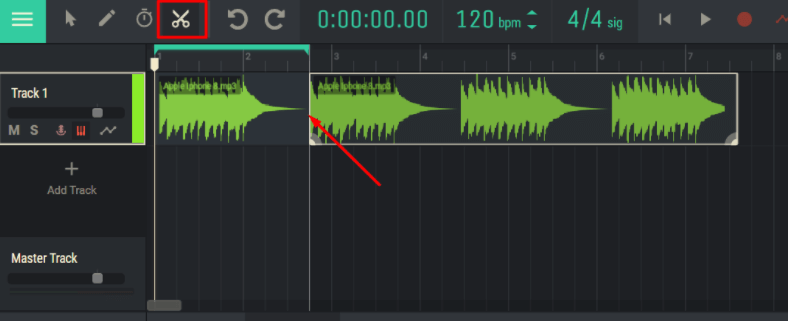 3. Remove unwanted part: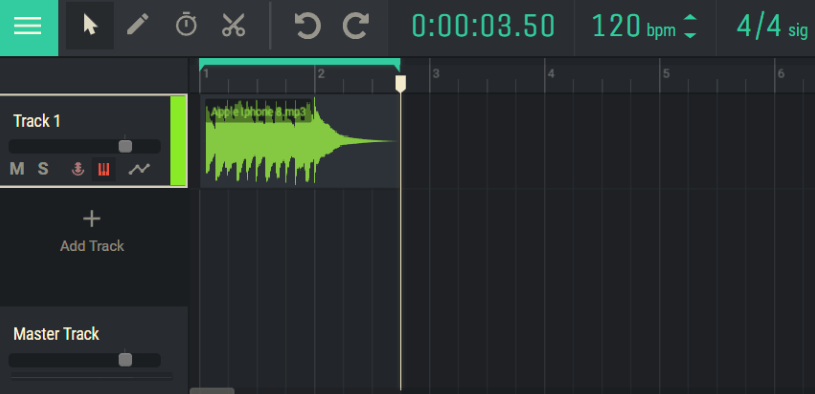 4. Select "Export Audio" from the menu and specify a location to save the file: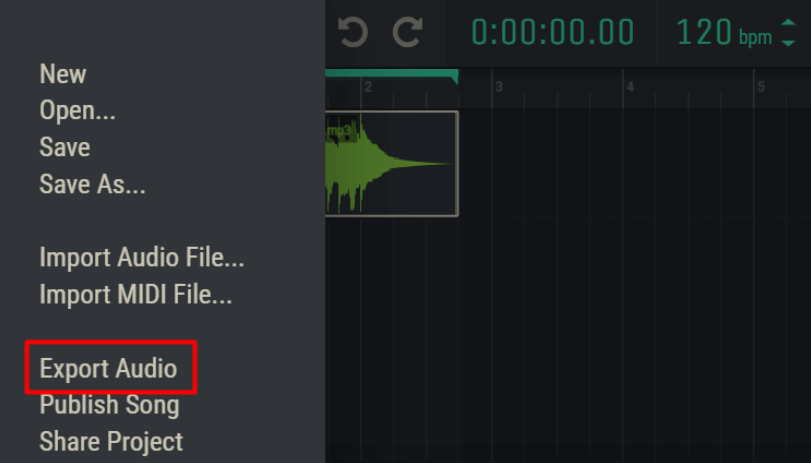 In addition to editing in Amped Studio, you can create your own sound effects, additional arrangements, and compose complete music. The simplicity of the interface makes it easy to do. By going to make yourself a simple ringtone or audio cut, you can playfully get involved in the process of full-fledged music production – believe me, it's very entertaining.
The online music editor Amped Studio works in any of the browsers created on the basis of the Chromium engine. There is also a PWA application that supports Chrome OS, i.e. Chromebook.