Apps to create music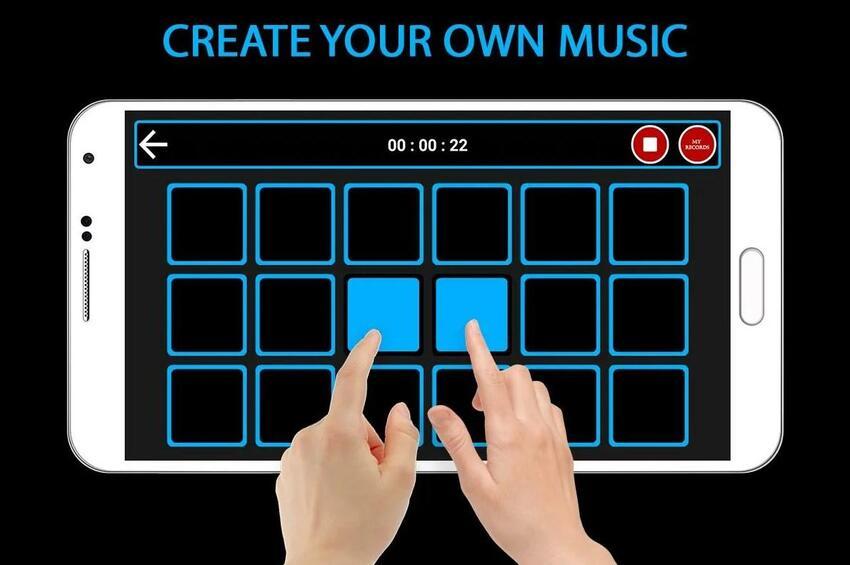 As technology advances, making music becomes easier and more fun. Not so long ago, in order to make your own music, we had to acquire a lot of instruments, a microphone and a recorder, but now we can do the same using smartphones and computers. In this post, we've rounded up the best music production apps to get you started right away.
How to choose an app for producing music
The first step is to decide on the type of your device and the operating system on which it runs. Most often it is iOS or Android. We have collected several applications from both categories, as well as programs that are compatible with them. In addition to this, an option for Chrome OS will be considered, which is gradually gaining popularity in the world.
You also need to select the type of music software. Today the market offers good applications for producing music for every taste, which differ in their functionality and purpose. This list includes both straight DAWs (full featured song creation apps) with more features, as well as simpler solutions like synthesizers, beat machines, and more.
Amped Studio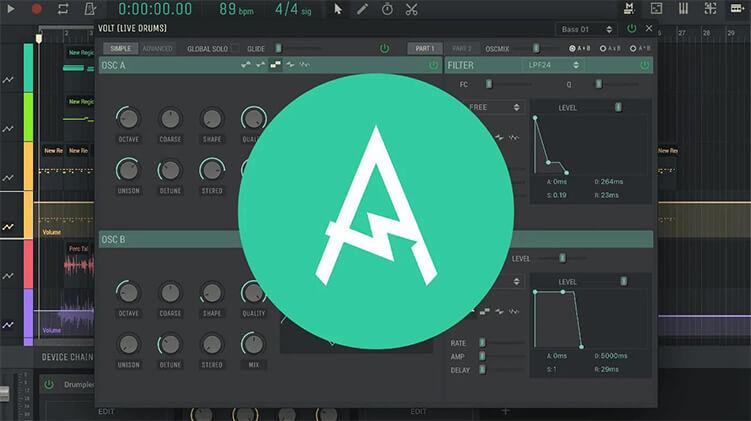 The online sequencer Amped Studio is available as a PWA application for Chromium-based browsers. This software solution was developed specifically for Chromebooks (simple laptops based on Chrome OS). Since a relatively small amount of software in the world adapts to this system, and its main purpose is to perform the basic basic functions of a computer (Internet access, watching videos, editing text, etc.), Amped Studio will come in handy here.
Benefits of Amped Studio:
Support for standard sequencer capabilities: editing midi and audio, recording vocals and instruments, built-in instruments and effects, a rich library of samples;
Collaborations. There is an opportunity to quickly and easily share your projects with other authors and work together on them;
Saving resources and quick access. Since Amped Studio works in the format of a cloud application, it can be accessed as quickly as possible from anywhere in the world via the Internet. In this case, most of the load associated with the operation of the program is taken over by the application server.
You can read how to use the Amped Studio app to create music and try to create your own tune online.
Apple GarageBand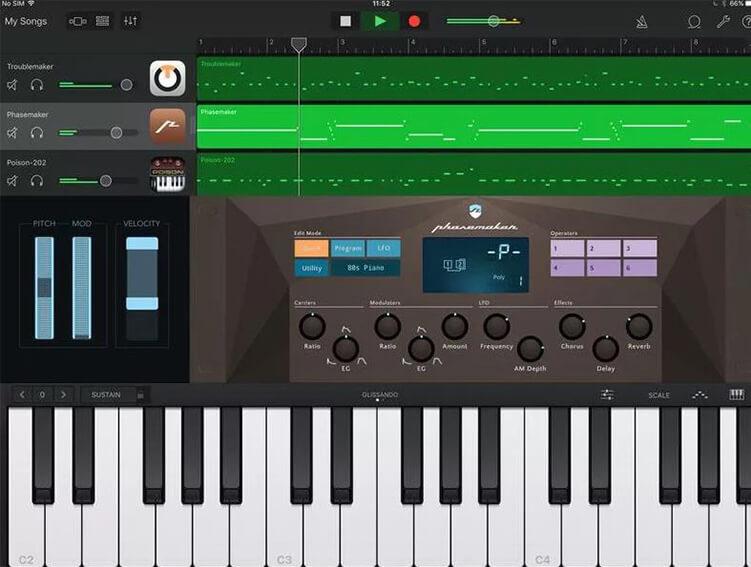 Apple Garageband is one of the most famous iOS music apps in the world right now. Thanks to it, you can create full-fledged songs using the virtual piano and drums. In addition, you can use a microphone to record your voice, apply sound effects, use amp / pedal effects, a sampler, and more.
One of its few disadvantages is that the app only works for iOS (both iPhone and iPad) and does not support Android.
Steinberg Cubasis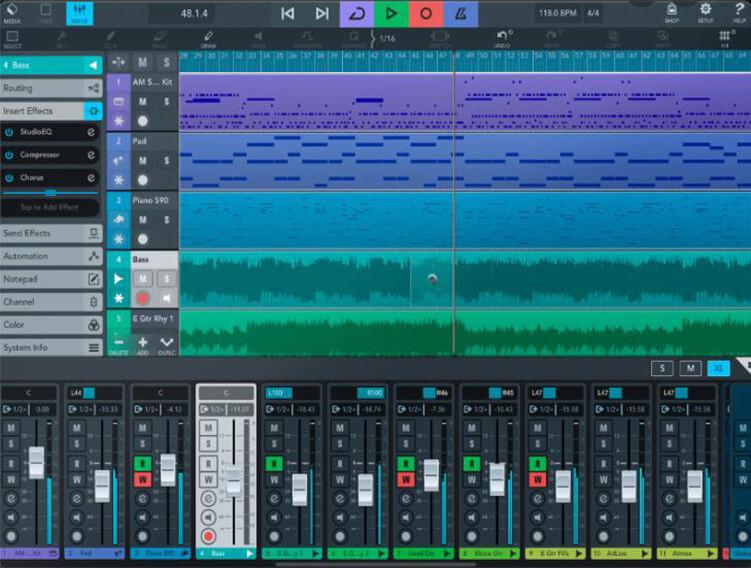 Steinberg's Cubase digital sound workstation has become a hit with music producers and for good reason. Cubasis has countless features for making music, including:
unlimited number of audio \ MIDI tracks;
24 assignable inputs and outputs;
high quality resolution up to 24 bit / 96 kHz;
mixer with built-in FX;
MIDI and sound loops;
audio editor of samples and keys.
This is just a small part of its capabilities. Despite this, the obvious disadvantage of Cubasis is its price – it is one of the most expensive apps for making music.
Image-Line FL Studio Mobile HD
iMaschine 2 from legendary Native Instruments lets you use your portable drum machine right on your mobile device. The app has 16 buttons to make beats online. In addition, there is a built-in library in which about 400 sound samples are available.
The application allows you to record vocals and insert them into a track, and it is also convenient to work with loops using a sequencer.
Akai iMPC Pro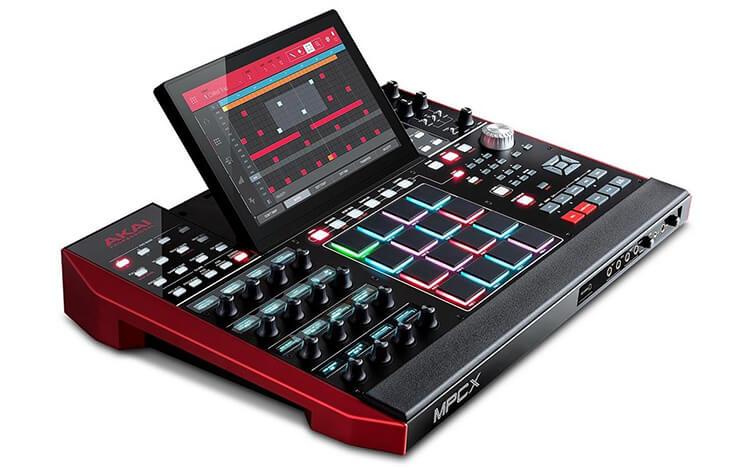 Many have heard of Akai MPC drum machines, and this is their mobile version. It allows you to play 64 tracks, has a built-in sampler and a huge library of sounds (over 14 thousand), a three-dimensional performance mode, precise controls / faders, sample slicing, repeat notes, live sequencing and three-band EQ.
Moog Filtration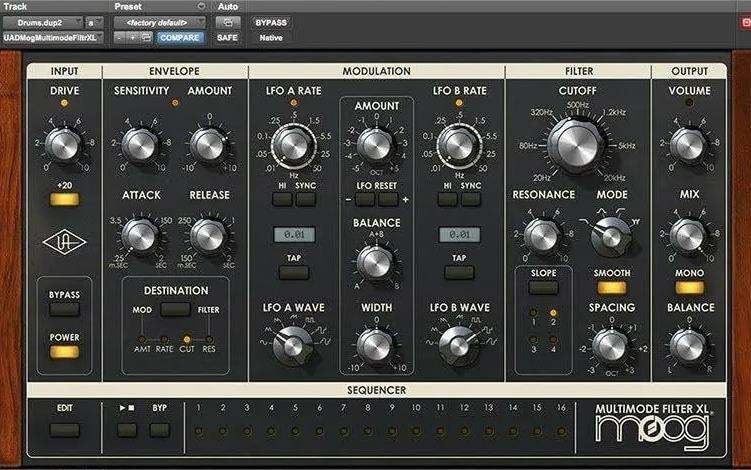 This app from the pioneers of the synthesizer lets you create music through a virtual version of the legendary Moog filter. It can use modulation, delay and overdrive to distort the sound that is output from the line / mic input, sampler, or built-in oscillator.
Propellerhead Figure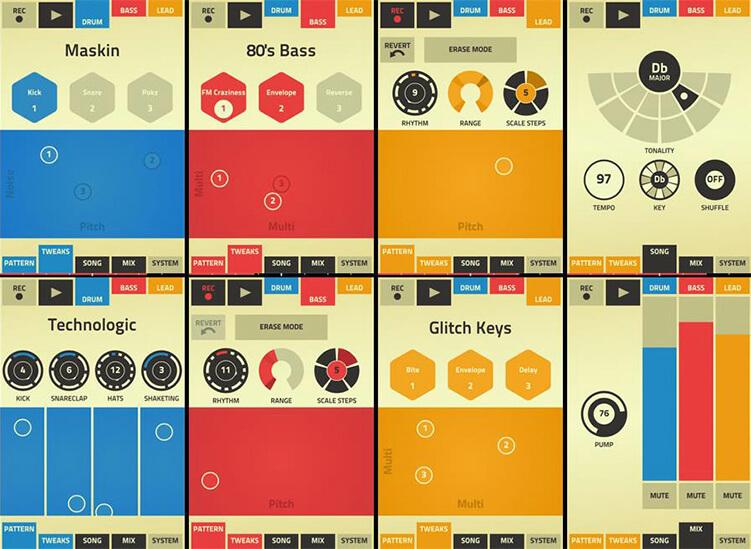 This utility is specially designed for "making music on the fly" thanks to its simple interface and ease of use. In Figure you can tweak a variety of sounds, of which there are quite a few, and experiment by adding them to the rhythm and changing the level.
There are also various keyboard and drum modes available, which are included. There is also a synthesizer in the app.
Arturia iMini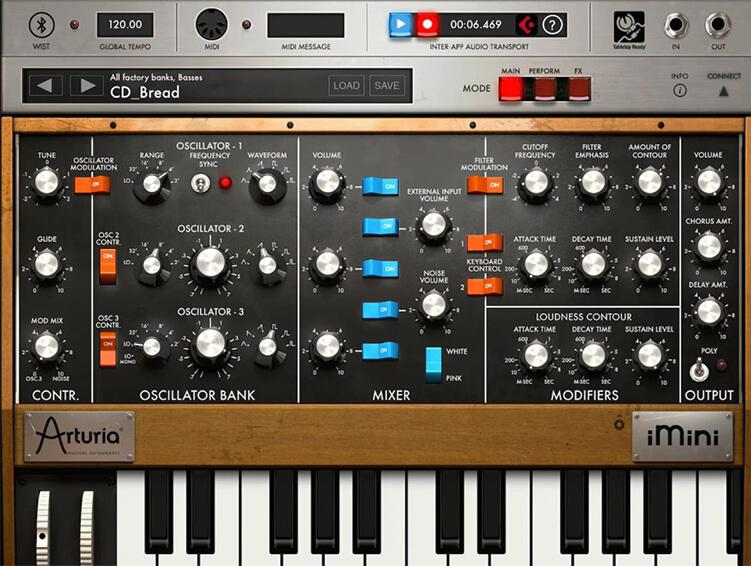 iMini is a quality app designed for iPad only. It is now one of the best synthesizer software for mobile devices.
It comes with three oscillators, octave filters, XY (assignable) pads, delay and chorus effects, polyphonic mode, and more. iMini simulates most of the functions of analog synthesizers, combines quality and relative affordability, so it can delight many music lovers.
Korg iElectribe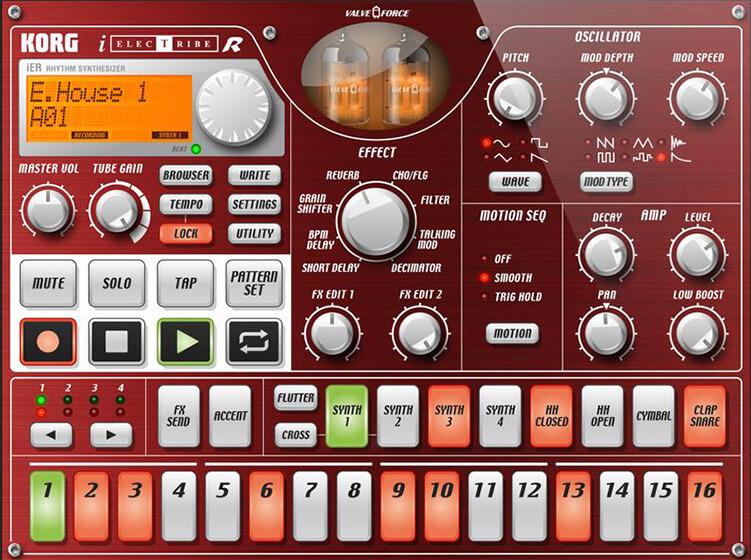 Korg iElectribe is more than just a synthesizer. It comes with a 16-step sequencer that allows you to not only play the keys, but also create grooves, change the tempo, pattern and much more.
Although the Korg is very similar to a DAW, it is more of a synthesizer with a sequencer, but lacks some of the features that the larger programs described above have. However, it is definitely worth looking into if you love Korg sounds and want to work with simple rhythms.
Casio Chordana Composer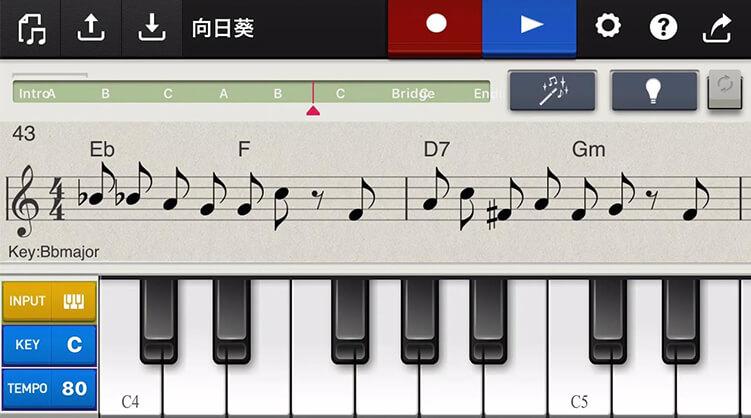 This application is distinguished by its simplicity and intuitive interface. Many have seen him in one of Apple's iPhone commercials. Casio Chordana Composer is a virtual keyboard that lets you create simple melodies or even learn how to play the piano.
The utility has the function of creating an automatic composition, which allows you to select the "genre" or "concept", as well as the range / level of tension to create a melody. It's pretty fun to play with, but nothing more.
Casio Chordana Composer is suitable for those who want to kill some time or are not serious about their musical career. Otherwise, it's best to refer to one of the aforementioned apps.
GrooveBox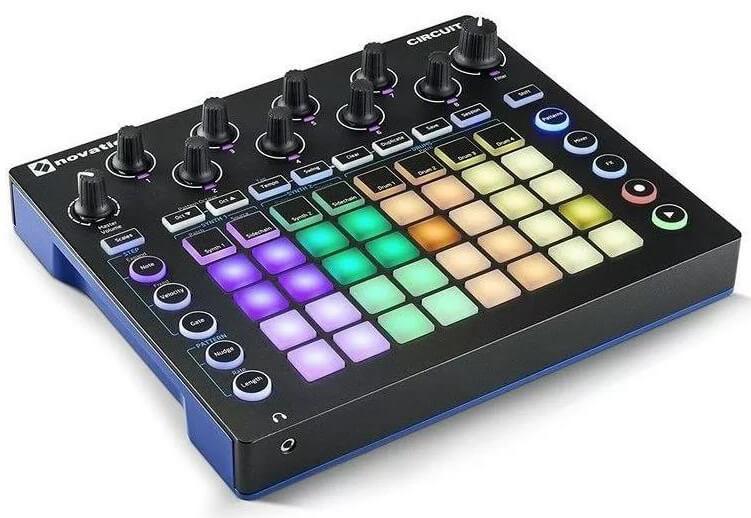 Novation's Groovebox is a great music creation tool for both novice and experienced producers.
Suggester
Suggester will be extremely convenient for those who like to work with chords. This application will allow you to interact with existing progressions or create new ones. To use it, you just need to click on a chord to hear how it sounds and build a sequence of notes.
That being said, Suggester offers a wide variety of scale types and chromatic harmony devices to ensure that you can create interesting sounds.
Beat Maker Go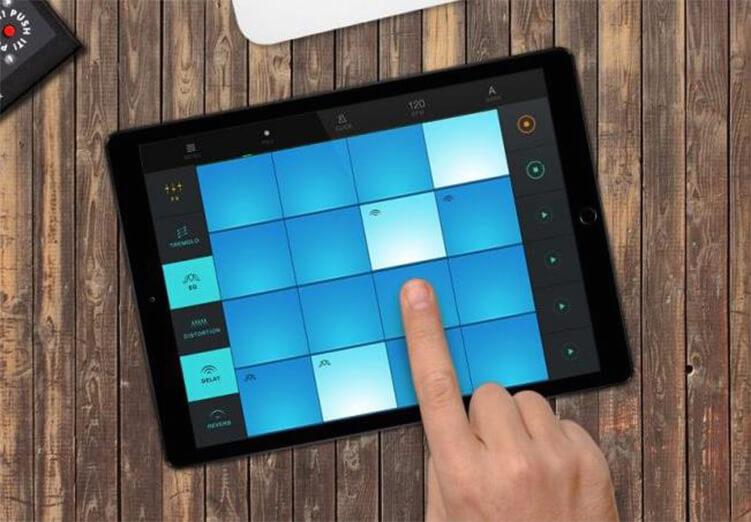 Beat Maker Go is a drum pad controller that includes 32 different pads and over 90 sound packs, so there's plenty to play and get inspired by.
Also available in the application are sound packs of performers, which include compositions from the most popular world hits. In addition, Beat Maker Go can be used as a game platform where you can open tasks and take interactive tutorials, which may appeal to many aspiring musicians.
n-Track Studio DAW 9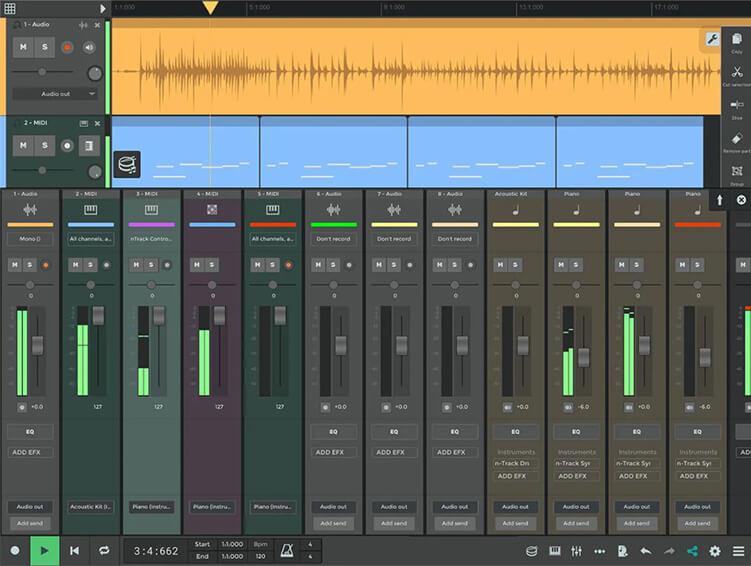 n-Track Studio DAW 9 uses the built-in microphone of the device or external sound card to record sounds and combine them with tunes using the built-in keyboard and dedicated software tools.
Songify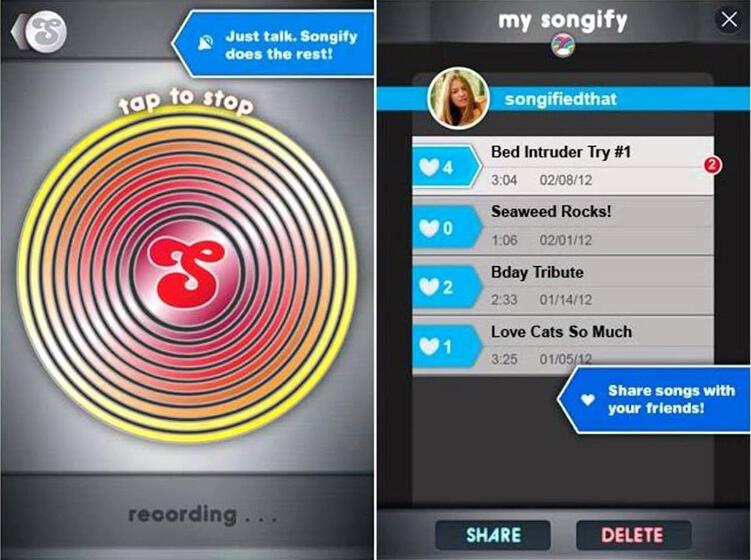 With Songify Android music maker you can write your own pop tracks in just a couple of clicks.
To do this, you need to say a few words, and the device, having recorded them on the microphone, will automatically tune your voice and lay down funky melodies on it. You just need to press the big button in the center of the screen and start talking. Your new hit will be generated in a few seconds.
It's worth noting that Songify's song quality is surprisingly good. At the same time, even speaking something incoherent into the microphone, you can get a funny and catchy melody. The app offers four different beats to choose from, but you have to pay to get new beats.
The length of the created song is limited to 1 minute 10 seconds, and the track may end in mid-sentence. However, with this program you can still pass the time well and have fun with your friends.
Animoog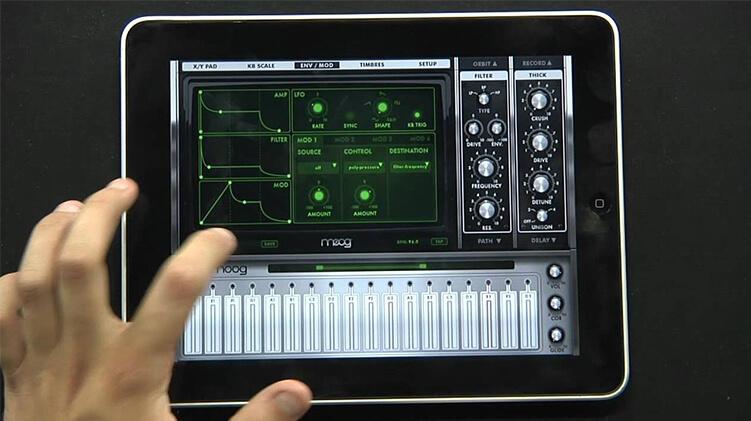 Animoog is Moog Music's professional polyphonic synthesizer designed for the iPad.
The program allows you to quickly create incredibly smooth and dynamic sounds that live, breathe and evolve as you play them.
The app has a unique user interface, which, due to its simplicity, allows even beginners to create bright and sound-rich tracks.
Animoog has a varied tone library built in, based on analog signals captured by classic Moog oscillators, both old and modern, which run through external and analog signal processors. These include modular synth panels, Moogerfooger pedals, and more.
Music Memos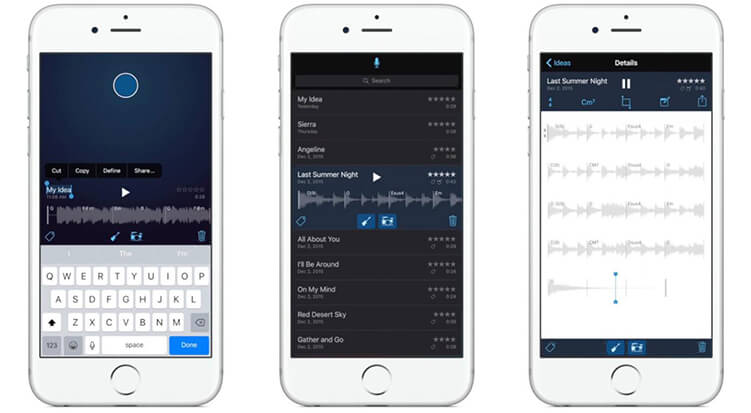 Memos is more like a pumped-up voice recorder for creating vocals and instrumental parts than a full-fledged program for producing music. The program records sounds in high quality and without compression. In addition, it analyzes the rhythms and chords of acoustic guitar and piano, and adds drums and bass lines to them. The sound is controlled by simple and convenient controls.
Music Memos can please with clear navigation through the recorded tracks. You can find the required passage by clicking on the special tags. A good tuner has also been added to the utility.
WaveMachine Labs Auria Pro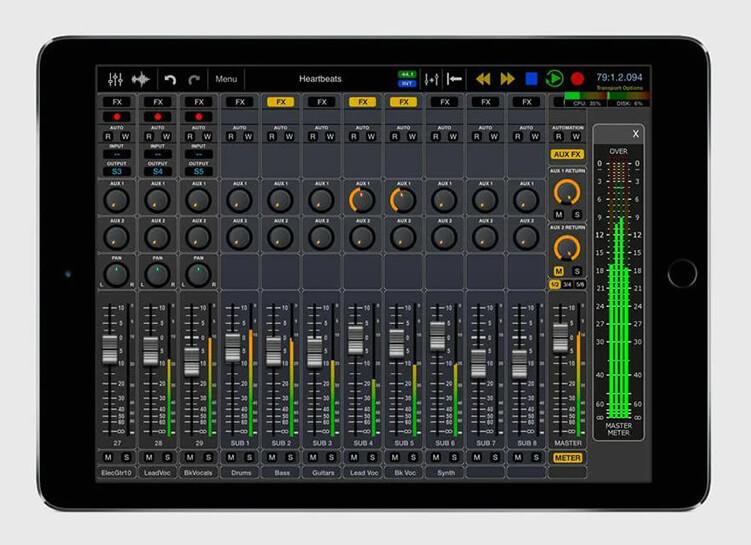 Auria Pro is a dual-window music production workspace with Mix and Edit modes. The program supports 24-bit recording at 44.1, 48 and 96 kHz sampling rates, and allows you to simultaneously record up to 24 tracks when used in conjunction with iOS-compatible audio interfaces that support 24 inputs.
Auria Pro has a large collection of plugins installed. It includes plug-ins for algorithmic reverb, chorus and delay from the PSP. There is also a ChannelStrip created specifically for PSP, which includes Expander, EQ and Compressor modules in one plug-in.
Caustic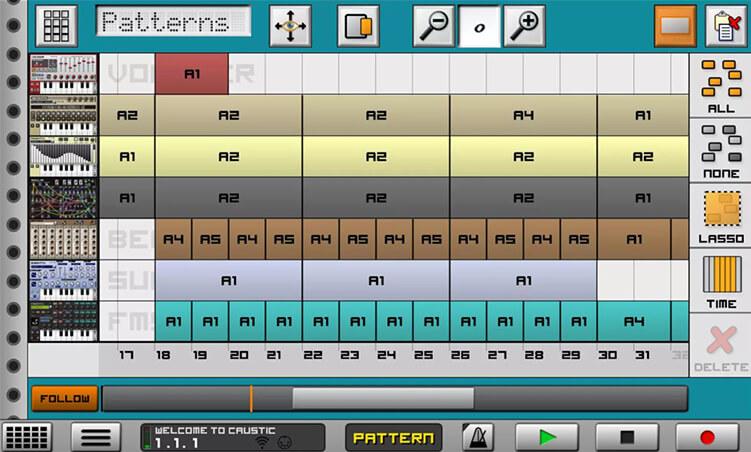 Caustic has 12 built-in tools called "Machines". In the program you will find sampler PCMSynth, Beatbox, Subsynth, Bassline, Padsynth, 8-bit Synth, Organ, Vocoder and FMSynth. It also features 20 different effects, a virtual mixer, a detailed master stand and a traditional song sequencer.
The only thing stopping Caustic from being the best all-around mobile DAW is the lack of true audio tracks, even though it does record audio. The vocoder and PCMSynth together are ideal for singles and short phrases, verses and choruses. Caustic's lack of sound recording tools is compensated by a vibrant user community and more support from sound engineers not found in any other DAW on the mobile platform.
AutoRap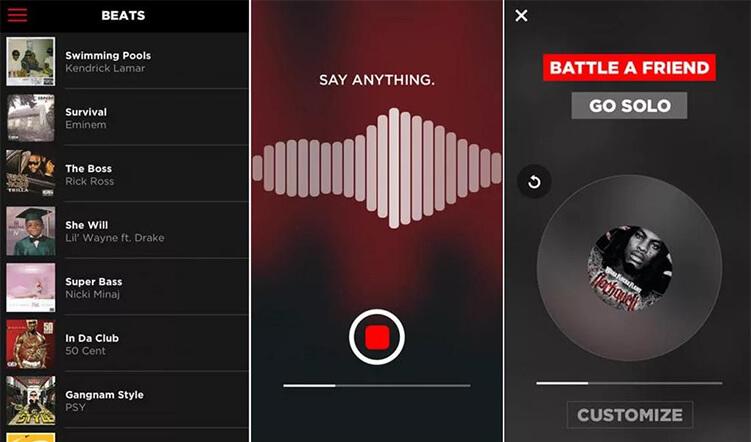 AutoRap lets you create your own rap tracks by converting all of your phrases to recitative in just a few seconds.
There are only two ways to do this: you can use the Freestyle mode, which creates the original sound for the track, or use the extensive database of songs from popular rappers such as Snoop Dogg, Nicki Minaj, Eminem, Outkast or Nelly.
To record a song, like the Songify application, you just need to click on the corresponding button and start speaking any phrase into the microphone of your mobile device. You need to speak loudly and clearly so that the program can understand everything. After the speech is recorded, the application will start processing, apply beats to the speech and the track will be ready. This will take less than a minute.
AutoRap is quite an entertaining toy with which you can have fun yourself or entertain a group of friends. If you have dreamed of becoming a rap star for a long time, then this application is for you.
Conclusion
As you can see, you can find a large number of good music production programs for Android and iOS. They all have their own characteristics and can be suitable for both entertainment and professional activities. We've only covered the most popular mobile-optimized apps. Their list is constantly growing and all new software for musicians and beatmakers often comes out on the market. However, the listed DAWs are currently some of the best in their segment.