Voice recorder online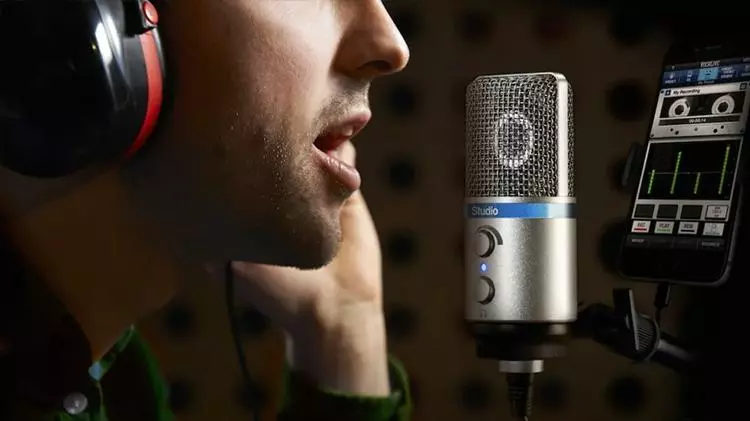 There are various methods to record your voice, but some can be complicated and require specialized tools. To simplify the process, we recommend using the modern online voice recorder, Amped Studio, for singing or podcasting. You can easily record your vocals or dictate text directly in your computer's browser and later use the recording to create a music track, podcast, or add voice to a video.
What sets Amped Studio apart is that it's not just a standard online microphone tool like many others available on the internet. It offers advanced functionality, effects, samplers, built-in instruments, and customizable settings, making it a full-fledged studio in one convenient location. This eliminates the need for third-party solutions, allowing you to create a composition, write a song, and more with ease.
Equipment for voice recording and singing
Is it possible to edit recorded voice for free? Definitely yes. You just need to use your microphone and create an audio track. The main features of the mentioned application are immediately available for use, while the difference with a paid account is the ability to save and export your project in various formats.
The possibilities are diverse. For instance, you can create synthesizer tones (MIDI file) from a voice. Another common option is to alter your voice by applying sound effects and instruments, which can be adjusted in real time. You can also add music to your voice recording online. Such adjustments are often used for voice acting, playful videos, online games, pranks, and personal goals. Additionally, you can modify the timbre, speed, tonality, and apply audio effects to the recorded voice, all in one place.
We assure the security of our application. Everything you record and save is available only to you and is not uploaded to our servers for storage. The rights to the created projects, including your recorded voice, belong exclusively to you, and we do not use the creativity of our users in any way.
Online Sound Recording in Amped Studio Step-by-Step
Amped Studio is a contemporary and multipurpose online tool that is user-friendly. There is no need to install any software, you only need to open your browser, visit the website with the same name, and begin recording after completing a straightforward and cost-free registration.
For beginners, we provide a step-by-step guide to recording audio online, which involves the following actions:
To use Amped Studio, a user just needs to open their browser, navigate to the website and register for free. Below is a list of actions one can take for online audio recording:
Start a new project by selecting "New Project" under the "New" menu;
To record, click the Record icon on the left panel of Track 1, or click the Record button on the top panel. You can record voices or melodies from an external source;
Edit your recording using the Audio Editor, found in the bottom panel;
Create tone sounds from your voice using the Note Editor, also located in the bottom panel.
By using cropping, dragging, and overlaying sound effects, you can produce remarkable outcomes. If you don't have an external instrument available, you can simply "hum" a melody into the microphone to create notes for the synthesizer and the upcoming melody. Amped Studio converts the voice to MIDI automatically. You can add drums and other instruments with additional tracks in the same workspace, and easily create a video intro, podcast, or any other desired content using your voice (and more).
Advantages of using Amped Studio for voice recording
The method of recording offered by Amped Studio is extremely user-friendly and straightforward, requiring no specific skills or prior experience with dictaphones or other recording devices. This online tool is conveniently accessible via a web browser and allows for easy voice recording with an optional echo effect, followed by editing and saving the resulting file in the preferred format.
Amped Studio offers free creation and use of online audio recording, with the option of saving and exporting the project being a paid service. There are no hidden fees, activation costs, or additional features, and the voice recording utility is fully integrated into the service's functionality. Recording one's voice or importing a file is quick and easy, taking only a few clicks. Users can modify various parameters, such as reducing echo and adjusting speed, tone, volume, and other characteristics. Editing can include manipulating timing, mixing sections, cutting out silence, enhancing sound quality, and other features.
Take note of the advantages of Amped Studio:
Enables recording vocals at home, without the need for a music studio;
Provides full processing and editing capabilities;
Allows for sharing best practices with colleagues;
Facilitates collaborative work on a project;
Provides constant availability online.
Online voice recording for everybody
If you want to cover your favorite song, launch a podcast, or prepare for a future performance, you have several options. You could use the limited solutions built into your operating system, install a program on your computer, or take another approach. However, there's an easier way – simply visit our online studio recording website and do everything you need through your desktop browser. It's fast, easy, and affordable.
With our online studio recorder, anyone can record and edit their voice, write tracks, create podcasts, videos, and more. You don't need any special skills or expensive equipment. Start creating today!