Voice recorder online
Voice recorder online is the answer to simplifying the often complex and equipment-intensive process of recording voice material. If you're looking for a hassle-free solution for your recording needs, we highly recommend exploring the innovative Amped Studio web service. Tailored to meet your singing and podcasting requirements, this state-of-the-art online voice recorder takes the hassle out of recording. With Amped Studio, you can effortlessly capture your vocals or transcribe text directly within your internet browser window. Once recorded, you can harness the resulting audio to craft exceptional music, podcasts, and even enhance your videos with voiceovers. So, for a seamless and convenient experience, delve into the world of online sound recording with Amped Studio.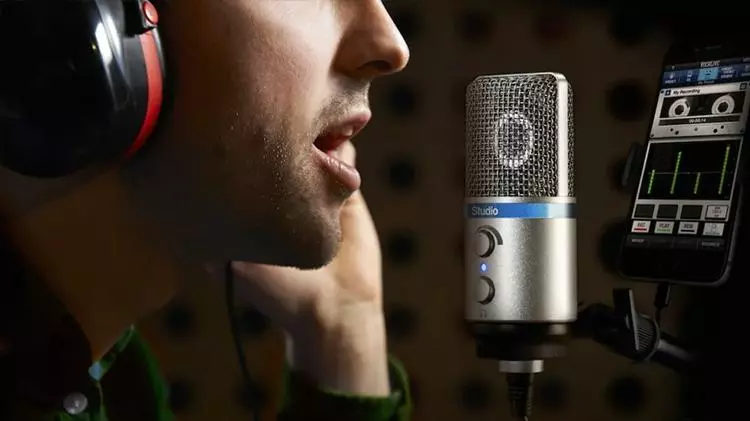 What really makes the Amped Studio stand out from the crowd is its unrivaled versatility. It is not just a standard online voice recording tool like most of the others that can be found in the online world. This service provides an advanced set of features, including a variety of effects, powerful samplers, built-in instruments, and the ability to customize recording settings, making it essentially a full-fledged studio, combined in one convenient place. This approach avoids the need to rely on third-party solutions and allows you to easily bring your musical and creative ideas to life, whether it's writing songs, creating songs, or performing many other creative tasks.
Voice and sound recording equipment
Do you want to edit your voice recordings for free? Yes, absolutely possible. All you need is a microphone and the ability to create audio tracks. The main functions of this application are instantly available to you, even a paid account is not required. The main difference is that with a paid subscription, you will be able to save and export your projects in various formats.
The choice of functions is very diverse. For example, you can create synth sounds (MIDI files) from your voice. Another interesting feature is to change the tone and sound of your voice by applying sound effects and tuning instruments in real time. You also have the opportunity to insert musical compositions to your voice recordings directly online. These features are often used for voiceovers, funny videos, a variety of video games, jokes, and personal creativity. All of these features are available in one convenient location.
We guarantee the security of our application. All your notes and projects remain strictly confidential and are not transferred to servers for storage. You have full rights to the projects you create, including your voice recordings. We absolutely respect your creativity, and in no way claim it.
How to connect a microphone to an online voice recorder
All you need to do is plug in your microphone to start your creative journey. This process is really elementary. Your first step is to initiate the creation of a new project by selecting the appropriate option from the menu located on the left side of the screen. After that, after making sure that your recording device is successfully connected to your computer or laptop, the next step is to tap on the microphone icon. And only now you are ready to start the recording process.
Having done all these elementary actions, you will be ready to click on the "Start Recording" button (it is located in the center of the top bar and has a red color). Additionally, before you start recording, you can turn on the metronome, which will help you keep the rhythm and pace of your sound ideas.
Record audio online step by step
Amped Studio is a modern and versatile online tool that stands out for its ease of use. You don't even need to install any additional software. Just open your browser, go to the Amped Studio website and start recording after a short and free registration.
For novice users, we have prepared a detailed step-by-step guide to online audio recording, including the following steps:
Open a new project by selecting the "Create a new project" option from the "New" menu;
To start recording, simply click on the "Record" icon on the left panel of "Track 1", or use the "Record" button on the top panel. This will allow you to record voices or melodies from external sources;
After recording, you will be able to edit your audio recording using the built-in audio editor, which is located on the bottom panel;
You can also create melodies and sounds using the note editor, which is also available on the bottom panel.
With the help of trimming, dragging and adding sound effects, you can achieve great results. Even if you don't have external musical instruments, you can simply record the tune with your voice, and then Amped Studio will automatically convert your voice to MIDI. Add additional tracks with drums and other instruments, create a video intro, podcast or any other content using your voice and inspiration.
Voice recording tools in Amped Studio
Sequencer
The sequencer in Amped Studio is a great tool for voice recording, giving you everything you need to create expressive and professional audio recordings. It is the most convenient and intuitive to use, providing you with all the tools you need to create and edit your voice content.
The look and feel of the sequencer in Amped Studio online recorder is seamlessly integrated into the interface, allowing you to focus on the creative process rather than learning complex features. A highly customizable interface allows you to arrange windows and tools the way you want to maximize your voice recording workflow.
To record your voice, you just need to select the desired track in the sequencer, press the record button and start singing. You can see a visual representation of the waveforms on the track, which helps you to precisely control timing and intonation. Additional tools allow you to apply sound effects, control timbre and voice level, and easily adjust timing and overdubs.
The Amped Studio sequencer also gives you instant access to editing, including trimming, overdubbing, changing keys and more. All this can be done in real time, allowing you to evaluate the results on the fly and make the necessary adjustments.
In addition, Amped Studio free online recorder gives you the ability to easily add background music, adjust volume levels, and apply effects for a deeper, richer sound. This is especially useful when creating audio recordings with musical accompaniment.
All in all, the sequencer in Amped Studio brings convenience and simplicity to voice recording, giving you powerful creative and editing tools, no matter your level of experience.
Audio editor
The audio editor provides you with all the necessary tools and functions to carefully process and edit voice recordings, ensuring maximum convenience and efficiency in your creative process.
The audio editor interface in Amped Studio online beat maker is designed with user comfort in mind, allowing you to focus on your work and focus as much as possible on the details of your voice recording. You can easily scale the audio waveform for more detailed editing, which is especially important when working with voice materials.
The main features of the audio editor include:
Trim and overdub: You can accurately define the beginning and end of your voice recording, and easily overdub other audio fragments to create compositions or add effects;
Changing key and speed: Audio editor allows you to instantly change the key and speed of your voice recording, which is useful when creating harmonies or audio effects;
Sound Effects: You can apply various sound effects such as reverb, equalizers and more to give your voice the sound and character you want;
Adjusting Volume Levels: The Audio Editor allows you to fine-tune the volume levels of different sections of your recording, which helps to achieve balance and professional sound;
Audio visualization: You can see a visual representation of the waveform of your recording, which makes it easy to fine-tune editing, highlighting fragments and correcting timing;
Easy navigation: Navigation tools, markers and bookmarks allow you to quickly navigate through your voice recording and edit it in the right places.
VST plugins
Amped Studio's VST plugin support greatly expands your voice recording capabilities, making the process more creative, flexible and professional. It allows you to integrate a variety of virtual instruments and sound effects, expanding your possibilities in processing and enhancing voice recordings.
In the context of voice recording, Amped Studio's support for VST plugins provides the following conveniences:
Variety of sounds: You can use VST instruments to create a variety of voice timbres and textures. This can be especially useful when recording voice harmonies, backing vocals, or adding character to the voice.
Professional effects: Adding VST effects allows you to enrich your voice with high quality sound effects such as reverb, delay, compression, and more. This allows you to achieve professional and high-quality sound.
Creative Processing: With VST plugins, you can create creative processing of voice recordings, creating unique sound effects, as well as changing the tone, key and overall atmosphere of the recording.
Synthesizers and instruments: You can use VST synthesizers to create melodies or arpeggios that can complement your voice or serve as a background arrangement.
Easy Integration: Amped Studio song maker provides a convenient and intuitive way to add and configure VST plugins. You can easily select and apply the tools and effects you want without any hassle.
Implementation of ideas: With VST support, you can quickly turn your creative ideas into reality by applying a variety of tools and effects to your song recordings.
As a result, Amped Studio's VST plugin support complements your ability to record voices online with wider and more professional musical instruments and effects. This provides you with all the tools you need to create expressive and high-quality vocal compositions, and also opens the door to endless creative possibilities.
Advantages of our voice recorder
The recording method proposed by Amped Studio is very convenient and simple, and does not require specific skills or experience with voice recorders or other recording devices. This online tool is easily accessible through a web browser and allows you to easily record voice online with unique echo sounds, then you can easily edit and save the resulting file in the format you need.
Amped Studio provides the ability to create and use online audio recordings for free, and also provides the option to save and export the project for a fee. No hidden fees, activation fees or additional features are required – the voice recording functionality is fully integrated into this service. You can quickly and easily record your voice or import an audio file with just a few clicks. Users have the ability to adjust various parameters such as echo level, as well as adjust the speed, tone, volume, and other characteristics. In edit mode, you can manage time, mix sections, remove pauses, improve sound quality, and use other useful features.
The advantages of Amped Studio freee online voice recorder are quite obvious:
Allows you to record vocals conveniently at home without having to visit a music studio;
Provides a complete set of tools for processing and editing audio recordings;
Creates an opportunity to share experience with colleagues and other users;
Simplifies collaboration on projects, making the process more efficient;
Guarantees constant access to online tools, which makes the work more flexible and convenient.
Try the free sound recorder from Amped Studio
Whether you're drawn to cover your favorite song, prepare material for a podcast, or capture a future scene, you have a lot of options. You can take advantage of the limited built-in solutions in your operating system, get confused with installing special programs on your computer, or try a different approach. However, there is a much easier and more enjoyable way – just take a look at our online recording web portal and do everything you need using just a browser on your computer. It's fast, it's easy, and it's surprisingly convenient.
Embark on your creative journey today with our online virtual studio recorder and online sound recorder. This versatile tool empowers anyone to effortlessly record and manipulate their voice, compose original tracks, kickstart captivating podcasts, craft engaging videos, and so much more. Say goodbye to the necessity for specialized skills or costly equipment. Whether you're a budding musician, aspiring podcaster, or content creator, our platform provides you with the means to bring your ideas to life easily and affordably. So, why wait? Unleash your creativity now!