Voice recorder online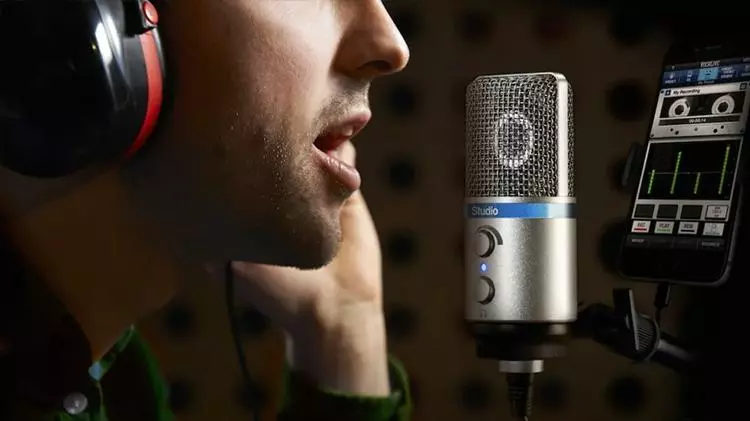 There are many ways to record your voice. While many people use standard tools and complex programs, we suggest making this task as simple as possible. We introduce the modern online voice recorder for singing or podcasting Amped Studio. You can dictate text or sing vocals right in the browser of your computer and later use at your will: write a music track, create a podcast, add a voice to a video.
What is very important: this is not just an online microphone (dictaphone format), of which there are many on the Internet. The service is a full-fledged studio with advanced functionality, effects, samplers, built-in instruments and many settings. You do not have to use third-party solutions. Everything is in one place to create a composition (write a song).
Voice recording equipment for singing
Is it possible to work on a recorded voice for free? Undoubtedly. You need to use your microphone and create an audio track. The main functionality of the described application is immediately available for use. The difference with a paid account is the ability to save and export your project in various formats.
The possibilities are very different. For example, you can create synthesizer tones (midi file) from a voice. Another common option is to change your voice using sound effects and instruments. The difference can be tracked in real time. You can add music to voice recording online. Adjustments are often used for voice acting, playful videos, online games, practical jokes, and personal goals. In addition, you can change the timbre, speed, tonality and add audio effects to the recorded voice. Remember, it all in one place.
We guarantee the security of our application. Everything that you record and save is available only to you: nothing is uploaded to our servers for storage. The rights to the created projects (with your recorded voice) belong exclusively to you. We do not use the creativity of our users in any way.
Online Sound Recording: Step-by-Step Guide
Amped Studio is a simple and versatile online tool in a modern format. You do not need to install the program, just launch your browser, go to the website of the same name and start recording after a simple and free registration.
We offer an algorithm for new users, consisting of several actions for online audio recording:
Creation of a new project (New – New Project);
Recording something: voices / melodies from an external source:

click on the Record icon in Track 1 – on the left panel;
click on the Record button in the top panel;

Editing a record (Audio Editor – a tab in the bottom panel);
Creation of tone sounds from voice (Note Editor – tab in the lower panel).
You can achieve impressive results by cropping, dragging, overlaying sound effects. If you do not have an external instrument at hand, the easiest way to create notes for the synthesizer and the future melody is to "hum something" into the microphone. Amped Studio automatically converts the voice to midi. You can add drums and other instruments with additional tracks in the same workspace. You can easily prepare a video intro, podcast, whatever you like using your voice (and more).
Benefits of voice recording in Amped Studio
The proposed recording method is extremely simple. It does not require any skills and previous experience of using the corresponding dictaphone and other recorders. It is a handy online tool that you can use right in your browser. You can record your voice with echo using a microphone, edit and save the file in the format you want.
Creating and working with online audio recording is free. The opportunity to save the project and its export is paid. No hidden fees, activation fees or additional features. The voice utility is built into the service functionality. Recording a voice or importing a file is quick – just a few clicks. The setting allows you to change various parameters (reduce echo, adjust the speed, tone, volume, other characteristics). Editing involves changing the time, mixing parts, cutting off silence, optimizing the sound, and other moments.
Note the pros of Amped Studio:
recording vocals at home (no music studio needed);
full processing and editing;
the ability to share best practices with colleagues;
joint work on a project;
constant availability online.
Online voice recording for everyone
Do you like a song and want to cover your favorite artist? Do you launch your podcast project and want to share your experiences with the world? Are you preparing for a future performance and want to hear your speech from the outside? You have several options: use the limited solutions built into the operating system, install the program on the computer media, or do otherwise. Go to our studio recorder online website and do everything you need through your desktop browser. Fast and easy.
Record and edit voice. It is so affordable that anyone can do vocals, write tracks, create podcasts, videos today. Start creating today!