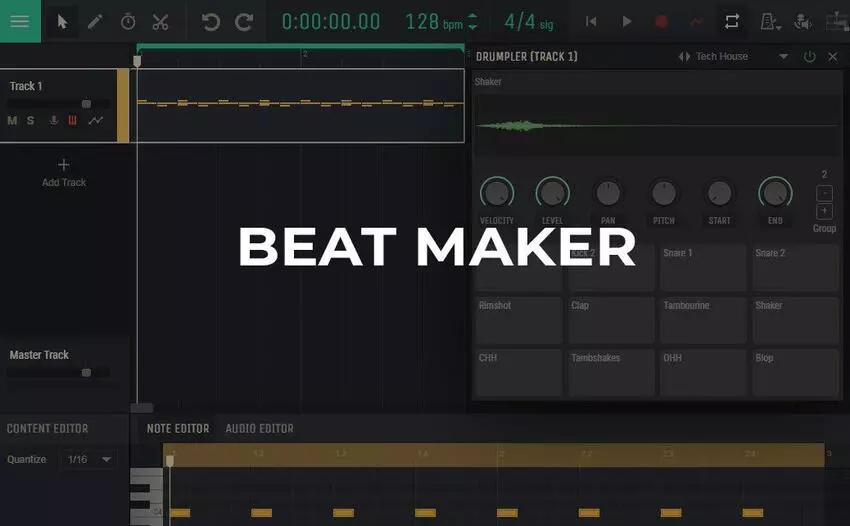 Amped Studio is an online sequencer where you have the opportunity make your own beats for any kind of music you wish. It's a full-fledged DAW including whole the functionality of traditional desktop programs. The main advantage of this online beat maker is support of VST plugins which provides ample opportunities of sound editing.
The music environment of the application includes an intuitive interface that is similar in appearance to most well-known sequencers from leading developers. It is easy to start to make your own beats straight in browser even if you don't have any special education experience in sound design. There is no need in expensive special studio equipment. Everything you need is a laptop or CPU. You just open the music beat maker website ampedstudio.com, go to the online studio and start to create your own music online playfully just taking pleasure from the process.
Here you will find whole necessary instruments for making music: samplers, synthesizers, effects, automation. Amped Studio as a virtual beats maker is good for both professionals and amateurs. Here you can also make a professional song recording with instruments and vocals on your arrangement.
Drumpler online beat machine
Amped Studio presents the online drum machine – Drumpler. This virtual instrument allows you to create your own professional drum beats in any musical style or direction, with 17 drum and percussion kits you get everything you need to start making beats online. No need to install any software, buy equipment, download sample libraries, everything you need is available in the application. Only a browser and internet connection is needed. Drumpler is a simple free online beat maker which represents a virtual drum pad machine. You may load the samples from the both built-in library and your own downloaded packs from the internet.
Getting started in an online beat maker Drumpler
1. Go to the Amped Studio by following the link app.ampedstudio.com and create a new track.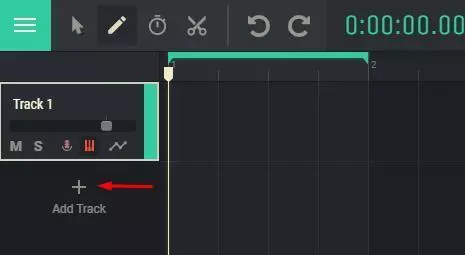 2. You can set your tempo (bpm) and loop points if desired.

3. Create a region by double clicking on a track.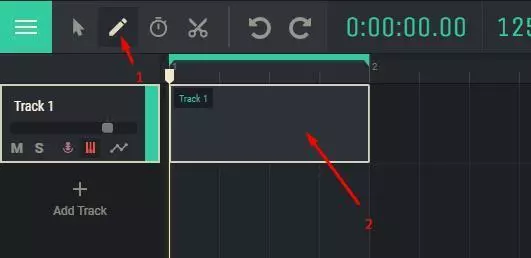 4. On the Device Chain click on Add Device where a selection of virtual instruments and effects with pop up.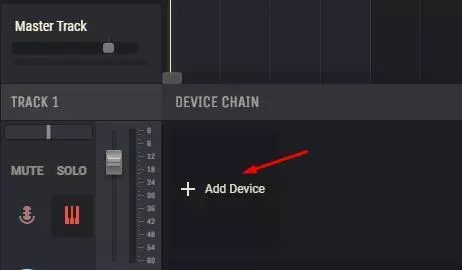 5. Choose online beat maker Drumpler.
6. Choose a drum kit of high-quality, ready-made drum & percussion sounds that can be played by pressing the instrument's drum pads or the keyboard.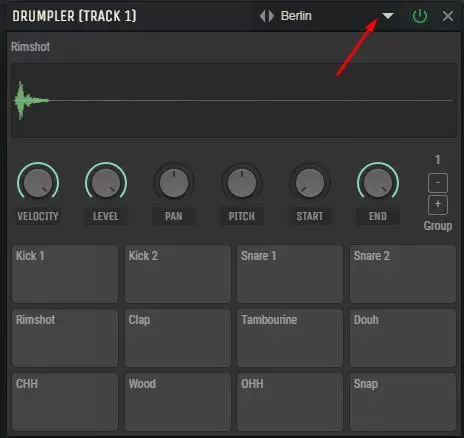 7. Next, in the track editing panel, using a pencil, we create some kind of rhythmic pattern (notes on the online virtual keyboard correspond to certain sounds on the drumpad).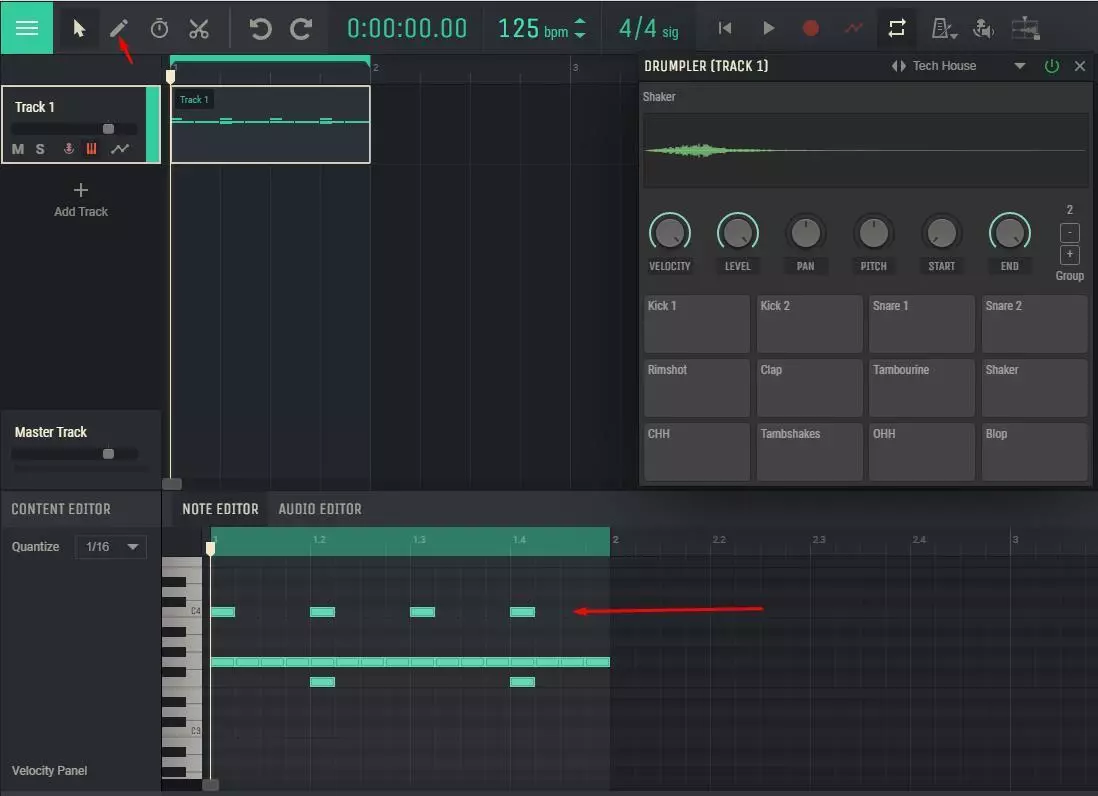 Online beat maker interface
The interface of the Drumpler consists of the following elements:
1 – A header with a preset selection panel; 2 – A window with a graphical display of the audio signal; 3 – A sound parameters editing panel; 4 – A drum pad with keys for preset sounds (each of them can be played by pressing the corresponding key).
Controllers are available in the sound editing panel to adjust the following parameters: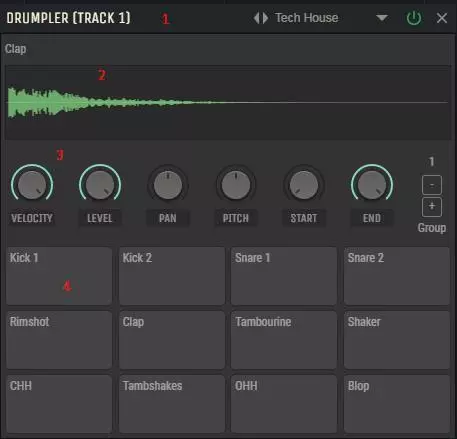 Velocity – sample playback speed;
Level – volume;
Pan – panorama (displacement of the sound location in space relative to the center to the left/right);
Pitch – tonality;
Start – start of sample playback;
End – end of sample playback.
What does Amped Studio offer in terms of online beatmaking?
Premium & free sample libraries, sets of midi files and audio loops and construction kits;
Reverbs, equalizers, compressors and other effects for processing and improving sound quality;
Multi-track recording and editing functionality;
Automation to control various sound processing parameters;
User-friendly and intuitive interface;
Ability to share projects and work in a team.
The Amped Studio beat maker online studio works a web application. You don't need to install anything on your computer, everything can be done through a page opened in the browser. You can connect to the service and from any place with Internet and you are not tied down to any specific computer because Amped Studio exists in the cloud and you can access your songs and studio with your password on any computer.
Brilliant musical ideas often come at the most unexpected moment, and in such a situation, it is very convenient to have a suitable instrument at hand that makes it easy to bring these ideas to life.
Functions of the online beatmaker from Apmed Studio?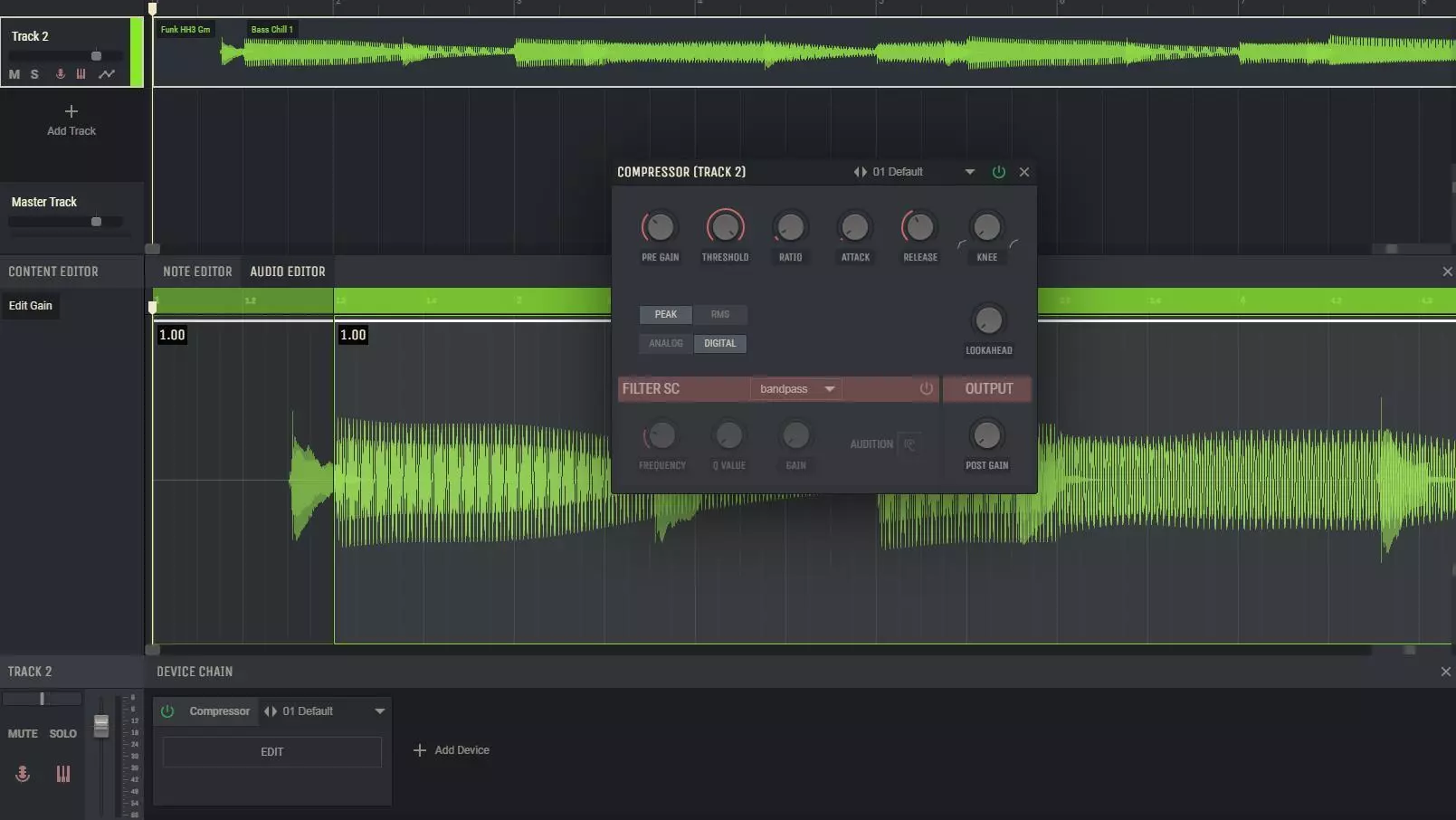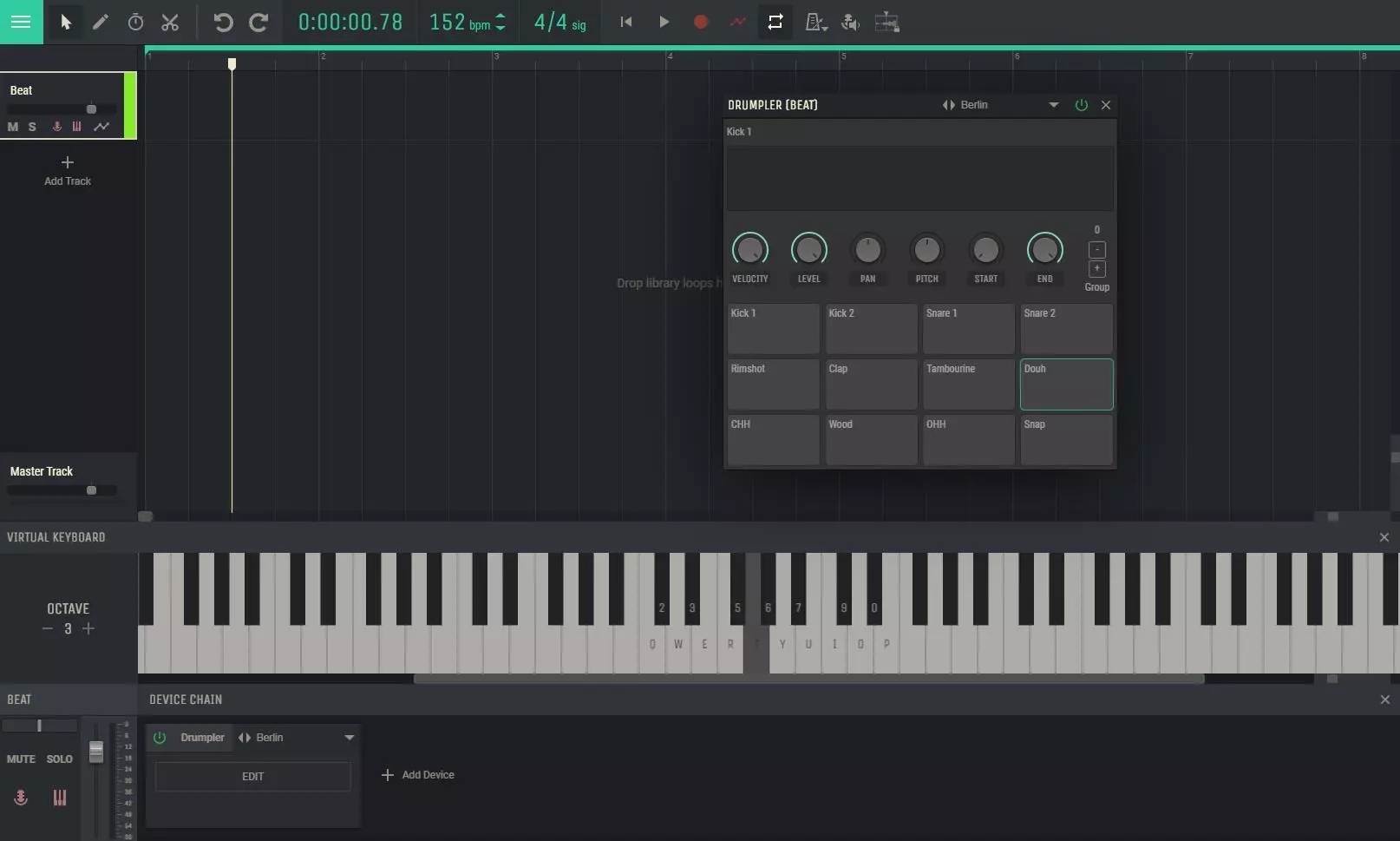 All the basic functionality of a typical DAW is presented here: a playback panel, tempo and rhythm settings, a grid for step sequencing or drawing in notes, a metronome pitch and beat detection and much more. All this is organized simply and clearly. You can work with both audio loops and midi patterns. There are audio and midi editors, a virtual keyboard, processing effects and virtual instruments.
The buttons of the online beatmaker Drumpler are fixed behind the keys of the virtual keyboard, which allows you to play drums using a conventional computer keyboard.
The virtual instruments and effects have lots of presets to assist you if you are new to music making and sound design. Presets in the Drumpler are divided by the styles of music. Pop, EDM, Hip-hop, Rock, Funk and much more. You can expand the pool of sounds by purchasing new libraries from the Amped Studio store with are delivered directly to the studio sound library to make beats online. With a Premium account you can add sounds from your third party sounds from your desktop d to Amped Studio.
Advantages of the online beatmaker Amped Studio
Amped Studio is an online DAW, digital audio workstation based on concepts of existing desktop DAWS. Amped Studio is the online DAW that supports VST technology (the ability to connect third-party, desktop instruments and effects), which is the standard for virtual instruments and effects. It is actually the first from whole beat making sites and online app which provide this feature. If you worked with some VST plugins before and you understand that you need them for further work you don't have to refuse of using it or limit yourself with built-in tools.
Amped Studio can also function as an audio editor. It is quite convenient to perform basic audio editing and final mastering of compositions using both built-in and external plugins directly online.
Also available is a unique feature for online sequencers automation recording. To use it, just connect a midi controller or external start recording and adjust this controller in the process.

Who might be interested in this?
beginners and professional beatmakers;
songwriters who want to make a demo recording;
arrangers;
mix engineers;
producers.
Share Project
Several people can work on the project by sending and sharing a link to the production. You may be in different countries, while each of them can share their version of the beat with the others, and then anyone can add their own additions to the composition.
Basic Ideas for Starting Out with online beat maker
1. Drums: Start with the button
The whole rhythm of the track is determined by the drums. Depending on the style of music selecting the Kick and Snare sound is most important. The first step is to find a suitable Drumpler kit or sample. In this example we have added a Kick drum on every down beat, 1,2,3,4.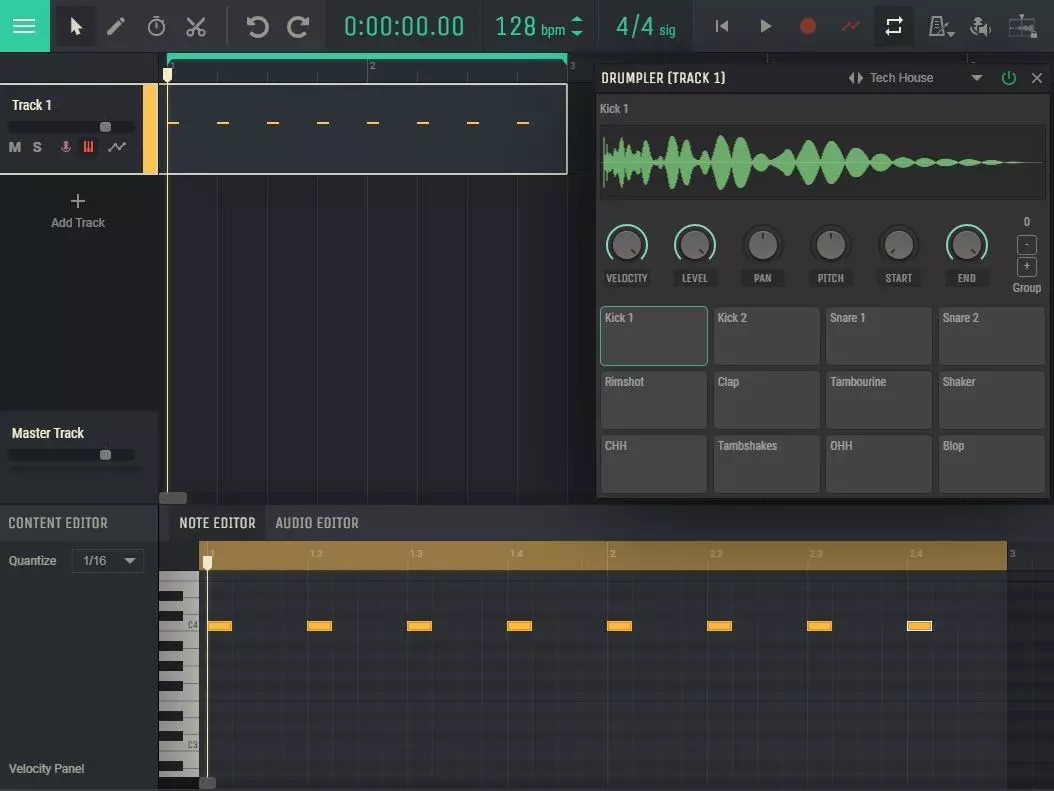 2. Snare: Getting a back beat going
To enhance the rhythmic pulse, the Snare are placed, on 2 & 4 of a 1,2,3,4 kick this is the simplest and most basic start to a drum pattern.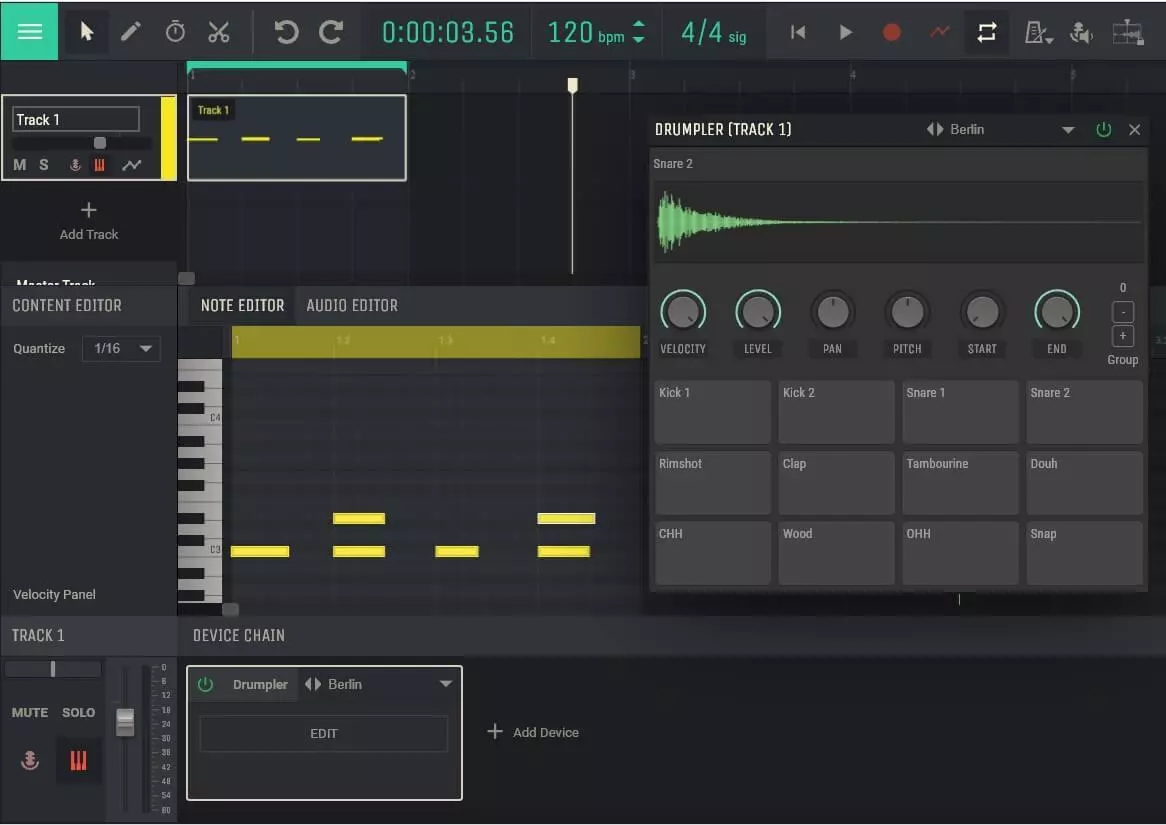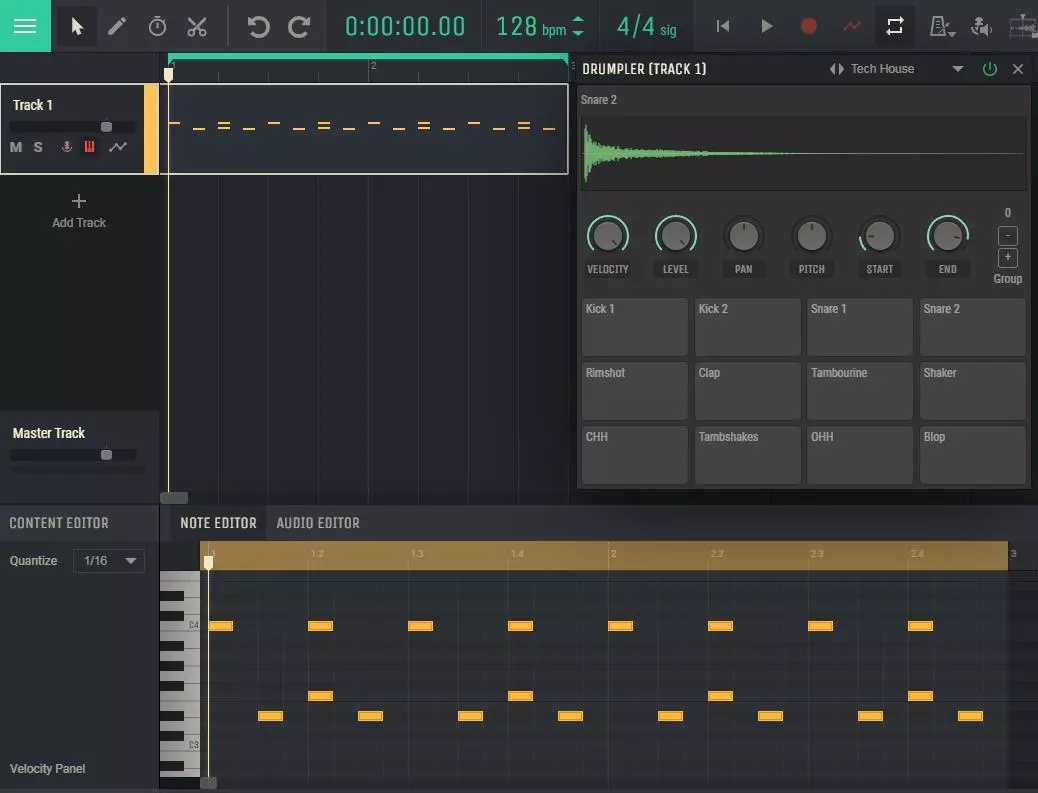 3. Claps, toms, shakers and other percussion
Claps are most often placed for every second beat or upbeats, once you understand the basic back beat and pulse you can experiment by adding or replacing notes and positing and instruments.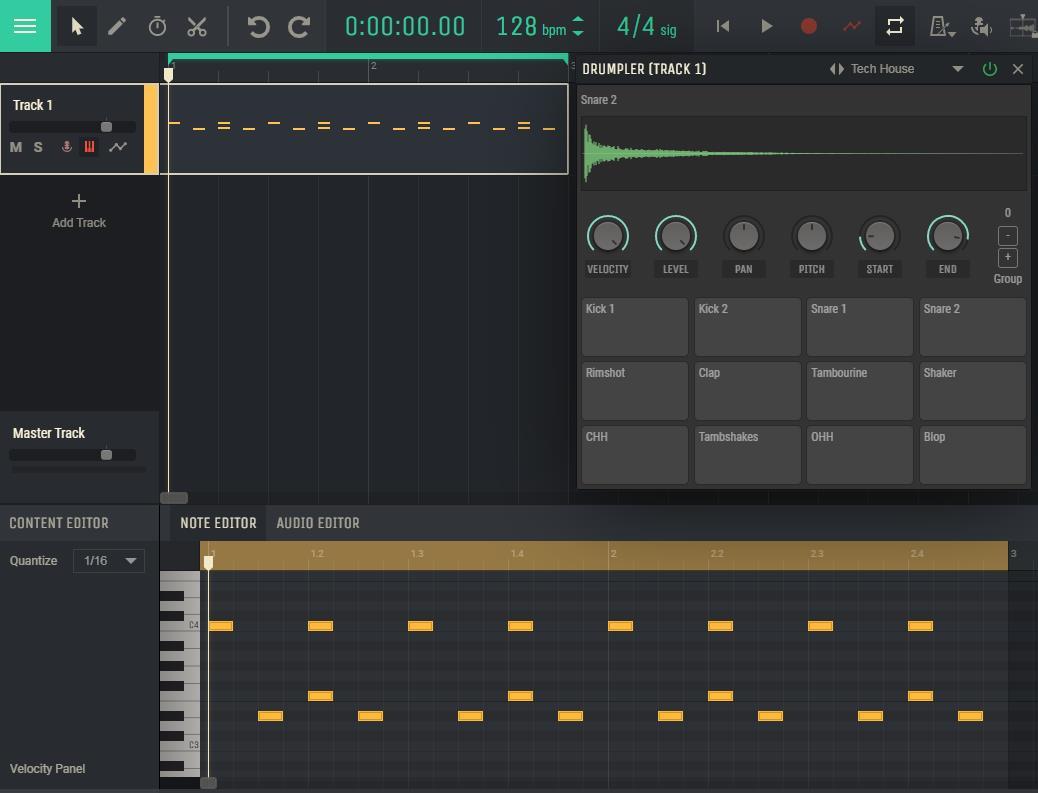 Shakers fill the whole row of the drum part.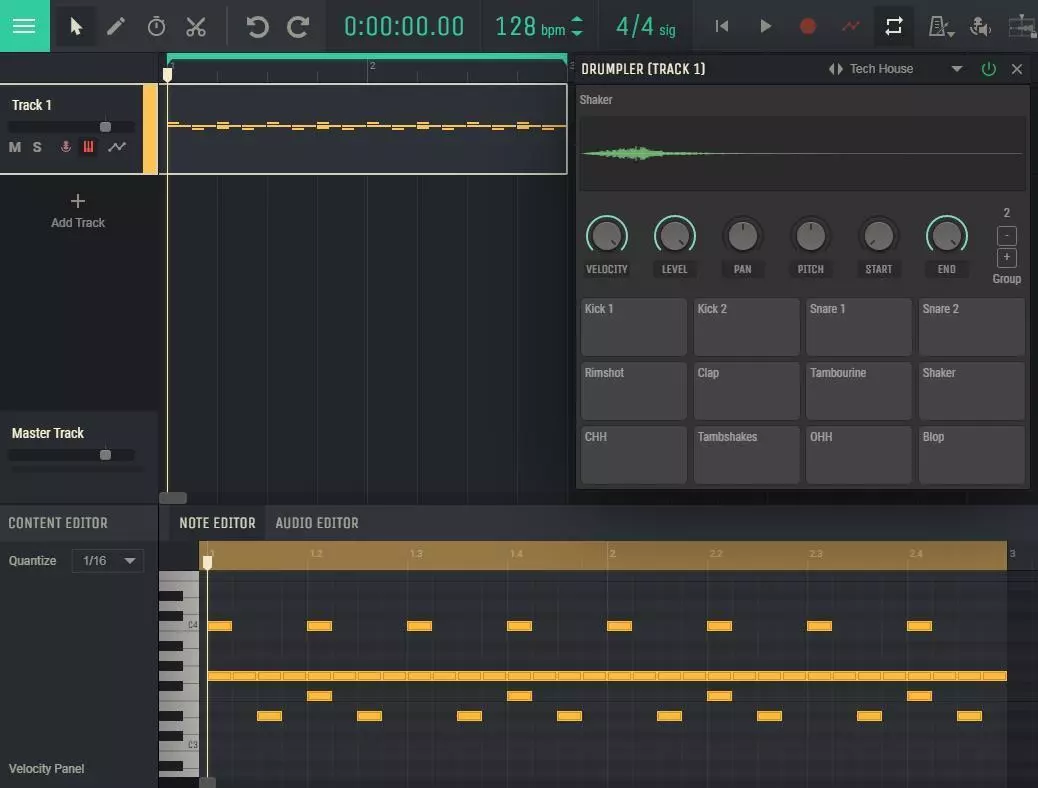 When arranging percussion, in principle, you can give free rein to your imagination and compose something of your own.
4. Bass
After the drums, try adding the bass. You can use both ready-made loops and come up with your own rhythm. It is believed that the right combination of these two elements provides 90% of the success of the composition.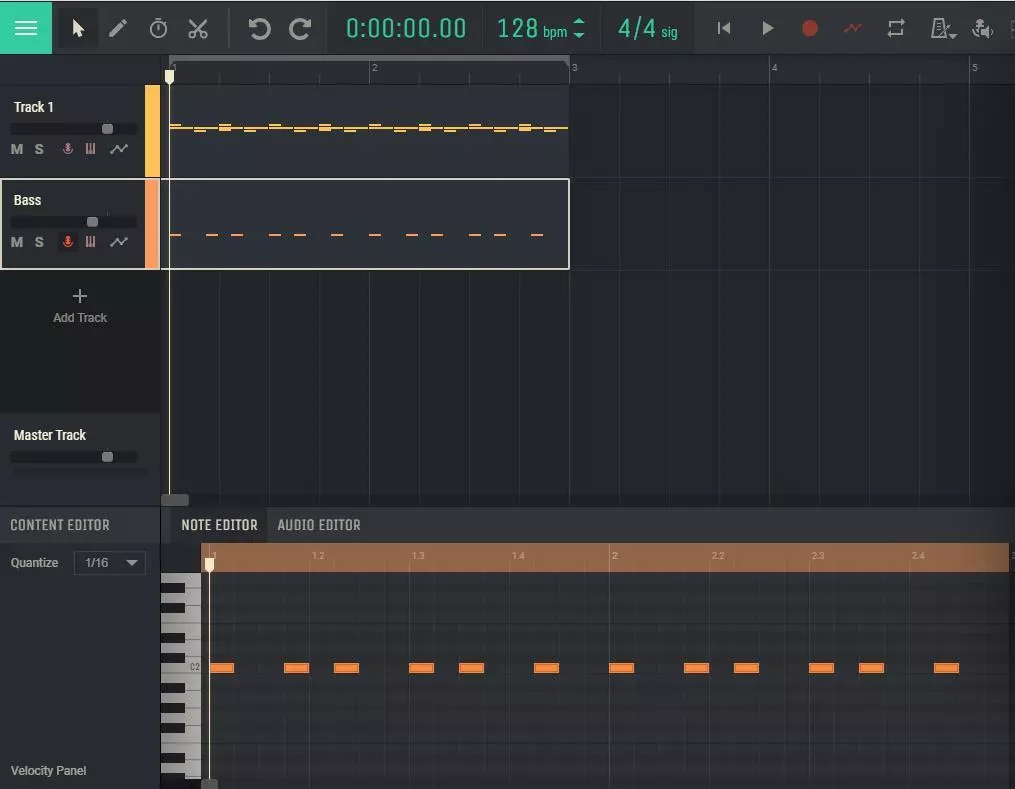 Next, synthesizer parts are added, filling pads, leads, if necessary, atmospheric filling, but in the most basic version everything is built approximately in the order described above.
All the melodies and rhythmic patterns can be created through the midi editor or recorded manually. The role of beat maker online keyboard in such case can perform some midi-device you connected to application or you can distribute samples on your computer keyboard in a most comfortable way to play on it.
Start working with the online free beat maker Drumpler from Amped Studio, and you will discover even more features and possibilities. Create, enjoy, share inspiration with friends. Write music online and let all your wildest musical ideas be realized.