Beat maker online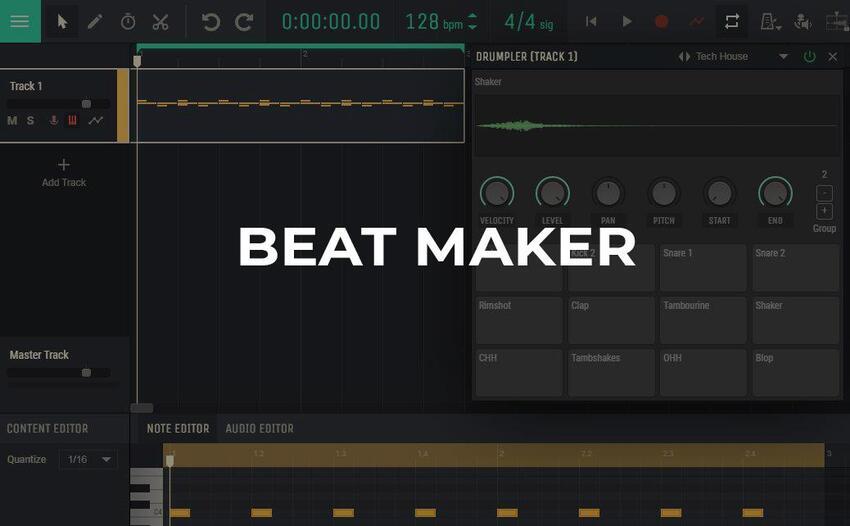 Amped Studio is an innovative online beat maker that provides powerful music production tools right in your browser. With this platform, you get convenient access to professional audio tools and features that allow you to create your own melodies, rhythms and sounds, even if you are not an experienced musician or producer.
Amped Studio offers a wide selection of samples and sounds, as well as an intuitive interface that makes the process of creating music enjoyable and convenient. You can use the built-in tools as well as upload your own audio files to create unique tracks. The platform supports many file formats, which allows you to work with various types of music data.
One of the benefits of Amped Studio free beat maker is the ability to collaborate with other musicians and producers online. You can easily share your projects, exchange ideas, and even create music in real time with colleagues from different locations.
In addition, Amped Studio beat creator provides the ability to make a beats online on any computer device with Internet access.
Tools in Amped Studio
Online sequencer
With the sequencer, you can manage and organize music fragments, midi data and sound samples in a convenient and intuitive environment.
The Amped Studio beats maker has extensive features such as multi-track editing, automation, tempo and beat grid variations, allowing you to experiment with rhythms and create unique sound passages.
Through integration with various virtual instruments and plug-ins, the Amped Studio sequencer gives you the freedom to choose sounds and tones to realize your most creative ideas.
AI Music generator
The AI Music Generator in Amped Studio is an innovative tool that combines the power of artificial intelligence with musical creativity. It gives musicians and composers the unique ability to create breathtaking melodies, harmonies and rhythms with ease and inspiration.
AI Music Generator uses advanced deep learning algorithms based on big data to automatically generate music ideas in various styles and genres. From classical music to modern electronic rhythms, AI Music Generator is able to bring a wide variety of musical performances to life.
With an intuitive user interface, musicians can easily tweak and refine the generated pieces of music, add their own melodic nuances, and create unique compositions that will inspire beginners and seasoned musicians alike.
The AI Song Creator in Amped Studio is a state-of-the-art creative research tool that breaks new ground in the music production process and helps bring freshness and originality to the global music scene.
MIDI editor
The midi editor in Amped Studio gives musicians and producers complete control over midi data and musical ideas. With it, you can create, edit and organize midi notations, controllers and automation, making it easy to turn melodies and chords into impressive musical compositions.
The midi editor in Amped Studio offers a wide range of creative tools such as dragging notes, copying, pasting and changing parameters. In addition, it supports a flexible recording mode, allowing musicians to quickly capture their ideas on the fly.
The midi editor interface is intuitive and easy to use, making the music creation process even more enjoyable and efficient. No matter your experience level, Amped Studio's midi editor is an indispensable tool for bringing your most creative musical ideas to life and bringing unique melodies to life.
Audio editor
The audio editor in Amped Studio provides professional audio processing and editing capabilities. With it, musicians, sound engineers and sound designers can easily and accurately edit audio tracks, create unique sound effects and improve sound quality.
The audio editor in Amped Studio supports a wide range of functions such as slicing, splicing, trimming, volume level, and undoing effects. With these features, users can easily enhance audio material and create a harmonious sound montage.
The intuitive interface of the audio editor allows you to work with audio files as comfortably as possible, while high performance and reliability ensure uninterrupted processing of audio data.
With the audio editor in Amped Studio, the creative possibilities are endless and it will become an indispensable tool for those who strive to achieve professional sounding of their audio tracks and provide the highest level of sound production.
Support for VST plugins
Support for VST plugins in Amped Studio beat generator is a key feature of this great music app. VST (Virtual Studio Technology) is a plug-in format that allows musicians to expand the functionality of their studio by adding various instruments and effects.
With support for VST plugins, Amped Studio users have access to a rich ecosystem of third-party instruments and effects from leading developers. This allows each musician to customize their work environment and select exactly the instruments and sound effects that suit their creative process.
Integrating VST plugins into Amped Studio is seamless and seamless, allowing you to focus on your musical ideas without wasting time on complex setups.
Drum Machine Drumpler
Drumpler is an immersive drum machine in Amped Studio that provides musicians with unique possibilities for creating drum beats and beats. With Drumpler, users can experiment with different sound samples and percussion to create their own unique sound.
Drumpler provides a wide variety of sound libraries and samples, including classic drums and modern electronic sounds. In addition, it supports the ability to import your own samples, which gives you more freedom for creative experiments.
With an intuitive interface and a flexible sequencer, Drumpler provides convenient control over each note and sound parameters, allowing you to create complex rhythmic structures with ease.
Creating a voice-based midi with HumBeatz
HumBeatz is an innovative feature in Amped Studio that turns users' voice melodies and rhythms into music tracks. With HumBeatz, musicians can simply whistle, hum or sing their tunes and then convert them into MIDI data that can be used to make beats, various instruments and sound effects.
This unique technological solution allows musicians to easily and quickly bring their musical ideas to life without wasting time on complex musical arrangements. HumBeatz offers a simple and intuitive interface that gives musicians complete control over how their voice recordings are converted to MIDI data.
With HumBeatz in Amped Studio, the creative possibilities for musicians are endless. They can use their voice as a powerful tool to create melodies, bass lines and unique sound textures, giving their music their own unique style and character.
Online piano
The online piano in Amped Studio is a user-friendly and interactive virtual instrument that allows musicians and aspiring pianists to experience the joy of playing the keys right from their web browser. With Amped Studio beat maker keyboard, no additional installations or downloads are required, beat making it the perfect tool for creating on the go or just for fun.
The online piano has a realistic sound and a variety of musical octaves, allowing you to play a variety of melodies and chords. The online piano interface is intuitive and easy to use, making it accessible to anyone who wants to experience the magic of making music on keyboards.
No matter your level of playing, Amped Studio's online piano is the perfect tool for experimenting with melodies, chords and harmonies.
Voice recorder
Audio recording in Amped Studio online beatmaker is a simple and powerful process that allows musicians and audio engineers to capture high quality audio clips. With a user-friendly interface and multiple settings, users can easily create audio recordings ranging from vocals and instruments to various sound effects.
Amped Studio gives you flexibility and control over your audio and voice recording process. Musicians can select the sound source, adjust the volume, apply effects, and use the metronome for synchronization. This allows you to create clean and professional audio tracks with minimal effort.
In addition, Amped Studio free beatmaker supports a variety of audio file formats, which ensures compatibility with various devices and programs for further processing and use of recorded sounds.
Whether you're a professional audio engineer or an aspiring musician, Amped Studio offers everything you need to record high-quality and convenient sound, helping you capture your musical inspiration in the best possible way.
Chord progressions generator
The Chord Progressions Generator is a tool that gives musicians endless possibilities for creating unique chords and harmonies. With it, even those who are not experts in musical theory can easily generate complex and melodic chord progressions.
Chord Progressions Generator has a variety of settings and a wide selection of styles, allowing the user to select the desired atmosphere and mood for their music. In addition, the instrument provides the ability to adjust the generation parameters to create the perfect chords to suit your musical needs.
Additional functionality
Automation
Adjust the volume, panorama, effect parameters in dynamics.
Connecting instruments
You can connect microphones, guitars, synthesizers and other recording instruments to the program.
Share the project
Several participants can work on the project at the same time, who can simply send and share a link to the production. Whether they are in different countries or different continents, each member can easily share their version of the music track with the rest. In the future, each of the participants has the opportunity to add their own additions and ideas to the overall composition, which makes the collaboration more creative and inspiring.
Video calling
Video calling in Amped Studio is a handy feature that allows musicians and producers to interact and collaborate in real time without leaving the studio. With this innovative feature, participants can hold virtual sessions and discuss musical ideas, giving each other feedback and making any necessary adjustments.
Video calling in Amped Studio provides an easy-to-use interface for communication and collaboration that eliminates geographical restrictions and allows employees to unleash their full creative potential. Musicians can simultaneously listen to and edit musical compositions, share screen and files, which makes collaboration even more productive and efficient.
Through video communication in Amped Studio, making beats online becomes a collaborative creative process that contributes to mutual enrichment and the realization of the most ambitious musical ideas. This function promotes the development of creative communities and contributes to a more harmonious and perfect musical production.
Conclusion
All in all, online beats maker Amped Studio is a great tool for anyone who wants to make beats online free like a pro without having to install complex software on their device. With it, you can develop your creativity and give free rein to your musical ideas right in the online environment.