Song recording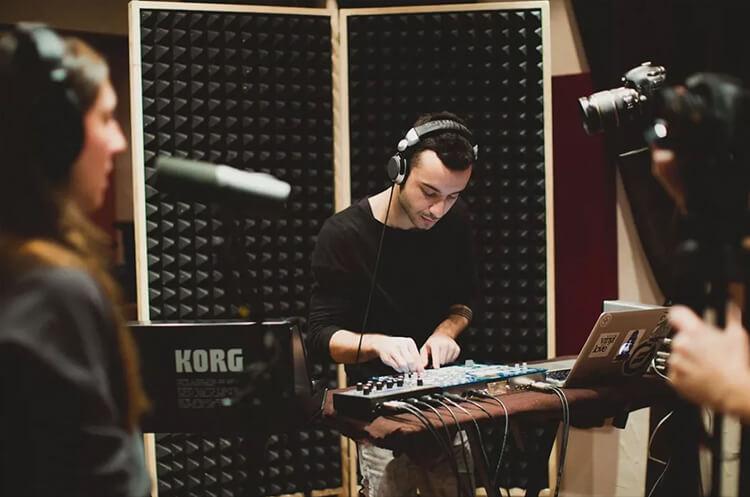 Many music creators, especially on the path of becoming, often face difficulties, especially when it comes to capturing vocal expressions. After all, not everyone has a personal song recording studio at hand, and the creation of audio masterpieces online or attempts to create a hit in a relaxed atmosphere, to be honest, do not always fit into the budget, especially at the initial stage of the creative path. In addition, not everyone wants to join the general queue in the company of colleagues in the musical mission.
In such cases, the idea naturally arises of translating musical ideas at home using your own computer. However, where and how to take this first step? For this purpose, many programs appear on the scene, but among them, Amped Studio occupies a special place – a virtual creative space that is worth paying attention to.
Amped Studio is an innovative online song recording studio and creative melody production tool. Its functionality is accessible to both beginners and experienced professionals thanks to its intuitive interface and rich set of useful features. This musical instrument provides simultaneous MIDI playback and song recording of polyphonic melodies, the ability to add instrumental elements to the voice track, and much more. What's more, Amped Studio music recorder opens up unlimited creative possibilities, including voice recording and vocalization, support for VST plug-ins for audio post-processing, and the benefits of working without the need to install additional programs on your computer.
How to connect a microphone and start song recording
All you need to do is plug in your microphone to get started on your creative journey. It's really simple. Your first step is to create a new project by selecting the appropriate option from the menu located on the left side of the screen. After that, after making sure that your music recording device is successfully connected to your computer or laptop, the next step is to tap on the microphone icon. Only then can you start recording song.
Now, with all these simple steps completed, you're ready to hit the "Record" button (you'll find it in the center of the top bar, it's red). In addition, you can activate the metronome before starting, which will help you keep the rhythm and pace of your sound ideas.
Tools for recording songs in Amped Studio
Sequencer
The sequencer tool in Amped Studio online beat maker is an efficient and intuitive tool for recording instruments and voices, providing the ultimate convenience in your music production process.
In terms of recording instruments, the sequencer in Amped Studio music recorder offers a completely laid-back way to play and record melodies. You can easily select and drag sounds and instruments to their respective tracks, creating complex compositions by layering them on top of each other. This process is especially convenient thanks to an intuitive interface with drag-and-drop tools (drag and drop), which allows you to easily manipulate sounds and arrange them in the desired order.
When it comes to song recording, the sequencer also offers an easy and efficient way. You can use the microphone connected to your computer or laptop to record vocals and music. Before you start song recording, you can adjust input levels and set desired effects such as EQ or reverb to achieve your desired sound. In addition, the ability to simultaneously record MIDI and audio tracks allows you to combine instrumental parts with vocal expressions, creating a deeper and richer sound.
The sequencer tool in Amped Studio also supports automation features, allowing you to fine-tune the parameters of sounds and effects over time, making your song recording even more expressive and dynamic. All in all, the Amped Studio song maker provides you with everything you need to create, combining convenience, functionality and sound quality.
Audio editor
The audio editor tool in Amped Studio music recodred is a powerful and flexible tool for creating and editing audio recordings, providing an excellent convenience when recording instruments and voices.
In terms of instrument recording, Amped Studio's audio editor allows you to create layered compositions by combining the sounds of different instruments and parts. You can easily add new audio tracks for different instruments, and copy, cut, and paste audio snippets to fine-tune the arrangement. The intuitive interface allows you to visually control your music recordings, edit volume, pan and apply a variety of effects such as EQ or delay to create the sound you want.
When recording voice, the audio editor also offers convenient features. You can turn on your microphone and start recording voice parts directly from the program's interface. Amped Studio song recorder gives you control over the input level and gives you the ability to listen to the results in real time. You can also apply audio effects to your recorded voice to achieve the tone and sound you want.
One of the features of the audio editor in Amped Studio is the ability to work with different layers of audio. You can easily overlap and blend voice and instrumental recordings on different layers, allowing you to create rich and rich sound textures.
VST plugins
Amped Studio's VST plug-in support gives you unlimited possibilities to enrich your instrumental and voice recordings for the ultimate in music production.
When it comes to recording instruments, VST plugin support allows you to add a variety of virtual instruments, effects and sound effects to your audio tracks. You can easily insert and customize VST plug-ins directly within the Amped Studio song recorder interface, giving you complete control over the sound of each instrument. For example, you can add a virtual synthesizer to create unique sounds, or apply audio effects such as delay, reverb, or distortion to add interesting and captivating aspects to your music.
Support for VST plugins also plays an important role in voice and song recording. You can use vocal processing such as compression or pitch correction to achieve the perfect vocal sound. If you have your preferred voice processing VST plugins, you can easily integrate them into your recording process, making it much easier to create professional vocal tracks.
With support for VST plugins in Amped Studio song recorder , you can also expand your arsenal of sounds and effects at any time. You can add new VST plugins that suit your needs and inspiration, making your song recording process more creative and varied.
All in all, Amped Studio's VST plugin support provides convenience and flexibility for recording instruments and voices, allowing you to achieve high-quality sound and uniqueness in your music.
Audio processing capabilities
Amped Studio song recorder provides the ability to capture vocals and process them through a variety of online effects and configurations.
In this program you will find a wide range of options for working with vocals:
Play with reverb, compression, equalizer and many other audio effects to improve the quality of your song recording;
Ability to record music and edit multiple audio tracks;
Full audio processing automation for smoother results.
In addition, Amped Studio song recorder gives you the power to create coherent musical compositions by connecting vocals with a rich library of free samples, MIDI files, loops and rhythms.
You should also pay attention to the fascinating Hum & Beatz tool, which will add an extra flavor to your musical experimentation. You can transcode the sound of your voice or beatboxing into melodies and rhythms. Just select the recorded sound and the program itself will convert it into musical notes, which you can easily change, edit the volume and adjust to your taste. This opens up vast creative possibilities with vocal recordings, allowing you to express yourself in music on a whole new level.
Saving a song
There are two options for saving a completed song recording of musical works, including adding vocals and voices to a composition in an online studio: audio export and publication.
Audio export procedure
When working with the program, the function of exporting tracks in WAV format is provided. By selecting this option, your musical composition will be saved on the hard drive of your computer or laptop. This method ensures that your creative achievements are securely stored.
Publication of musical works
In addition, Amped Studio song recorder provides a unique opportunity to publish your music tracks on the platform server. After selecting this option, your entry will be uploaded to the server and made available within your account. It is important to emphasize that the file name automatically matches the name of your project in the studio. However, you also have the option to make changes to this name directly on the website. Just go to your profile and click on the edit icon next to the track. Additionally, you can include a description for your creation and add keywords to optimize searches on various search engines. This functionality contributes to the convenience and efficiency of publishing your music in the online community.
Share your post with others
Among other things, Amped Studio gives you the ability to easily share your music with friends and colleagues, creating a space for collaborative creativity. This means that anyone with access can enter the track, listen to it, and add their own creative touches.
To do this, just go to the menu and select the appropriate option. Your music can be easily shared through various social media platforms or by email. Alternatively, you can simply share the track link with your friends.
Once you receive such a link, all you have to do is click on it and the track will automatically open in your web browser. The project will load instantly, and you can start working on it in just a matter of seconds. It is important to emphasize that once you save a project that you opened from someone else's link, all changes made will remain within your account until you share the new link with your friends or colleagues.
Conclusion
Looking ahead, it's clear that being able to record music and songs in the comfort of your own home through Amped Studio is a great solution for those who want to create quality music quickly and effortlessly. You don't need to have expert knowledge to do this – all you need is a microphone. At the same time, the program provides an extensive set of features that can satisfy even the most experienced vocalists. Collected songs can be easily saved or shared with friends around the world, creating strong bonds through music. We also note that this studio opens the door for joint work on song recordings with other talented composers. By sending and receiving your ideas back, you can bring new sound ideas to life and reimagine your melodies with inspiration and creativity.