Song maker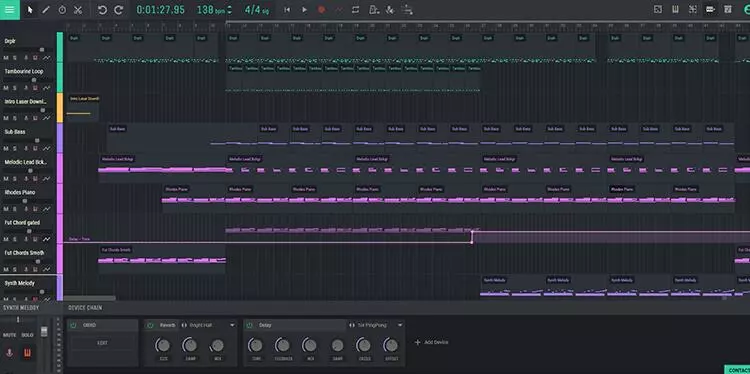 Amped Studio song maker is an innovative song maker that works right in your web browser. It provides complete possibilities for creating music at any stage – from recording to mixing and mastering. This handy tool lets you bring your creative ideas to life without the hassle.
Thanks to Amped Studio free song maker, songwriters no longer put their ideas on hold due to the lack of specialized software on a computer nearby. It is available at any time and on any device with the Internet, without requiring additional free space on the device, since all data is stored on a remote server. Now you can record melodies or vocals suddenly and without restrictions, even if your computer does not have enough space for new applications.
What are the instruments in Song Maker
AI music generator
The AI music generator in our song maker provides amateur musicians with a unique opportunity to improve their creative process. In the music industry, as in many other areas, the use of AI is seen as a complementary tool, not a substitute for human creative input.
Today, experts, researchers, musicians and record companies are actively looking for new ways to integrate artificial intelligence technologies into music. Some programs are able to make works in the style of various composers, while others use machine learning algorithms to create completely new songs and sounds.
It is important to note that while AI can provide valuable creative ideas, solutions, and environments, the musical artistry and expressiveness that brings performance uniqueness remains a human prerogative. Artificial intelligence complements and enriches musical creativity, making it more exciting and inspiring for all musicians.
Online sequencer
Amped Studio music creator offers a unique sequencer with a variety of features. It's easy to place audio or midi clips in the arranger window and connect them to instruments and effects via the device panel. The automation feature allows you to adjust the volume and pan while playing a track.
Another handy feature of Amped Studio song creator is its hybrid tracks, which can be used as audio or midi clips depending on your choice and needs.
Midi sequences provide musical information for various instruments such as samplers, synthesizers, online drum machines, and effects. With the "Piano Roll" tool, you can manually edit the position and length of notes, giving you complete control over the audio and musical expression.
Online midi editor
Our song maker innovative midi editor developed by outstanding experts, providing a wide range of functions for creating with midi files:
Intuitive selection and smooth movement of individual notes along the track, providing a flawless musical arrangement;
Complete change of note duration, with the ability to increase and decrease, to fine-tune the rhythm and tempo of the composition;
Full control over the speed of playing notes, allowing you to achieve the desired dynamics and expressiveness of sound;
Make unique connections between elements with the option of slowing down, opening up new harmonic possibilities;
Breathe a "human" touch into the notes, giving them a natural sound, just like playing a real musical instrument;
Smooth adjustment of the pitch of notes for detailed audio tuning and creating melodies to your liking;
Use the built-in audio effects to experiment with material and give a unique touch to your musical ideas.
This handy and intuitive application offers ease of use. You just need to make a new file and add an existing song recorded using MIDI devices such as a keyboard or digital piano to it. And if you want, you can create an entirely new composition using the impressive array of tools available.
Audio editor
Amped Studio free music maker is an innovative audio editor that provides processing of vocals, work with musical instruments and audio editing in various formats, including the use of VST effects.
Editor Benefits:
Unconditional convenience – work directly in a web browser, no installation required;
Instant start – start creating immediately after registration, without unnecessary difficulties;
Rich functionality – provides advanced opportunities for creativity and editing sound compositions;
Quick access – launch projects instantly, without the need to download or install additional components;
Versatility – supports almost any audio format, providing the convenience of working with different types of files;
Easy to Edit – Easily split, trim and merge melodies, making the editing process easy and enjoyable;
Audio automation – manage effects and sound parameters easily, achieving the desired results;
Intuitive voice recorder – record vocals right in the audio editor for easy operation.
Amped Studio online song maker has unique support for VST (Virtual Studio Technology), which turns it into a virtual "machine" for creating tracks using "smart" algorithms, which is especially useful for beginner musicians. Even without experience and special knowledge, everyone can easily write their bright track.
All the main functions of the editor are on the home screen, and additional actions are performed in just a few clicks. Convenient automation tools make it easy to control the sound and achieve the desired effects. The functionality of the Amped Studio audio editor is designed so that the basic steps are always at hand, making the audio editing process as convenient and efficient as possible.
VST plugins
The Amped Studio online sequencer supports VST plugins. Their use here is just as convenient as in standard DAWs. On the bottom panel there is an "Add device" button that calls the context menu. In it you need to select "VST / Remote". After that, it will be possible to use all the plug-ins installed on the computer. To do this, the site will offer to install a special program that takes less than a minute of time. You can also specify the path in the settings if the VST plugins are located in a special folder. Amped Studio online music maker is the only online music production software with this feature.
Drum Machine Drumpler
The Amped Studio online drum machine is accessible from any device connected to the Internet, including desktop computers and laptops on Windows or MacOS. All you need to use it is a browser and internet access.
A special Drumpler plugin is designed to make rhythm parts. It includes 12 pads with 17 sound sets and allows you to use a mouse, midi keyboard or laptop buttons. In addition to simply using an online drum machine, in Amped Studio free song maker you can record a beat on a midi track and further edit, process effects, arrange and save it on your computer, turning it into a complete composition;
Amped Studio online song maker provides a rich library of samples and loops for creating drum and melodic phrases. By dragging loops onto the workspace, you can quickly compose a drum part, and then unique it by choosing sounds, doing automation and processing effects;
Amped Studio free online music maker also offers virtual instruments and effects that can be applied to individual drums, making the audio more interesting and powerful. The beat can be enriched not only with drums, but also with melodic instruments using synthesizers and samplers;
The program supports teamwork, which allows musicians to collaborate. One person can make beats with a Drumpler, another add bass and chords with synths and samplers, and another write rap lyrics.
Online piano
If you do not have a real online piano for creativity, composing melodies, or just for fun, then it would be a great idea to learn how to play the piano online, and absolutely free. You do not need to purchase any additional tools – all you need is a computer and Internet access. This is convenient because before you invest in a real instrument, you can try playing and creating your own music with free software to see if it really suits you.
Hum & Beatz
Amped Studio has a powerful Hum & Beatz note detection feature that allows you to recognize notes and drums in audio files. This is especially useful for humming or beatbox recordings, but can also be used with other monophonic and rhythmic audio files, allowing you to experiment.
To use the beatbox detection feature, make sure that the track has a percussion instrument, such as a Drumpler, to play the detected beats. To detect notes, simply right-click the audio area and select the type of detection you want. Then the studio itself will detect and add notes to the region.
If you need to lower the volume of an audio clip or make changes to detected notes, you can do so in the content editor. Double-click an area to open the audio editor and use the gain slider to adjust the volume.
To work with detected notes in a region, switch to the "Notes Editor" tab. Here you can delete, move or add new notes.
Online song recorder
Amped Studio is an extraordinary online voice recording and music production tool that offers advanced studio features and capabilities in one place. This eliminates the need for additional programs, which makes the process of creating compositions and songs easy and convenient.
The main features of Amped Studio can be used for free, but a paid account provides additional benefits such as saving and exporting projects in various formats.
The program provides a variety of options. For example, it allows you to make synthesizer sounds (MIDI files) from voice recordings. You can also change your voice by applying audio effects and tools in real time, and add music to voice recordings online. These features are often used for dubbing joke videos, video games, and personal projects.
Amped Studio keeps users' data secure as all recordings and projects are only available to the user and are not uploaded to the application's servers. Users have full rights to created projects, including recorded voices, and their creativity is not used without their consent.
To use Amped Studio, all you need to do is open the website in your browser and sign up for free. Below are the steps to record audio online:
Start your project by selecting the "Create a new project" option from the "New" menu;
To start recording, click on the "Record" icon on the left panel called "Track 1" or use the "Record" button on the top panel. This handy tool will allow you to record both voices and melodies from external sources;
After recording, enhance your audio recordings with the intuitive audio editor available on the bottom bar;
Experiment with the tone of your voice using the note editor on the bottom panel to make unique tonal sounds.
Chord progression generator
Let's get acquainted with the advantages of the Amped Studio online chord maker:
Intuitive MIDI editor interface: Amped Studio provides the ability to compose melodic and harmonic parts using the mouse or midi keyboard. Its simple and clear interface makes it easy to work with the chord progression generator, and also reveals additional functions for creating musical masterpieces.
Access from any device: Amped Studio works through a browser, which allows you to create song online anywhere and from any device, be it a computer, tablet or smartphone. It is convenient and provides mobility in your creative process.
Collaborative mode: You can collaborate with other musicians, friends or members of your musical group, matching chords and working on a project at the same time. Amped Studio gives access to the project to several users, which facilitates collaborative work from different computers.
Rich library of samplers, loops and patterns: Use the online chord generator based on pre-made drum or bass parts to help you discover new musical ideas and inspiration. A wide selection of samples and patterns will enrich your creative process.
Chord Maker: If you don't know musical theory or have trouble with scales and tonalities, don't worry. Amped Studio provides an automatic mode that allows you to get beautiful harmony without the need for deep musical knowledge.
An easy way to create midi patterns: Create your own midi pattern on the workspace with the mouse and go to the music editor. Here you can draw any chord yourself by placing block notes one on top of the other so that they sound at the same time. And if you want to experiment, the built-in chord progression generator will help you randomize notes automatically.
Check the "Chord Creator" option in the menu;
Select the desired key and mode (for example, A minor);
Click on chords (Am, Em, C, etc.) to add them to the note grid;
Use the "Add Next Chord" button to make a chord sequence;
In the "Rhythm" section, select the note duration settings using the drop-down menu and the "Interval" slider;
Experiment with moving blocks, create your own arpeggios and movements to give a unique character to your music.
Mixing and mastering in online song creator Amped Studio
Amped Studio online beat maker provides powerful mixing and mastering tools for high quality audio processing. Mixing is the process by which separate audio tracks are combined into a single sound space. Here you can adjust the volume, balance, pan and apply various effects to achieve the sound you want.
Once the mix is complete, mastering begins, the final stage of audio processing. At this stage, there is an improvement in sound quality, frequency balancing and dynamic range. Mastering also includes the application of special effects and compression to achieve optimal volume levels and overall smoothness.
Amped Studio song maker offers simplicity and ease of use, providing a wide range of tools and plug-ins for mixing and mastering. Whether you're a beginner or an experienced sound engineer, no matter your level of experience, you'll be able to achieve the professional sound of your projects. With an intuitive interface and the ability to work online, Amped Studio song maker is the perfect choice for anyone looking to enhance their music.
Who might be interested?
Aspiring beatmakers: If you are just starting out in the music world and crave to make amazing beats and rhythms, then Amped Studio song maker will be your faithful companion. With an intuitive interface and rich selection of instruments, you can turn your ideas into sound without the hassle.
Professional beatmakers: For experienced sound engineers who strive for perfection and high sound quality, Amped Studio online song maker provides all the necessary features and tools for the creative process. You will be able to realize your most complex ideas and get professional results.
Songwriters: If your passion is songwriting and creating catchy tunes, then Amped Studio online song maker will help you through the process. You can spend more time creating with an intuitive interface and ready-made sound libraries to make a song online that sound the way you intended.
Demo Recorders: If you would like to demo record your ideas or compositions, Amped Studio song creator provides you with all the tools you need to record and process audio in high quality. This is a great way to present your talent and pass it on to others.
Arrangers: Amped Studio song maker gives you the freedom to experiment and create unique arrangements. You can instantly drag and drop the elements of your composition to find the perfect combination of sounds.
Mixing Engineers and Producers: Amped Studio free song maker provides you with powerful tools for mixing and mastering your music. You will be able to balance sounds, apply effects, improve sound quality and achieve professional-sounding projects.
How is a song created?
Creating a song is a process that remains complex and magical even today. For the average person, the key and decisive aspect of this process is the composition of the music itself. This is especially true for authors who do not have the skills to make music on their own. However, before the song is released and presented to a wide audience, it goes through several stages of refinement. This process includes the following steps:
Songwriting: The music writer, who is responsible for creating the vocal melody and basic piano or guitar accompaniment, begins the songwriting process. In some cases, another person may take over writing the lyrics to the music. When the basis of the song is formed, an experienced arranger can take on its further development.
Arranging: The arranging stage is a magical moment in creating music. The arranger selects instruments, improves harmonies, develops musical ideas, creates transitions and hooks. Only after the completion of this stage, the music comes to life in all its beauty.
Sound recording: After the arrangement is complete, it is necessary to record clean vocals and, if the music is created using live instruments, also record drums, guitars, violins, trumpets, piano and other instruments that are included in the song. This requires talented musicians and a professional recording studio.
Editing: Working with mic tracks can be a complex task, and the editing phase requires carefully selecting takes, adjusting timing and volume, correcting pitch, and removing unwanted noise such as clicks, pops, and background sounds.
Mixing: After all the sound tracks are brought to perfection, the sound engineer takes over the mixing. It adjusts volume levels, applies equalizers, compressors, saturators and reverbs to process audio tracks. Mixing is also a complex process and requires a certain skill, just like writing music.
Mastering: After completing the various tracks, the mastering engineer gets the mix ready and polishes the sound to perfection using high quality monitors, equipment and an acoustically treated room.
In addition, it is worth mentioning the importance of promotion. Promotion of a song and its promotional campaign, including release on streaming platforms, are key steps to capture the attention of the audience. Without decent promotion, even a potential super hit can go unnoticed.
All of these steps, from writing music to releasing and promoting it, form the basis of the song creation process. Online song maker Amped Studio has all the tools you need to take this creative journey. It is a simple and user-friendly tool available on all devices that will help you bring your musical ideas to life in just a few minutes.