Song maker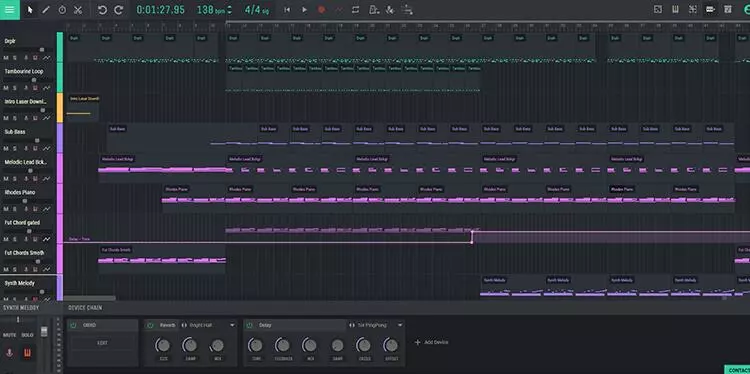 Amped Studio is a music sequencer that works through an internet browser. It does not require installation on a computer and at the same time provides full functionality for music production at any stage: from recording to mixing. This is a easy song maker that helps you quickly bring creative ideas to life.
Often times, a songwriter has to postpone ideas because there is no computer with specialized software nearby. And over time, they are simply forgotten. Sometimes a musician is forced to play a melody and record vocals in a hurry, in this case he does not have time to download and install software. And it happens that there is simply no place on the computer for this software.
Amped Studio browser song maker does not need free space, all its components, like user projects, are stored on the server. To run the program, any device with Internet access is suitable: a computer, on Windows, MacOS. Write songs anytime anywhere.
What can Amped Studio song maker do?
This sequencer records audio and midi from a microphone or midi keyboard. You can edit audio recordings in the audio editor; for editing midi tracks, it has a note editor. The multitrack format allows for complex arrangements. Each track is automated if necessary.
Notes are played using virtual instruments: samplers, synthesizers and drum machines. This song maker also provides many virtual effects devices (compressor, EQ, distortion, reverb, delay, chorus, phaser, and others). Users process the recorded songs so that they sound more colorful and pleasant.
For those not looking to record external sources, Amped Studio online music creator offers a free library of samples, loops and midi patterns. These are ready-made phrases from which songwriters and arrangers assemble the accompaniment. It can be edited and altered to your taste. Often times, a loop from the library is the starting point and helps you get going when the musician is out of ideas.
How to write songs in Amped Studio?
The classic format of work in a song maker is a live recording with a metronome. Activate the track by clicking on the microphone icon, turn on the click at the desired tempo and record a voice, guitar or any other instrument from an external input. To line up the beats, move them (if it's audio) or quantize (if it's midi).
Another way is to drag and drop a loop from the library and then modify it. In order for the midi pattern from the library to sound, in the lower panel of the song maker, you need to select an instrument and assign it to the track. Here you can find ready-made sounds or create your own unique ones. The online music maker also allows you to write notes from scratch, rather than using ready-made note drawings. To do this, simply arrange the notes the way you want.
Having recorded the vocal part and made the accompaniment to it, we will get the raw material. But the track maker Amped Studio has built-in effects that will turn a set of tracks into a song. The compressor will even out vocals, the reverb will create volume, and the equalizer will help cut out unpleasant frequencies. You will also find many other appliances here.
How to make a song?
To create a piece of music, we need a beautiful melody, a simple chord progression and a drum part that sets the rhythm. If we're talking about a format like a song, then we also need a vocal line with a verse and chorus. Professional producers make sure to come up with short, catchy hooks, which are often repeated and appear in different parts of the song.
When a musician composes a song in a song maker, he usually uses a pattern approach. One chord combination and one drum phrase are constantly repeated. In the chorus is a different combination appears, a different pattern. Basically, all songs are made up of repeating chunks that are shuffled together in a virtual music maker. Some for the verses, some for the chorus, and some for the intro and outro.
But so that the listener does not get bored and feel development, a new element should appear with each pattern. It can be a shaker, a synthesizer in the background, some kind of effect, etc. This is the foundation of any song: melody, rhythm, repetition and development for any kind of music rap, dubstep, soundtracks, electronic dance music. The most difficult thing is to catch a good tune, groove, melody and have time to write everything down. For this, an online song maker Amped Studio is best suited.
Amped Studio gives you all the tools for songwriting. And even more. It will help create a beat, record a vocal part, make an arrangement, and give a song a beautiful and harmonious sound. At the same time, the song & tune maker is easy to operate and works on all devices. You can open it right now, and in a few minutes, you will have a sketch of a new song.