Audio Editor Online
Amped Studio's online audio editor is a truly simple and fast method for transforming music files. Downloaded songs are editable, trimmed, mixed and applied, all in the browser version. Here you can make music compositions, voice recordings, podcasts and a variety of audio tracks.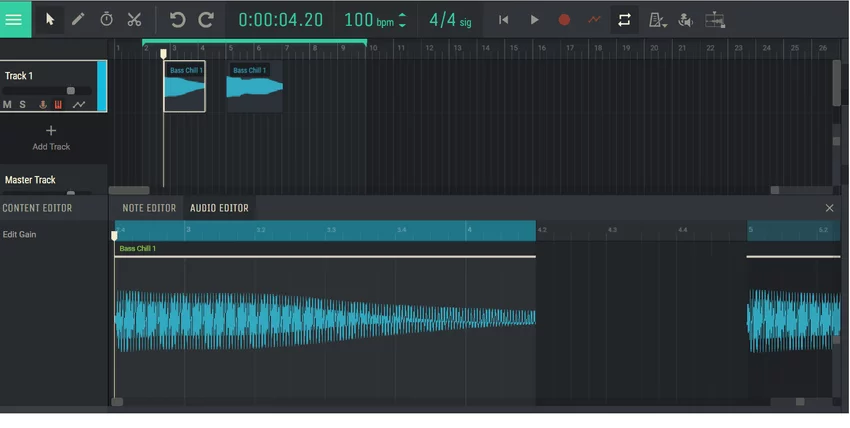 Today, there are many applications and services on the Internet that provide functions for trimming, merging files, deleting fragments, creating ringtones and increasing the volume. Choosing the right free online audio editor is a task that requires attention. However, among the variety of available options, Amped Studio online beat maker stands out.
What makes Amped Studio special? It provides a simple and clear interface that impresses with its functionality. Practicality and power are combined in this editor, making it an indispensable tool for musicians and audiophiles. This is a great online solution where every note, every sound takes on a new dimension.
So if you're looking for an easy and efficient way to transform your audio creations, Amped Studio is your trusted companion. This free audio editor has powerful functionalities that will enrich your musical palette and make your creative process inspiring and enjoyable.
Benefits and Pros of Amped Studio Audio Editor
Recognizable musicians, as usual, use specialized software. Such programs require installation on a computer, and they are demanding on the hardware configuration, in addition, they are quite expensive. However, there is a more affordable way – use an online audio editor for quick one-time editing. This tool allows you to record vocals, instrumental parts and work on compositions, process sound and voice in the desired format (including the use of VST effects).
So, here are some compelling reasons why you should take a look at Amped Studio song maker:
Online song editor without the need to download – everything works in a web browser, you do not need to install;
Quick start – after registration you can start using the editor immediately;
Advanced features – Amped Studio offers rich functionality for creativity and online music editing;
Applying effects – applying to audio reverb, delay, compression, chorus, flanger, modulation, etc.;
Support for almost any audio format – you can work with your files without restrictions;
Easy splitting, trimming and merging audio tracks – intuitive interface allows you to quickly make changes;
Automation of sound and other parameters – you can easily adjust the dynamics and effects;
The built-in voice recorder (for recording vocals) is a handy tool for capturing your ideas.
However, the real highlight of the music editor in Amped Studio lies in its ability to support VST (Virtual Studio Technology). This plugin acts as a kind of compensator for the lack of professional musical education and experience. In practice, the browser-based audio editor turns into a virtual "workshop", which, with the help of smart algorithms, greatly facilitates the creation of tracks. Now the process of creating your own musical masterpieces has become available to absolutely everyone, without exception.
The main functions of the editor are located on the first screen, which ensures ease of use. Convenient tools for automating actions, such as fading in or out, make the online audio editing process even more intuitive. The functionality of the audio editor is organized so that even basic actions are always at hand, allowing you to fully focus on musical creativity.
Features of the free online audio editor Amped Studio
You just need to register to understand how the Amped Studio online music editor works. Start by uploading your material to an audio multitrack, after which you can use the basic set of tools, effects.
The starter (free) package includes 5 instruments, 10 virtual effects, uploading your own files, recording in a vocal editor, and a sequencer. The demo mode allows you to understand how you can edit a music or voice document. Want to know more? Watch video tutorials and read related content. They are also free!
The main restrictions concern the list of features, effects, export (save) of the modified project. All this and much more is in the premium (paid) version. Your best bet is to purchase an annual editor subscription for $49.99, which will save you $9.98 (compared to a monthly renewal).
Features of the audio editor with a paid subscription
All functionality of the sound editor conceived and developed by us is available in the paid version. A complete set of tools/effects/modes allows you not only to edit audio online or voice track, but also to help you unleash your full creative potential – and without the use of specialized software.
You will be able to use a large library of the samples described above using VST technology, you will not be limited in the possibilities and quickly save audio files of the desired format in the full version of the editor. The online audio and voice editor is great for beatmakers, keyboardists, vocalists, musicians of any level.
A paid subscription allows you to feel more free, use all the features of the application. The support service is ready to answer all questions, deal with the service and help solve all problem situations.
How to edit an audio file in the online music editor Amped Studio
1. Just drag and drop the audio file into the music editor window: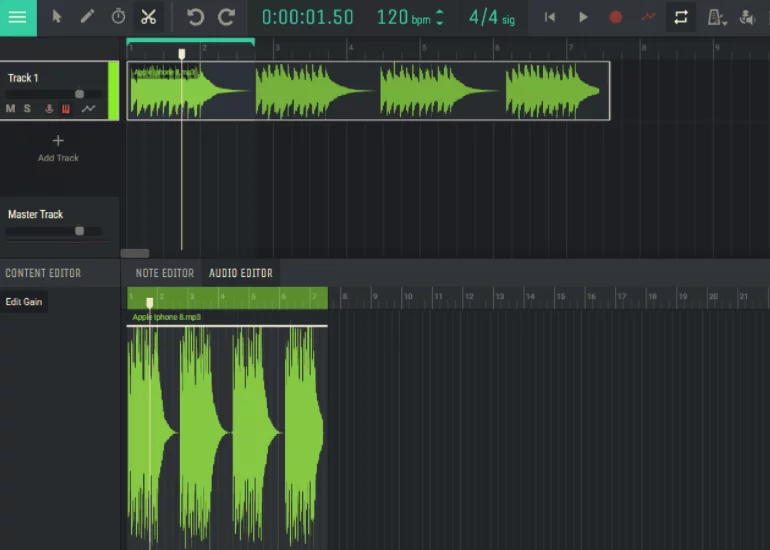 2. Select the scissors tool and click on the location of the audio file where you want to cut it: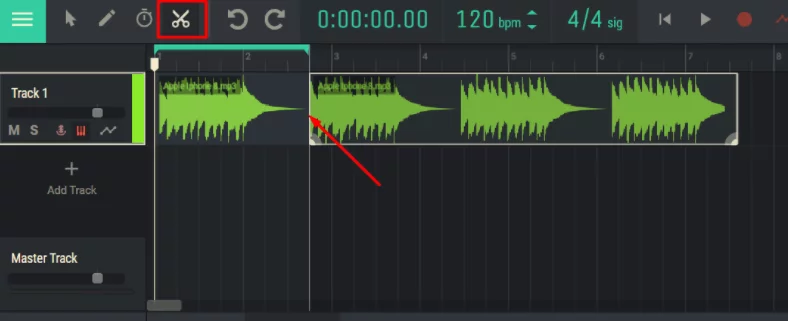 3. Remove unwanted part: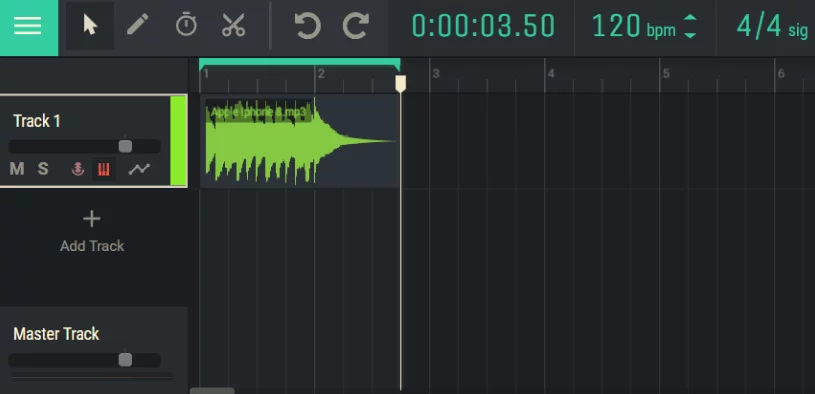 4. Select "Export Audio" from the menu and specify a location to save the file: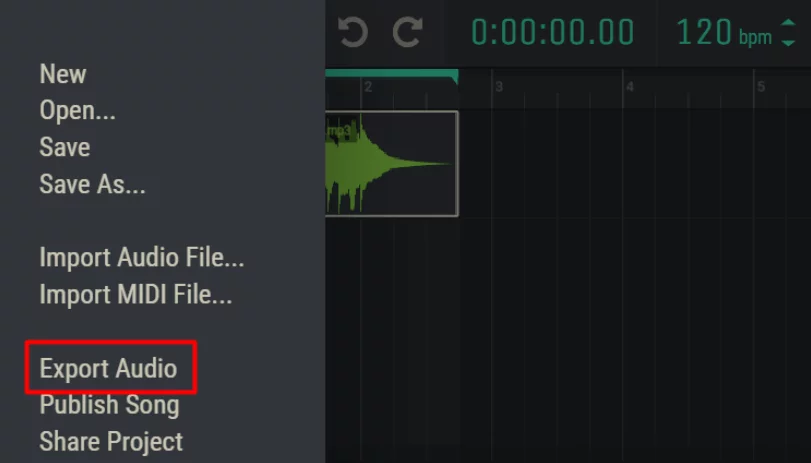 In addition to editing in Amped Studio, you can create your own sound effects, additional arrangements, and compose complete music. The simplicity of the interface makes it easy to do. By going to make yourself a simple ringtone or audio cut, you can playfully get involved in the process of full-fledged music production – believe me, it's very entertaining.
The online music editor Amped Studio works in any of the browsers created on the basis of the Chromium engine. There is also a PWA application that supports Chrome OS, i.e. Chromebook.