Chord progression generator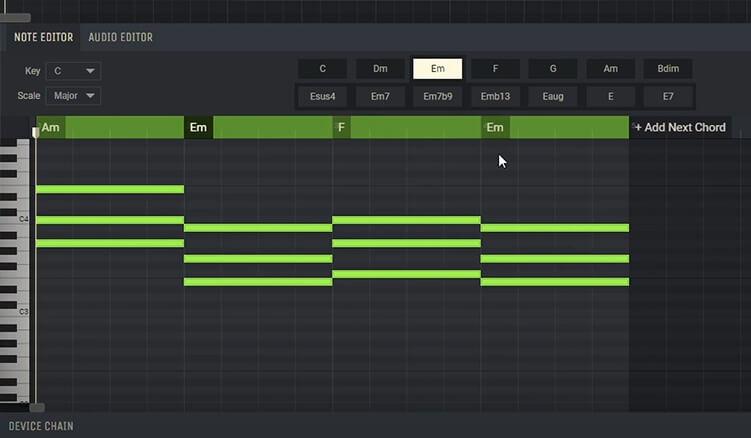 Guitar (or other harmonic instrument) plays in many songs a single chord throughout the entire verse section. But even in such works, the chorus usually unfolds into a beautiful harmonic chain. This contrast gives the musical composition a special dynamic. Musicians use a chord progression generator to find an interesting combination quickly.
It comes in handy when a songwriter needs to assemble a chord pattern quickly to play with a fresh tune. But not everyone is well versed in keys, modes and types of chords. Sometimes, musician just does not have any idea. In this case, Amped Studio will help you.
What are the advantages of Amped Studio online chord progression builder?
Midi editor of the sequencer allows you to compose melodic and harmonic parts using the mouse or midi keyboard. Amped Studio has a simple and intuitive interface in this regard, but as a chord progression generator it has some additional features.
Access from any device. Amped Studio runs through the browser. Wherever you are, on any device that is at hand, you can turn on the chord progression generator and compose music.
Collective mode. Match chords with other musicians, friends or members of your musical group. Amped Studio gives access to the project to several users at once. A group can work simultaneously from different computers.
Library of samplers, loops and patterns. Use the online chord generator based on ready-made drum or bass parts. This approach often helps producers find a musical idea and catch inspiration.
Chord Creator. Do not worry if you do not have musical theory, get confused in a variety of modes, keys and notes. You will get a beautiful harmony in any case using automatic mode.
How to use the Amped Studio Chord Generator?
You need to create a midi pattern on the working field with the mouse and go to the music editor. Here we can independently draw any chord. Just use the mouse to place blocks-notes one above the other (so that they sound simultaneously) to do this. If you like, the built-in chord progression generator will randomize the notes for you.
Check the box next to "Chord Creator";
Select key and mode (for example, A minor);
Click on the chord labels (Am, Em, C, etc.) and they will appear on the note grid;
Press Add Next Chord each time to have the chord generator build the sequence;
From the Rhythm drop-down menu, select the ripple of the notes, and use the Spacing slider to adjust their duration;
Rearrange the blocks as you like, compose your own arpeggios and moves.
Chord Sequence Generator uses the piano by default. But we can choose any synthesizer or instrument from the arsenal of samplers. Let's apply some effect to it: chord modulation, delay, chorus, reverb or something else to make the part sound even more unusual, beautiful and rich.
Put a melody from the library, a bass line and a drum loop onto the chord progression maker. A large collection of midi patterns, samplers and audio loops can be found on the right side of the Amped Studio window. You can record a vocal part or a recitative over the resulting harmonic progression with the help of a microphone.
In addition to the Chord Creator, the Amped Studio sequencer offers several more tools and ways to work with harmonic chains.
Record the part using the midi keyboard. You will need the midi keyboard itself to do this, plus the skills of improvisation and keyboard playing. Midi chord generator can also be useful for finalizing the resulting material after recording;
Build harmony from scratch in the music editor. To do this, you need to know which key suits which chord, or try different notes and select the sequence by ear;
Use the pattern library as a chord progressions generator. Take the finished midi part and add extra steps to it in the note editor.
All this requires certain skills and abilities. But the functionality of Amped Studio is organized in such a way that even an absolute beginner can write music. It will greatly speed up and simplify your work as a composer if you use the same Chord Creator function as a chord generator.
Make music to your heart's content. Gradually, you will deal with chord progressions, seventh chords, functions, intervals and other theoretical concepts. Chord Sequence Generator will help you write quality songs and at the same time not lose interest in music due to wandering in the wilds of theory.