Midi editors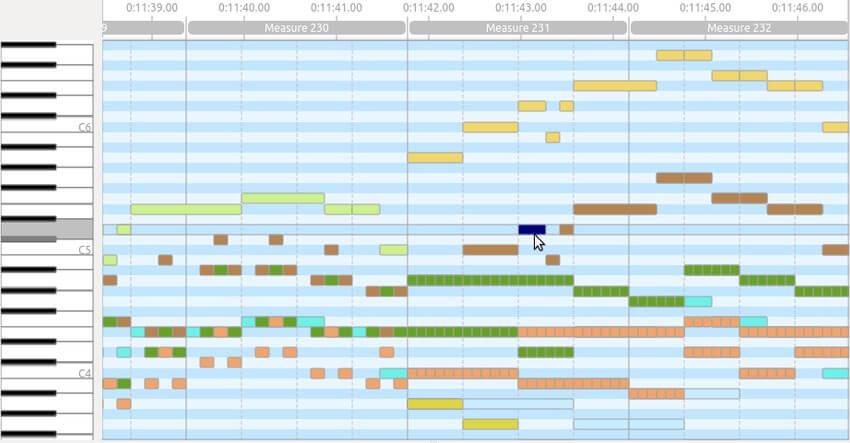 It is quite possible to record guitar parts, compose arrangements for them, including as part of joint work with musicians, and get ready-made tracks as soon as possible at home, without overpaying for the studio. Using multifunctional midi editors for Wndows, Mac & Linux you can compose music and edit track tracks to perfection.
What are midi editors and what they are used for
MIDI Editor – is a software that lets you make a melodies, edit, and save MIDI tracks. Midi is a universal format most suitable for high-quality storage of music tracks, as well as for transferring them to PCs and other electronic devices.
In addition to programs for PCs and other devices, you can make music online. For this, there are online midi editors:
signal online piano roll editor;
music box maniac;
AudioNodes;
online MIDI editor & player.
Many MIDI editors are aimed at working with editing parts of notes according to the principle of classical notation. The editor can have a built-in player, metronome, tab for saving the score in various sound and graphic formats. Most editors allow you to create multiple audio tracks so that each can be assigned a separate instrument and audio sounds with volume control.
Amped Studio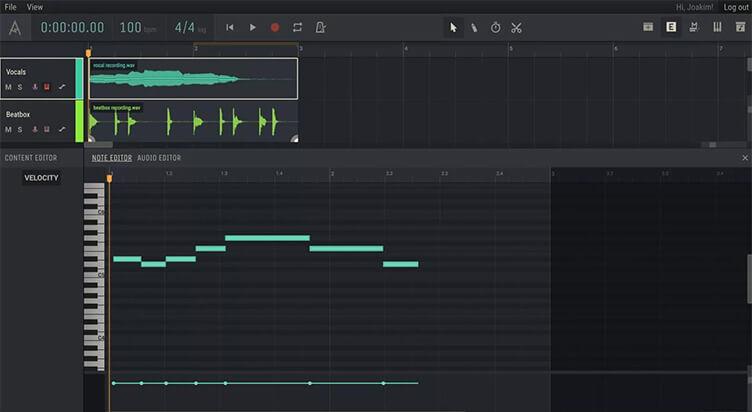 This software can be classified as an online midi editor. Program version 2.2. suitable for creating tracks at home or in a recording studio. You can launch Amped Studio in a browser window. In the online midi editor, you can experiment with audio and MIDI tracks, just like in traditional programs for recording and creating music.
Key features:
the midi editor is equipped with a completely new technology for defining the keys and sounds of percussion instruments HumBeatz;
a person can hum a melody into the microphone, and the recor in Amped Studio will be automatically converted to MIDI notes.
The usual programs for recording music on a PC cost a lot of money and sometimes require expensive equipment. But if you use Amped Studio online, you can simplify the task of a novice musician. To work with music, you only need a computer with Internet access.
MuseScore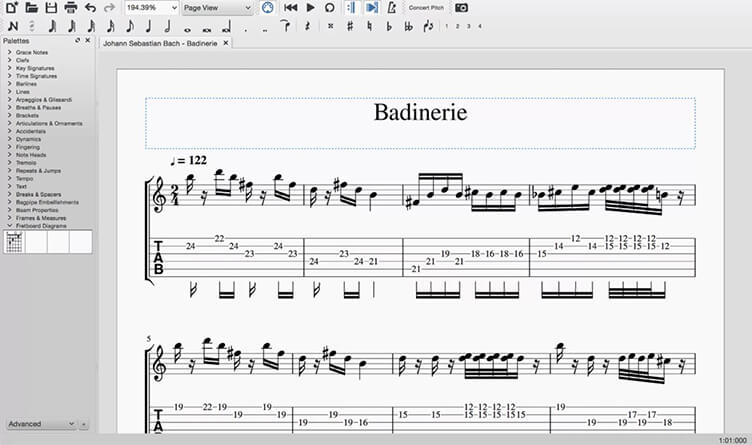 MuseScore is a music recording software with full MusicXML support that supports editing piano music. Here the user can transform several audio tracks at once in a convenient graphical portable interface.
MuseScore midi editor works on platforms:
Linux;
macOS;
Windows;
partially on iOS.
Even if you have no experience with MIDI editors, you can quickly become familiar with the functions of MuseScore and then put them into practice. The program has many options for mixing music, as well as for making new beats from the beginning.
MixPad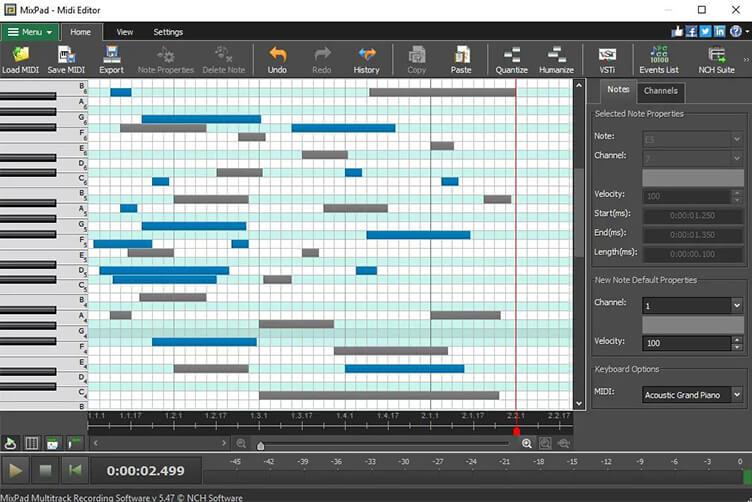 MixPad multitrack music recording software for Windows platform helps you combine multiple audio tracks, add effects, cut sections from tracks, record clips and much more. The MIDI editing program is relevant for use in professional studios, because in this software, a person can change the size of MIDI notes by placing the cursor over the edge of the MIDI note. The MixPad has a piano roll. Proframm can export files to AMR, FLAC, OGG, RAW formats.
How to edit MIDI files in MixPad:
First go to the Tools menu bar and open the MIDI editor;
Import the MIDI file to place it on the timeline;
Using the Quantize and Humanize parameters, you can align MIDI events to their nearest division. You can also apply random time and length offset to MIDI events;
On the timeline, the user is provided with adding, moving and editing notes. On the scale, you can also change the channel, speed, length and other parameters of the file;
To edit the file, you can use the Effect (Pitch, Expression, Modulus) function and Velocity to make the appropriate adjustments.
SynthFont
The extensive software includes a sound synthesizer with which you can edit MIDI files. SynthFont can be a valuable solution for musicians who are developing innovative sound effects. Using this software, you can use a number of functions from setting effects to deleting different parts of audio tracks. In SynthFont, the user can duplicate notes and apply VST effects to soundtracks. The software also supports Midi-input for real-time playback.
Crescendo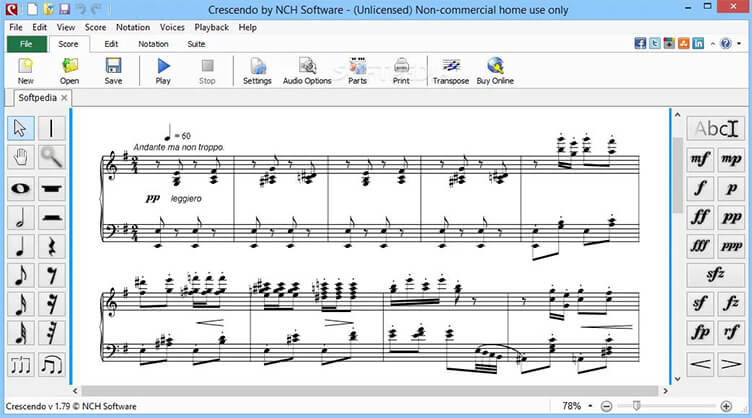 Advantages of the SynthFont program:
intuitive and smart control panel;
compatibility with Windows, Mac, Android and iOS;
you can import MIDI files and edit them according to your personal criteria;
there is support for VSTi instruments (piano and violin) for MIDI playback.
Rosegarden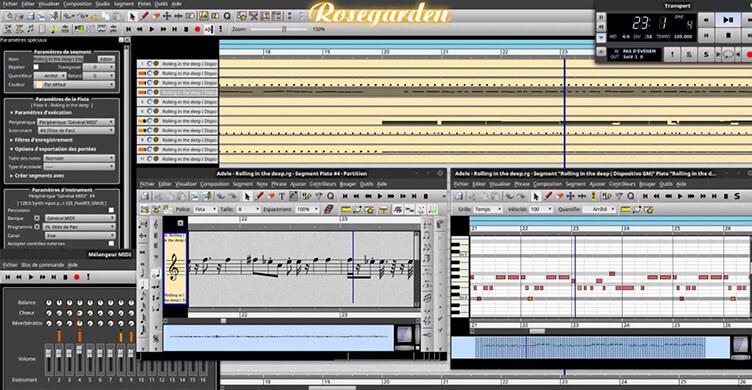 Popular MIDI editing software for Windows and Linux designed to create stunning musical compositions. The utility offers an excellent editing environment based on a MIDI sequencer with tools for recording, arranging, and musical notation. Unlike other MIDI editing software, Rosegarden allows users to browse a large base of instruments. Also it works with a variety of MIDI playback devices.
Peculiarities:
works only on platforms Windows and Linux;
there is support for different audio formats, the program can edit the MIDI sequence and record the track;
supports Win VST, LADSPA, JACK.
Aria Maestosa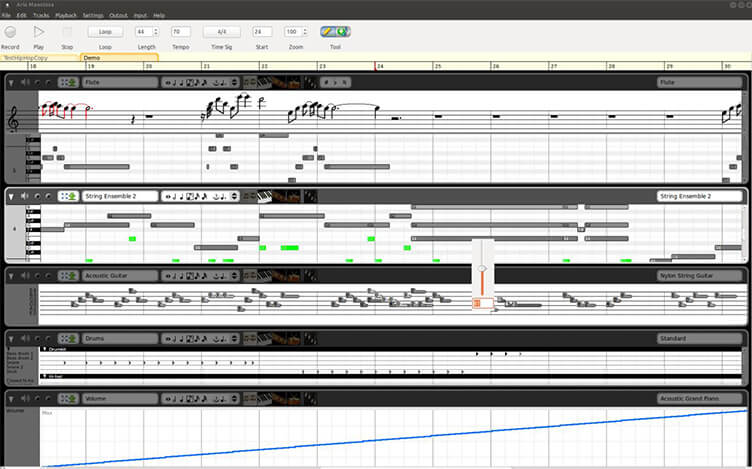 The application works quite simply and allows users to add, edit multiple sounds in sequence. You can easily play, edit your MIDI files, and create new ones from scratch. It even has buttons for recording, playing, stopping and looping audio, as well as dedicated editors to control the tempo.
What platforms does it run on:
Create, edit and play MIDI files effortlessly. You can use musical notation in the application. The program supports printing sheet music (with version 1.2+).
Brels MIDI Editor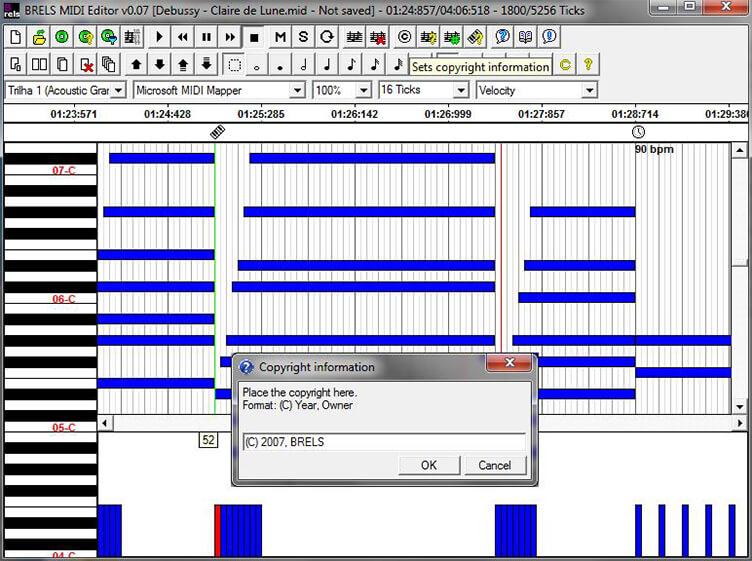 The program is a free MIDI editor for Windows. To edit MIDI files in the program, you can first place notes, delete them if necessary. Various functions are also available with tracks – adding, editing tempos, deleting, installing instruments. In addition, you can add text, marker, lyrics, and tags to your music sheet. The song can be played from the interface. In midi editing, you can view the raw MIDI data for analysis using a special option in the program interface.
To edit MIDI files without much hassle, BRELS MIDI Editor allows you to choose:
track for displaying on the screen;
playback device;
screen enlargement;
the length of the quarter note;
speed / pitch / controller.
KlavarScript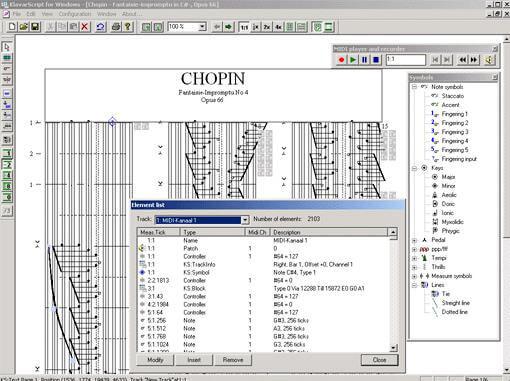 Free software for editing MIDI files on the Windows platform. In KlavarScript, you can change the size and tempo, set the speed, add floating text block and lyrics. In the program, you can view a list of musical elements and parts included in a specific composition. Through the program, you can print the musical notation.
MidiQuickFix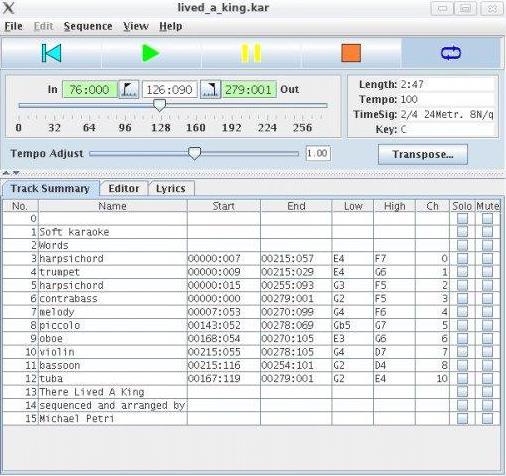 Free MIDI editor for Windows. When a MIDI file is added to this program, individual tracks can be viewed in the «Tracks Summary» panel. In the program, you can view information about a track, copy it, add or delete an audio recording.
To edit MIDI tracks, go to the "Track Editor" tab. The user of the program can also create a new event by adding information such as position, channel and note. Using the «More» option, you can convert notes to songs and lyrics. MidiQuickFix has the ability to customize the tempo of MIDI tracks. The Lyrics tab is for entering lyrics related to the musical composition. Besides MIDI, MidiQuickFix supports KAR files.
MidiSwing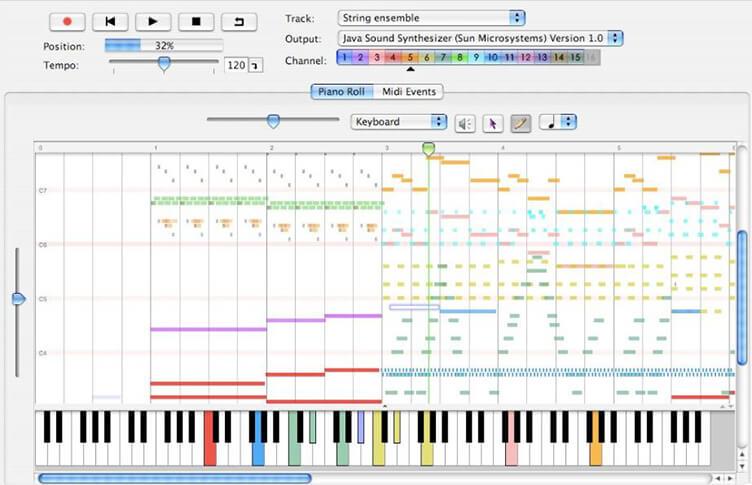 Free MIDI editing software for Windows. Here you can edit the tracks of the MIDI file using the piano roll. You can add musical notes to the audio recording, change the speed, add or import lyrics, change the tempo of the beats during recording. The user can optionally delete a MIDI event using the Midi Events tab.
The program can create standard MIDI files with one or more tracks. The function of converting a multitrack MIDI file to a single track file and vice versa is supported.
PianoRollComposer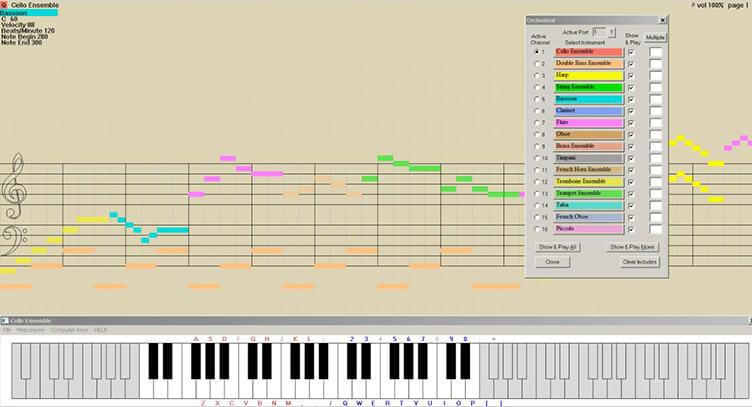 Another MIDI editor for Windows. New MIDI files can be created in this program. For editing MIDI files, PianoRollComposer offers users to insert musical notes, use the transpose function, add notes from various instruments (piano, accordion, guitar, trumpet) to finished tracks. The PianoRollComposer editor also provides an additional playlist feature that allows you to add multiple MIDI files and listen to them.
When creating new compositions, you can use dynamics and effects, such as:
modulation;
expression;
reverberation;
reverberation;
the pitch of the sound.
Denemo

For midi editing, Denemo provides a variety of tools, including keys, resizing, different measures, chords, and paused notes.
Denemo is a program designed to customize music by providing users with different options for editing scores, movements, voices, directives. Finished compositions can be supplemented with information, for example, lyrics. Denemo's additional tools include inserting a tempo change, adding dynamic markup, deleting a trill to a note, and more.
Conclusion
Creating scores in midi editors is a rather daunting task. The user is required to prescribe the pitch, duration and additional characteristics of each note. It is for this reason that the above editors have built-in tools for creating commonly used sound effects, playing techniques and sound production for the convenience of musicians.