Midi editors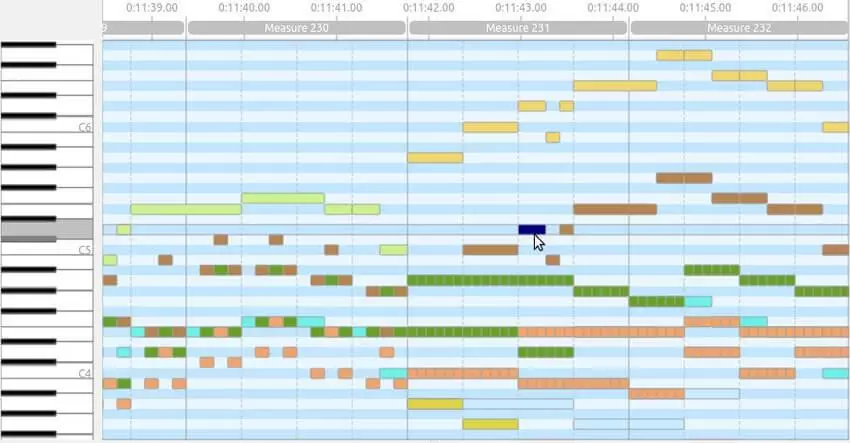 MIDI is a data format for music that only includes control signals and contains no actual audio content (waves). It is used to control sound generators such as external synthesizers or virtual software synthesizers (VSTs). A MIDI file can be thought of as a universal remote control for various instruments, allowing it to be played on different devices.
One of the great advantages of MIDI is that all control signals can be easily changed at will. For example, each note can be changed in pitch or moved to a different bar position. If the sound is too harsh or loud, you can easily tone it down and turn down the volume. Mistakes or unnecessary passages can simply be removed and missing notes added. This makes MIDI the perfect tool for musicians who want to make adjustments to their instrumental recordings.
However, MIDI has a drawback – the sound is not defined in the file, it is only created during playback. This means that the sound depends on the instruments or devices used. If you play a MIDI file on a computer with other instruments or VST plugins, the result may not be what you expect.
To work around this issue, it is recommended that you convert the MIDI file to a true WAV audio file after editing is complete. This approach ensures that your music will sound the way you intended, on any computer or device, because now you have a complete audio file with every sound detail. This allows you to preserve the original sound of your work and protect it from possible disappointments when played on different devices.
What are midi editors and what are they used for?
MIDI editors are programs or applications designed to create, edit, and process files in the MIDI (Musical Instrument Digital Interface) format. The MIDI format contains only control signals such as notes, duration, volume, and other music parameters, but does not contain the actual audio content.
The main purpose of MIDI editors is for musical creation and production. They provide musicians, composers and producers with convenient tools for creating and editing music on a computer or other devices. With MIDI editors you can:
Create music: Musicians can record notes and melodies, arrange compositions and create new pieces of music.
Edit MIDI files: Editors allow you to make changes to existing MIDI files, such as changing notes, adjusting volume, changing tempo, and adding effects.
Produce music: Using MIDI editors, you can control virtual instruments (VST instruments) and synthesizers, allowing you to create a variety of sound textures and musical arrangements.
Fix Mistakes: Musicians can correct errors or imperfections in performance, transpose or correct notes to achieve the desired sound.
Convert to Audio: MIDI editors also allow you to convert MIDI files to audio formats such as WAV or MP3 for finished audio material.
MIDI editors are powerful tools for creative musicians, helping them turn their ideas into pieces of music and providing flexibility and control over the musical process.
Overview of popular midi editors
Amped Studio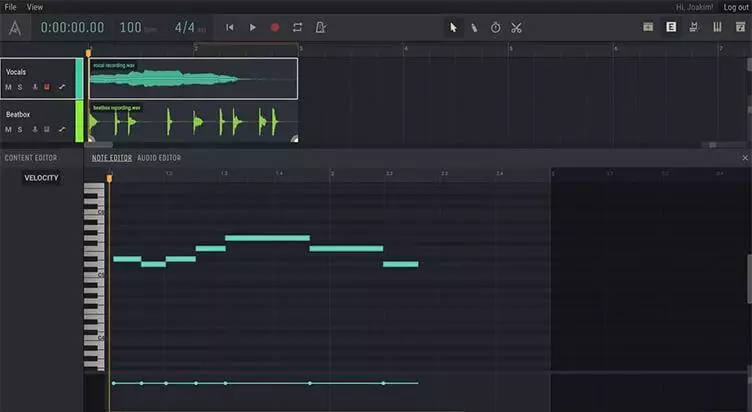 Introducing an innovative online MIDI editor, referred to as "Amped Studio" with its version 2.2. This cutting-edge software is designed to facilitate music track creation both from the comfort of your home or within a recording studio. An exceptional advantage of Amped Studio is that it can be launched directly within a web browser.
Amped Studio online beat maker offers a seamless experience, allowing users to experiment with audio and MIDI tracks, mirroring the functionality found in traditional recording and music making software.
Notably, the MIDI editor comes equipped with a revolutionary HumBeatz technology, enabling users to define keys and percussion sounds effortlessly. By simply humming a melody into the microphone, Amped Studio automatically converts the recorded audio into precise MIDI notes.
In contrast to conventional song recording programs for PCs, which often incur substantial costs and may necessitate expensive equipment, Amped Studio presents an affordable and accessible solution for aspiring musicians. With a mere computer and Internet access, you can embark on your musical journey with ease.
MuseScore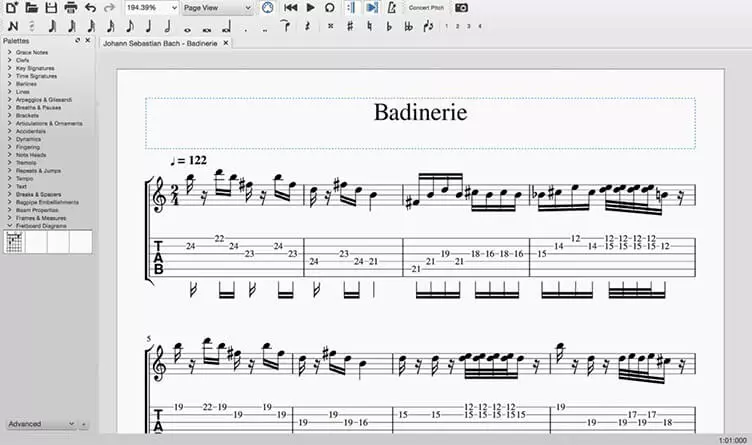 Introducing MuseTune, a music and voice recording software with full support for the MusicXML format and specially designed for piano music editing. Here, the user can easily transform multiple audio tracks at the same time using a convenient graphical portable interface.
MuseTune has a versatile MIDI editor that supports multiple platforms including Linux, macOS and Windows. On iOS, the program's functionality is partially available, providing a seamless and enjoyable experience across devices.
Whether you're experienced with MIDI editors or not, MuseTune lets you quickly learn a rich set of features and easily put them into practice. Discover a lot of possibilities with a program that provides a wide range of options for mixing music and creating new melodic rhythms from scratch. Step into the world of MuseTune and unleash your musical potential like never before.
MixPad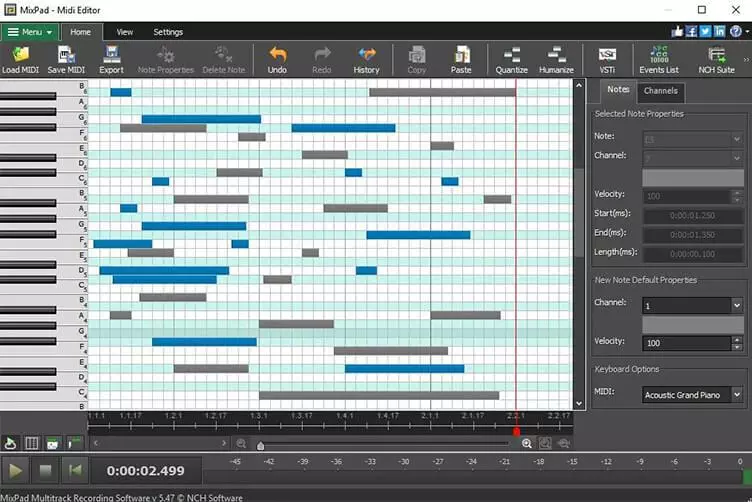 MixPad Studio is an innovative multi-track music recording software specially designed for the Windows platform. With it, you can merge multiple audio tracks, easily add effects, cut fragments from tracks, create clips, and much more. Being a professional studio, the program supports MIDI editing, allowing the user to expertly change the size of MIDI notes with a simple cursor movement.
MixPad Studio features a piano that opens up even more creative possibilities for you. With this program, you will be able to export your creations to various formats such as AMR, FLAC, OGG and RAW, making them available to a wide audience.
To start editing MIDI files in MixPad Studio, you only need a few simple steps:
Go to the "Tools" section in the menu bar and open the MIDI editor;
Import a MIDI file to place it on the timeline and start editing;
Using the Quantize and Humanize parameters, you can precisely align MIDI events to the desired divisions. You can also apply random timing and length offsets to MIDI events, giving your music original and unusual accents;
On the timeline, you are provided with a wide range of tools for adding, moving and editing notes. You can also change channels, speed, length and other file parameters to create the perfect sound;
Use the Effect (Pitch, Expression, Modulus) and Velocity functions to fine-tune the sound and expressiveness of your music.
With MixPad Studio, your musical idea will become a vivid reality, and you will be able to unleash your creativity, reaching new heights in the world of music.
SynthFont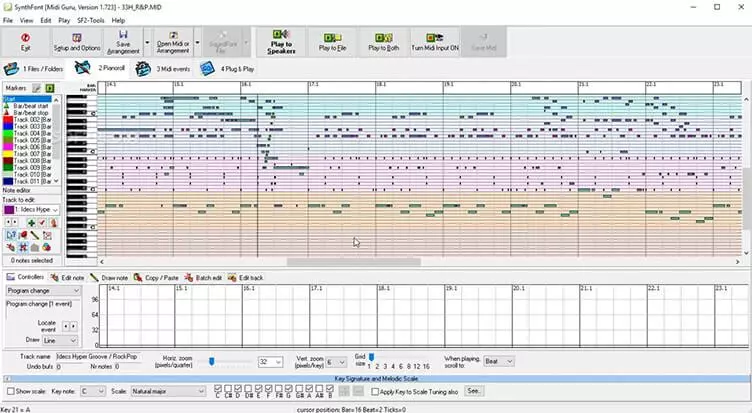 SynthFont is a comprehensive software that provides audio synthesis and MIDI file editing capabilities. It serves as a valuable tool for musicians seeking innovative sound effects. With this unique application, you get access to a variety of functions – from adjusting effects to removing various elements of audio tracks.
SynthFont opens up unlimited creative possibilities for you. You are given the opportunity to duplicate notes and apply breathtaking VST effects to your soundtracks. Its intuitive interface makes the work process comfortable and efficient.
Another great feature of SynthFont is support for MIDI input for realtime playback. So you can play your melodies and ideas on the fly, giving your compositions a unique sound.
Crescendo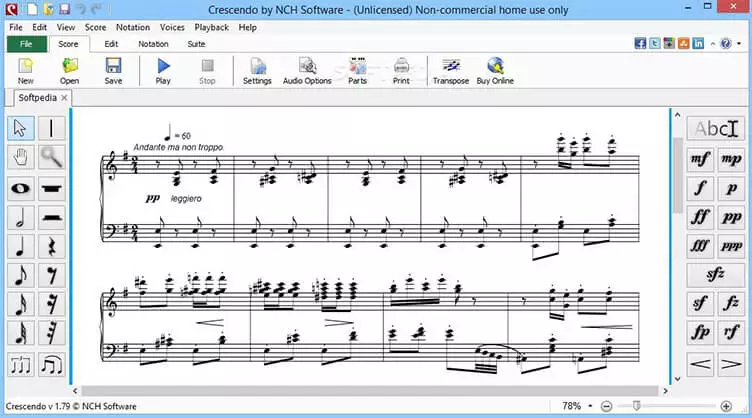 The Crescendo software offers a multitude of benefits that cater to all music enthusiasts:
Intuitive and Intelligent Interface: One of the standout advantages of Crescendo lies in its user-friendly control panel. With an intuitive design, this program allows users of all levels to easily navigate and harness its powerful features efficiently;
Seamless Cross-Platform Compatibility: Embrace the flexibility of Crescendo as it gracefully runs on various operating systems, including Windows, Mac, Android, and iOS. Now you can create, edit, and enjoy music on your preferred device, whether it's a computer, tablet, or smartphone;
Personalized MIDI File Editing: Dive into the world of music customization with Crescendo's exceptional MIDI file editing capabilities. Import your MIDI files and tailor them to your artistic vision, fine-tuning every note and rhythm to perfection;
VSTi Instrument Support: Elevate your musical compositions to new heights with Crescendo's remarkable support for VSTi instruments like piano and violin. Experience the magic of realistic soundscapes as you play back your MIDI creations with lifelike instrument simulations.
Rosegarden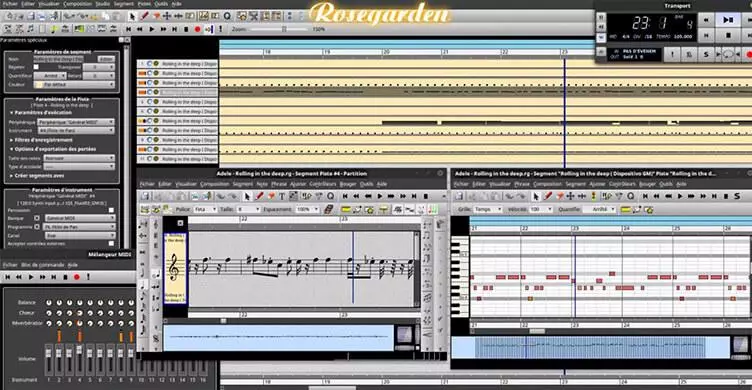 Rosegarden is an innovative midi editor software that puts the creativity of your musical compositions to the fore. This is a powerful and unexpected application created for music enthusiasts and professional musicians who are looking for an all-in-one creative tool.
With Rosegarden, creating amazing melodies just got easier and more enjoyable. This amazing midi editor offers a perfect MIDI sequencer-based storage environment, equipped with everything you need for recording, arranging and night recording. Now your ideas will materialize with intent, and the musical composition will acquire new colors and harmonies.
One of the features of Rosegarden is its extensive database of user-browsable tools. There are unlimited possibilities for choosing sounds, which allows you to fully immerse yourself in the world of musical experiments. Also a nice feature is Rosegarden's MIDI compatibility, which makes it the choice for those who are interested in the freedom to create.
Not limited to just one platform, Rosegarden guarantees availability and use for both Windows and Linux users. This means that you can enjoy all the benefits of this midi editor regardless of your audience.
In addition to being easy to collect, Rosegarden also supports a variety of audio formats, providing the ability to use MIDI effects and record tracks in formats that are convenient for you. Additionally, support for Win VST, LADSPA and JACK is used with a wide range of options with other applications and add-ons.
In conclusion, Rosegarden is a midi editor that opens musical creativity to new horizons. No matter your musical skill level, with Rosegarden you are sure to discover new and available possibilities for creating great melodies and harmonies.
Aria Maestosa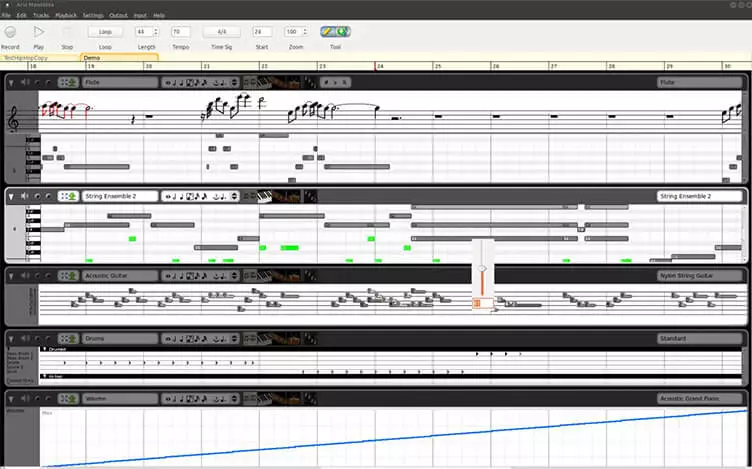 The presented application operates on various operating platforms.
Great for users of Linux operating systems, providing ease and convenience in creating, editing and playing MIDI files. The application supports music notation and allows you to easily control the tempo of the music.
MacOS users can also enjoy the convenience of this application. It allows you to easily create and edit your MIDI files, as well as use special editors to control the tempo, making the process of creating music more intuitive.
For Windows users, this application will be a useful tool for creating, editing and playing MIDI files. With easy-to-use buttons for recording, playing, stopping, and looping audio, as well as music notation support from version 1.2+, users can work on music projects with ease.
Brels MIDI Editor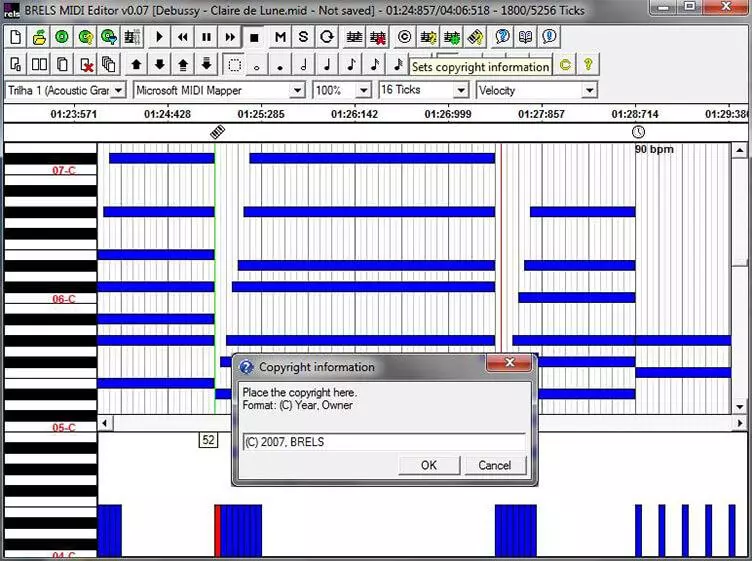 When using the BRELS MIDI Editor, editing MIDI files becomes as convenient and simple as possible. A wide range of customization options are available to you:
Track to display on screen – You can select the specific track you want to edit, allowing you to focus on specific elements of your composition;
Playback device – You can choose the device with which you want to listen to the results of your creativity, ensuring maximum listening comfort;
Screen Zoom – If you need to take a closer look at the notes or data on the screen, BRELS MIDI Editor allows you to zoom in on the image for more convenient work;
Quarter note length – Adjustable quarter note length provides flexibility in creating musical material, adapting it to the desired style;
Speed/Step/Controller – You can easily adjust the playback speed, step and controllers, giving you complete control over the sound of your music and its dynamics.
KlavarScript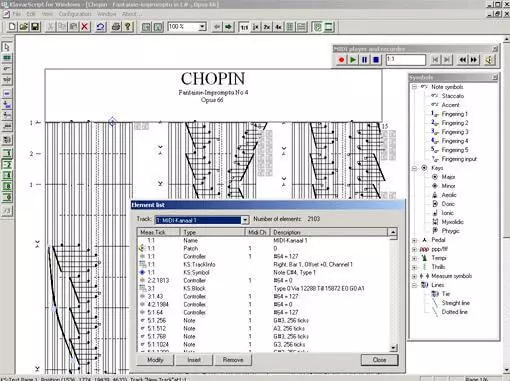 KlavarScript is a free software for editing MIDI files on the Windows operating platform. This unique application provides a wide range of features to create great compositions:
Changing the size and tempo – You can freely change the size and tempo of the music, customizing it to your preferences and style.
Setting the speed – KlavarScript gives you the ability to fine-tune the playback speed, giving you complete control over the dynamics of your composition.
Floating text block and text – You can add spectacular floating text blocks and text annotations to give your music extra expressiveness and interesting effects.
Viewing a List of Musical Elements and Parts – With KlavarScript you can easily view a list of all the musical elements and parts included in your song, making it easier for you to edit.
Music notation printing – The program also provides a convenient option to print music notation, which will allow you to save your works in a physical format.
MidiQuickFix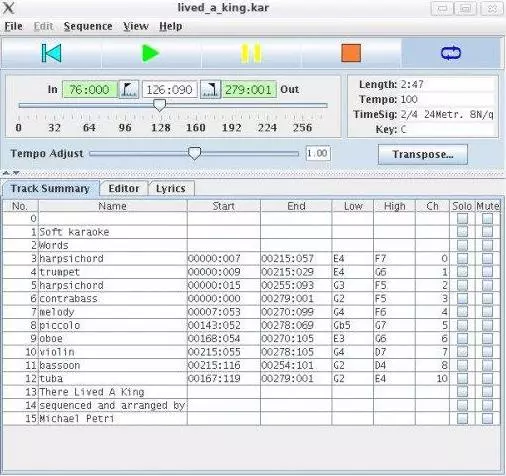 The free MIDI editor for the Windows operating system provides incredible possibilities. When loading a MIDI file into this application, each individual track is expanded in the "Track Summary" panel, where detailed information about each is available. Additional features include copying, adding and deleting audio recordings.
For thorough editing of MIDI tracks, go to the "Track Editor" section. The art of user customization reaches new heights, allowing you to create new events by specifying their position, channel, and even adding special notes. The wonderful "More" feature turns music notes into full-fledged compositions and lyrics. But that's not all: MidiQuickFix is also able to instantly adjust the tempo of MIDI tracks, allowing you to achieve the perfect sound.
The Lyrics section is a real creative hub for writing lyrics that blend harmoniously with your musical creativity. And interestingly, in addition to the MIDI format, MidiQuickFix works seamlessly with KAR files, expanding your inspiration even further.
MidiSwing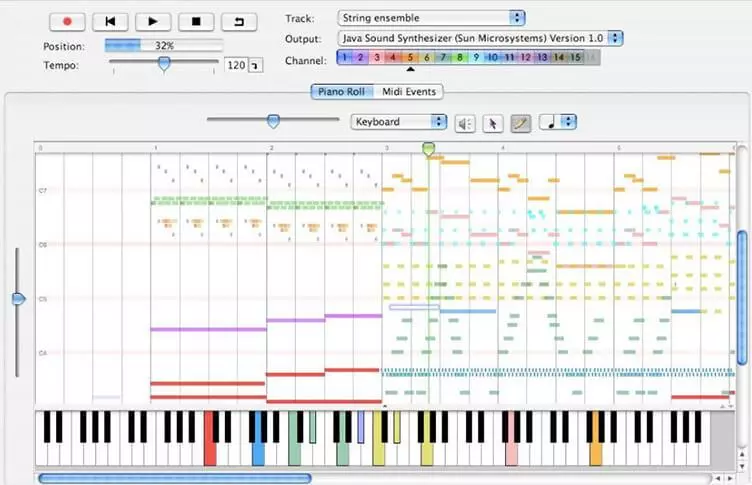 MidiSwing is a free MIDI creative software solution for the Windows platform. This is where your musical imagination can run wild as you get access to a powerful MIDI track editing tool with a user-friendly piano-like interface.
Making music is as easy as ever. You can add and arrange musical notes on the timeline of the audio recording, bringing your own unique melodic harmony. Playing the speed of music and lyrics are just some of the options available to you. It even supports real-time beat tempo changes during recording, giving you complete control over the rhythm of your composition.
In addition, MidiSwing provides the ability to import song lyrics, allowing you to combine your sound and verbal ideas into a coherent whole. In addition, at any time you can remove a MIDI event from the composition using the built-in Midi Events tab.
The program also offers the ability to create standard MIDI files, with one or more tracks, allowing you to bring even the most complex musical ideas to life. Converting multi-track MIDI files to single-track, and vice versa, becomes an easy task thanks to the convenient functionality of the program.
MidiSwing is a path to musical freedom and creative inspiration brought even closer to all music lovers and musicians.
PianoRollComposer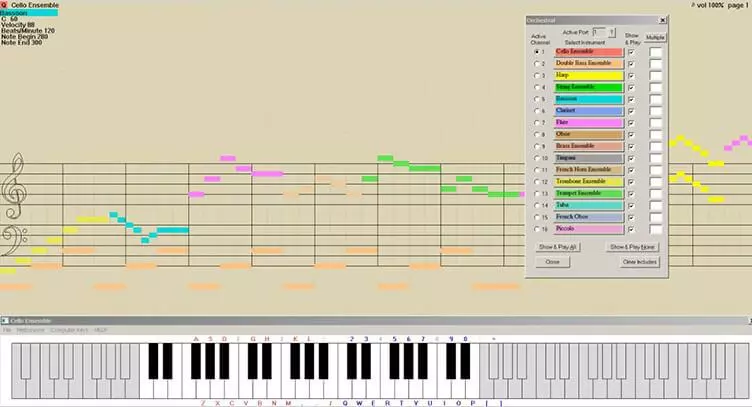 We again present to your attention another MIDI editor for the Windows operating system. This innovative tool gives you the ability to create your own MIDI files, turning your musical visions into reality. The excellent PianoRollComposer is your faithful companion in the art of MIDI file editing. It gives you the magic of inserting musical notes, allows you to travel through semitones with the transposition function, and even introduce unique melodies from a variety of instruments, whether it be a romantic piano, a soulful accordion, an elegant guitar or a solemn trumpet.
The PianoRollComposer editor opens the door to a world of musical possibilities for you by providing you with a great playlist feature. Now you can breathe life into multiple MIDI files by combining them into a harmonious musical symphonic performance.
And when you're inspired to create new compositions, don't forget to incorporate dynamics and effects into them, giving them personality and brilliance. Sound charms such as modulation, expressiveness, atmospheric reverb and deep pitch are available to you.
This MIDI editor is your path to endless musical creativity and unseen sonic horizons.
Denemo

Denemo provides you with a rich arsenal of tools for the creative implementation of your midi projects. This tool provides a wide range of possibilities, including keys for precise editing, zooming, flexible resizing of measures, chords and musical notes left at the moment of pause.
Denemo is a versatile program designed to deeply customize your music by providing you with a variety of editing tools for scores, movements, voices and directions. You are given the opportunity to turn your sound ideas into reality, and finished compositions can be supplemented with a variety of information, including lyrics, to make your work sound the way you envision.
But that's not all Denemo has to offer. Additional program features include inserting tempo changes, adding dynamic notations, the ability to remove trills from notes, and more. This entire palette of tools becomes your faithful companions in the process of creating and editing music, allowing you to bring the most complex musical ideas to life.
CakeWalk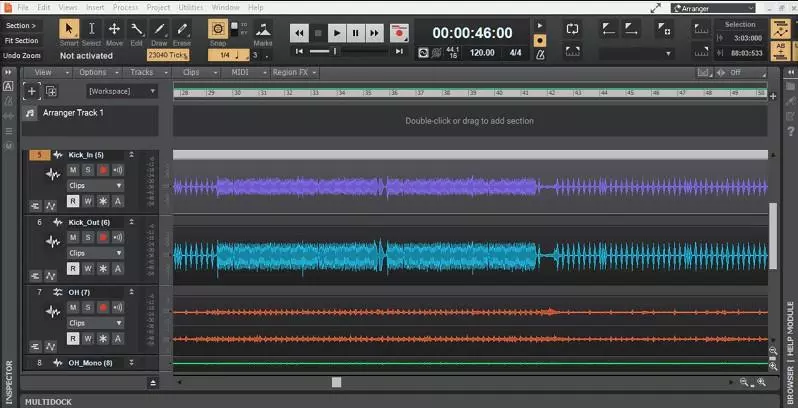 The next hero in our guide to the best free MIDI editors for Windows is CakeWalk. We think the name is just perfect as it takes you on an exhilarating tour of MIDI file editing surrounded by its amazing features.
But let's look deeper into its capabilities. CakeWalk song maker boasts an extensive arsenal including sequencers, loops, mind-blowing effects, and full-fledged multi-instruments. The entire interface is easily customizable to your liking, allowing you to create the perfect workspace for your musical creativity.
CakeWalk is not just a MIDI editor, it's a whole musical universe full of built-in sounds, exciting virtual instruments, and many other exciting tools. This editor brings joy and delight to the world of music, leaving users in awe.
Conclusion
Forming musical scores in MIDI editors is an art that requires a careful approach. Each note has its own unique pitch, duration, and special characteristics that must be accurately reflected. It is important to note that the above editors are equipped with built-in tools specifically designed to generate common sound effects, mastery of performance and create unique sound manipulations. These tools are designed to make the process of creating music easier and more convenient for musicians who pay special attention to detail.