Studio Headphones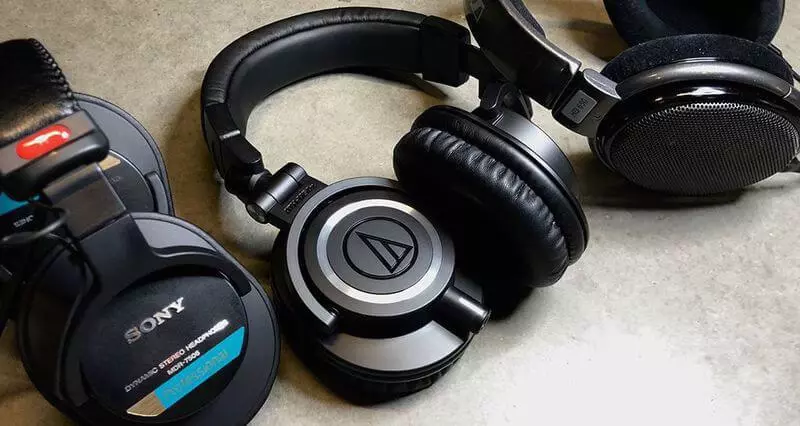 The purpose of this article is to analyze such audio equipment as studio headphones. We will get to know their main functions, types, selection criteria, and then we will give you specific recommendations for choosing a particular model. You need to understand that within the framework of such an article, we can't carry out a special analysis (for example, describe in detail all some of the technical characteristics that are relevant), and also describe even a small part of the products on the market. The purpose of this text is a small educational program, to clarify some non-obvious basic nuances.
Initially, the task of studio headphones involved professional work with sound. These are mixing and monitoring procedures. But today, musicians and just people who prefer the most clear and detailed sound also often use this technique. Many users claim that studio headphones reproduce the sound too «dry» and even «boring». But today, almost all eminent manufacturers offer, among other things, semi-professional equipment that may be of interest to both ordinary users and professionals in studios.
We can highlight the following most characteristic features of studio headphones:
Large bowls that cover the entire ears (but this is not typical for all models);
High impedance to minimize sonic distortion (there are also exceptions);
Connection via cable (although many models are also wireless);
Wide frequency range;
Linear frequency response (the sound is as clear as possible). In fact, all professional studio headphones tend to have a flat frequency response (this is the key criterion for their selection into a special category).
The so-called IEM headphones (which stands for In Ear Monitor Headphone) are also distinguished into a separate group of professional headphones, which are in-ear. They are used primarily by musicians who are trying to control their work on stage (for example, the vocalist must hear his own voice). In other words, this technique provides feedback. Since the purpose of our article is studio equipment (studio headphones for producing music and recording it), we will not dwell on this type of headphones in detail.
An important nuance: studio headphones require connection to a high-quality sound source. At home, they usually don't work correctly.
Criteria for Choosing Studio Headphones
Of course, you can't buy studio headphones without taking into account the technical specifications. Such a «unit» is professional and should not only correspond to subjective ideas about high-quality and pleasant sound but also provide a multifaceted and multi-level sound picture for studio work. Therefore, give preference to models from leading brands that have proven themselves in the market (we will list them in the text below), and be sure to pay attention to technical specifications. We will try to highlight the most important parameters that you need to consider when buying studio headphones.
Design Type
Studio headphones are divided into three types according to the design type: open, closed and semi-closed (or semi-open).
Open
The first type assumes that the sound passes through the holes in the case or through the holes between the ear bowls and the ears. Therefore, a person who puts on such «monitors» perfectly distinguishes all sounds next to him (headphones don't muffle the sound). There is no soundproofing. A wide frequency range and a flat frequency response are typical for such headphones in terms of sound.
If you're looking for a wide stage and «transparent» sound, look no further than open studio headphones, perfect for mixing, panning and mastering. In fact, open studio headphones have only one drawback (but a very significant one): the sound will be heard by all people in the room (and you will also not be isolated from outside noise). This can be a problem for professional work from home, as well as when recording drums, trumpets and other loud instruments (which is true for musicians).
Closed
Closed headphones are focused on maximum sound isolation (in most cases close to absolute) because they fit very tightly to the ears and head. There are no holes on the membranes, and therefore sound reproduction takes place in a closed space. The disadvantage of these headphones is that many people get tired of their ears and head (and they often don't provide a wide and detailed sound stage).
If you work in less than ideal conditions (eg at home), closed headphones are often the only option (professional activities will be impossible without soundproofing). Also, closed headphones are able to provide the most saturated low frequencies (bass). They are also great for evaluating stereo effects (for example, moving sound from one earphone to another). Most musicians use this type of audio equipment during recordings.
Semi-closed
Semi-closed headphones combine two types and are a kind of compromise. Often they differ in more «humane» sizes compared to analogues of other varieties: small ear pads don't completely cover the ears. They are also far inferior to most open and closed models in terms of weight. These headphones are often used by people who work as sound engineers, radio hosts, DJs, cameramen and semi-professional sound engineers.
Important Features
The main parameters that you should pay attention to:
Frequency range. The traditional (standard) indicator is about 20–20,000 hertz: this range is provided by most good headphones from well-known manufacturers (because the majority of people poorly perceive the sound of higher or lower frequencies). But professional «monitors» usually go beyond this norm and provide frequencies up to 5-60,000 hertz. You need to objectively evaluate your own hearing, that is, the ability to hear extremely low or very high frequencies;
Sensitivity. One of the most important parameters affecting the sound volume. This characteristic is a reflection of the ratio of loudness to the strength of the input signal. Accordingly, the higher the sensitivity, the louder the headphones. In modern studio headphones, the sensitivity is usually at least 90 dB (but there are exceptions, which will be given in the text below). An audio amplifier is required to ensure proper operation of many studio headphones;
Amplitude-frequency characteristic. The smoother it's, the clearer the sound is at the output (there are no «distortions» towards high or low frequencies). Studio headphones differ from ordinary ones precisely in their even frequency response, which implies the absence of sound deformations (even in favor of a sound that is more pleasant for most people);
Connection type. Almost all modern studio headphones require a wired connection. It is still impossible to provide high-quality sound transmission via Bluetooth despite the development of technology. However, there are a large number of models that can function in both formats. This expands their scope: these headphones can be used both for professional work in the studio and for listening to music in everyday life;
Impedance. Another parameter related to volume and sound quality. This characteristic denotes electrical resistance in terms of physics (measured in ohms). The higher it is, the better: the likelihood of sound distortion is less. In normal consumer headphones, the impedance is about 30-60 ohms, while in studio headphones we are talking about the interval from 45 to 110 ohms. Keep in mind that equipment requirements increase with increasing impedance. For example, high-impedance headphones require synchronization with equipment that has serious power. Otherwise, they will not produce a sufficiently loud sound. Another important point: on average, high-impedance headphones have a longer service life than low-impedance «monitors»;
Weight. No matter how good headphones are objectively, don't forget that you should be comfortable working in them (perhaps for many hours and with little to no breaks). Therefore, it's important that the technique is not unpleasant for you. Pay attention to the mass of headphones. It's desirable that their weight doesn't exceed 350 grams (but it all depends on personal preferences);
Structural features. Don't forget also about ergonomics, which should meet your anatomical features and personal preferences. It is desirable that the headphones have a comfortable adjustable headband to adjust to the size of the head.
Harmonic distortion (THD). This parameter is usually paid attention only to those people who are serious about working with sound. Harmonic distortion refers to reproduction defects (random «harmonics»). At high volumes, the diaphragm of many headphones can't cope, which causes distortion of the sound. Therefore, give preference to devices that have this indicator much lower than 1% (the specific ideal value depends on your goals, tasks and hearing).
Specific Models, or a Conditional Top of Studio Headphones
We will highlight some popular models that, with a certain degree of truth, can be called the best studio headphones in terms of value for money (keep in mind that this list is very conditional: it could be different).
Marshall Monitor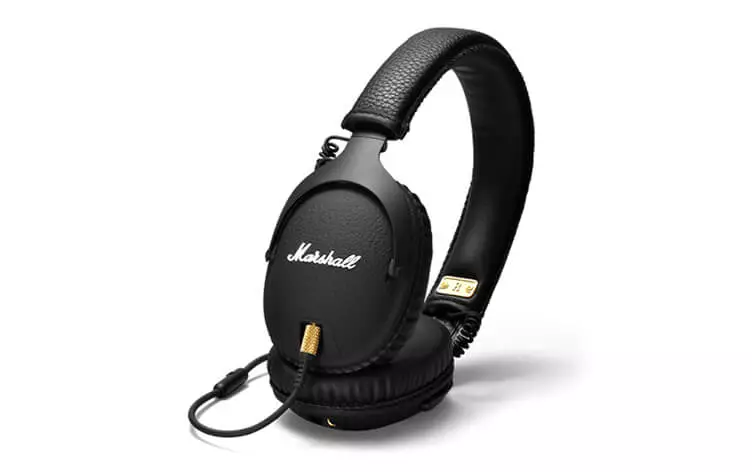 A model that appeared on the market a few years ago, but remains relevant and popular to this day. «Marshal» is one of the most famous brands, the name of which guarantees at least good performance. This model is focused on working in the studio, provides good sound isolation and has a built-in microphone with which you can record your voice (that is, these headphones are recording studio headphones). But for many people, the frequency range from 10 to 20,000 Hertz may seem insufficient. Users note that low and medium frequencies are characterized by expressiveness and saturation, and high frequencies are characterized by detail. One of the significant advantages of the model is its low weight, which is less than 200 grams (which makes the equipment comfortable to use).
The impedance is 42 ohms, the sensitivity is 99 dB. The disadvantage of the model is the propensity of the model to contamination. Also, some users believe that these headphones don't have enough sound.
Beyerdynamic DT 250 (250 Ohm)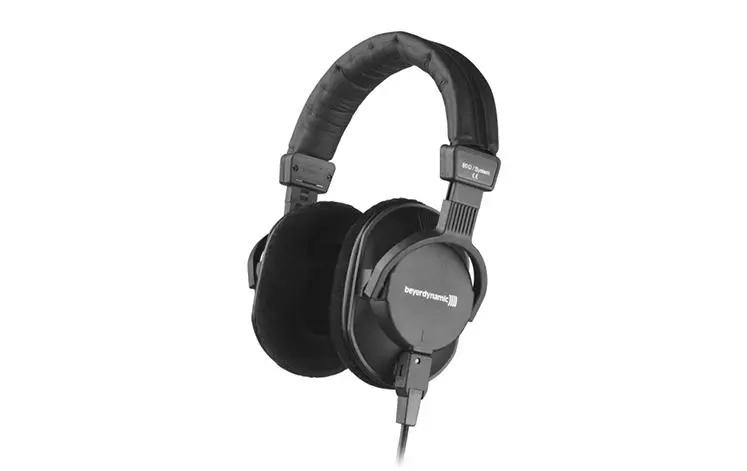 A professional model from another iconic manufacturer that has introduced a device specifically for professional use in mixing music process. Such headphones are already considered a kind of legend among people working with sound due to the balance of all parameters and the convenient design of the case (of course, there are also opponents of this model who prefer equipment from other manufacturers).
The model is characterized by a flat frequency response, due to which the user practically doesn't have to deal with even the slightest harmonic distortion. Sufficiently sized ear pads fit all ear sizes. The advantage of these headphones is detailed sound (you will hear every little thing). Therefore, they are more suitable for studio work than for home use.
The impedance is 250 ohms (you obviously can't do without an amplifier), the frequency range is 10-30000 Hz, the sensitivity is 100 dB. The weight of the whole structure is 240 grams. We can't help but notice the detachable cord included, the solid build quality, and the sleek design (which some users find a bit too simple).
Audio-Technica ATH-AVC500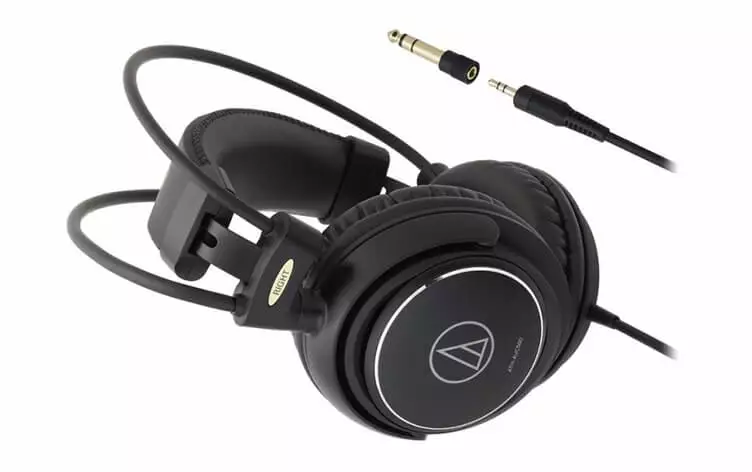 This model can be recommended to people who are just starting to make music at a professional level. Its obvious advantage is its low cost. Of course, high-level sound professionals are unlikely to use such a technique, but we will note its high sound quality in comparison with almost any «ordinary» headphones. Also, an increased frequency range is typical for devices ranging from 10 to 25,000 Hertz. The weight of the model is 270 grams, the sensitivity is 106 dB, the impedance is 40 ohms.
These headphones provide excellent sound isolation. 53mm drivers are located inside the bowls, giving enough rich sound. Another significant advantage is a fairly long connection cable (three meters). Therefore, you can connect the equipment to the equipment and listen to music, being at a great distance from it (in this regard, the headphones can compete with wireless headphones). Also, the model is characterized by good ergonomics: it sits firmly on the ears and adapts to the individual anatomical features of the owner.
AKG K 175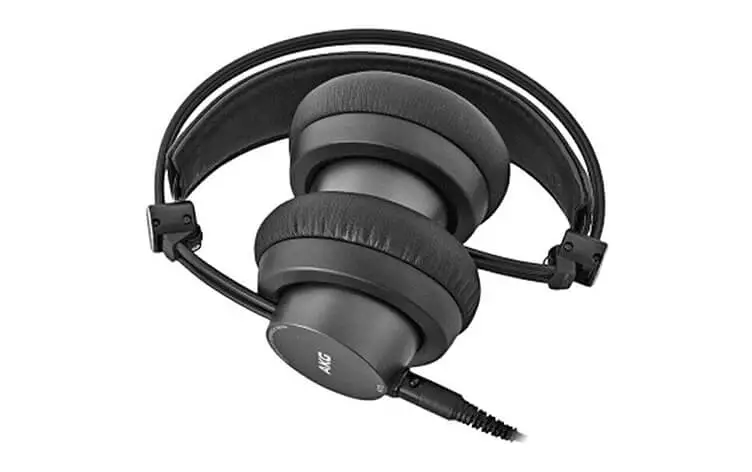 Another budget option, located at the junction between professional and conventional equipment. Metal fasteners, providing structural strength, immediately become noticeable. The stylish design will hardly make it possible to find fault with even the most severe critic (every little thing is in its place). The earbuds also stand out from their peers in terms of comfort. The ear pads are covered in a tactilely pleasant artificial leather, they fit securely and provide good sound isolation.
AKG K 175 are connected with a highly durable cable, twisted in a spiral pattern (which ensures resistance to wear). Headphones are great for mixing, monitoring and mastering in the early stages. The sensitivity is 114 dB, the impedance is 32 ohms, the frequency range is from 18 to 26,000 Hz. The weight of the headphones is 250 grams.
Beyerdynamic DT 990 PRO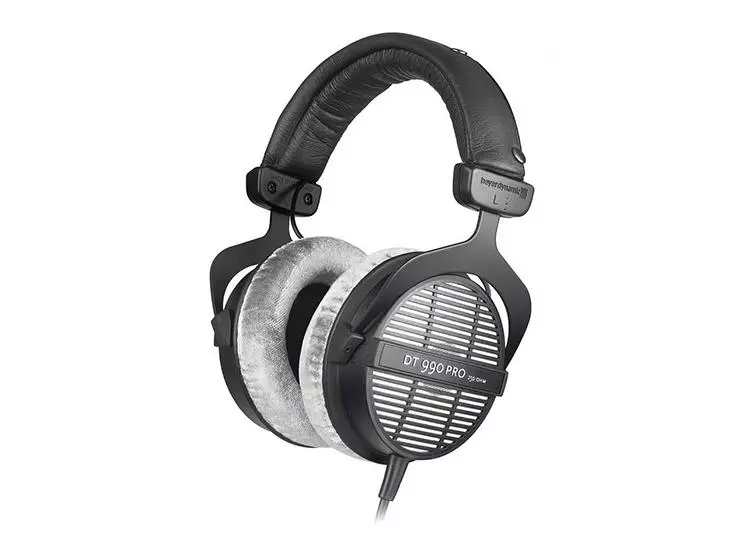 These headphones are of the open type: acoustics have the shape of a lattice, behind which is a soft fabric. It has a stylish classic design. Durable matte-colored plastic is the basis of the bowls. The clamps and fork are made of steel, which ensures the reliability of the design. From the point of view of sound, these headphones provide a very high level: the sound may not be ideal, but there are practically no obvious distortions towards low or high frequencies (however, some users note a slight distortion towards the high frequencies).
The frequency is 5-35000 Hertz, the impedance is 250 ohms, the sensitivity is 96 dB. The weight of the structure is 250 grams. An important nuance: the sound quality of these headphones is especially strongly correlated with the sound source (although this is typical for all studio headphones).
YAMAHA HPH–MT5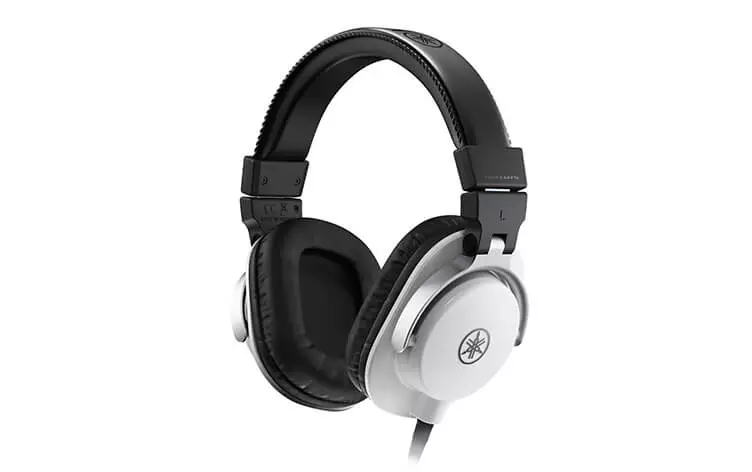 This model is designed for specialists who are somewhat limited in their means, and musicians who don't need the finest detail. Studio monitor headphones have a closed membrane, full coverage of the ears, and 40 mm drivers inside. The key advantage of the model is quite rich low frequencies. The middle is also very decent. Headphones look stylish (there are black and white submodels). The devices are quite durable (don't find fault with the assembly).
This technique has one tangible drawback that closes the possibility of buying it for some users – problems with high frequencies. The fact is that a full-fledged sound passes only after a certain break. About 5 minutes after turning on should pass for the headphones to start functioning at maximum. The frequency range is 20-20000 Hertz, the impedance is 51 ohms, the sensitivity is 100 dB, and the weight is 245 grams.
AKG K 240 Studio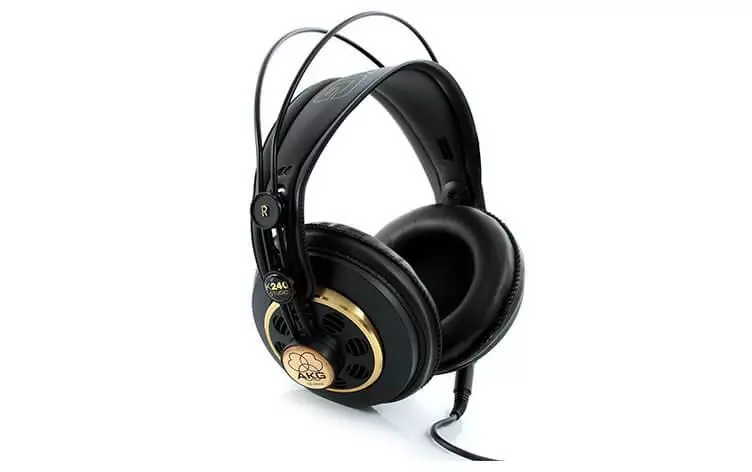 Today, this model has already become a kind of classic (it was released back in 2020). Its main feature is low cost, combined with excellent performance. The type of headphones is semi-open. They are well fixed on the head and have a headband with an adjustable mechanism (which allows you to adjust them to any type of head). The operating frequency range is 15-25000 Hertz, the impedance is 55 ohms, the sensitivity is 101 dB, and the weight is 240 grams.
Of course, you must understand that studio headphones for such a price can't be perfect. In the frequency response, you can state the rise of the high frequencies after 5000 Hertz, which makes it easier to work with vocals; but many users say that the high frequencies lack clarity here (the middle, on the contrary, is characterized by expressiveness). Also, some owners note the stiffness of the headband.
Sennheiser HD 600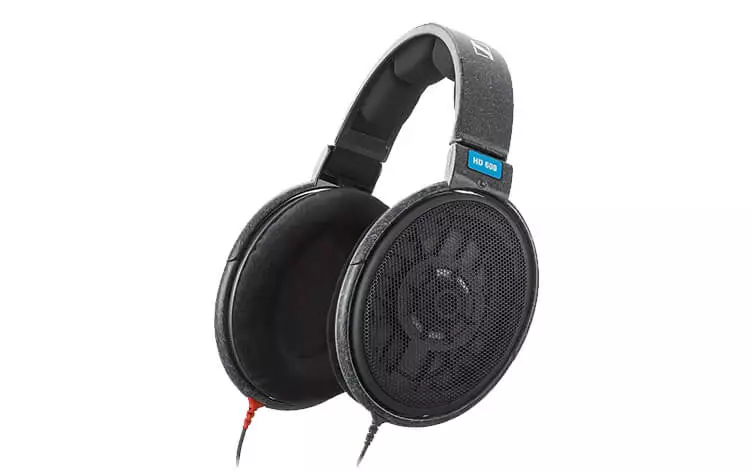 Sennheiser is a German brand that is known even to people who are not too interested in audio equipment. It's traditionally included in all ratings of manufacturers (and usually it's in the first places in the rating). This model is no exception in terms of the brand's high quality standards. These studio headphones are of the open type; their speakers are covered with a mesh made of metal, which allows the sound to spread freely in all directions. The ear cushions are made of fabric, are soft and allow you to work with music for many hours without any discomfort. The headband also has woven trim.
Naturally, the main advantage of this model is the sound. We will note the frequency range, which is from 12 to 39000 Hertz. Low frequencies are characterized by saturation, mid frequencies are characterized by brightness, high frequencies are characterized by detail. Very often, these headphones are preferred by people whose life is connected with classical music (where they need to clearly hear the part of each instrument). The functionality includes a microphone that can be used to record vocals. The sensitivity is 97 dB, the impedance is 300 ohms, and the weight is 260 grams. There is a replacement cable included.
Sony MDR-7506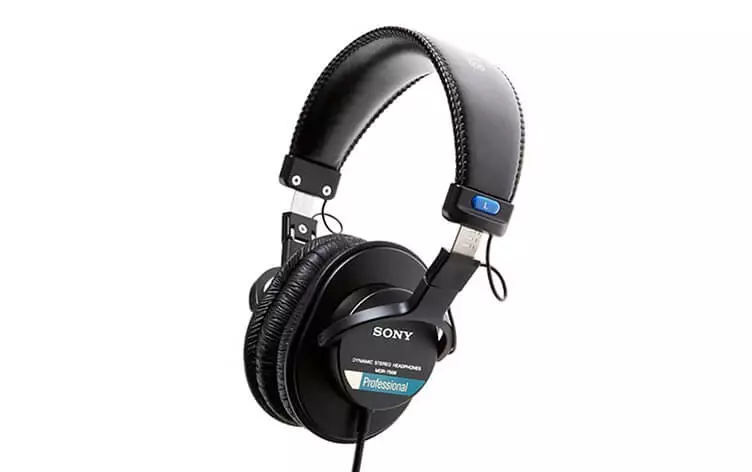 Good headphones from Sony, considered a kind of classic in the field of working with music. The devices provide a clear sound with slightly accentuated high frequencies. Sound detail is not the only advantage. Users also note the reliability of the case. This is a great option for monitoring because you can always spot sound flaws with these headphones. The frequency is 10-20000 Hertz, the impedance is 63 ohms, the sensitivity is 106 dB, and the weight is 230 grams. The body is foldable, which greatly simplifies the transportation of equipment. Some buyers pay attention to too small ear pads (as well as their rapid wear).
Audio-Technica ATH-M50x
These headphones are of the «closed» type, and they provide the ability to reproduce sound in a very wide frequency range from 15 to 28,000 Hertz. This determines the purity and volume of the sound obtained with the help of them. We also note a sensitivity of 99 dB, with which you will hardly feel a lack of volume. The membrane diameter is 45 mm. You can work in these headphones for many hours thanks to the soft headband (despite the weight of 285 grams). The impedance is 38 ohms.
Sennheiser HD 820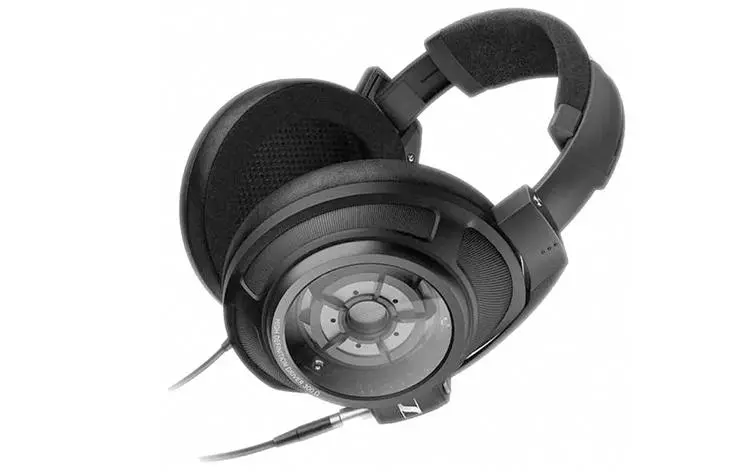 These studio headphones from a leading brand entered the market at the same time as a special amplifier, which is often purchased with them (to reveal all the possibilities of equipment). Their obvious advantages are as follows: rotation of the bowls in three planes, a clear and detailed representation of the stage, deep bass. The design uses a special membrane, which is characterized by a combination of rigidity and lightness. Also, the bowls are covered on the outside with extra-strong glass, which reflects sound into the damping chambers.
The frequency range of these monitors is from 6 to 48,000 hertz. The technique belongs to the «closed» type, but the effect of a multi-level stage is provided due to the large dimensions of the bowls. As a result, the manufacturer managed to achieve an extremely high degree of sound transparency (comparable to that of open models) in combination with sound insulation. The design assumes the presence of a metal frame, and thick and soft cushions and a cushioning mechanism determine the comfort of using audio equipment. However, many people may find the weight of the headphones, which is about 360 grams, excessive. The kit includes 3 copper cables. The impedance is 300 ohms (you will need a special amplifier to play music), and the sensitivity is 103 dB.
Sony MDR-Z7M2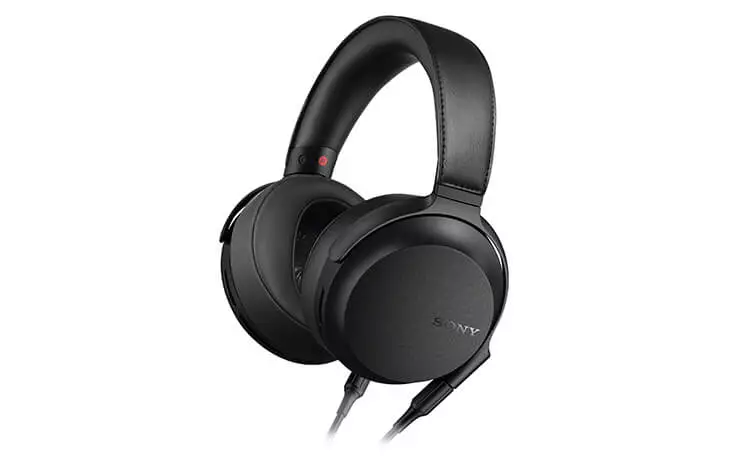 One of the most expensive models on this list, providing fantastic frequency coverage. Such audio equipment may be needed only by people whose life is seriously connected with sound (and work with it). First of all, we note very large speakers, the diameter of which is 70 millimeters; they have multi-component diaphragms with a minimum thickness of 30 microns. The frequency range is 4-100,000 Hz. This, combined with the increased size of the magnets, provides the most multi-dimensional sound possible.
These devices give a huge stage, moreover, the sound in them is detailed. Studio headphones of this model are connected to the equipment using several balanced cables (with a silver layer). This is also one of the reasons for good sound. Also, the headphones have excellent sound isolation and excellent assembly. The impedance is 56 ohms, the sensitivity is 98 dB, the weight is 340 grams (the headphones are quite heavy).
Beyerdynamic DT 880 600 Ohm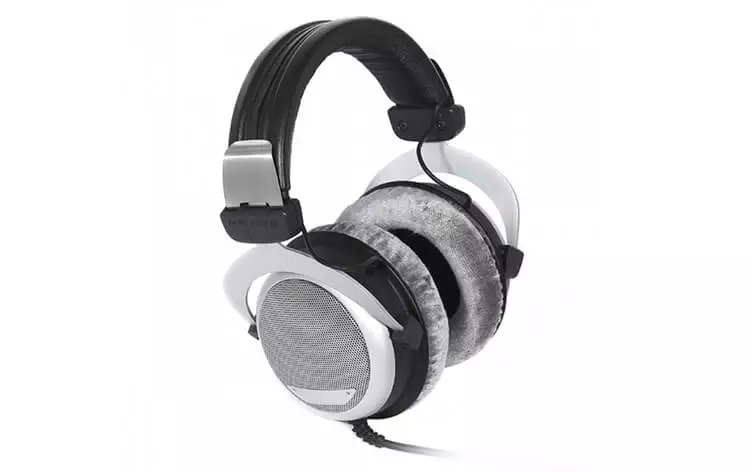 This model is a kind of classic studio monitor headphones. The manufacturer, who perfectly understands this, regularly updates it and releases it in new versions. We will note that there are two sub-models, one of which comes with a PRO prefix (but it doesn't differ too much from the regular model in terms of characteristics). Naturally, the most striking distinguishing feature is the impedance of 600 dB. This ensures high sound quality, but it also means the need for a good amplifier (without which the music will play very quietly).
Naturally, such a model is purchased exclusively for studios (however, it can also be connected to an advanced home audio system). The model has a very unusual design that distinguishes it from analogues. The metal frame is complemented by a tactilely pleasant and very soft lining on the headband, and light velor is stretched over the bowls. Included is a case that simplifies the transportation of equipment. There is also a thick 3-meter cable (non-removable), which is highly reliable, and an adapter for 6.3 mm. The frequency range is from 3 to 35,000 Hertz, the sensitivity is 96 dB, and the weight is 290 grams. Headphones allow you to get a three-dimensional stage (due to open bowls) and an almost perfectly clear sound.
Shure SRH1440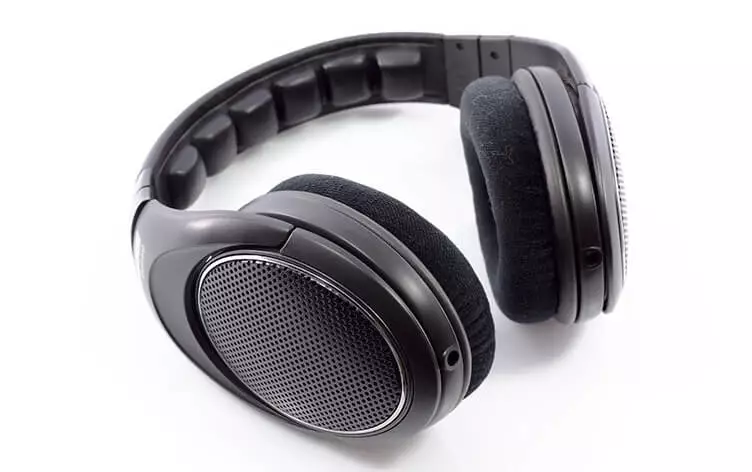 These «monitors» are characterized by not too high impedance, which is only 37 ohms. But you definitely will not have the problem of insufficient volume. The sensitivity is 101 dB, the frequency range is from 15 to 27,000 Hertz. The mass of the structure is 343 grams. The technique allows you to build a wide stage, provides a high level of detail and is extremely comfortable to use.
The strong and reliable design is massive and has a very wide headband. There are soft pillows on the temple, and the ears in the open bowls practically don't sweat. Also, the ear pads made of velor don't cause irritation even after several hours of operation of the equipment. You will not encounter vibrations of the bowls and the resulting sound defects. The kit also includes interchangeable ear pads and a spare cable. Nuance: studio headphones of this model are very demanding on the quality of the recording. Each of the headphones is connected using a separate cable.
Audio-Technica ATH-PRO5X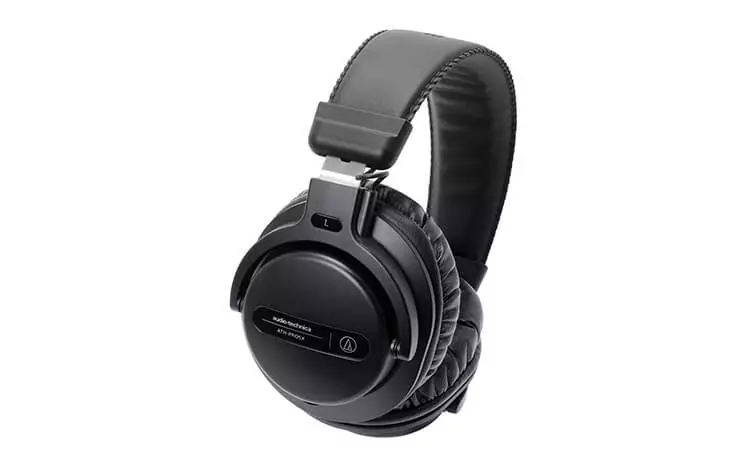 The model is not too demanding on the equipment due to the low impedance (34 dB). They are often used by musicians and DJs because one of the advantages of these closed studio headphones is their lightweight design (compared to many analogues). The weight is 250 grams. These studio headphones are rugged and feature a solid metal headband with a soft grip for a shock-absorbing effect. Users note a tight and comfortable fit that doesn't cause discomfort.
The audio equipment produces clear sound that meets very high requirements, even at maximum volume. Inside the large bowls are 40mm drivers covering an unusually wide frequency range from 5 to 35,000 Hertz. The output is a wide stage, where each of the sounds is «in its place». The kit includes a detachable cable and a 6.3 mm adapter, as well as a twisted 3-meter cord. The structure is foldable. Also, these headphones are relatively inexpensive (given the frequency range).
A Few Final Words
We can clearly say summarizing the above: any model of studio headphones as superior to the rest cannot be unequivocally singled out. It all depends on the individual situation. In conclusion, we will highlight the factors that characterize this situation and give some advice:
You need to consider the type of activity you do in the studio or at home, as well as the genre of music you're working with. For example, studio headphones with a good stage will be needed to process compositions on classical compositions, but this requirement is not so important in the case of dubstep (but good bass is clearly needed in the case of this genre);
Also pay attention to the level of the equipment to which the headphones will be connected (for example, it makes no sense to buy headphones with a high impedance in the absence of an amplifier);
Objectively evaluate your own ability to distinguish those frequencies that are traditionally considered inaccessible to the middle ear (below 10 and above 20,000 Hertz);
Read reviews before buying audio equipment. If you have the opportunity, also consult with a competent specialist who has experience working with the musical genre that you will also have to work with. The fullness of reality (including the sound reality) can't be put into technical specifications and even large-scale analytical articles;
Even if you are limited on funds, don't try to save money and purchase equipment from little-known brands. Give preference to the budget model of a manufacturer that has proven itself in the global market.
We hope you found this article helpful, and good luck!