How to make a beats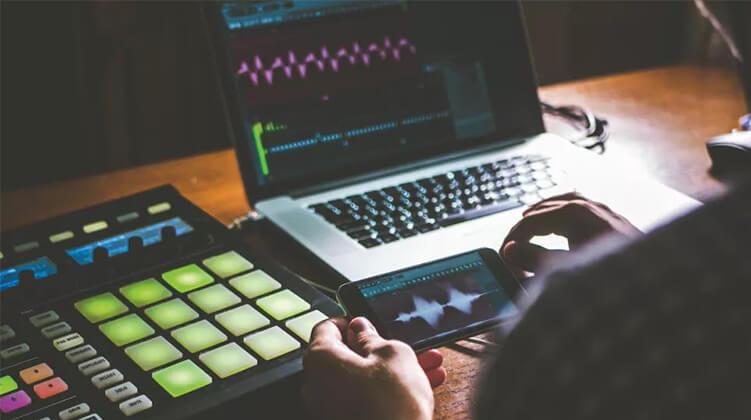 Nowadays beatmaking is gaining popularity not only as a simple hobby, but also as a type of professional activity. The explanation for this is simple enough: musical preferences of the audience are becoming more diverse, the process of creating music is becoming easier and more accessible, and now almost everyone can make money on it.
Many aspiring producers make their music starting with fairly simple and primitive compositions. Over time, as you gain experience and professional skills, an ordinary hobby can develop into a profession, moreover, quite interesting and profitable. A professional beat may seem like something complicated and incomprehensible for beginners, but this article is to tell you how to make beats correctly from the very start.
We will also take a step-by-step example of creating your own beat, which looks like this.
What do you need to make beats?
Below is a list of what you will need to make your musical composition. Not all of the items are required, but many of the things included in this list greatly simplify the work, and help to acquire the relevant skills quickly.
At the same time, the process itself is available to almost everyone today and does not require special costs at the beginning.
So, you will need:
Computer;
Suitable software;
A set of samplers with sounds in the corresponding musical style;
MIDI controller;
How to make beats on your computer
There are no special requirements for modern computers in terms of music production. Most of the new devices fully meet the requirements of the software used in this area. In terms of power, the following parameters will be sufficient:
4 GB of RAM;
Processor with 4 cores clocked at 2.4 GHz;
64-bit operating system;
Screen with a diagonal of 13 inches;
500 GB hard drive (preferably SSD).
It will be Mac or PC, you decide, it all depends on the software, you must remember that not all DAWs are supported by Windows and vice versa.
DAW for beatmaking
DAW (digital audio workstation) is a software framework for creating, recording and editing music. Such programs include the tools, effects necessary for creating music, as well as libraries of sounds that you can use in the process of producing your tracks.
Software for beginners and software for professionals are mostly similar in their fundamentals, however, as the length of service and experience of the producer grows, the functional configuration of his software may change. A beginner often needs only a computer, DAW and studio headphones or monitors. Professionals, on the other hand, often use a large number of different hardware integrated into software, plug-ins, expensive equipment, etc. In addition, the software set in the sequencer (for example, external VST plug-ins) can be very different from the amateur one, although this is not always the case.
Today the market has a huge number of sequencers and various software for creating music. There are both paid and free. However, we would like to focus your attention on the trending online DAWs that are gaining momentum today. What is their advantage?
The point is that online sequencers work through a browser. All you need to run them is an internet connection. Most of them are either free, or their use costs little compared to stationary software, which cost an average of about $ 500.
At the same time, online sequencers are much more profitable to use. Why? They run on their own cloud servers and store data there. You do not need to clutter your hard disk with gigabytes of unnecessary software and working files; this load is taken over by the servers of the services themselves.
In this regard, we recommend you to pay attention to Amped Studio application. Its advantages are as follows:
support for all standard functions of a conventional sequencer;
support for VST-technology (the only online sequencer that supports this);
the possibility of group work on the project;
PWA application that runs on a Chromebook, making Amped Studio even more accessible.
For beginners who want to write their own beat, online DAWs are recommended because they are easier to get started with. You do not need to waste money on expensive software to test it. In this case, testing is absolutely free.
Sampler libraries for beatmaking
Each musical style is characterized by its own sounding of certain sound components of the composition. For example, rap drums are not always suitable for electronic music, heavy rock guitar parts are unlikely to play in a pop arrangement. First, you always need to decide on the musical style in which you plan to work.
Sets of suitable sounds can be found corny on the Internet. The network is literally teeming with websites where you can both download and buy various sets of ready-made loops and samplers.
There is a sufficient number of sounds of various musical styles in the basic version of Amped Studio. At the same time, a premium rate is available, after the purchase of which this library is expanded significantly. There is also a store of sampler libraries in various musical styles possible to load into the program on the company's website.
MIDI controller for beatmaking
MIDI controller is a kind of hardware device that is connected to a computer (usually in a DAW application) and allows you to send a midi signal in the form of notes (keys) and other sound parameters to the sequencer. Such a device can be a midi keyboard, drum pad, controller with knobs and faders, etc.
The presence of a midi controller is not necessary, you can, of course, cope with the software built into the sequencer, but this is very inconvenient and significantly slows down the process of creating beats and music in general.
Midi controller greatly simplifies the work, especially when you are proficient in musical notation or have the skills of playing the drum pad. However, even in the absence of skills, they can be acquired through constant practice. In addition, a sense of rhythm develops in this way and the process of not only reproducing an idea, but also inventing it becomes much more transparent and tangible, which again has a positive effect on the speed of work.
Beat structure
The main feature of a beat is that usually there is some formula for its making. Everything seems unrealistically complicated when you listen to the finished arrangement. However, when you start to disassemble it into its components, especially today, when music has become much more primitive, you are pleasantly surprised at how simple everything is.
A standard rap beat can be decomposed into the following elements:
Drums;
Percussion;
Bass;
Synthesizers or instruments;
Background effects.
Let us sort it out in order.
How to apply Drums
When it comes to drums, we are primarily talking about the kick drum. It sounds louder than anything else and, most importantly, sets the rhythm for the song. Other drum sounds such as hi-hats, shakers, toms, etc. play a supporting role.
The selection of the right kick drum is often the most time-consuming factor, since it is the heart of the track; it is the most delicate moment.
In the most popular rhythmic pattern (straight, even beat, which is used in EDM or pop music), a snare (ratchet) is added for every second beat of the kick drum. It performs the function of a kind of "ghostly" note to add variety and additional rhythm.
Many producers add pops or clicks to the snare's place or along with it, which makes the sound "wide" and variable. This layering of sounds makes the illusion of the complexity of the beat.
How to apply Percussion
Percussion and all sorts of hi-hats play the role of a kind of "filler" of gaps in the beat. It gives the drum part a certain zest, making it complete and full.
Percussion is meant mostly to fill in the space between kicks of kick drum. It gives dynamics, rhythm and makes the mood of the track.
There are many types of percussion: hi-hats, shakers, wooden blocks, tambourines and many others. The choice is practically unlimited. This is probably the most versatile set of instruments from the drum part. Applying percussion, sometimes it is necessary, you can give flight to your imagination.
How to apply Bass
Many producers are convinced that the right mix of bass and kick drum is 90% of a track's success.
Bass is a chord base; it is a kind of base melody. At the same time, many, for example, hip-hop producers make tracks on one note of bass with periodic variations to add diverse.
If you do not understand how to apply bass to your rhythm pattern, try to start by applying bass directly to the kick drum – on every note. Experiment further by moving the bass notes back and forth on each note. Gradually you will be able to pick up some kind of rhythm. This is the easiest way to get started.
The conflict between bass and kick drum is the most common frequency conflict in music mixing. When choosing them, it is worth remembering that it is important that their fundamental frequencies do not intersect. For example, if you have a dull kick that resembles a heartbeat, then it is better not to add deep sub-bass to it, as it will simply absorb this kick. A drum that sounds like hitting a box with a lot of midrange is better suited for such low bass.
How to apply Melody
In fact, the melody, this is the most interesting part of the beat, this is what your song will be remembered by the listeners, as it makes the mood of the track.
It depends solely on your taste what you choose as a melodic instrument. It can be some kind of synthesizer, a piano part, a vocal sample that can be played on a sampler in different keys, or different cut parts like on a drum machine. Everything here is limited only by your imagination, it is only important that the melody fits harmoniously into the bass line.
What to do first – bass or melody also depends on your preference, depending on what you want to emphasize. Many producers even begin to make the beat itself from the bass, building the rest of the composition around it, which is often very important for hip-hop.
In most modern hip-hop songs, the melody loops over 4 bars with an original twist at the end that brings the listener back to the beginning of the loop.
In rap, by the way, it is important to remember that it is better to make the melody as simple as possible, for the simple reason that this type of music itself is not particularly melodic. The vocals do not change the tone during the song, so a melody being too complex can come into conflict with the perception of it by both the performer and the listener. Something melodic is allowed only on the chorus, not along the verses.
How to apply background effects
Using effects along the way of the beat allows you to make it more varied. The constant interspersion of new background sounds does not let the listener get bored and makes each series of measures more "fresh". The effects also allow you to emphasize the most interesting parts of the composition.
Tonal synthesizer sounds, noises, pads, etc. can be used as effects. Various kinds of effects can also be applied to existing track elements by adjusting the automation parameters. The possibilities in this regard are literally endless.
How to make a beat step by step
Electronic music production and Beat making is something everyone can start nowadays without special education, number of various digital tools made it easier and allow to learn in the process.
The first step is to choose a beat-making tool some are simple and some have advanced features and are related to a category of DAW. Amped Studio is an online DAW that requires no installation and works straight from your browser, letting you dip into beat-making and music production process with most of desktop DAWs features.
Within Amped Studio tool there is one called Drumpler, a handy tool for beat creation. It contains already compiled drum kits that you are good to go with. It has 17 drum banks available for free users, and some additional banks for premium users. Sound Banks contains Kicks, Snares, Hi-Hats, and various percussion instruments sorted by styles and combined in kits, all you may need to make a beat.
Open Amped studio and create the Track where you will create a pattern of the beat. Every instrument of your beat can be placed on individual tracks. In the current example, Kicks and Snares will be on Track 1 and we will add Track 2 where we are going to place Hi-Hats.
Choose Track 1 and in the Device Chain section at the bottom of the workspace choose and add Drumpler device.
Click the sequence of the track and create a clip. Double click on it and you will get into a Note Editor. Every key of an octave (12 keys) is linked to a pad of the Drumpler (12 pads): for example C3 – pad1, C# – pad2, D – pad3, etc. Turning on a virtual keyboard let you play Drum Pads with your computer laptop or pc keyboard. But please note that playing notes on the octave below or above doesn't change the pitch of the samples, all octaves are the repetition of the default octave (Oct3). Pitch of samples you are able to tweak in the individual presets for every sample of the Kit in Drumpler device.
Note Editor is a work area section, it is designed to make a pattern of your beat or melody. Choose a Drum Kit style let's get to it. For this example, we use Funky Drum Kit. So on Track 1 let's place Kick and Snare.
When this layer is ready let's add another layer on Track 2 containing a Hi-Hat loop. Clone Track 1 then create an empty region and drop Hi-Hats.
Now we have our drum loop but feels like it sounds too dry.
Let's give it some space and softness simply by applying a little reverb on each layer.
Drumpler allows you to tweak each sample of the kit and change its main parameters: Velocity, Level, Pan, Pitch, Start, and End. That gives you more control and space for your creativity.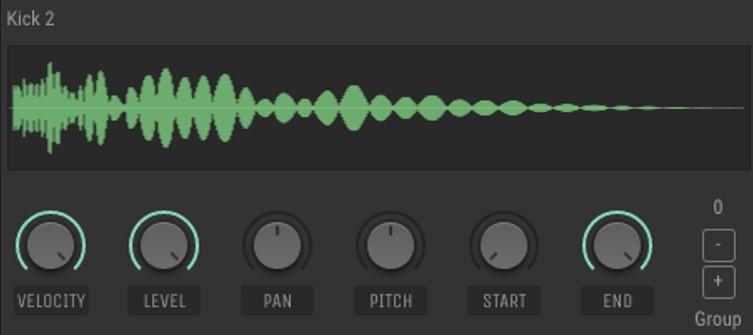 Tweaking of any parameters can be recorded in time, that is called automation. Amped Studio functionality allows recording automation for parameters of a sample. Experiment with it and find whether it sounds good to you and fits your music idea.
After you made the first version of a beat add one more layer and start to overlay a melody, if you feel something is missing in your drum section add more drums and percussion. Working with a DAW you always can paste, delete, copy or undo. So experiment, search, research, you are the creator all is up to your imagination.
Mixing and mastering the beat
After creating a beat, it is necessary to bring it to the overall picture so that it sounds "alive" enough, like a real commercial product.
The main components of mixing are:
Setting the volume levels, when the volume of each beat element is set in accordance with its degree of importance in the mix;
Equalization is resolution of frequency conflicts of various instruments;
Panning is the place determining of the instrument in the mix space (to the right or to the left).
In addition, an important place in mixing is occupied by the use of effects: delays, choruses, compressors, reverbs and so on, it is thanks to their use the sound becomes more natural and "lively".
Mastering is needed to make the beat sound professional. In its process, the general compression, volume, frequency balance, etc. are set.
Tips for beatmaking
The hardest part in beatmaking as in any other endeavor is getting started! Here you need to proceed from the principle "What the eyes fear, the hands do." If you are stuck at this stage, here are some tips on how to get going.
Use samplers and ready-made loops for inspiration
Try to find some interesting sampler for yourself on the Internet or in the built-in library of Amped Studio, place it on the track in some kind of rhythmic pattern and loop the resulting sketch. A ready-made drum part can often suggest a good idea, which you can either supplement with your own sounds, or come up with something new on its basis.
Gradually, adding your own samplers to the original part, you can completely replace it and based on someone else's idea, your own one will be made. Thus, by trial and error, the basis for the future composition appears from scratch.
Listen to your favorite producers
Listen to the music of your favorite producers and pay attention to what they are doing. Try to make out the structure of the track to the smallest detail. What drums, instruments, effects and sound content they use. How the individual instruments are positioned and balanced in the overall picture of the composition.
Listen to the details and mark them down on paper, building a kind of roadmap for creating the future track. Mark each element of the track on paper; it will be very useful for subsequent playback.
For inspiration and practice, try to repeat as accurately as possible parts of the arrangements of your favorite pieces of music: drums, bass lines, melodies, effects, etc.
Try to end your beats always
Every experienced beatmaker always has a huge amount of unfinished beats on his computer. Often, in the process of creative search, people simply lose inspiration. Working for several hours at the computer is tiring, and by the time, you return to it, the idea is lost, in the end, you leave the sketch until "better times" and this is where it all ends.
Try, in the initial stages to finish the beats to the end. The lack of finished work in the portfolio is often depressing; as a result, the desire to work further simply disappears due to the fact that nothing works. These may not be the most outstanding works, but they will be completed and you will always be charged as the result of your work.
How to start making beats
Practice every day
Everyone knows the rule of 10,000 hours, after spending, which for some business a person becomes an expert in it. You can study the theory as much as you want, read a bunch of articles and watch many videos on how to make beats, but this will just give a large layer of theoretical knowledge and that is all.
The best and only way to improve yourself is to make beats.
Try to find at least half an hour a day and you will see how every month your arrangements will become more professional.
Learn something new about beat making
Try as often as possible, and preferably every day, to master some new skill.
See how the various techniques are done in the arrangement, how the instruments are placed, how the different kinds of effects are applied, and in what situations. Internet is full of information on this topic. If you are engaged in any particular style of music, try to master a new style that is not typical for yourself. It broadens your horizons and allows you to make your beat more variable and new trends emerge through random experimentation.
Try to learn a new instrument or effect, perhaps it will allow you to get some new, more unique and high-quality sound.
Gradually, your toolbox and skill pool for creating beats will expand, and the process itself will significantly speed up and become more and more professional.
Try to limit yourself
Possibilities of music production in today's world are almost endless. However, it often complicates work. Many producers, trying to master a huge number of skills and tools, end up simply fixating on this and starting to get lost in all this abundance. Everything is good in moderation, so sometimes it is better to put yourself in some framework that may limit you, but will allow you to improve yourself significantly in a particular area.
Try limiting yourself to one drum pack. The essence is that in this situation you will have a very limited set of sounds, so you will have to perform all sorts of manipulations with what you have. For example, if your kick drum is wide and ringing, and you need to make it more deaf and concentrated, you will have to experiment with compression and EQ.
Of course, you will spend significantly more time than with a simple selection, but you will acquire a large number of skills that in the future will allow you to save time significantly in the future.
Thus, by limiting yourself, you gradually go beyond your usual state. What can be done in this regard:
limit yourself to one package of samplers;
use only a certain number of sounds;
limit the use of multiple VST plug-ins.
Study music theory
By the way, this is exactly what is often lacking and from which the process is stalled – the knowledge base on music. Understanding the basics avoids creative dead ends and many technical challenges in the future. Understand the methods of constructing rhythms, chords, sound scales. Learn how to combine different samplers with each other, how to write catchy melodies.
Build a working design
The bottom line is to have everything you need to make beats at hand and as quickly as possible.
Create a ready-made project in your DAW with customized routing and a set of the most used VST plug-ins. This will significantly speed up the work and concentrate on the creative process, rather than on the preparatory routine.
Often asked questions about beat making
Is it difficult to make beats?
Creating simple rhythms using basic drum patterns and bass lines is easy enough. You can make an uncomplicated melody, choose a ready-made drum loop for it and make a bass line in a matter of minutes. However, production of a complex arrangement will take skill, experience, talent, and time.
Why learn to make beats?
It all depends on what goals you set for yourself. If you are just looking for your next hobby, making beats can be a great time-consuming way for you. However, for many aspiring producers, over time, as they gain experience, this develops into a profession that they make a living, and often quite successfully. Remember this process is not fast, training will take a lot of time, as a rule, more than one year.
How to make money making beats?
You can make money on creating beats in the following ways:
uploading files to specialized platforms that independent singers use to buy arrangements for their songs;
direct selling to specific singers to work with directly.
How long does it take on average to learn how to make beats?
As mentioned earlier, to become a master of your craft, you need at least 10,000 hours of practice. The simplest drum parts can be learned in a few hours. In order to reach a professional level, it will take years of experience.
Do studios make beats?
In studios, as a rule, beats are not made, but the producers who work there do it themselves. More often studios are engaged in mixing, mastering and sound recording. At the same time, you, as a beatmaker, can work in the studio or together with them as a producer.
What do rappers use to make beats?
Most often, this is a regular laptop or computer with a DAW installed and some kind of midi controller for it (midi keyboard, hardware samplers or drum pads) so that the process of creating beats is more tangible.
Where to start when creating beats?
First of all, you need to choose the DAW that suits you and learn how to use it, familiarize yourself with the interface settings, study hotkeys, figure out how to connect plug-ins, how to process midi and audio, etc. Next, select the instruments, effects, and sampler libraries that you plan to use. Then – learn and experiment.
Can you make beats on laptop?
Naturally! The vast majority of aspiring producers, and many professionals, work only with a laptop, headphones and DAW. For better mixing, of course, it is better to use monitors, but during the initial work, you can do without them. Often, you do not need any hardware at all to make an ingenious beat.
What software is best for creating your own musical rhythms?
There is a huge variety of popular DAWs, both stationary and recently popular online applications; each is good in its own way. Amped Studio is a browser studio the only one of its kind to support VST technology, so with it your possibilities are practically unlimited.