Making Music Online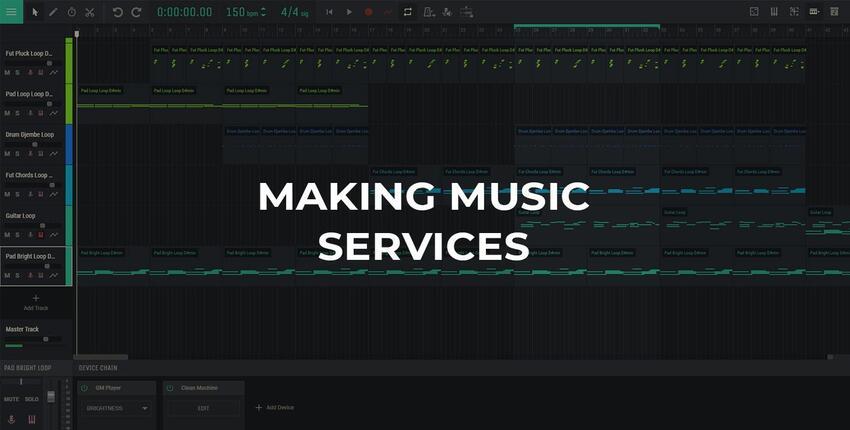 Have you decided to write your own track and you don't know where to start? In this article, we'll help you figure out which services are best for a beginner as well as a more experienced composer. Making music online starts with choosing the right toolkit. There are a lot of them on the Internet. Using stationary (installed on a computer) software is considered more difficult in terms of mastering and initial acquaintance, and web applications are very friendly, including for an unprepared user. In this article, we will tell you in detail about browser-based virtual studios with which you can quickly compose a melody.
Who will be interested in making music online?
There are two main ways to work with composition: software and browser services on the Internet. Profile programs involve a more detailed study, and are also characterized by a complex and detailed interface. You won't be able to master them quickly. An alternative option are online platforms in the format of virtual studios available to everyone. Creation of works related to beats, music, arrangements, as well as mixing tracks has never been so easy and accessible.
We present to your attention the TOP online music making studios: Amped Studio, Soundtrap, Soundation, Ocean Waves, Scribble, Typedrummer, Add Texture, Sampulator, Song Maker, Beep Box, Typeatone, Audio Tool, AudioSauna, PatternSketch, Looplabs, Online Sequencer. We will tell you about each of the services and highlight the key features.
Part of the platforms are systems for creating bits. You can quickly make music online in almost any style thanks to the advanced capabilities of some of them, by layering your voice. Other systems allow for simplified use and writing simple compositions thanks to the press of a few buttons and mouse clicks. Depending on the functionality, you can choose online sequencers, services for mixing minuses, as well as platforms for creating rhythms and adding musical tools. It all depends on your preferences and goals.
Amped Studio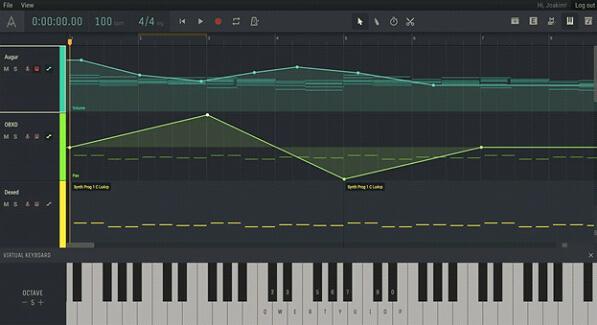 First on our list is the popular online platform Amped Studio, with a wide range of tools to unleash your full creative potential. It's a highly customizable and incredibly easy-to-use virtual studio where you can upload your voice, combine audio tracks, and overlay effects from the library. All this happens in a few clicks.
You don't need a musical education or perfect pitch to make a track. Just hum a melody with your voice and add it to the HumBeatz app, which will do everything for you. You can "hang" the synthesizer with your sound on an automatically generated melody and be pleasantly surprised by the result. A wide range of tools and high-quality sounds in the library allows you to record creative compositions. There are built-in sample and loop libraries.
You can share your work with a friend or colleague. You can collaborate to improve the composition by sharing the project, or simply share with your audience what you've done.
The main advantage of this online service for making music is the ability to use it on almost any computer. For example, Chromebooks (Google) are the most simplified devices in terms of resources. Even their performance is sufficient for writing music in Amped Studio. Therefore, you can't worry about the hardware «stuffing» of your computer or laptop.
Benefits of Amped Studio:
full-fledged service for making music in the browser;
support for VST plugins;
HumBeatz app (a melody recorded in audio can be converted to a midi signal);
XYbeatZ drum generator (with preset beats);
PWA app for Chromebook;
free tariff (for acquaintance and use of the initial functionality);
many useful tools;
plug-in external VST/AU modules and plugins.
Soundtrap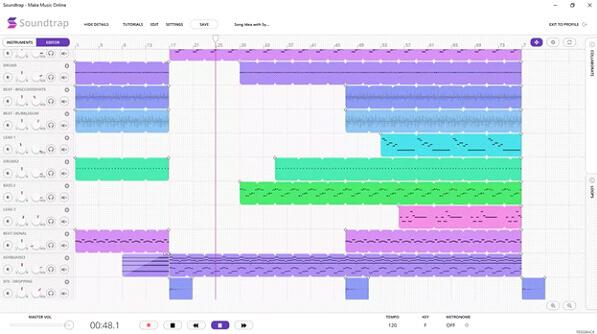 Good service for those wishing to connect a musical tool. The functionality that allows you to record your track is available even in the free version. Those wishing to save more than 5 projects, take advantage of the wide library and other advantages of the browser application will need to subscribe to a paid subscription. On the official website, one of the advantages is the co-creation and editing of melodies online with other users (in real-time).
The recording of the created melody takes place in a matter of minutes. Full integration with the popular Spotify platform is provided. The service is very friendly for users who have no experience with complex specialized software. At the same time, the provided opportunities will be enough for professional composers. In the browser app, you can record tracks for podcasts, beats for hip hop, and minuses for future hits.
The recording of the created melody takes place in a matter of minutes. Full integration with the popular Spotify platform is provided. The service is very friendly for users who have no experience with complex specialized software. At the same time, the provided opportunities will be enough for professional composers. In the browser app, you can record tracks for podcasts, beats for hip hop, and minuses for future hits.
online launch in the browser of a smartphone and tablet;
free version (to get acquainted with the platform);
clear pricing of paid subscriptions;
joint creation of tracks (in real-time);
wide community;
friendly functionality and interface (for inexperienced users).
Soundation
Decent solution for editing and making music and beats online. In the free version, you can save up to 10 projects. The created melodies are saved in low quality (bitrate), and the tools, sounds, samples, and library effects are significantly limited. The paid version also has advanced features. For example, you can share the created track as a link. An extensive library of tools and pre-made sounds is available.
Soundation: Pros & Benefits
support for midi, synthesizers and samples;
free version after registration;
several convenient tariff plans;
integration with Google WebAssembly;
friendly interface;
Looper drum.
Ocean Waves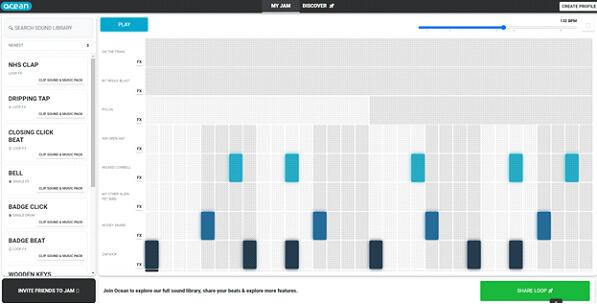 An alternative option for an online virtual music studio with various plugins and VST instruments. Popular browser-based workstation (DAW). Moreover, this is not just a ready-made service, but an integral solution in the form of a platform. In this case, it is a system of teaching music through an unconventional (playful) way. The cloud platform is convenient for distance learning. The main focus is making electronic music. The app is also suitable for other genres.
Ocean Waves: Pros & Benefits
quick mastery of making music online;
training mode;
easy creation of your own beats;
intuitively simple interface.
Typedrummer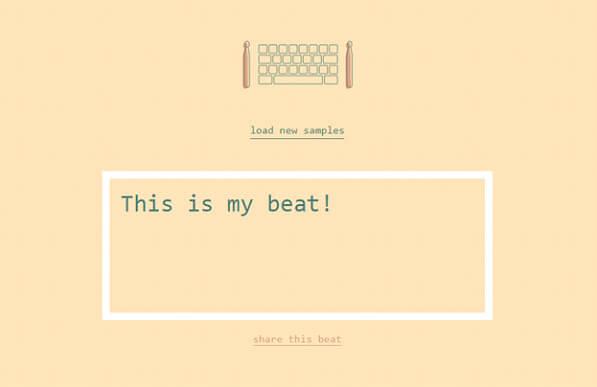 Typedrummer is an example of how easy it is to make music online. Not having a drum machine or synthesizer is not a problem. Your own keyboard becomes an analogue. Just press the buttons in any sequence and enjoy the result. No special skills, let alone specialized education. The bit is made by pressing the keys. It's convenient, simple, fast. You can immediately share your result with your friends.
Typedrummer: Pros & Benefits
primitive and incredibly simple functionality;
minimalistic design;
application available to everyone;
loading (replacing) sounds on the keys.
Add Texture

The next platform is a «texture» that integrates 6 audio tracks (mostly audio effects). By dragging the sliders left and right, you can set the volume level, and by pressing the button, you can shuffle all tracks and change the color scheme of the panel. This is not a virtual music studio (unlike other analogs presented in the article). The developers have developed a service to make the appropriate atmosphere and inspiration. The mixing result can be the most unusual and creative given the constantly updated library of sounds.
Add Texture: Pros & Benefits
intuitively simple music platform;
mixing audio tracks by pressing one button;
wide range of effects;
updatable library;
ability to «share» the resulting bit.
Sampulator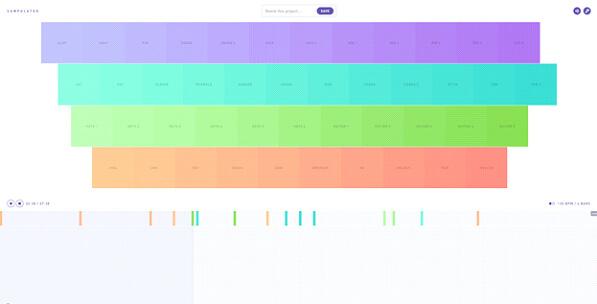 The name of the following online application suggests a simple and straightforward interface. The service is available for beatmakers with completely different skills and experience. The keyboard is a simplified Typedrummer-style synthesizer, where each key line is a soundbar. The samples are varied and bright, from which you can really create an original project, record it by pressing «Shift», and then save or share with friends.
Sampulator: Pros & Benefits
great app for getting familiar with samples and recording melodies;
simple and stylish interface;
additional samples (for additional payment);
placement of sounds and samples on the grid;
BPM adjustment;
hotkeys (Alt is copying while dragging on the grid).
Song Maker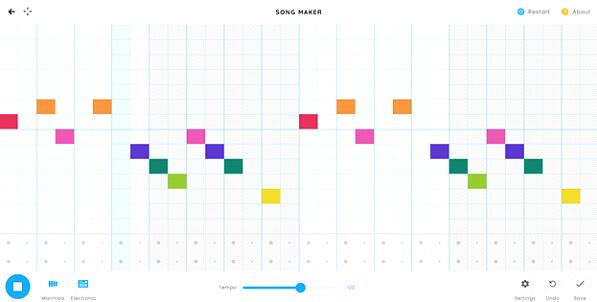 Mixers can be simple or complex. Song Maker belongs to the first type of browser apps. You place elements with the mouse cursor on a grid of blocks. These elements begin to take on the outlines of the future track when positioned in sync. Grid settings are provided, you can save the composition in midi and wav formats, as well as share a link.
Song Maker: Pros & Benefits
free mixer;
easy to learn;
saving the created melody;
several effects and bases to choose from.
Beep Box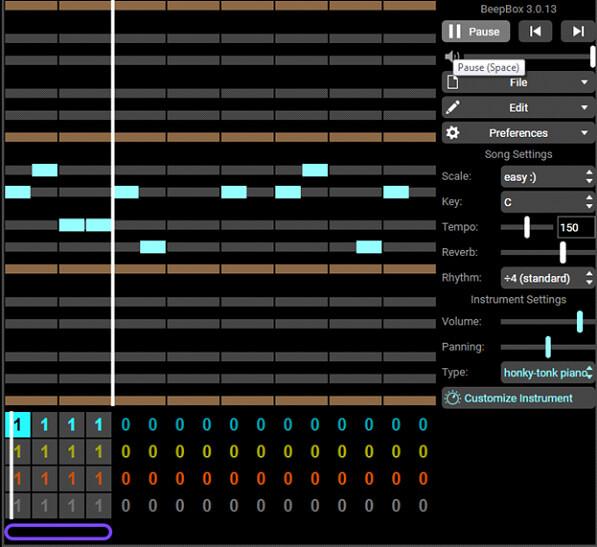 Free app for making music online, various projects and beats. The automatic playback of notes marked on the panel adds up to a melodic sound. You can save your work in several formats despite the ability to edit one template at a time. Several rows of patterns and a variety of tools allow you to make a track, listen to a single line, or the entire composition as a whole. This service can't be called a full-fledged virtual studio, but it does provide an acquaintance with the process.
Pros of Beep Box
free use (donations at will);
clear interface, convenient buttons on the panel;
various useful settings;
various useful settings;
rights to the created melodies belong to their authors;
saving changes by a link in the browser.
Typeatone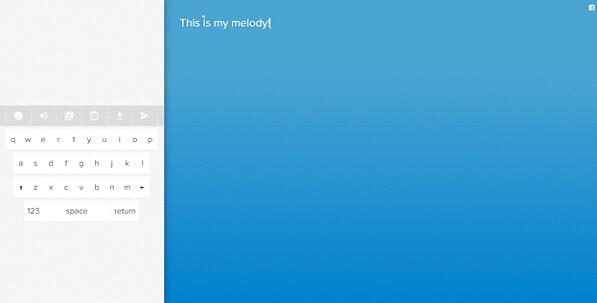 The simplest to learn online panel, made by analogy with a piano, is combined with the keyboard buttons. Just press the keys and enjoy the result. Minimum settings and good fun if you have free time.
Typeatone: Pros & Benefits
simplest functionality;
pleasant interface;
saving the melody;
doesn't require special skills and education.
Audio Tool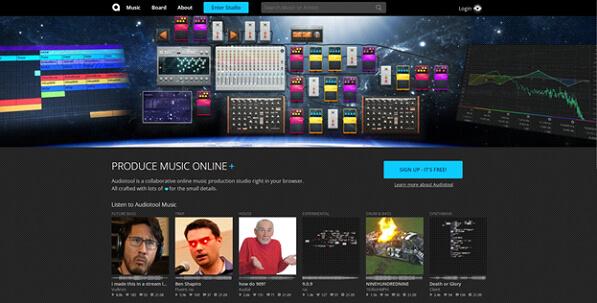 Audiotool is a popular studio for making music online. You can create tracks in a variety of directions with its help: from electronic music to other genres. The app functionality allows you to write tracks from scratch, mix samples and modulate sounds. It all works very smoothly, and cloud storage is also supported. The interface may seem a little complicated to untrained users, but the application is revealed in a completely different way after studying it.
Audio Tool: Pros & Benefits
library with over 250,000 samples and 50,000 tools/sound presets;
great sound and pleasant design;
free mode;
joint work on the creation of a track in real-time;
large community (the ability to share a track).
AudioSauna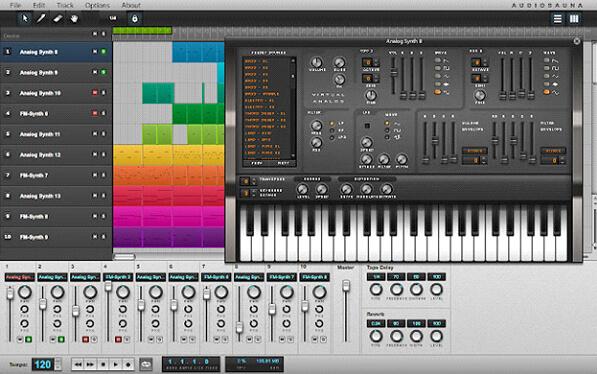 A long-standing audio workstation that is used to make tracks in the browser. It has been developed and supported by the creators since 2011, unlike most of the services presented. The app is constantly being improved. Polyphonic synthesizers, versatile samples, tools, and mixers are available to users. Compositions are saved as audio files.
AudioSauna: Pros & Benefits
full-fledged studio for making music online;
analog generators, polyphonic synthesizers and other tools;
classic panel;
import of mp3 and wav files;
full editing and creation of author's projects.
PatternSketch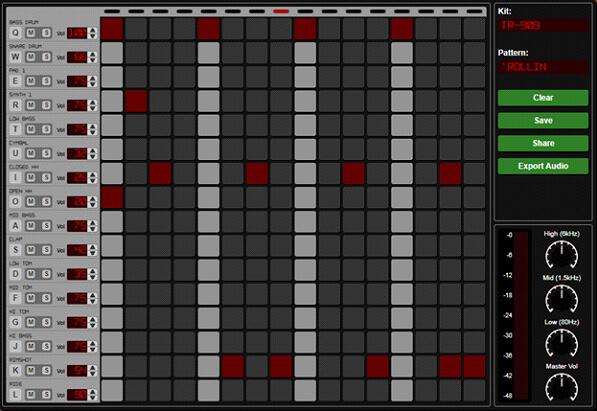 This service is often referred to as a drum machine. It has enough rhythmic presets and samples to compose music right in the browser. A good option for exploring free toolkit for making music online. You can save tracks for later use.
PatternSketch: Pros & Benefits
use without registration;
free drum machine in the browser;
preset blanks and samples;
simple acquaintance with the functionality of such platforms.
Looplabs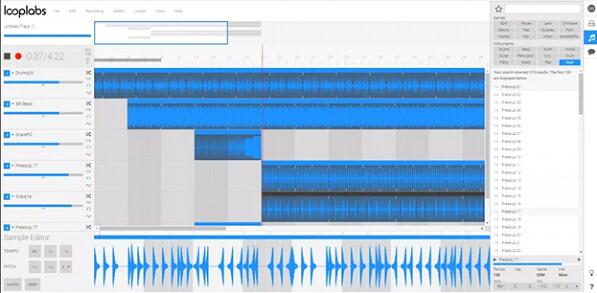 A clear and accessible service for users of different levels for creating tracks in the browser. The music studio operates on the basis of cloud-based technical solutions, thanks to which access to the compositions is provided from any place where there is the Internet, as well as the possibility of joint work is provided. You can achieve impressive results by moving samples across the panel, regardless of your skills or abilities.
Looplabs: Pros & Benefits
free account;
not an overloaded interface;
make music online using samples and sound effects;
same sample duration for maximum convenience.
Online Sequencer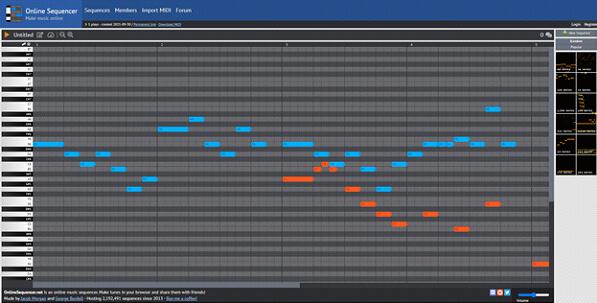 An easy-to-learn music sequencer in the purest sense. Plus, it's available online right in your browser. Just select the tool you want and move it on the pattern editor. You just need to place the notes in the desired order, and the sonorous melody is ready.
Online Sequencer: Pros & Benefits
large set of tools;
saving the track to mp3;
registration and creation of a personal account is not required;
free use (voluntary donation system);
no restrictions on the melody duration;
acquaintance with the melodies created by other users;
availability of a forum where you can ask your questions.
Easy way to make music online in your browser
The websites (services) presented in the review for composing and editing musical compositions differ in functionality, capabilities, and interface. They should be used depending on your skills and personal preference. Somewhere this is most likely entertainment (Typeatone), when a folding melody is obtained with a few button presses. Other apps (Amped Studio) are analogous to popular workstations (DAW) with a set of tools, a library of samples, and advanced technical capabilities. There you can mix tracks, add your own voice, hum the rhythm and adapt it to the beat. You don't need to install software on your computer, all functionality is available online. If earlier a sound studio and many tools were required to create musical compositions, now you only need a browser and Internet access.