Online DAW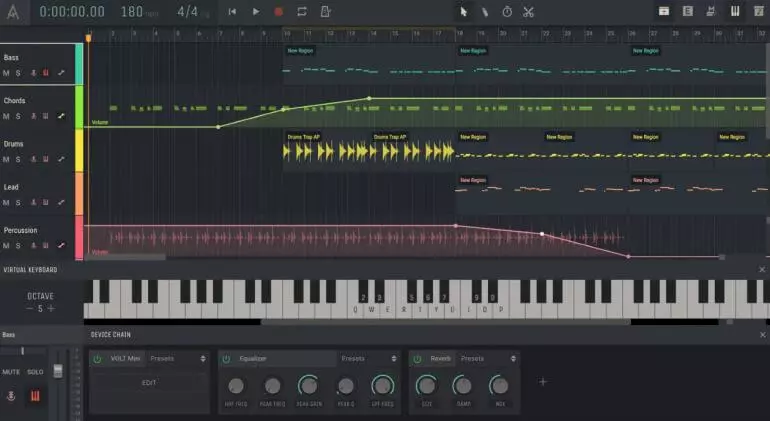 Nowadays, more and more software migrates from a stationary to an online environment. The same goes for online DAWs – software for making music. This is not surprising, because in this way the production process becomes more convenient and mobile, which is in great demand among, first of all, beginners.
Judge for yourself, earlier, in order to start making music, you had to buy expensive software, often without being able to familiarize yourself with it in advance and adequately assess its capabilities, as well as understand whether it suits you at all or not. The online DAW Amped Studio makes this possible.
All you need to get started is a computer or laptop. You just follow the link to the studio and you have access to all the tools for creating hits. What functions does the program perform:
Online sequencer
The sequencer is an environment for creating and editing music tracks. The online sequencer field graphically displays the tracks of each instrument. On each of them, you can put an audio or midi file that will be played in accordance with a given speed in a set period of time. The audio file will contain the finished melody. A midi file carries note information and requires the connection of some instrument (sampler, synthesizer) that will play this melody with a given sound. The sequencer includes functionality with which each melody can be processed with many different effects, improving their sound.
Online audio editor
The online DAW Amped Studio can be used as a complete audio editor for mixing and mastering finished musical compositions. One of its main features is support of VST plugins. That means that any third-party instrument or effect that supports VST technology can be connected to this software environment. In addition, the online studio itself includes a large amount of functionality, which will be enough for sound processing.
In addition, in the online audio editor, you can also perform fairly simple manipulations with audio files, such as trimming, automation, applying simple effects, etc. It is very convenient if you need to make, for example, a ringtone for your phone or music for a video.
Online piano
For those who want to at least basicly learn musical notes, Amped Studio has a built-in online piano. If you have a midi keyboard or a synthesizer, then you can connect it to the program, hang some built-in or VST instrument on the track and play. You can also use the computer keyboard, some of the keys are assigned to notes and they are marked on the keys of the virtual piano in the interface.
Online voice recorder
Online DAW, like any other such program, supports voice recording. It is enough to connect a microphone, create a track for recording and turn on the "Record" button. In addition, you can record any instrument, for example, record guitars, synthesizers, drums, etc. For high-quality recording, of course, you need a full-fledged studio, equipped with soundproofing and all the necessary equipment, but the fact is that Amped Studio itself is purely technically allows you to record anything at a completely professional level.
Collective collaborations
In online DAW you can make music collectively. For example, you are a producer, but you need a guitarist and a vocalist to create a track. You have found suitable people, but they are located in different parts of the globe. In Amped Studio, you can create a project and share it with anyone. Each of those involved in the creation of a musical composition can launch the project online and supplement it with their own vocals or any instruments. At the same time, you can control the whole process in real time.
Online learning to create music
Two-person video chat feature has been added to the online DAW Amped Studio. So you can either teach or learn the process of making music online. You connect to a video chat and see what your interlocutor is doing on the screen, repeating after him or making your own adjustments. So you can act both as a teacher and as a student.
Conclusion
Thus, the online DAW Amped Studio is a full-fledged virtual studio, where it will be convenient to make music for both beginners and professionals. The advantage of this software is that it is quite portable, since it does not require installation and consumes a minimum of resources (all the load falls on the external servers). There is a free version with limited functionality and a paid version with advanced (additional sample libraries, instruments, effects, etc.). There is no need to purchase a software package, you can try for some time whether this software suits you or not and decide how to use it further. At the same time, many users note the high degree of convenience and ease of use of Amped Studio.
Happy using! Make your hits with us!