Sound engineering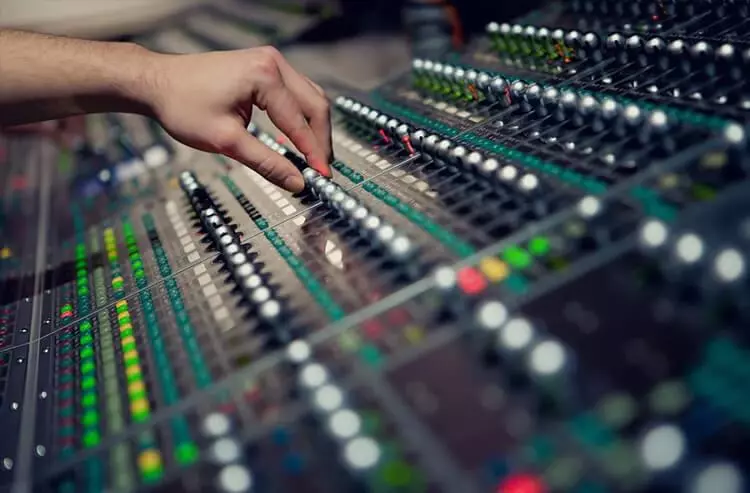 Sound engineering as a working specialty and creative direction is suitable for people who are fond of music and sound. With the help of tools, editing, effects, you can achieve an excellent result, which can later be used for a track, video, clip or feature film, dubbing a character in a computer game.
An experienced sound engineer can find what they love to do. In one case, it will be the sound design of the film. In the other – mixing audio tracks and mixing sounds in the process of creating a composition. Many people understand the profession in a very limited way. In the material, we will tell you how to become a sound engineer, and how much such a specialist is in demand today.
Development of the profession
Until relatively recently, television and radio were the main places of application of the sound engineer's knowledge. In various TV programs, advertising integrations, all kinds of projects with the help of special technologies and equipment, all the sounds that accompany films, music, everything that we see and hear were created. The peculiarity of recent times is the development of the Internet. Technology, including sound engineering, is constantly evolving. Now the demand for a master of sound engineering has increased significantly. The direction is extremely relevant and interesting. Suitable not only for creative people, but also for many others who are passionate about sounds and everything the human ear hears.
What does a sound engineer do? It is the most popular question among those who interested in this profession. The creative potential of a specialist is practically unlimited. The applicability of your knowledge and experience depends on personal preference, the chosen area. You can engage in the creation of artistic images in the theater (various dramatic productions and less serious plays), fixation and sound processing is required in any video. A person who knows how to work with sound on a professional basis is always in demand. Such knowledge can be obtained within the framework of specialized education and in several other ways. We will talk about them further.
Promising directions
The main activity in the field of sound engineering is sound management. An experienced technician is responsible for the technical side of recording or live performance. He designs and manages sound levels, and is responsible for maintaining audio equipment such as amplifiers and microphones.
In the process of editing a track, the specialist is responsible for collecting the fragments recorded separately. During mixing – makes sure that the correct instrument is focused on the track. Mastering improves the quality of music and makes it suitable for listening and distribution. Most of this is done in the studio. However, there are tools (services) that allow you to do this online and remotely. It all depends on your experience and skills.
Depending on the directions, sound engineering specialists are divided into several categories:
concert activities;
television and radio;
filmmaking and cinematography;
entertainment and gaming (computer games);
theatrical performances;
the musical sphere;
holding events (holidays, corporate parties, conferences, sports competitions);
many other industries.
More narrowly, there are wireless microphone engineers, studio sound engineers, phonogram systems engineers, and many others.
In fact, a master of sound engineering with a technical background in this area (sound engineering), versed in the physics of sound, its origin, varieties and features, will easily find application in the entertainment and media industries. And these are the most paid areas.
How to Become a Sound Engineer: Requirements and Skills
Commercial production of a recording consists of several stages: recording, editing, mixing and mastering. All of them involve a sound engineer. Quite high requirements are imposed on such a person – in terms of experience, knowledge and skills:
ear for music;
availability of specialized education (or completion of specialized courses);
experience in a specific area (preferably a portfolio);
working skills in basic sound editors and programs;
knowledge of the operation and settings of the consoles;
knowledge of the basics of musical direction;
constant study of new concepts in the musical technical field.
The most important skills in sound engineering include the following:
recording and debugging of vocals, instruments;
installation of phonograms;
ability to work with sound programs;
understanding of the technical guidance for the use of audio equipment;
creation of arrangements for music;
control over the sound quality;
equipment selection;
mastering of tracks;
dynamic processing;
work with MIDI controllers.
Where to study sound engineering
The Internet opens up truly unlimited possibilities. Previously, only a university could teach how to work with sound. Classical education is in demand now, however, the choice of an educational institution should be taken very carefully. Many are self-taught (YouTube, tutorials, guides, tutorials, forums). In this option, a systematic approach and practice are important. Many aspects can be mastered within the framework of online learning. Distance learning courses are in demand for people who are far from universities, unable to pay for a long 4-year study and not having certain training.
Sound engineering online
Some people find it difficult to control numerous equipment, the basis of which is a mixing console. In reality, the profession is not easy. To help professionals and everyone who wants to engage in creative areas related to sound, specialized services have appeared. One of them is the Amped Studio program, available directly from the browser. In it, you can record, edit, mix and master, apply sound effects, do whatever is necessary.