Sound recording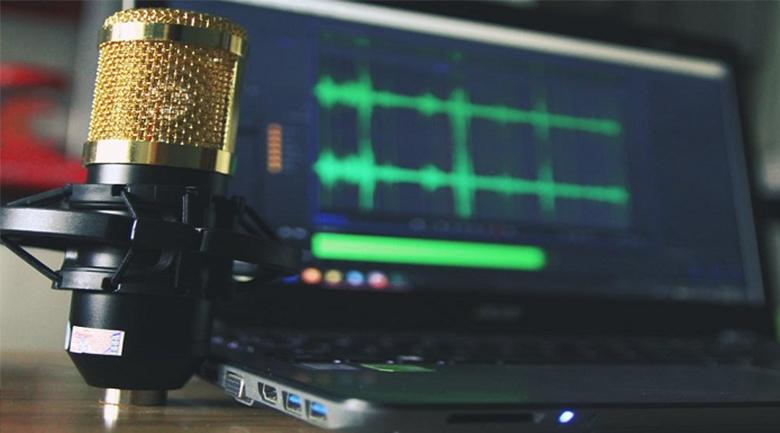 Amped Studio is a complete virtual recording studio. If you are into music or are just interested in creating it, our application is the perfect find for these purposes. There is no more need to buy expensive software or go to a professional studio and rent expensive time to record vocals or arrangements. Now you can do all this right from home. It is enough to connect to a computer or laptop, open your browser, go to the application and click "Record". Amped Studio can also be used as a regular voice recorder.
Benefits of Amped Studio
Mobility. All data is stored on Amped Studio cloud servers, you do not need to install anything on your computer, which frees up its resources;
Extensive editing options. Each recorded file can be professionally processed using all modern sound engineering tools (cutting, automation, effects, equalization, compression, etc.);
VST support. In addition to built-in effects and instruments, Amped Studio is the only online beatmaker that supports VST technology, that is, the ability to connect third-party plug-ins for working with sound;
Group work on the project. You can share your project with your friends and colleagues, and they can make their own adjustments online. One can work on the vocals, another on the drums, a third on the melody, and so on. Thus, several people can work on a track without problems at once, each in his own profile;
Processing. You can edit the audio files obtained after recording the sound and process them with effects right in the studio.
What is needed to record sound?
A laptop and a microphone are enough to record. The microphone connected to the computer is detected automatically. To enable recording, you need:
1. Create an audio track in the program
2. Press the record button and the process has begun
Hum & Beatz
Hum & Beatz is an interesting gadget that allows you to convert an audio signal to midi. It will be useful for those who do not know musical notation and instrument playing skills. You simply hum a tune into a microphone and record it into an audio file. Further, this plug-in recognizes the tonality of the recorded sound and displays it as a midi signal. In the resulting midi track, you can connect a synthesizer or sampler and play notes with some kind of sound.
Processing sound recording with effects
After recording, the resulting audio file can be processed in the following ways:
Cropping. Each audio file can be trimmed by means of a sequencer, fitting it to the required size;
Automation. All processing parameters (sound, effects) can be automated (most often a smooth increase and decrease in volume is used);
Equalization. Adjustment of frequency levels (high, medium, low) using special plug-ins – equalizers;
Reverb. Applying the effect of additional space to "revitalize" the sound;
Compression. Smoothing the volume of the sound at some peak values, so that it sounds softer and more even;
Delay. The effect of a delay or fading repeating echo;
Distortion. Deliberately distorting sound by applying its hard limit in amplitude. Most characteristic of guitars in rock music.
This is what is used most often. In addition, there are various choruses, flangers, phasers, overdrives, modulations and more. others, but they are more specific.
Amped Studio Features
Everyone can create music in Amped Studio. You don't even need experience to get started, the application's interface is designed in such a way that every beginner can figure it out in the shortest possible time.
The program is a full-fledged online sequencer with a sound recording function, a multi-channel mixer, a set of effects and instruments, a midi interface, an audio editor, its own sample library and much more. etc. Here everyone will find everything he needs to create a full-fledged hit.
Data storage and security
Projects and files are stored on application servers. We guarantee complete confidentiality and security of your work, no one except you has access to it. You can save all finished files to your device.
The Amped Studio frame has a marketplace where you can place your tracks for the purpose of their further sale.
Group work on a project
The joint work of several musicians who are at a remote distance from each other is a common thing today. One person is an excellent drummer, the second is a talented vocalist, the third is an excellent instrument player, the fourth is a sound engineer.
Amped Studio provides a very handy feature for this case. All project files are stored remotely and access to them for making changes at any time can be obtained by each of its participants. This greatly simplifies and speeds up the work on a musical composition, making the process itself much more convenient. Moreover, the work can be carried out jointly almost online.