Sound Packs in Music Production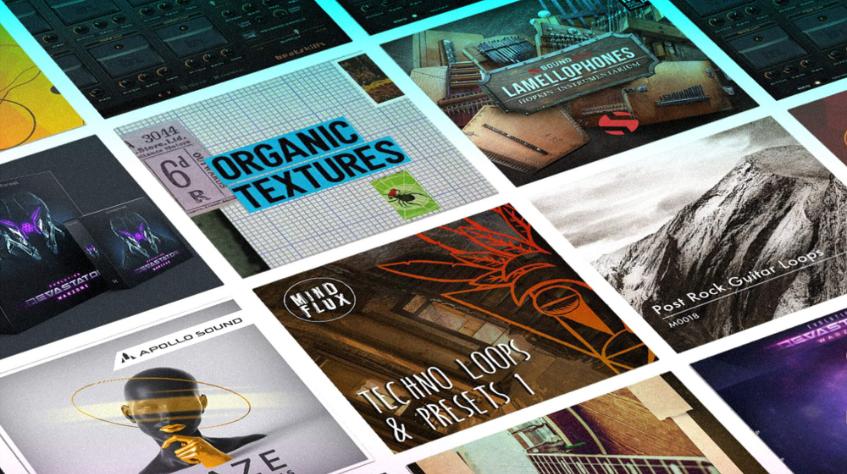 In this article, we will take a look at such tools in music production as Sound Packs (which can be Sample Packs, Construction Kits, and actually at all types of audio materials) that musicians, both beginners, and pros can use in their music creation process. When looking back at the history of electronic music we will see the emergence of such phenomenon as sampling is quite unique for the musical culture of the 20th century, not less unique than the music of that time itself. Came out as a result of the development of technological capabilities in music production and the creative approach of musicians.
In the context of sound and music, sampling appears as the reuse and implementation of any part of audio previously recorded into new composition. Melody, rhythm, sounds, vocals or entire bars of music could be sampled and manipulated for further use.
"Musique Concrete" an experimental form of music was developed by Pierre Schaeffer in 1940 as a sound art concept. The result of recording sounds to tape, splicing, and manipulating such audio turned it into collages that were created using sounds of the human body, locomotives, kitchen utensils, and many other sounds.
The term sampling was coined in the late 1970s by the creators of the Fairlight CMI, a synthesizer with the ability to record and playback short sounds. As technology improved, cheaper standalone samplers with more memory emerged, such as the E-mu Emulator, Akai S950 and Akai MPC have appeared. More and more powerful music hardware pushed the culture. Sampling as a method was quickly adopted by Hip Hop artists sampling Funk and Souls to create new original tunes, beats, and breaks. Of course, underground musicians used underground methods, which was a cheap and quick way to create original, fresh records for one side, for another side where major labels stayed, ideas of sampling were considered as stealing. Samples as part of intellectual property are subject to copyright registration and require a permit to be fairly used, otherwise can lead to being accused in plagiarism. The 80s will remain "the golden age of sampling" in Hip Hop before strict copyright laws took action.
Samples can be digged from old vinyl records or any other rare sources, audio recordings of some specific environment can be used as samples, using some digital tools just one sound chopped from the loop or track can be turned into a synth. By now the audio market has grown exponentially with the development of technology, with its availability, new kinds of audio products have appeared and, accordingly, there are more options for music creatives to use them, more creative ways, adding samples to the original track instead of being the basis of it.
Science and technology is also based on previous inventions and discovers. Music does as well. It is natural lean on something and move up. Staying creative, keeping an artistic approach is the key to avoid blaming in plagiarism. And from the commercial point, of course, everyone wants to be rewarded for what he has done, if everyone is getting paid, then everyone is happy.
While learning, at the beginning of your way in music production rely on some sample packs, use it as the foundation of compositions is a good option. For some composers is a source to get those special feelings in a song by adding to their tunes samples of a certain character, they can't yet create by themselves. It's also a great way to learn about mixing sounds, experiment with possible and impossible combinations, source of inspiration. Happen, that the whole track idea was born just around one particular sample, which is cool. Some producers use full melodic loops. Professional producers normally try to keep away from these to maintain originality, therefore more professional producers mostly use one shot's and VST's to compose their music.
Samples in Amped Studio Marketplace
Talking about samples in the context of sound products let's review it on the example of Amped Studio Marketplace where a wide range of products are performed: Sample packs, Construction kits, Song Starters, Custom Products. Let's see what the difference between them and which one should you select for a particular purpose.
Sample pack is a type of product containing a collection of audio loops and one-shot audio samples, for instance, related to some specific genre of music that's more often. Midi loops also can be a part of Sample packs. As s VST plugins are widely used among music producers these days, because of the ability to synthesize great sounds that suit to specific music styles, and there are some popular VSTs, so such presets for a particular VST can be included in the Sample pack as well. Such information is usually mentioned in product details on the product page. See an example of a Sample Pack.
Construction Kit is a special type of Sample Pack that contains one or several complete demo tracks, and for each track of a Ck there is a collection of sounds it is disassembled for, these sounds are usually compiled as audio loops, one shot audios, there may be presented stems of a track, Midi loops, VST presets, DAW projects sometimes, and some other materials related to the product. Have a look at an example of a Construction Kit.
One more interesting and unique type of product you can find in Amped Studio Marketplace is a Song Starter type, provided for music creators by Jamband and Amped Studio. You can find a series of Song Starters in various genres. Song Starter is a single track that is ready to be used as a completed production or the user is able to adapt, remix, transform and build his track upon a Song starter as it consists of Stems of a particular track that can be previewed in the studio. Select a tune on you choice open a product page there click on "Preview as Stem Project". Check an example Song Starter.
All Song Starters are created at sample source level so individual track level adjustments and panning will improve the overall sound picture. Perfect for any type of social media and content creators, for any purpose, even commercially. Share copy and redistribute in any media or format. Since you get it use as an inspiring starter or as a completed song with a license that covers all your needs.
Read this article to learn more about Stems and Song Starters in Amped Studio Marketplace.
And the Custom Products are provided by Amped Studio users that wish to sell their music creations. Such products may include any of the elements mentioned above. All details about the content are mentioned at the page of particular product. The seller can provide a Single track, related Sample Pack or Construction Kit, Daw projects, VST presets. And if the product was created in Amped Studio it can be previewed in the studio before purchase and edited in Amped Studio straight after. Such products are available under three license types: Non-exclusive, Exclusive, Buy-out licenses.
With all that variety, the early idea of using samples has transformed, and expanded with another approach. Almost every producer uses samples. But what kind of samples are involved, the way it is implemented and modified by musicians, make difference. The ideas of expressing yourself through the music, of being creative, research, experimenting means a lot. So even using samples let's keep originality in a priority.