ChromeBook app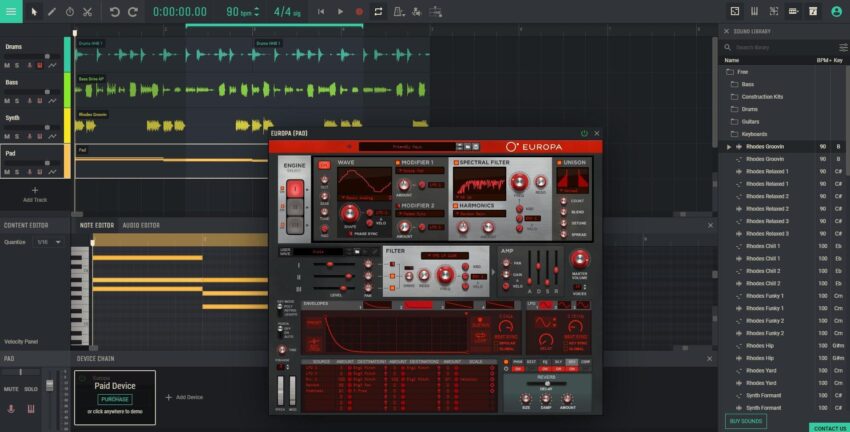 Our company, as part of a partnership with Google, has released a PWA application specifically for Chromebooks with the Chrome OS operating system. All users, who use this type of device have access to the ability to quickly and easily create music using the functionality of Amped Studio.
What does Amped Studio give?
Music Creation. Simple and intuitive sequencer interface. Possibilities of familiar desktop applications (midi and audio editing, connecting VST plugins, own synthesizers and samplers, and many others). Rich built-in sample and loop library;
Vocal recording. Ability to connect a microphone, record with subsequent voice processing using built-in and VST effects;
Beatmaker. Create your own drum tracks using a convenient midi editor;
Collaborations. Create your own arrangement and save the project online with the ability to transfer it to colleagues for joint work on the track.
The essence of PWA technology
PWA (Progressive Web App) is a web technology that allows you to transform a website into an application (mobile, desktop, etc.). It can be installed on a phone or computer directly from the browser. The app will have access to the hardware of the device and will be able to send push notifications. At the same time, it should be functional both with an unstable Internet connection and offline.
The term PWA was first coined back in 2015 by designer Francis Berryman and Google engineer Alex Russell. The technology has attracted widespread attention due to the fact that it offers a relatively simple implementation and very quick contact with the user.
Google developers describe PWA technology as:
Reliable – loads instantly, including in the absence of a network connection;
Fast – due to the increased interactivity of the interface, it provides instant contact with the user;
Engaging – works in the normal application mode and visually practically does not differ from it.
What is a Chromebook?
After netbooks disappeared into oblivion, Google did not abandon the idea of creating an inexpensive compact laptop that would perform the basic functions of a computer and would be affordable for everyone. As a result, the operating system Chrome OS was released, which supports modern computer functions and at the same time is not demanding on the performance of components. A Chromebook is essentially a laptop with Chrome OS installed.
What are the advantages:
Low performance requirements. For normal operation of the operating system, an Intel Celeron processor, 2 GB of RAM, 16/32 GB of memory on a hard disk is enough. Such low requirements for capacity HDD are due to the fact that Chromebooks are more focused on a constant connection to the Internet, and wi/fi is available almost everywhere today. Many of the applications only work while the device is online. In addition, files are now quite convenient to store in the clouds;
Mobility. Low performance requirements entail a reduction in the amount of hardware filling, which leads to a reduction in the size of the device. The screen size of many Chromebooks is 11.6 inches;
Long battery life. The average runtime for Chrome OS laptops is about 10 hours, which is significantly longer than Windows devices. We are not comparing MacBooks, since this line does not even have models with a price competitive with Chromebooks;
Low price. Simpler components – lower cost. The average price for a Chromebook is about $ 600.
The only drawback is that the number of applications developed for Chrome OS is limited, so such a computer is suitable mainly for active Internet users and for some specific purposes, for example, making music.