Best audio editors
Audio editors are used by aspiring and independent artists, musicians, composers, as well as sound and recording engineers in professional studios. They connect guitars and microphones to audio interfaces, converting their music into a digital signal. While recorded audio tracks are never perfect, the stage of recording must be followed by the stage of editing.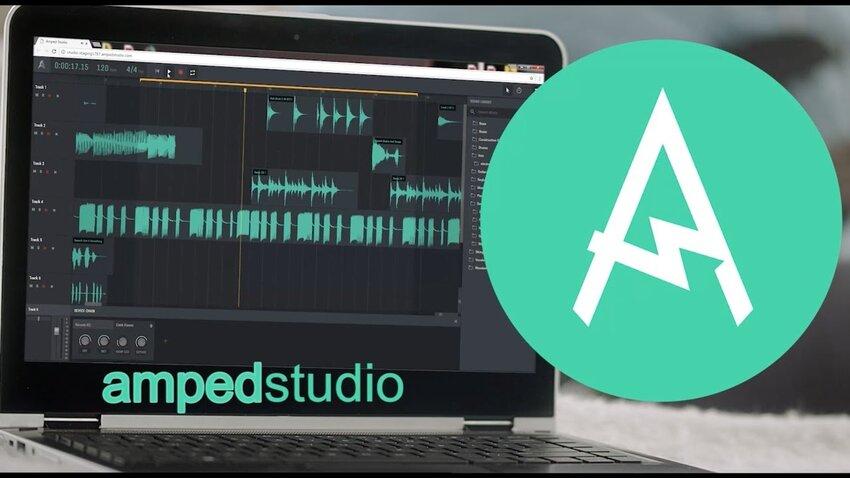 This specialized sound editing software is also used by arrangers, producers and beatmakers. Video bloggers and podcast creators also need to process their material. They add background music, cut out long pauses in speech, remove noise and etc. Anyone who wants to edit, for example, a video birthday greeting, should also use one of the video or audio editors.
All these programs differ in interfaces, workspace organization, level of convenience and functionality. Some are only suitable for audio editing, others are powerful platforms with huge toolboxes. A standard DAW (digital audio workstation) is not only a sound editor, but also a mixer with a processing package, as well as a tool for recording, making arrangement and producing.
What do typical sound editors do?
Cut and glue. Audio blocks (clips, items) are usually sliced ​​to align them with the beat. The reverse process is gluing;
Equalize the volume. To "help" the compressor, sound engineers pre-compress the peaks manually using the audio editor;
Remove silence and unnecessary sounds. Rustles, knocks, unnecessary speech often fall into pauses. All this is easily erased;
Make fade-out, fade-in, crossfade;
To delete the noise. This usually requires a dedicated plugin, but many sound editors have their own VST plugins on board;
Correct the pitch of the notes of the vocal parts. This is also usually done by special plugins (for example, Auto-Tune), but some sequencers can handle it themselves;
Collect duplicates into packages and help compile them. Some audio editors can record all takes in one clip, and the user then composes an acceptable batch of them;
Eliminate clicks, soften explosive sounds, remove crackling, noise, hum. This will most likely also require a separate plugin;
Speed ​​up or slow down parts of the tracks. For online audio editors and sequencers with live mode, the function of automatically adjusting the loop to the tempo of the project is especially useful;
Work with MIDI. It is more important and easier for someone to control the notes-blocks on a MIDI grid than to cut the waves on the tracks of the session. Even free audio editors can handle moving, stretching, and quantizing (auto-aligning to a beat). Many also have Velocity and Expression options.
There are many audio editing programs available. Some of them are free, some are very expensive, some are installed on a computer, some work online. To understand how they differ, it does not hurt to disassemble and compare some of them.
Comparison of audio editors for beginners and professionals
Audio editor Amped Studio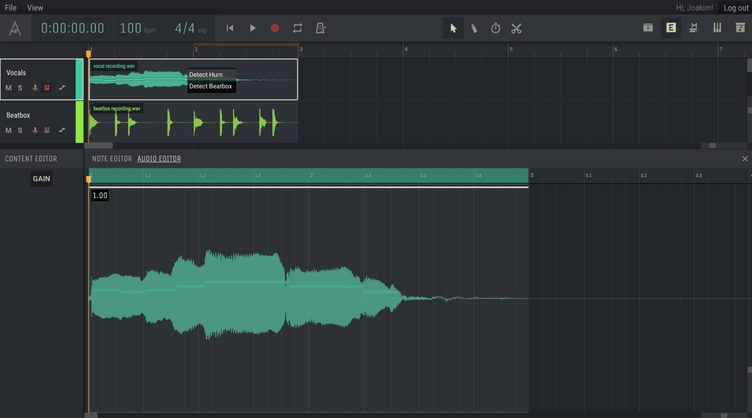 It is an online audio editor. With it, you can edit audio directly in your Internet browser. No software required. Turn on any device with Internet access and work. A MacBook, a Windows PC, a smartphone and a tablet will do. This is convenient when you are away from your computer.
In the audio editor Amped Studio, when creating music, you can drag files to the working area from the library (it is located on the right). Loops are immediately adjusted to the tempo of the project, which saves the musician from unnecessary hassle with editing and stretching. Also, here you can record sound from an external source: microphone, guitar or MIDI keyboard. An unevenly played phrase needs to be edited and online audio editor Amped Studio provides all the functions.
Move the recorded section under the rhythm grid so that the instruments play in concert;
Trim it, remove excess part, silence, unnecessary ending or beginning (to do this, just take the edge of the clip and pull);
Duplicate one or more loops so that they repeat (just select them and drag while holding the option);
Cut the recording into pieces using scissors and line them up at the desired rhythm and tempo.
Editing MIDI in this audio editor is carried out in the online piano roll area, but here everything is arranged somewhat differently than in conventional sequencers. Content Editor includes Note and Audio Editor. It is there the work with MIDI and audio is carried out. That is, the usual editor is, as it were, divided into two blocks.
If you right-click on a vocal clip and select Detect Hum from the context menu, the notes along which the vocal melody moves will be displayed right on the wave. Double-clicking will open the clip directly in the Audio Editor field. Here, the notes can be corrected and put on any virtual instrument. To do this, you just need to add some synthesizer to the chain and go to the Note Editor tab. Here you can change the part and make a quantize so that the phrase falls into the rhythm clearly.
An equalizer is designed to eliminate resonances and unpleasant overtones. It is available even in the free version, like all the functionality described above. So Amped Studio is a full-fledged free audio editor at a decent level.
TwistedWave Online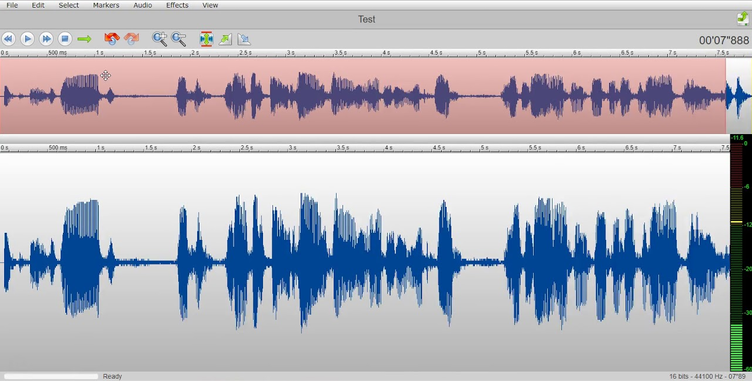 In fact, this is also a browser-based audio editor, but it is difficult to call it even a simplified version of Amped Studio. First, it is single-track. Secondly, the functionality here is so limited that it becomes unclear why this site can be useful in general.
The tools of this online audio editor can be counted on fingers. It can cut and do normalization, provides an equalizer and something like a device for noise reduction. The damping and fading buttons are placed on the control panel, and you can't adjust the curves, you can't even see the envelope along which the sound fades. But in the arsenal of TwistedWave there are many effects: reverb, delay, overdrive, de-esser, detune, etc. There is a reverse – far from the most important function for an audio editor.
Audio is recorded directly through the browser or downloaded from a computer. Importing files from GoogleDrive or SoundCloud is also available. You can work for free only with files in mono and no more than 5 minutes long. To expand the possibilities, you need to buy a subscription.
Ocenaudio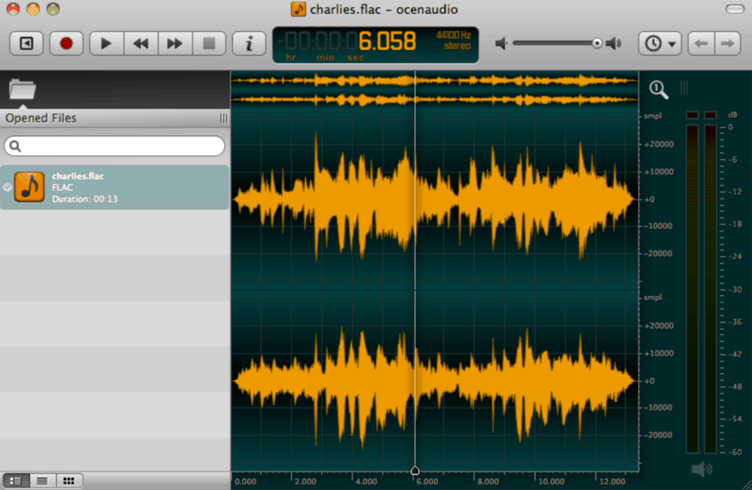 Simple and free audio editor. If you need to fix one file, then the functionality of Ocenaudio will be enough. It is also used by those who do not have the desire and time to deal with complex editing platforms.
Ocenaudio is a cross-platform single track audio editor. It works on macOS, Windows, and Linux. Plays only one track, but multiple files can be queued at the same time. It does not heavily load the processor and RAM, it can always be open in the background. It supports files with long recordings of several hours.
In addition to basic trimming, this sound editor can analyze the spectrum and work with plugins. You can reduce noise, cut out clicks and knocks, make audio equalization, slow down or speed up audio recording. All elementary operations are available. The interface is very clear. And the main thing is that all this is provided absolutely free. Although the developers offer to make a donation as a thank you.
Amadeus Pro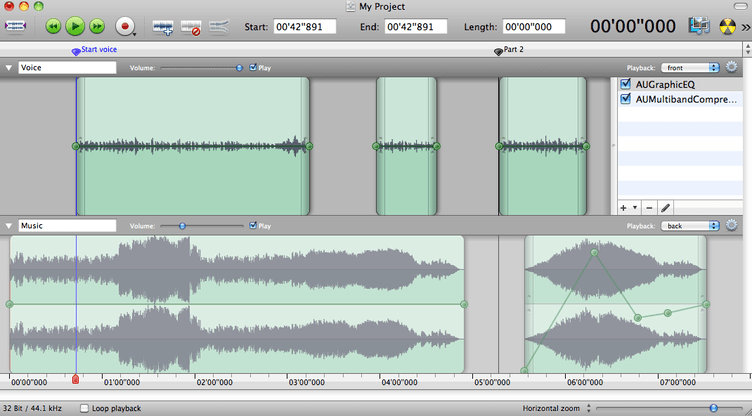 The program's website proudly displays a large inscription: "The swiss army knife of sound editing". But this "army knife" is incompatible with Windows, therefore it is not so "Swiss" either. For complete versatility, the audio editor lacks cross-platform functionality.
Manufacturers suggest using this software for the restoration of sound recorded from a vinyl record or tape. It eliminates hiss and crackles, automatically splits one recording into several, allows you to make fade and fade in, selectively process songs with an equalizer and burn it all to a CD or just save.
Also, the Amadeus audio editor can do batch conversion and supports a bunch of different formats: aiff, mp3, wav, ogg, etc. If the format works with metadata, the program will help you edit it.
There is a Lite version, but this Amadeus is heavily curtailed: you cannot work with multiple tracks and pieces-clips, VST is not supported, there are no utilities for analyzing and restoring sound.
Fission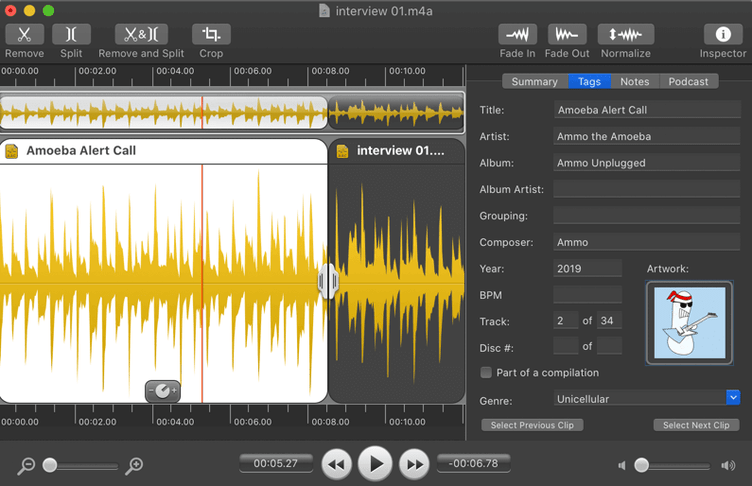 Another sound editor with the philosophy "the simpler the better". It is positioned as a program without unnecessary functions that only confuse the user. At the same time, manufacturers declare that it does not spoil the quality at all, unlike other audio editors. Even when working with compressed mp3 and aac formats.
Fission does not support VST, nor is it capable of delete noise or EQ. Opens only one track and is therefore not suitable for multitrack recording and editing. Compatible with macOS only.
But this software really copes with all the standard operations. With it, you can make a smooth fade in or out, equalize different pieces in volume, normalize the recording. The audio editor's toolbox naturally includes scissors and glue. You can trim a file by removing unnecessary pieces, cut something out of the middle, or combine multiple files into one.
Fission is handy for creating podcasts and can split audio into chapters. And Smart Split technology produces split based on silence. There are functions for batch converting and writing metadata.
Adobe Audition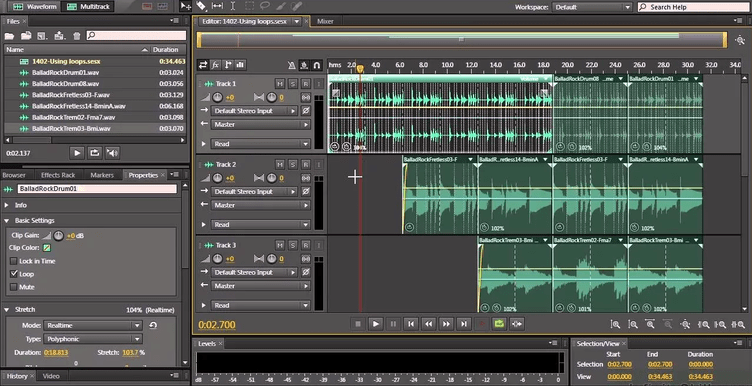 This sound editor is included in the Adobe Creative Cloud suite, along with Photoshop, Illustrator, Premiere Pro, Acrobat and many other programs. It is paid by subscription. For some, this format is more convenient, for others, on the contrary, it does not suit.
Audition is a powerful audio editing and restoration platform. It provides many options for cleaning records. The buttons for the spectral and wave modes are prominently displayed here. In spectral mode clicks, low frequency bursts, and other artifacts become noticeable. The audio editor comes with dedicated noise reduction plugins.
It is more convenient to work with individual tracks in Audition. Perhaps that is why the buttons for switching modes Waveform and Multitrack are at hand here. In other , editing is done directly on the multitrack canvas. And in Audition, a whole mode is reserved for this. For music production and mixing a large number of tracks, other programs are usually used. But Audition is good just as a sound editor.
Hindenburg Journalist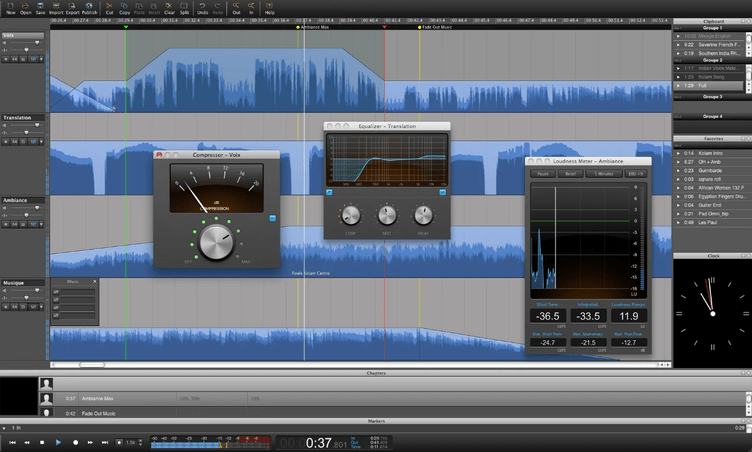 Not the best software for editing music, but it's great for editing podcast recordings and interviews. The name itself already tells us that the software is intended for journalistic activities.
The priority functions here are volume leveling and noise cleaning in real time. This audio editor is suitable for live production. Track correction is done automatically when recording. Although you can do the correction in post-production.
The most specific and at the same time useful function is the creation of an EQ profile. Sound engineers are well aware that voices change color in different rooms. But you can pre-create the ideal EQ curve for your tone, or use the standard one. The profile is automatically activated, and the voice retains its colors in any conditions. Unfortunately, Voice Profiler is only available in the Pro version, which costs four times the price of the standard Hindenburg Journalist audio editor.
Pro Tools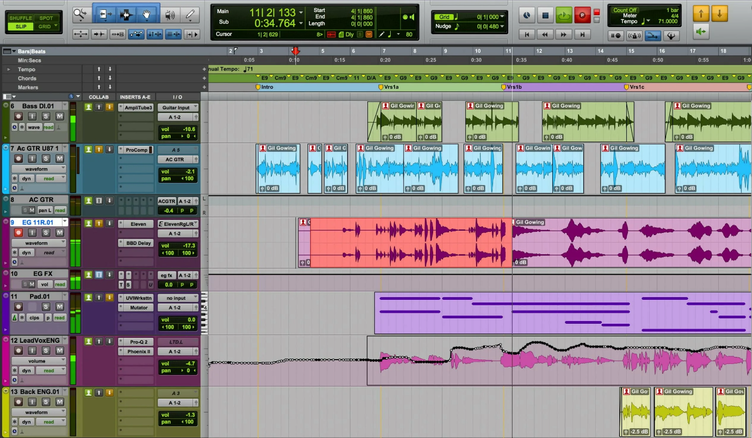 It is positioned as a professional online sequencer of an expert level, although any other digital environment for production is not much inferior to it in terms of functionality. The only significant advantage that really sets it apart from the whole mass of DAWs is the ability to connect DSP processors and other equipment from AVID.
Previously, Pro Tools wouldn't work at all without its hardware. You couldn't just download it to your computer and use it as a sound editor. Now it is also being promoted in the form of a software and hardware complex, but individual products have become completely autonomous. Plus, various processing plugins, virtual instruments and samplers were added to the kit.
While manufacturers try to market it as a universal music production software, its editing and mixing capabilities are superior to composer's tools. Veteran sound engineers have always loved Pro Tools for its stability and ergonomics. And now it also offers powerful filmmaking tools. But for this you already need to subscribe to the Ultimate version.
Logic Pro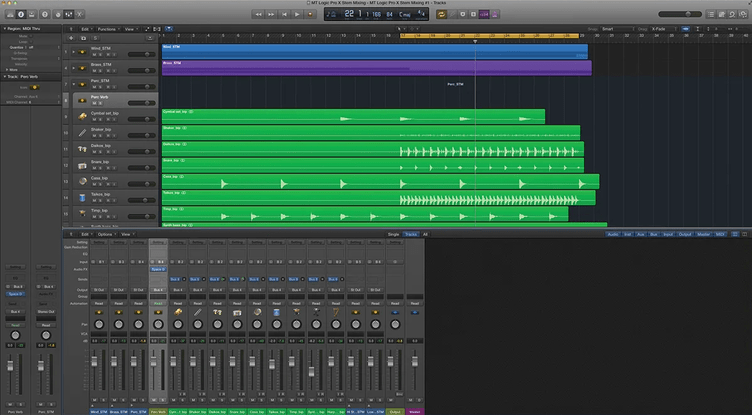 This audio editor is only compatible with macOS. But that's how many programs are designed for Apple devices. Logic can do everything that sequencers offer and is sharpened for some specific tasks.
For example, it has a live set mode for real-time arrangement like Ableton. It allows you to program beats as patterns like FL Studio. And, of course, it comes with all the audio editor gadgets. Flex Time aligns the beats. Flex Pitch pulls up notes in vocals. Duplicates, automation, processing using plugins – all this is also provided.
Logic's creators have also developed unique formats. For example, Dolby Atmos. This is mixing with the distribution of tracks in space, which results in surround sound. Another unusual feature is Logic Remote. You can install a free application on your mobile device and manage the program remotely, via iPad or iPhone.
GarageBand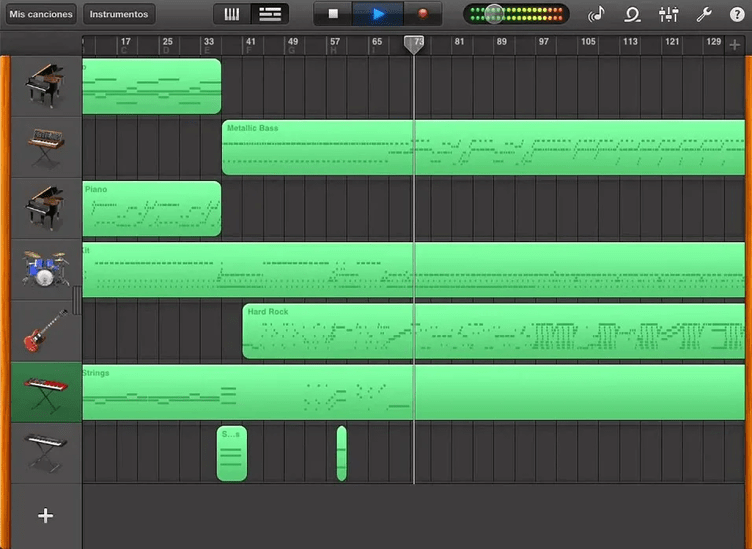 Free audio editor for Mac owners. On some devices it may come preinstalled. The best option for beginners, because everything here is built in a convenient, playable format. Anyone can figure it out without instructions. It's more suitable for composing music, improvisation and entertainment, but there are recording and editing functions here too. Unfortunately, owners of Windows computers will not be able to work with this sound editor, it is installed only on MacOS. A mobile version for IOS has also been developed. If you have an Apple mobile device, you can take GarageBand with you on the road.
For professional production, GarageBand is not used. But it's designs are compatible with Logic Pro. So you can end up with a more powerful audio editor. The editing tools are standard here. However, there is one convenient feature: a thumbnail of the project is displayed on the MacBook's touch-sensitive mini-screen, which makes navigation and editing easier.
Acon Digital Acoustica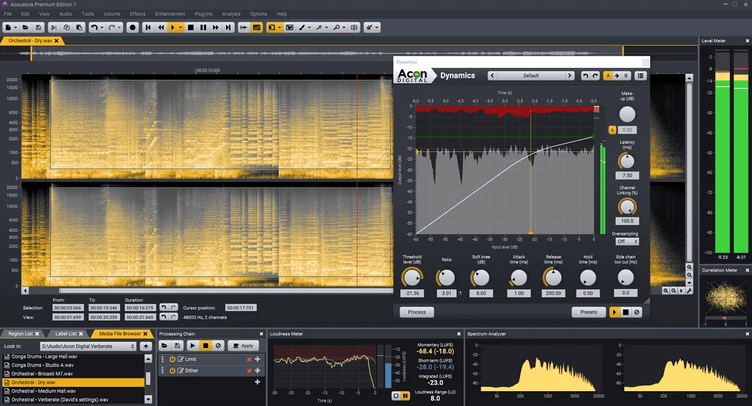 Like Logic, it supports 5.1 and 7.1 multi-channel editing, but only in the Premium version, which costs three times more than the Standard set.
The Premium package also includes the Restoration Suite. Its tools remove crackles and clicks (DeClick), clipping artifacts (DeClip), low-frequency hum (DeHum), hiss and other noise (DeNoise). Also in the Acoustica audio editor are included utilities that automatically reduce background noise and extract speech from them. In spectral editing mode, you can use a brush to remove unnecessary sounds from the recording.
Of particular interest is a device called "Remix" (included in the Standard). It divides the finished composition within one audio file into tracks. It is a sliders with different tracks: Vocal, Drums, Piano, Bass. Each can be made quieter or louder, you can bring out a multitrack stem, make a karaoke minus, or leave only one desired instrument.
Ableton Live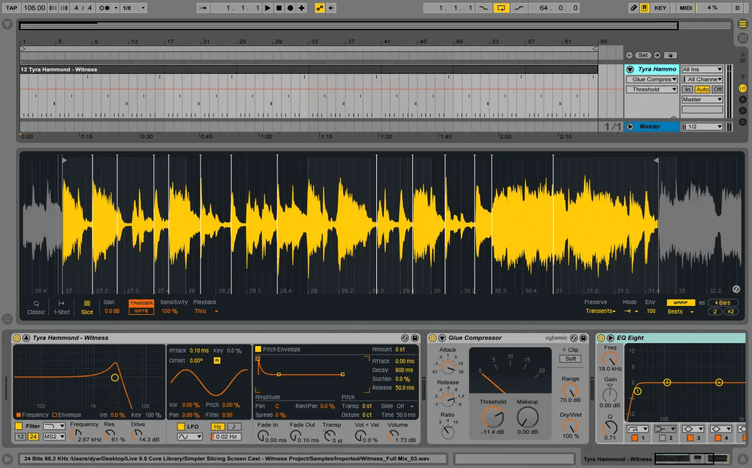 This sound editor is primarily intended for live producers of electronic music. The interface is organized so that it is convenient to write and play tracks in real time while standing on stage. You can drag and drop loops into the module window, and music snippets will play continuously.
But Ableton also has a multitrack mode. So for studio production and editing, a sequencer is fine too. Ableton Audio Editor makes it easy to compile takes for flawless vocals. The selected pieces are immediately collected on one track. You can work with MIDI parts in the same way.
An interesting mode is adjusting the tempo for an external signal. We usually edit the track based on the tempo of the project. Ableton can do the opposite: it picks up the tempo, for example, listening to a snare drum microphone, and digital effects, synthesizers, LFOs, delays adjust to this rhythm. Everything immediately sounds consistent without editing.
WaveLab Elements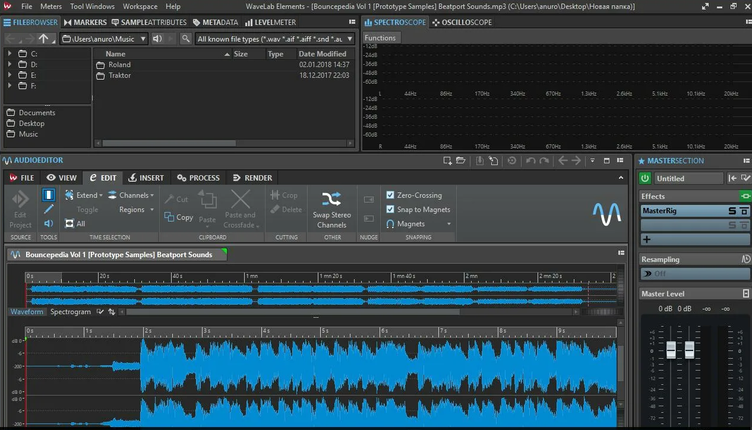 Sound editor from the renowned company Steinberg. WaveLab Pro software is designed for mastering. WaveLab Elements is its simplified version.
This workspace helps to remove noise from audio and offers 25 mastering treatments. The effects are combined into the channel strip module. So, when you press one button, you can immediately hear the result. In addition to mastering, the creators recommend using WaveLab Elements as an audio editor for podcasts and blogs. For example, it can automatically mute the background music in those moments when the voice of the announcer sounds. And for video bloggers is provided support for video files.
The kit comes with RestoreRig, a set of cleaning utilities. There is DeHummer, DeNoiser, DeEsser here. And numerous visual analyzers help to accurately detect noise, clicks, hum and crackle. The standard audio editor toolkit is also presented here in full. The audio waveform is scaled to one sample, making precise trimming of the cut areas possible.
Cubase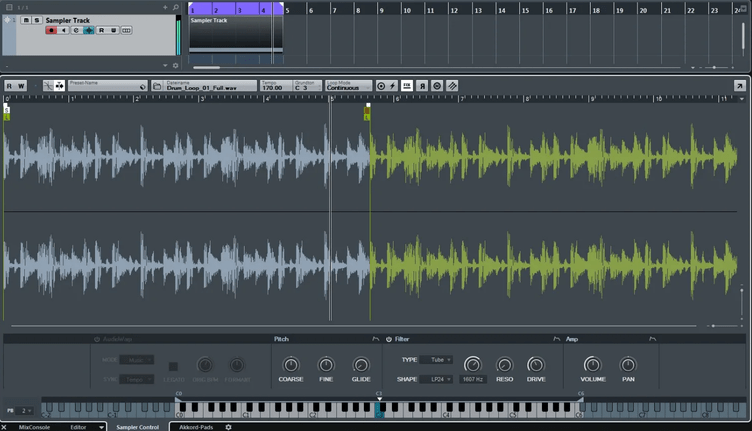 Another Steinberg product and possibly their most popular creation. It is used by composers, arrangers and producers. But as a mixer and sound editor, it is especially good.
A built-in VariAudio tool is provided for correcting the notes of a vocal track. Cubase can automatically match double tracks or backing tracks to each other. And you don't have to move them by yourself. Another cool thing is audio quantization. The idea is the same as that of quantization in the MIDI editor: the beats are lined up on a grid with the desired accuracy. They seem to turn into MIDI notes that you can move and arrange as you need. In this case, a stretching mechanism is used.
The rest of the Cubase audio editor is roughly similar to its counterparts. Equalize the volume along the envelope, cut out clicks with the spectrum analyzer, compose a part from takes, move the melody along the grid – Cubase knows how to do it all. There are three configurations to choose from: Pro (the most complex and expensive), Artist and Elements (the cheapest and simplest).
FL Studio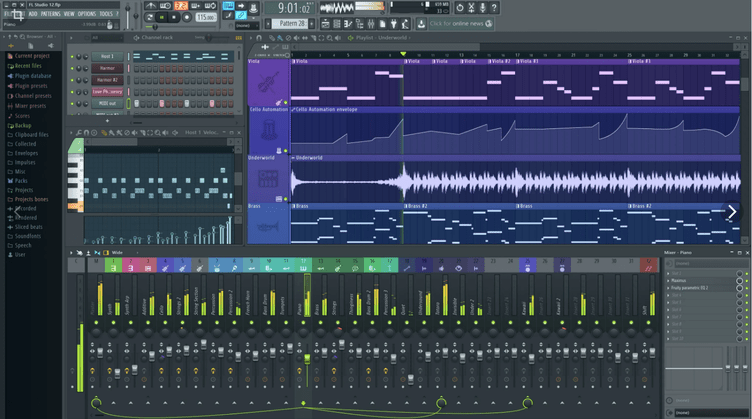 The most popular beatmaking sequencer. Used primarily for composing music, writing beats and making arrangements. It attracts users with its patterned architecture. Thanks to the logic of blocks and modules, creating compositions is easy, fast and fun.
As a stand-alone audio editor, FL Studio is not used, but there is a certain arsenal for editing here. Otherwise, you would have to turn to third-party applications, but this is still a full-fledged DAW with its own production tools.
The editorial toolbox is represented here by three separate tools. Edison offers all the standard editing and recording methods. Newtime works over time: stretches, distorts, moves, etc. Newtone adjusts the pitch of sounds, something like Auto-Tune or VariAudio in Cubase.
FL Studio also excelled in its approach to editing. In any other sound editor, tracks are edited directly in the session field. Here Edison, Newtime and Newtone are connected as plugins in the mixer.
Sound Forge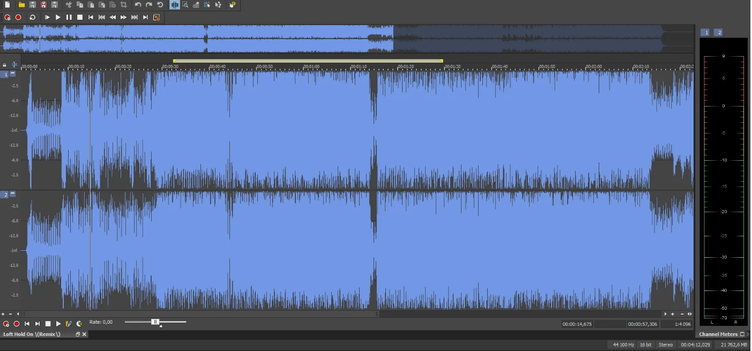 When describing its program, Magix puts its editing functions first. Although this software is also used for recording and mastering.
Apart from the standard audio editing tools, this audio editor includes a package of cleaning tools. DeHisser removes white noise, DeClicker and DeCrackler cut out clicks and crackles, DeClipper restores peaks after clipping. Also included are utilities from iZotope: RX and Ozone.
A wide range of analyzers helps to increase control over frequency range, dynamics, loudness, phase activity and many other parameters. The processing chain can be applied as a script. There are also ready-made scripts. For example, in one action the Sound Forge audio editor is able to enable a complete algorithm for cleaning a recording from all noise.
Interestingly, Sound Forge integrates into the Windows context menu. Without opening the program, you can split the audio file into parts, convert it, normalize it, split it into chapters, etc.
Steinberg WaveLab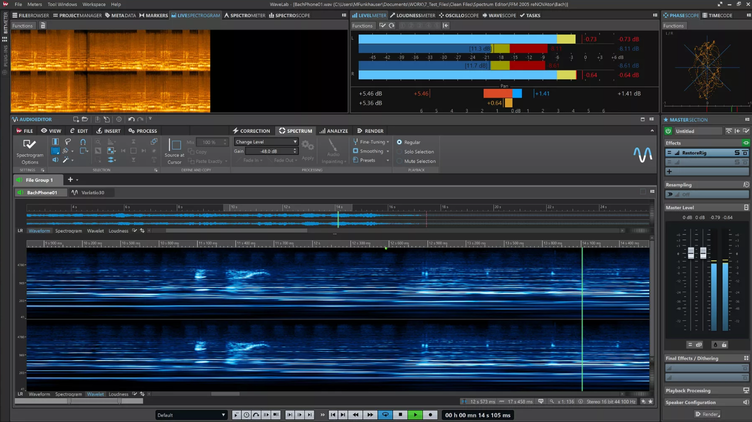 This software is primarily intended for mastering. But its powerful functionality makes it a full-fledged audio editor as well. When a mastering engineer is working on an album and bringing all the compositions to the overall sound, he also needs editing tools.
WaveLab can separately edit left and right channels, as well as mid and side. It offers a large selection of spectrum analyzers, which is very helpful for mastering. The audio editor comes with an impressive package of restoration plugins. They act well in a targeted manner, without affecting the rest of the area.
A separate workspace is reserved for batch processing. It is convenient to use it when shaping the general sound of songs. You can select a special folder on your computer and designate it as a source of files for general processing. And the audio editor will apply the same chain of effects to them. WaveLab is also able to work with metadata that comply with iTunes standards.
How to choose the best audio editor for you
Selecting the right audio editor tailored to your unique needs is a crucial decision in your audio journey. It's apparent that each software program carries its distinct characteristics, and your choice should be aligned with your specific requirements and tasks. Beyond mere functionality, the user interface plays a pivotal role in this decision-making process. The layout of buttons, panels, and menus significantly influences the efficiency and swiftness of your work.
When deciding on a sound editor, the best approach is hands-on experience. Trying out a few options will allow you to discern which one aligns most seamlessly with your preferences and work style.
Here are some factors to consider when choosing the best audio editor for your needs:
Functionality: Determine the specific tasks you need the audio editor to perform. Are you primarily editing, mixing, or creating complex compositions? Make sure the software you choose has the necessary features for your projects.
User Interface (UI): The UI design can greatly impact your workflow. Some editors are more intuitive for beginners, while others offer advanced options for professionals. Try different editors to see which one's interface you find most user-friendly.
Compatibility: Ensure that the audio editor you select is compatible with your operating system (Windows, macOS, Linux) and supports the file formats you frequently work with.
Performance: Consider the software's performance on your computer. Some audio editors can be resource-intensive, which may affect your computer's speed and efficiency.
Pricing: Your budget plays a significant role. Some audio editors are free, while others come with a one-time purchase fee or a subscription model. Evaluate your budget and choose accordingly.
Third-party Plugins: If you require specific plugins or virtual instruments, check if the audio editor supports third-party plugins or has a comprehensive built-in library.
Community and Support: A strong user community and available support resources (tutorials, forums, customer support) can be invaluable when you encounter issues or have questions.
Trial Versions: Many audio editors offer free trial versions. Take advantage of these trials to test the software's functionality and see if it aligns with your needs.
For simple tasks like basic cuts, there's often no need to invest in an elaborate Digital Audio Workstation (DAW). In fact, a free program may suffice for these purposes. Additionally, consider exploring online audio editors, like Amped Studio, which can save you from the hassle of installing hefty software packages with extensive plugins and libraries. By testing different options and assessing their suitability, you can ultimately find the perfect audio editor that complements your workflow and artistic goals.