VST plugins
You compose a cool melody, come up with a vivid arrangement having catchy hooks and unusual moves, choose high-quality samples for a beat and make a swinging groove out of them, record vocals using an expensive microphone – but is only half of the production. You need VST plugins for processing. The process does not stop with editing and aligning to the grid. The material remains raw, sounds dull, boring and sluggish even in the edited form.
Sound engineers, producers and arrangers have many virtual instruments in their arsenal that can improve the songs. Mix engineers equalize and compress the sound, make it more beautiful and richer, make the instruments sound in tune when using VST plugins. These devices change the character of the sound, make the drums punchy, the vocals are airy, the keyboard instruments are wide, and the whole composition is pleasing to the ear.
Those who making music exclusively inside a computer and are not engaged in sound recording and mixing cannot do without DAW plugins either. Digital synthesizers and samplers are connected as VST instruments.
What is VST and how does it work?
The abbreviation stands for Virtual Studio Technology. Company Steinberg that now produces sequencers Cubase, Nuendo, WaveLab and many virtual instruments developed it.
From the name "plug-in" it is already clear that VST plugins are connected as additional modules. We have a DAW (Digital Audio Workstation) program in which we creature music: FL Studio, Pro Tools, Cubase, Reaper, etc. We load additional utility programs into it.
Usually, there are slots within the DAW for each track into which VST plugins are loaded. We can process each track separately, or we can combine them into groups and attach processing to several instruments at once. Many sequencers allow to apply effects to individual items, which are placed along the track.
The online sequencer Amped Studio can also connect VST plugins. They are perhaps even more convenient to use here than on standard DAWs. There is the Add Device button on the bottom panel, which calls the context menu. There we will see the item "VST / Remote". Click on it and we can use all the best DAW plugins that are installed on the computer. The site will offer to install a special program in order for Amped Studio to have access to your treatments. It takes less than a minute.
You can also specify the path in the settings if your VST plugins are in some special folder. You can enjoy your favorite virtual synthesizers in the online sequencer. It is the only online music production software today supporting this feature.
How are VST plugins used at different stages of production?
Musicians, beatmakers, producers, arrangers, sound engineers, mastering engineers, sound designers all of them use virtual effects and instruments. Plugins lie on the tracks from recording to designing the final sound of a VST song.
Recording live and digital instruments
We already know that synthesizers and samplers, which a musician plays inside a computer, exist in the VSTi format. VST plugins also help you to record live guitars, basses and vocals.
Some audio interfaces allow putting the processing separately on the monitor output channels. If the vocalist receives in the headphones his voice processed by the compressor and reverb while recording, he will get more pleasure from singing. When a musician enjoys his work, the part becomes more lively, energetic and sensual.
VST plugins with effects of delay, distortion, and reverb will make the guitarist play more powerful and fully surrender to the music. He will perceive not a raw sound, but already almost ready, as if he is listening to a mixed song. This will help him play with feeling.
Editing and mixing
DAW tools are usually sufficient to keep the music in rhythm. However, you will need VST plugins to improve the sound, equalize the volume and frequency response (AFC), adjust the timbre and cut out noise.
We will cut out annoying resonances, smooth out the frequency response, and make the sound more pleasant with the help of an equalizer or a multi-band compressor. Often, multiple tracks are mutually equalized to eliminate frequency conflicts. If two instruments occupy roughly the same frequency range, they compete for the listener's attention. VST plugin for equalization helps give space to every instrument.
Restoration utilities cut out clicks, noises, crackles, hum and other debris. Most often, this is required by the vocal part, it should be especially clean. The vocalist usually has loud low-frequency sounds on plosive consonants, while the pop filter does not help much. Clicks when opening the lips are also unnecessary. VST plugin de-esser softens hissing and sibilant consonants.
Vocal parts must go through subtle pitch correction. Two giants occupied this niche: Antares Auto-Tune and Celemony Melodyne. However, some DAWs have built-in pitch editors.
Own mixer of sequencer allows for precise volume balance. Nevertheless, if the volume of individual parts is unstable, there will be no sense from mixing, the mix will not be collected. Again, you need a VST plug-in compressor. It makes loud places quieter, but does not touch quiet ones (up to the specified threshold).
Instrument always sounds at approximately the same volume thanks to the compressor. Of course, synthesizers themselves can keep a more or less even sound. However, live attacking instruments and vocals always give peaks and dips. Another VST plug-in – the limiter works similarly. This device is used for other purposes, and most often, it is put on the master track so that it processes the entire mix as a whole.
Saturation and coloring
Some sounds often lack fat, brightness, saturation. VST plugins solve this problem.
Many compressors and equalizers saturate the sound even without the slightest adjustment. This is how emulators of vintage analog devices work. Especially popular are the PulTec equalizer emulations, as well as the Urei 1176 and Teletronix LA-2A compressors. They bring harmonics to the sound, enrich it, and make it more colored, pleasant and even noble.
There are also dedicated VST plugins that are designed to saturate. These are distortions, exciters, saturators, emulators of famous mixing consoles and preamps.
Spatial processing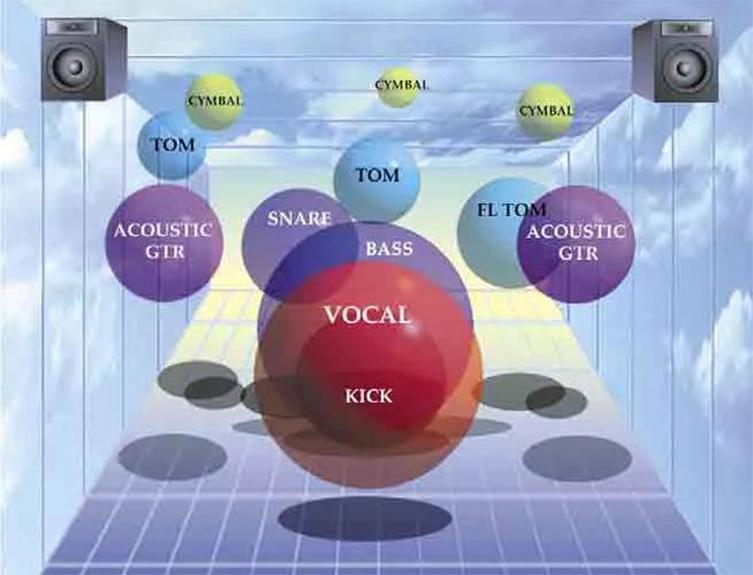 The most important stage of mixing music. It is needed not only to induce beauty, but also to form plans. As a result, one gets the impression that one instrument is far away, another close, one seems large, the other small. So each takes its place in space.
VST plugins that create spaces make the song beautiful, harmonious, drowning in pleasant reverb, although the reflections may be barely audible. Delays, reverbs, choruses are also used as an explicit effect, raising their volume. At the same time, they also color the sound and glue different tracks into a single composition.
Visual analysis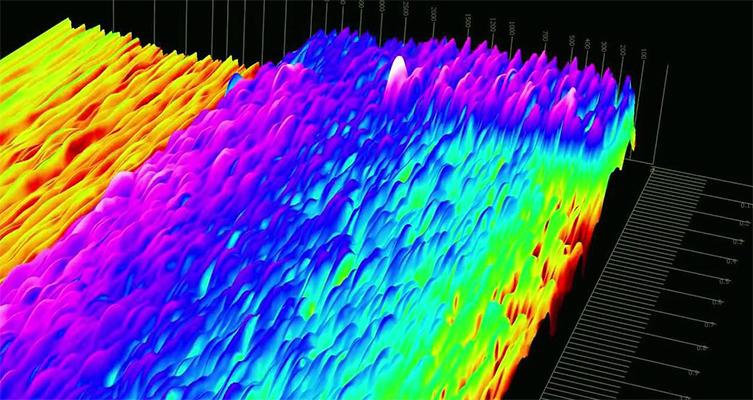 It is obvious that a musician must first trust his ears. However, if VST plugins provide an additional source of appreciation for his creation, why not take advantage of it?
Sound visualization acts as additional support. If headphones, speakers or monitors do not give an honest enough picture, then the analyzers will always show the exact bass level, stereo field width, frequency response curve, etc.
VST plugins for playing instruments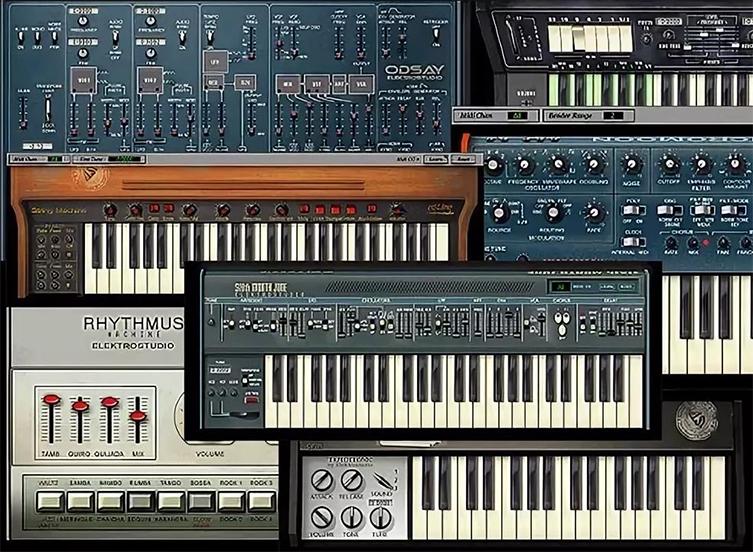 Guitarists use processing effects for entertainment, improvisation, and composing. The guitar is connected to the audio interface through a special input, and then emulators of guitar cabinets, amplifiers and gadgets process the signal.
This is a separate category of best DAW plugins for guitarists. This includes IK Multimedia Amplitube, Positive Grid BIAS FX, Waves GTR, Native Instruments Guitar Rig and many others. They also contain equipment for bass-guitar players. Inconvenience here can be caused by a signal delay, but many sound cards are able to compensate for it qualitatively.
Nevertheless, keyboardists and owners of MIDI keyboards will be more interested in VST instruments. These are also DAW plugins, but they no longer act as processing, but as full-fledged instruments. These are synthesizers, samplers and emulators of popular keyboards. The most common objects for emulation are the Moog and Roland Juno synthesizers, the Rhodes electric piano and the Hammond organ.
Even without a MIDI controller, the musician can always register a part with the mouse in the Piano Roll editor. However, for it to sound there must be a VST plugin in the DAW effects slot.
Popular DAW instruments
Simple effects and instruments come with sequencers. Only few people have enough of their capabilities. Typically, creative ideas require something more powerful, functional, and interesting. That is why large VST plug-in developers provide a wide variety of tools.
Samplers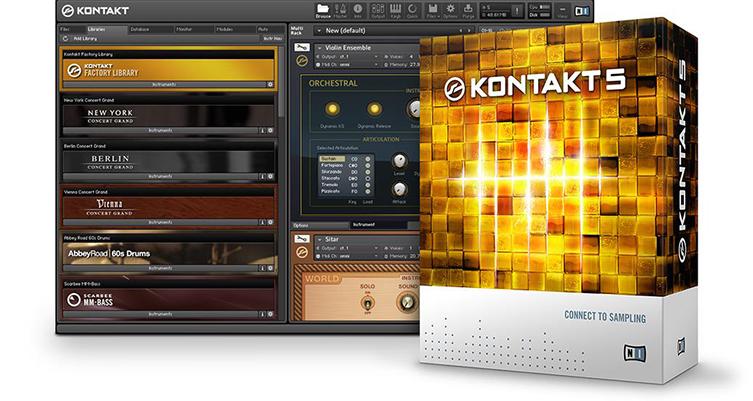 Native Instruments Contact is the brightest example here. This product is unrivaled. The principle of operation of samplers is as follows: libraries of sounds are loaded into the work area, on which you can play. It turns out a three-level system: DAW – VST plug-in – samples.
Samples are taken from live instruments. Each key is pressed many times, using different strokes and nuances, with different efforts. All this is recorded by several microphones. As a result, each note is represented by a variety of sounds that the user combines. MIDI keyboard can be played like an expensive grand piano. MIDI keyboard can be played like an expensive grand piano using such VST plugin.
Not just grand pianos are recorded for samplers. Violins, guitars, bass guitars, vintage synthesizers, flutes … Today even the most exotic instrument has its own sample library. Drum samplers are a separate kind of VST plugin. They are arranged a little differently, but the principle of operation remains the same. The most popular are perhaps EZdrummer, Addictive Drums, Slate Drums.
EZdrummer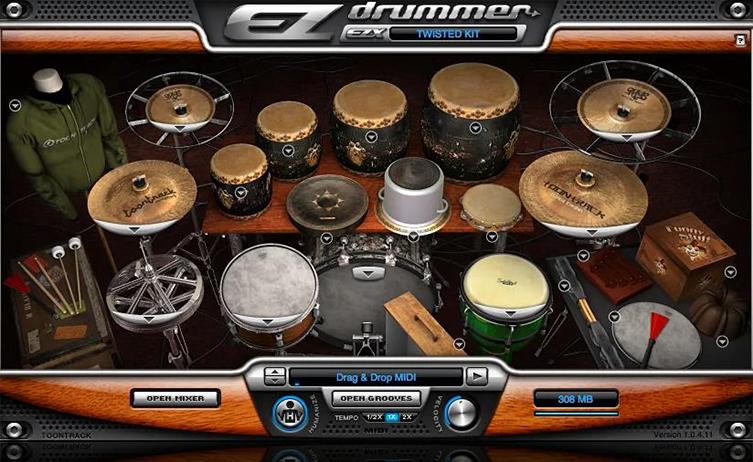 Addictive Drums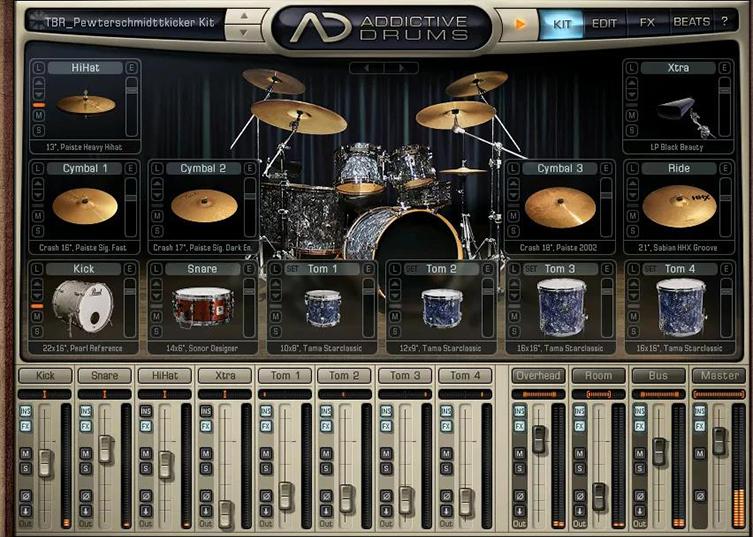 Slate Drums

Synthesizers
Here is a different principle of operation. The sound is not loaded from somewhere outside, but generated inside the VST plugin. The user is given the opportunity to wind up the most incredible sounds. The synthesis mechanisms can be different: table-wave, subtractive, additive, FM synthesis, etc. However, the result is the same – almost limitless creativity.
The VST plugins include Serum, Massive, Spire, Sylenth. The U-he company produces a whole galaxy of synthesizers: Zebra, Diva, Hive, Repro, Bazille, ACE. Anyone who is carried away by synthesizer sound happily plunges into the abyss of oscillators, filters, modulators and other magic.
Massive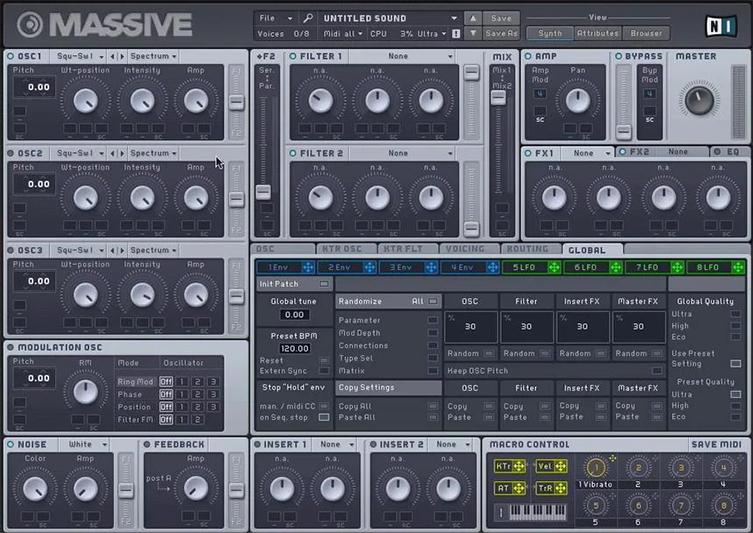 Sylenth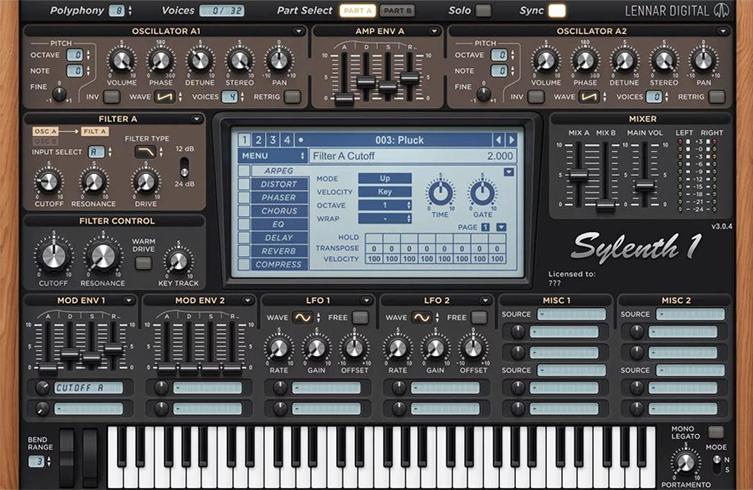 A professional sound designer knows the VST plugins down to the last detail and can instantly reproduce the sound that was in his mind. Preset libraries are released for amateurs, beginners and arrangers who do not want to mess with synthesis for a long time. The same sound designers who specialize in generating new sounds create them.
Popular VST processing plugins
Firms that create effects for music production release processing in packages. All of these brands are familiar to sound engineers.
Waves;
UAD;
FabFilter;
Soundtoys;
Slate Digital;
Plugin Alliance;
Lexicon;
Acustica Audio;
Softube;
iZotope.
Waves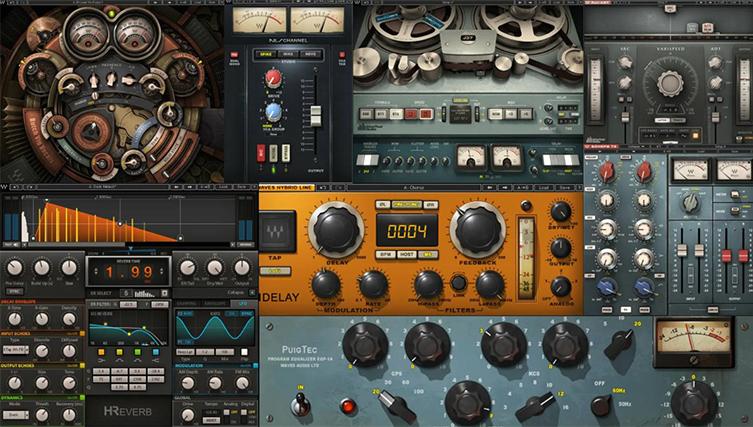 Company Waves was once the undisputed leader. Everyone used its compressors, equalizers, psychoacoustic devices. Renowned sound engineers released VST plugin subscription kits with Waves. Emulations 1176 and LA-2A were released under the name Chris Lord-Alge, as well as all-in-one processing for bass, guitar, drums and vocals.
Jack Joseph Puig helped Waves release the PuigChild compressor based on the acclaimed Fairchild, as well as the PuigTec equalizer that mirrors the PulTec sound. Manny Marroquin, Greg Wells, Tony Maserati, Eddie Kramer have also developed their own VST plugins.
UAD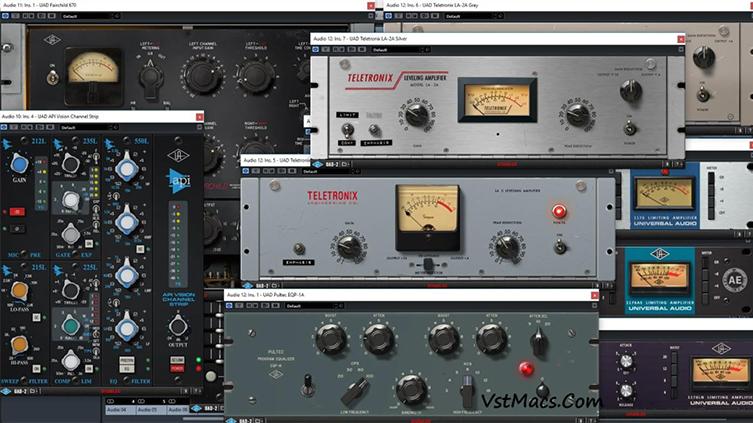 Company produces high quality audio interfaces with embedded DPS processors. The Apollo range is very popular. VST plugins from UAD have played a significant role here. They are not even VSTs; they are not installed separately. They are already inside the audio interface and waiting to be bought and launched. The computer processor is not loaded, only the resources of the card are used. Pro Tools used to have a similar layout.
VST plugins from UAD are highly praised for their quality. Moreover, these are all emulations of well-known analog devices. Brand names alone make you want to buy: Neve, Lexicon, Teletronix, Fairchild, Manley, Pultec, API, Marshall, Fender, DBX, Moog, SSL Moreover, these are not all brands.
FabFilter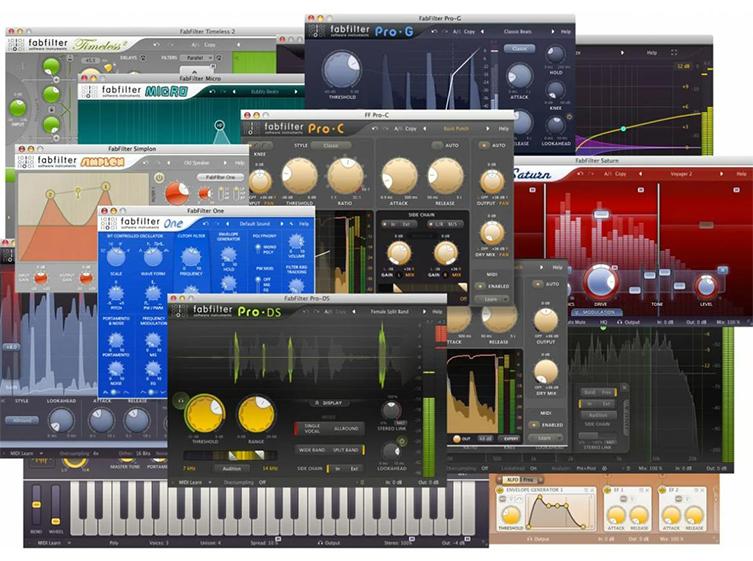 This company has its own policy. It does not please users with a variety like UAD or Waves. It offers only a few VST plugins, but they are so good that one FabFilter kit will be enough and to not buy anything else.
Equalizer Pro-Q;
Compressor Pro-C;
Pro-L limiter;
Multi-band compressor Pro-MB;
De-esser Pro-DS;
Gate Pro-G;
Reverb Pro-R;
Saturn saturator.
There are a few more synthesizers and effects for creativity, but they are less in demand than their VST mixing plugins. Their processing is very convenient, flexible and honest. While UAD recreates the distortion inherent in analog devices, FabFilter, on the contrary, tries to produce a clean sound. The effects even have a linear phase mode.
Soundtoys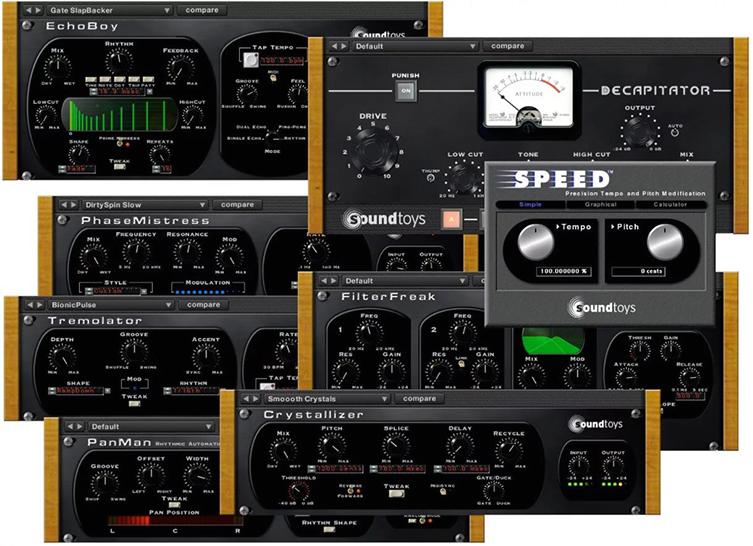 This company has about the same principle; it offers a well-established set of VST plugins, which is rarely updated. However, here we see other effects – creative ones. The name of the company is fully consistent with its specifics. There is something to play with here.
Soundtoys offers several delays, automated filters that create a "wah-wah" effect; several pitch shifters, several saturators. There are some very unusual VST plugins: for example, Crystallizer. That is, this company produces processing not for mixing, but for decoration.
Slate Digital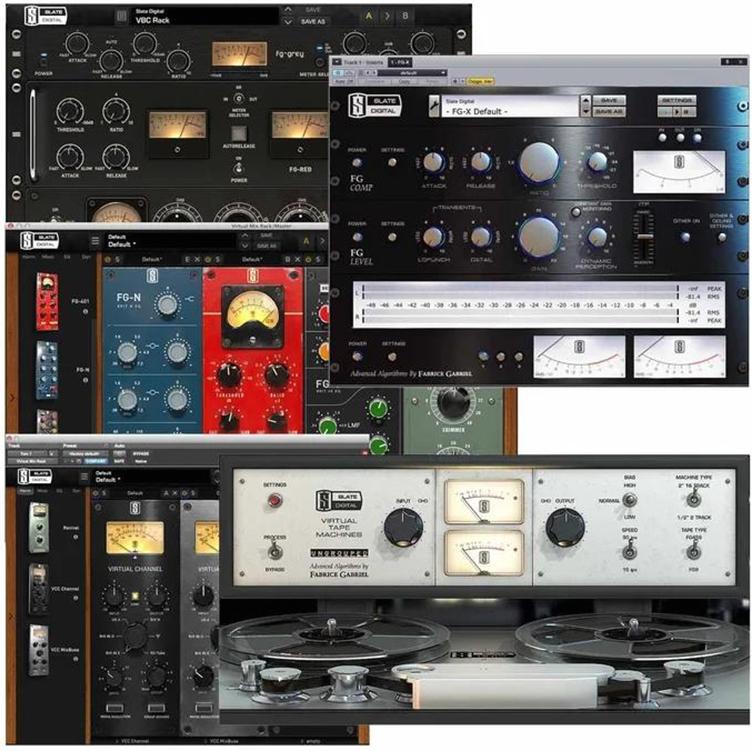 The only company represented by the creator himself. Previously, only a trigger and a drum sampler were associated with his name. These products really were and remain very high quality. The SSD sampler bypassed Addictive Drums and EZdrummer in quality, which sounded unnatural. Then Stephen Slate took a firm grip on VST plugins of effects.
Now it is a huge collection of a wide variety of processing, and many formats are unique. For example, modular preamps, compressors and equalizers that are assembled into a single rack. They are also emulations of iron devices but they are decorated in a peculiar way and they sound impressive.
Plugin Alliance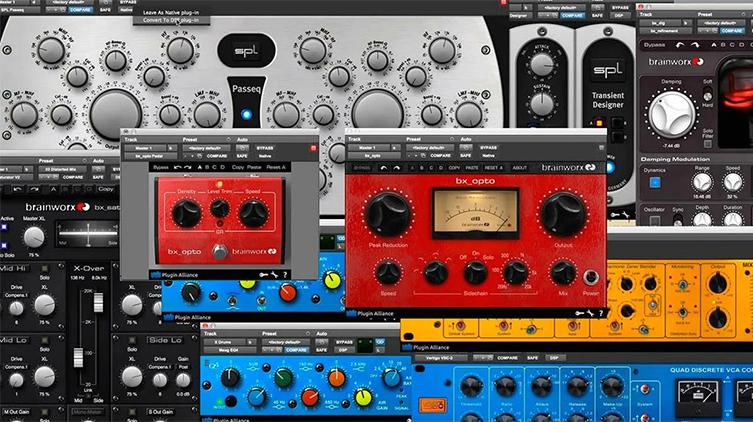 The company is constantly updating its assortment of VST plugins, of which there are already a great many. As the name suggests, this is a union of several manufacturers. Some of them recreate analog devices; some come up with their own. Probably the most productive brands in the union are Brainworx, SPL, Elysia, Maag Audio, Unfiltered Audio, Lindell Audio.
Plugin Alliance often delights its customers with impressive discounts. Moreover, the proposals come rather chaotically. Suddenly, they can claim an 80 percent discount on one of their top VST plugins. When it comes to product quality, there are masterpieces among them, but there are also many nondescript things.
Lexicon

It specializes exclusively in reverbs. Company produces a couple of iron rack units and many virtual effects for DAWs. It offers a wide variety of algorithms: Chamber, Room, Plate, Hall, many vintage colored reverbs sold in packs.
Acustica Audio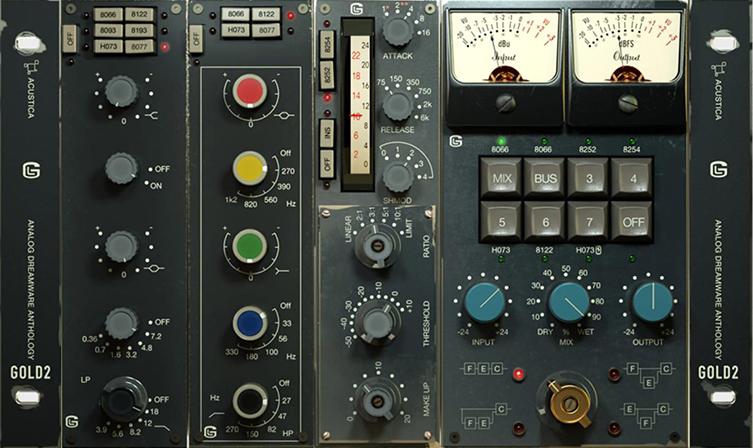 The company releases very cool and original VST plugins. They are beautifully designed; they produce quality sound and are praised by everyone. Some people claim that this software sounds much better than hardware devices. However, there are two drawbacks: the effects are quite expensive and heavily load the processor.
Softube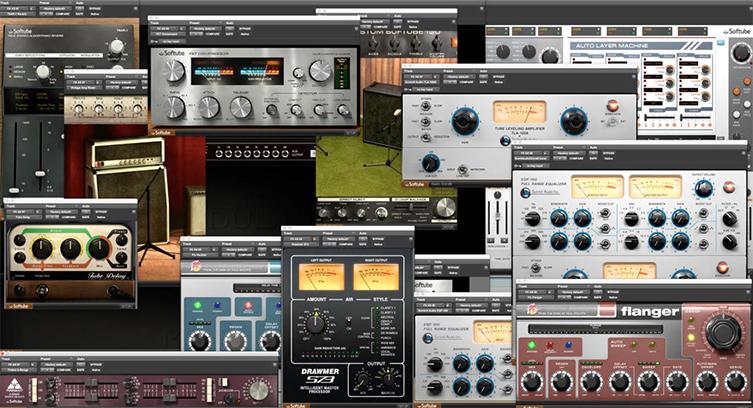 We will find some stellar VST plugins here too. The FET Compressor, for example, has gained particular popularity. They say it emulates the classic 1176, but outwardly, they are not at all similar to each other. In any case, the FET Compressor produces a very warm, powerful and fat sound.
iZotope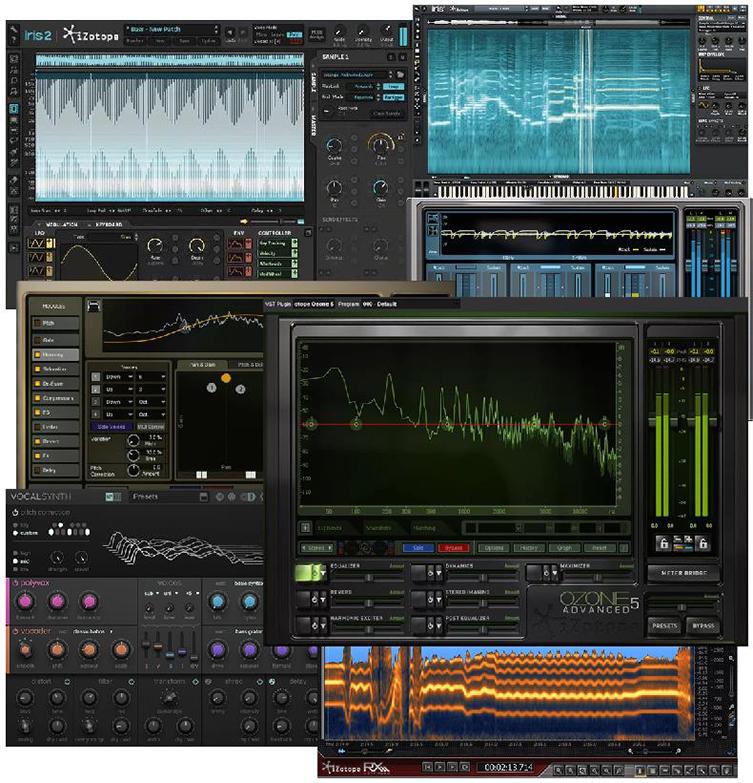 Everyone knows this brand for its comprehensive mastering tool iZotope Ozone, which was once incredibly popular. Any song began to sound much more powerful and beautiful with his presets. Many people now use the iZotope RX VST restoration plugin. It allows you to very delicately cut out clicks, blowing out, rustling, whisper, noise and other unnecessary sounds.
How to use processing?
Therefore, you have a huge selection of tools and effects. If everything is more or less clear with VSTi (you load a preset and play), then it is easy to get lost in the knobs and buttons of equalizers, compressors and delays. We do not need to go deep into synthesizer settings if the preset sounds are enough for us. However, you need to understand VST plugins. It is good that they all have about the same structure.
Equalizers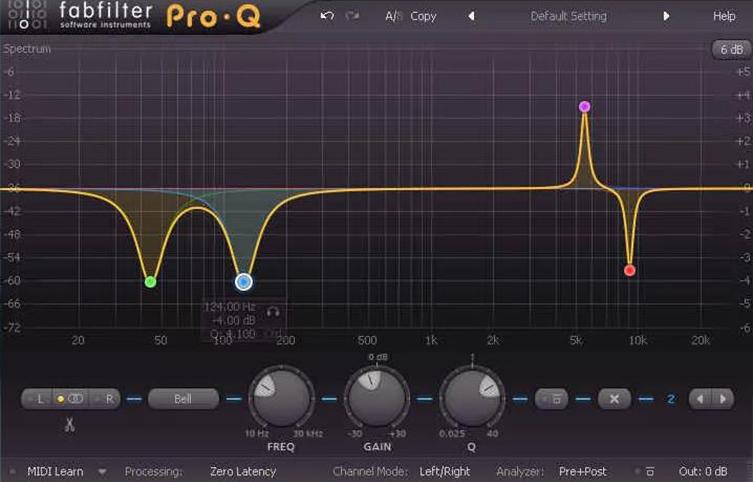 Select a frequency and increase or cut it. Making a cut, we get rid of nasty resonances or unnecessary features of the timbre: nasal, boxy sound, hum, booming bottom, caustic top, ringing middle. EQ VST plugins also help to resolve frequency conflicts by using cutouts.
By increasing one frequency or another, we emphasize pleasant overtones. Therefore, you can make the sound brighter, full, articulated, sonorous, and airy. Some equalizers are especially good for narrow tasks. For example, special Air Band handle for Maag EQ4 makes a special airy top. This kind of sound can be difficult to achieve, so everyone used the Maag EQ4 for an airy sound.
There are VST plugins with equalization that color the sound, and there are those that work transparently. The former, as a rule, imitate the work of the legendary analog devices. We have already mentioned them several times. These include Waves API 550 and UAD PulTec. FabFilter Pro-Q is transparent.
Compressors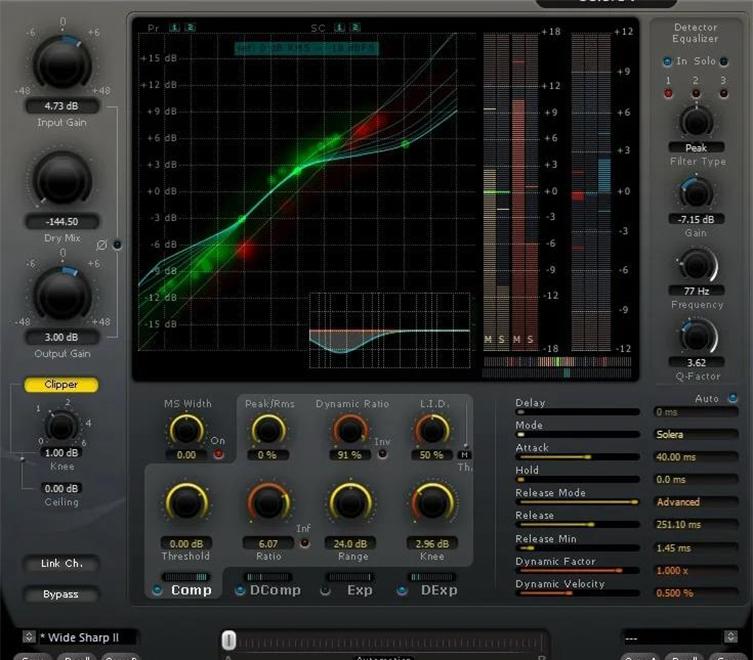 These VST plugins work in a more complex way. Up to a certain volume threshold, the compressor does not work: that is, it does not react to quiet sounds. As soon as the volume exceeds the threshold, the compressor starts to soften the sound. How much quieter – determines the Ratio parameter. Essentially, this device is an automated volume knob.
This VST plugin regulates the range: loud sounds approach quiet ones, and then we restore the volume with the Make-up gain or Output knob. The whole track plays at about the same volume. Vocals immediately start to sound professional with compressors, and the mix is assembled by itself, because nothing jumps out of it.
There are more sophisticated ways to use the VST plugins. For example, in the Waves CLA-76, you can adjust the attack and release and make the sound more spacious, punchy, dirty, close or distant. If you put a coloring compressor on a group of instruments, it will glue them together, give them the same timbre and make them play in the same groove. Moreover, if you mix this effect in parallel, via Send, then the compressor will add color and enrich the timbre of the instrument.
Saturators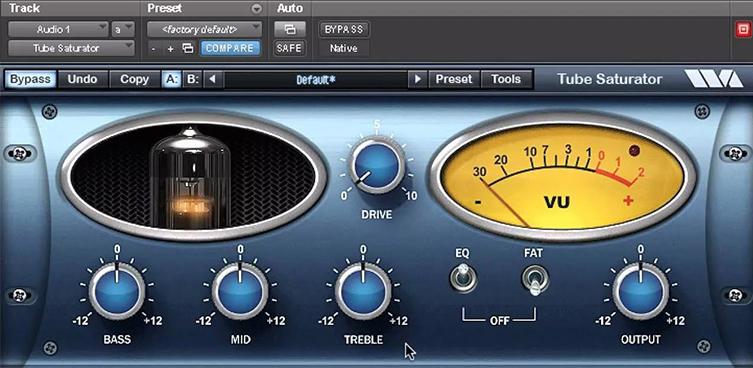 The VST plugins add harmonics and make the sound richer and thicker. The main organ here is the Gain knob. Different saturators give different additional adjustments. For example, Soundtoys Decapitator allows you to brighten or darken the timbre. FabFilter Saturn allows you to select the saturation style: Warm Tape, Clean Tube, Crunchy Amp, Destroy, etc. It also knows how to saturate separate frequency bands.
VST plugins of saturation can be used as obvious effect of overdrive. Then we get dirt, crackle, and bright distortion. However, if you mix it just a little, the effect will not be heard, but we will notice how the track acquired a more noble color, became wider, more powerful.
Separate VST plugins are created for such delicate saturation. They fall into a special category: tape recorders and consoles. These are also emulators of analog devices, which introduce the subtlest, barely noticeable nuances, but with them, the song sounds brand name right away. These are Slate VTM, Waves Kramer Master Tape, and UAD Studer. A good virtual console is Waves NLS.
Delays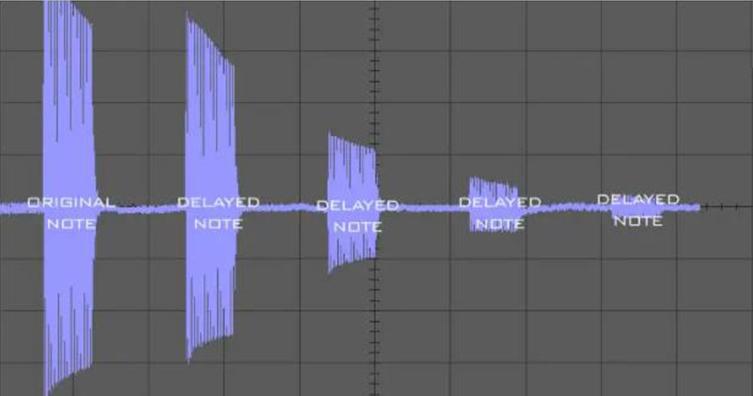 Delay is an imitation of an echo, the reflections of which we hear clearly. These VST plugins have three main parameters. The first is the frequency of repetitions or their rhythm. You can set it manually, but it is usually matched to the tempo of the song and the delay beats at a quarter, eighth, sixteenth beat, etc.
The second parameter is feedback or the number of repetitions. It determines how quickly the effect decays. Reflections can be lost instantly, they can last at least the entire song, or they can even intensify. The third parameter of this VST plug-in is mix or level. So that the effect does not sound too obvious, we mix it in quite a bit, and then it remains in the background.
Different delays provide a different set of additional functions. Many specialists allow cutting the top or bottom so that the frequency effect is separated from the instrument itself: it goes into a booming darkness or, conversely, dissolves into the upper spectrum. Soundtoys EchoBoy offers several colors, which means it also works as a saturator.
Reverberators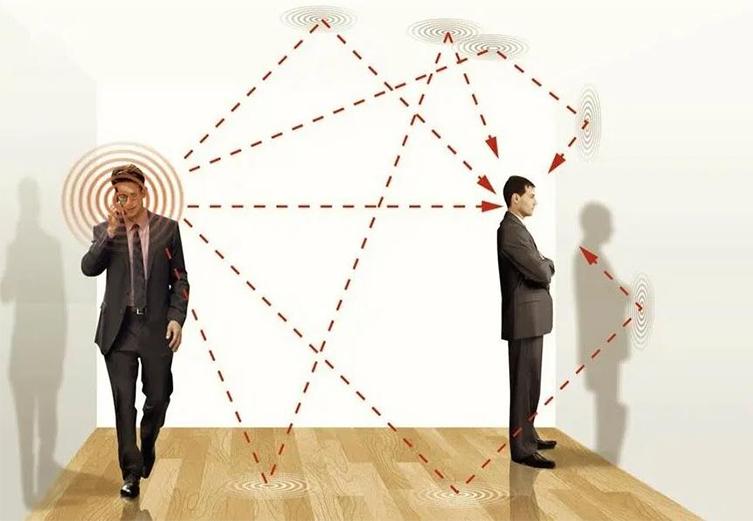 If the delays give clear repetitions, then the reverbs mix a pleasant porridge. The VST plugins are hard to customize to your taste. If you do not like the reverb, you can torment yourself and turn the knobs, but it is better to find another one. As a rule, they are divided according to algorithms: Chamber, Room, Hall, Plate, Spring.
Usually here you can adjust the length of the tail: how quickly the effect decays. Another setting is Thickness, which determines how tight or crumbly the tail sounds. Some VST plugins of reverb have built-in equalizers. In most cases, low frequencies that are diffused in the reverb create mud and hum, so they are simply cut off.
Reverb is not customary to set in the FX module of a track, like all other processing. Using the standard method, we drop the VST plugin onto the same track as the instrument we want to process. This is called "Insert". However, for reverbs (and most often for delays) we create a separate track. The sound from the instrument track is sent to the reverb track using the Send function. Now we can blend the effect to the instrument and control it more flexibly. Parallel compression is done in much the same way.
What if there is no way to buy VST plugins?
You will need a DAW anyway to work with musical material. All workstations provide their own equalizers, compressors, delays, etc. They are available in Reaper, Cubase, Pro Tools, Ableton … They look rather boring and simple from these manufacturers, and they include only the most necessary set of functions. Nevertheless, they are great as tools for working with music.
FL Studio provides very bright and unusual VST plugins. This sequencer also comes with powerful synths. Some DAWs are supplemented by third party plugins. For example, Sound Forge comes with the iZotope RX restoration utility and the iZotope Ozone mastering environment. Celemony Melodyne is attached to the Acoustica Mixcraft Pro software.
If you will use an online sequencer, then you will not need to search and install VST plugins on your computer at all. For example, Amped Studio already has several synthesizers, a online drum machine and many effects built in. There is a compressor, equalizer, delay, chorus, distortion, flanger – that is, even more than we mentioned in the article.
You can find a huge number of free VST plugins on the internet. Not all of them are of decent quality, but enough for familiarization. Others are selling excellent products for a nominal price. For example, Tonelib GFX guitar software costs nothing and sounds quite expensive. All developers offer of course a trial period. Take your time to buy a VST plugin, try it first. Therefore, if you like its functionality and sound, then you can make a purchase.
Conclusion
Now you know how VSTs work, how they help you to solve creative problems, compose and record music, arrange, edit and mix songs. We were acquainted with the device of compressors, equalizers, saturators, delays and reverbs. We understood the difference between samplers and synthesizers. You should now be able to open any of the paid and free VST plugins and find familiar controls.
We looked at several specific effects and tools, including the most popular, systematized them and understood what their main features are. Now you know what devices you need to look for in order to embody this or that creative idea. You can start building your personal collection of VST plugins.