Jazz chord progressions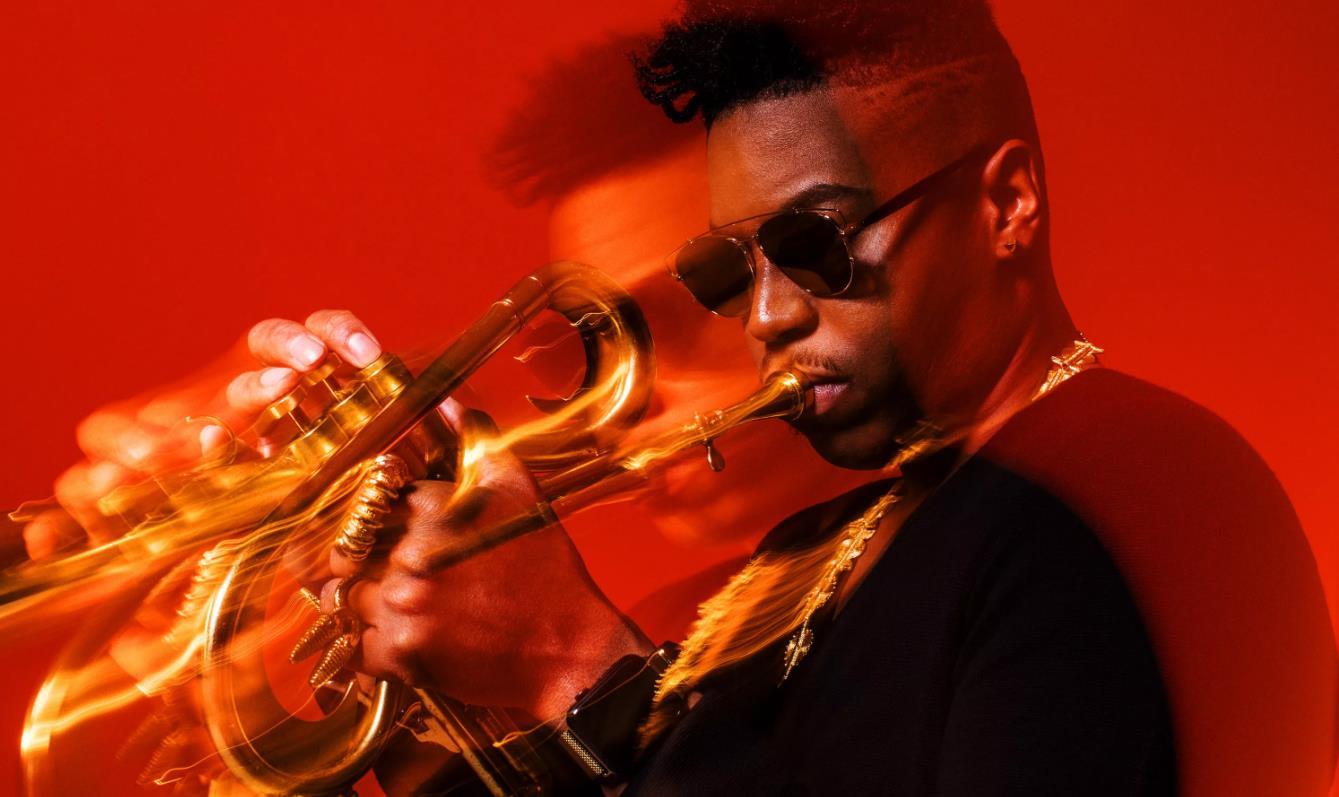 Before we begin, I would like to remind you that creating your own chord vocabulary is an important step in the development of musical thinking. This process develops inner ear, harmonic thinking and the ability to improvise in harmony. One way to add to this vocabulary is to analyze music and create your own classifications. For example, you can create a list of 10 blues progressions or 10 fusion jazz chord progressions.
Probably any musician, even if he is not familiar with jazz, knows this progression. It is said that 90% of all jazz sequences are variations of this pattern.
This is a II-V-I sequence.
Interestingly, this scheme is just a movement of harmony through the functions of the T-SD.
In jazz, of course, this scheme harmonizes with the use of seventh chords and more complex chords. Here are some options in the key of C major: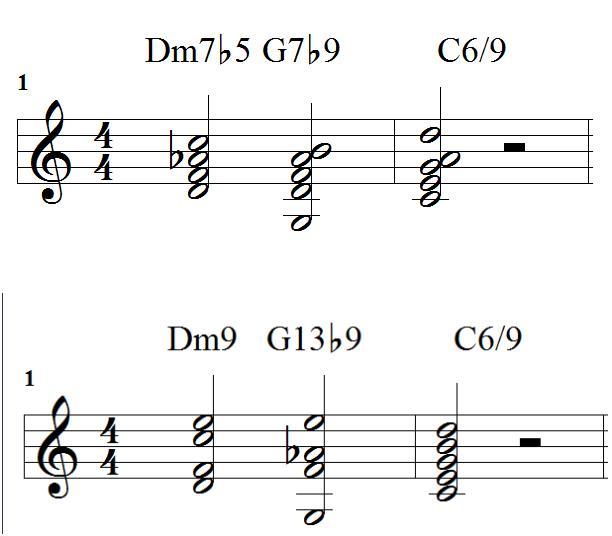 This simple turn is the best start to mastering jazz harmony.
Play it in all keys using different chords. Naturally, this revolution is also possible in the minor.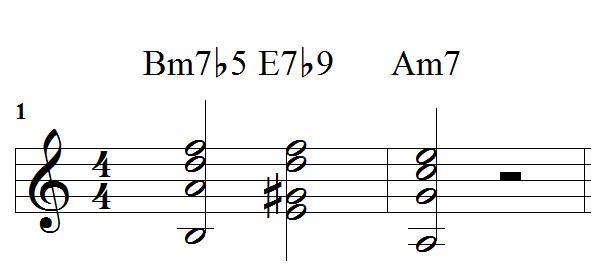 Rhythm Changes
This long progression became textbook through its use in George Gershwin's "I Got Rhythm", from which it takes its name.
There are two versions of this progression – eight bars and four bars.
However, it should be understood that jazz musicians use any progression as a kind of matrix that can be changed indefinitely.
In the basic four-bar version, "Rhythm Changes" looks like this:
Imaj7 vim7 | iim7 v7 | iiim7 VI7 | iim7 v7 |
Cmaj7 Am7 | Dm7 G7 | Em7 A7 | Dm7 G7 |
There are various options for changes:

Adding chromatic movement, eg Dm7 – Db7;
Use of long diatonic chains;
Application of tritone substitutions and other techniques.
Second phrase:
I I7 | IV iv7 | I V | I |
Cmaj7 C7 | F F7 | C G | C |
Downward turnover II-V-I
This is a progression that sounds more complex but has a simple structure. It is used in standards such as:
How High the Moon;
Tune Up;
Cherokee Joy Spring;
One Note Samba;
Solar.
| Imaj7 | % | (iim7 | V7) | Imaj7 | % | (iim7 | V7) | Imaj7 |
Cmaj7 | % | cm7 | F7 | Bbmaj7 | % | bbm7 | Eb7 | Abmaj7
As you can see, this sequence is based on the II-V-I movement and the use of chords with the same functions. This progression is modulating and runs through 3 keys, giving it a distinctive jazz sound.
Sequence with passing Dim7
Also a widespread variant of progressions that uses diminished seventh chords to connect chords.
| Imaj7 #I°7 | iim7 #II°7 | iiim7 VI7 |
Cmaj7 C#°7 | Dm7 D#°7 | Em7 A7 |

Thus, this progression combines chromatic and fourth-quint movement. Further development of the progression involves the use of turnover II-V-I and its various variations.
The sound of this progression can be heard in the following standards:
Cherokee;
Have You Met Miss Jones;
Joy Spring;
But Beautiful;
Ain't Misbehavin.
The following progression is based on the combination of a double dominant chord with a minor chord of the same degree. It's called Take a Train:
| Imaj7 | % | II7 | % | iim7 | V7 | Imaj7 | % |
Cmaj7 | % | D7 | % | Dm7 | G7 | Cmaj7 | % |

Such a movement can be found, for example, in such standards as The Girl from Ipanema and Desafinado
One to Four
The sequence is also based on the II-V-I turnover and is most often used at the beginning of formations to give additional movement to the form.
| Imaj7 | (iim7 V7) | IVmaj7 |
Cmaj7 | Gm7 C7 | Fmaj7 |

If you're familiar with the basics of the blues, you'll know that bar 5 of the blues square always uses a subdominant chord.
The purpose of this progression is to create a "jazzy" connection between bars 3 and 5 of the blues.
However, the One to Four progression also occurs in non-blues situations. For example:
Satin Doll;
Have You Met Miss Jones.
Romantic subdominant
Progression with a deviation in the key of S and a juxtaposition of a major and minor chord. It has a lyrical, soft sound.
| Imaj7 | I7 | IVmaj7 | ivm7 | iiim7VI7 | iim7V7 | Imaj7 |
Cmaj7 | C7 | fmaj7 | fm7 | Em7A7 | Dm7G7 | Cmaj7
We are already familiar with the second phrase of this progression.
Rhythm Changes Bridge
In the bridge of the traditional jazz form, there are many options for the movement of harmony, but the most popular is the movement of dominant seventh chords around the fifth circle. In this case, each chord is played for 2 measures.
An example of such a progression is E7-A7-D7-G7. This progression is also known as the Ragtime progression as it was widely used in this genre of music.
It is also possible to use minor chords of type II-V.
| Bm7 | E7 | Em7 | A7 |
| Am7 | D7 | Dm7 | G7 |
Chromatic turnaround
This is a chromatic version of the Rhythm Changes sequence.
Most often you can find this option:
Em7 – Eb7 – Dm7 -Db7 – C maj7

Phrygian Turn or Stray Cat Strut Changes
This sequence, known to any musician, is also successfully used in jazz. For example, in this version:
We hope this review was useful to you, I will be glad to hear your comments and wishes.