DAW software
To make music on your computer, it is advisable to get a good sound card and a pair for monitors (or headphones). For added convenience, musicians also use MIDI keyboards. And you will definitely need DAW software.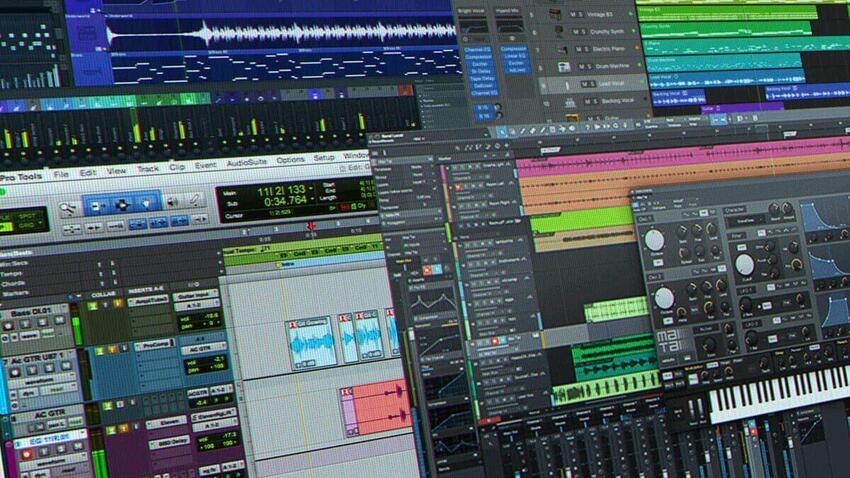 What does DAW stand for?
DAW stands for Digital Audio Workstation. Such programs are also called sequencers. It is specialized software that solves a huge range of musical tasks.
beat makers use it to create beats;
electronic musicians compose dance tracks;
recording engineers record instruments;
arrangers make arrangements;
sound engineers are mixing;
sound designers come up with new sounds;
producers control the entire production process.
Within a single workstation, a full production cycle is possible: from recording a demo to mixing and mastering. But the market today presents a huge number of such programs. Some are focused on some specific of the above areas, others are more universal.
What is the best DAW software?
There is no better DAW software. They are all good, but each has it's own interface and concept. The choice depends only on the user: it is determined by how comfortable it is for a person to work and how quickly he can solve his problems. The set of instruments in all DAWs is also about the same.
multi-track workspace;
control panel with record button and other features;
mixer with volume controls;
modules for processing plugins;
variety of audio editing tools;
area for creating MIDI parts (piano roll).
This is the foundation. To describe all the functions of only one DAW software, people create whole cycles of video tutorials, write voluminous tutorials, conduct master classes and seminars. Let's try to cover the 13 most popular programs and understand what is the specificity of each. Despite the general principles of the device, each sequencer is different.
How to Choose a DAW software
Amped Studio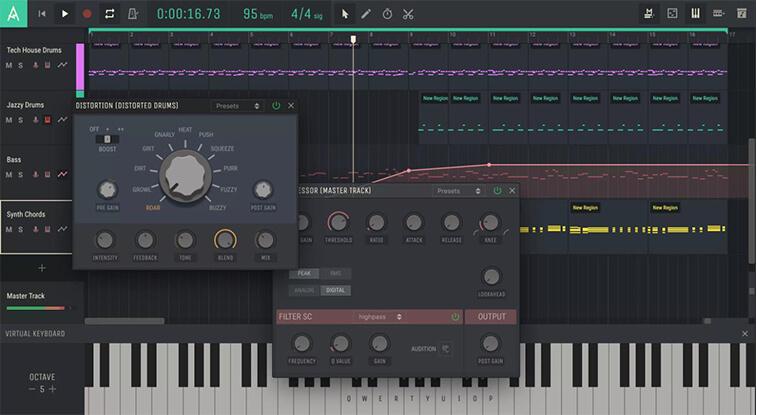 Amped Studio is an online music studio workstation. This frees up additional computer resources for other tasks. All projects and tools involved in the work process are stored remotely, which guarantees their additional security. In addition, access to your data can be obtained from any device at any time.
Why it is worth highlighting it against the other online DAWs:
VST. It is the only such application that supports VST plugins. This makes it possible to connect various virtual instruments and effects, if the functionality available in the application becomes insufficient;
HumBeatz plugin. It is a built-in software solution that allows you to convert the audio signal to MIDI. You just hum the melody with your voice, load the resulting audio file into the plug-in, it, depending on the tonality of the sound, converts it into a MIDI signal, to which you can then connect a synthesizer or some other instrument. Also you can open built-in online MIDI editor and make necessary adjustments in your melody;
PWA. Amped Studio has its own PWA application that can run in Chromium-based browsers (like Chrome or Edge) offline without an internet connection. Also PWAs can be installed and used on Chromebooks;
Collective collaboration. Transferring projects to your colleagues or friends using regular desktop DAWs is quite difficult. This is due to the fact that the files can be very large, besides, the addressee may have a slightly different version of the software installed, some plugins may not be enough, etc. Such problems do not arise in Amped Studio. The files are stored in the cloud storage of the application itself, and the software is almost always the same (except for VST cases).
Amped Studio online sequencer supports all the standard features of modern DAW platforms. What is offered:
the ability to record sound (vocals and instruments) with its subsequent processing;
the presence of rich built-in libraries of samples of various musical styles (pop, rap, EDM, country, rock, dubstep, etc.), which can be expanded after purchasing a Premium subscription;
standard work with MIDI and audio files.
Amped Studio is the best DAW for beginners. If you are interested in speed, low demands on computer resources, as well as reliable and fast access from anywhere in the world, then Amped Studio is definitely for you. In addition, it's very relevant, since today many producers are gradually beginning to switch to online DAWs for creating music due to the fact that it greatly simplifies communication in this area.
Ableton Live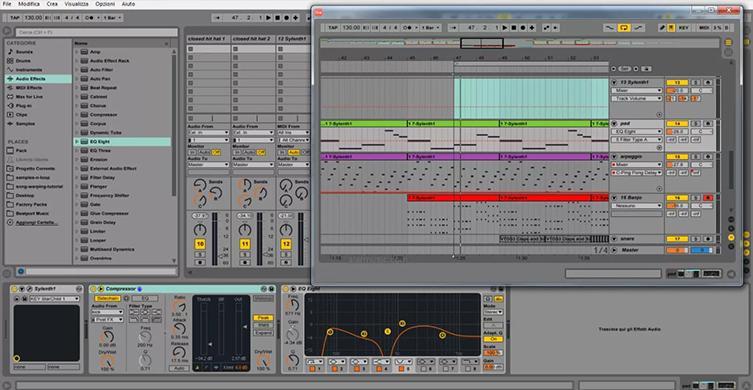 Ableton Live is a DAW software popular with electronics engineers, especially those performing live. The word "live" in the title hints at such a format.
For those accustomed to more standard production programs, Ableton might seem unusual. Upon initial use, instead of horizontal tracks, you see vertically aligned modules. This setup is optimal for live sets, where loops can be distributed across sections to play continuously.
Speed is crucial when performing on stage. The layout of Ableton Live ensures everything is within reach, facilitating rapid idea execution. The design is minimalistic, with a prominently placed button that transforms the laptop keyboard into a piano, proving useful in emergency situations.
To the left is a sound library. The DAW gathers audio files from all computer folders and displays them in one window. Users can tag their favorite sounds, which then get grouped in the "Favorites" directory, further accelerating the music creation process.
A particularly helpful feature is the zoom function within the settings. A slider enlarges or shrinks all elements simultaneously: buttons, folders, tracks. This proves beneficial for those with smaller laptop screens, allowing for an expanded workspace or a closer view of details. This sometimes proves invaluable during live sets.
However, Ableton Live isn't solely for live performances; it's a comprehensive software for music production, possessing all the features of conventional sequencers.
creating MIDI Tracks with arrangement;
creating audio tracks and editing samples;
sound recording using a microphone and other sources;
prescribing automation for different controls.
The rest of the multitrack DAW software functions are also here. Switching to track mode is simple: using the button in the upper right corner.
FL Studio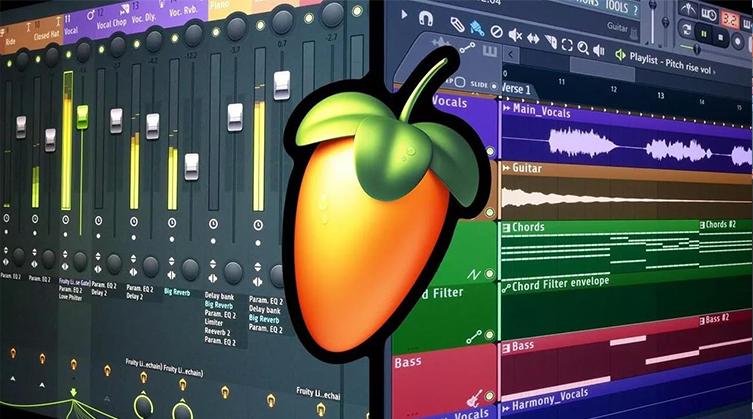 Musicians from the 2000s know this program as "Fruits" because it used to be called "FruityLoops" (hence the current name – "FL").
The association with fruit is easy to establish: the work environment is bright, colorful, juicy. This design, coupled with simple controls, attracts novice producers and young beatmakers, as well as those who do not want to deal with the functionality for a long time.
The specialty of this DAW software is patterns and cells. The principle of operation is like a online drum machine. In a regular DAW, for example, we take a kick drum and copy it many times, distributing it on the grid so that we get a rhythmic pattern, then the snare drum, and so on in order. It's quite long. In Fruity Loops each sound is assigned a set of cells. They are already distributed in time: you will not miss the grid. And then making beats and creating music comes down to three simple steps.
We arrange the beats the way we want, listen and experiment. Just click on the cells. The production becomes a game, which is inspiring in itself;
We fill in the combination and switch the pattern. The toolbox remains the same, but the beats can be arranged differently. That's how we change the beat for the chorus, drop, ending, and other parts of the song. The DAW software allows you to make as many variations as you want;
In the track window, combine these patterns: duplicate, set one after another, cut, etc. We develop the composition at our discretion. We do the same with the melodic lines.
Any music consists of repeating pieces. The creators of FruityLoops have correctly adjusted to the principle. In general, it's a good software for producing music. But for mixing and mastering, it is not very convenient.
Logic Pro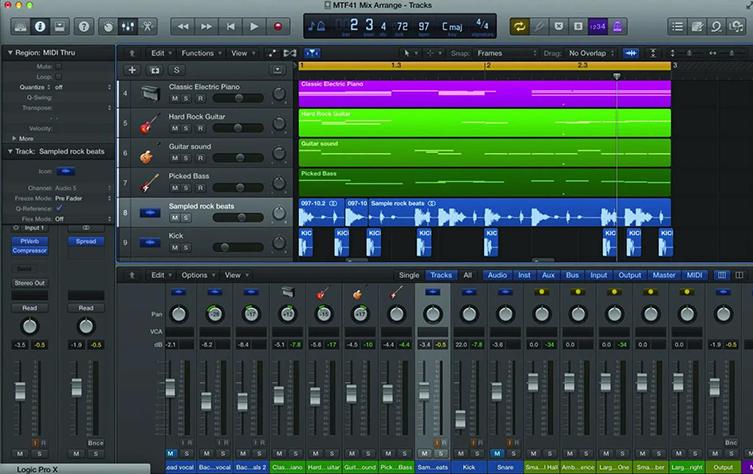 It is widespread among MacBook owners because it only supports MacOS. No wonder this is Apple's software.
Users say that Logic seems to anticipate intentions. He is quite "smart". It takes into account the algorithms by which the music maker usually operates, and gives hints.
Logic is a complete music production software. But most of all it is focused on editing and mixing. For example, it is convenient to work with double-takes here: they are all deployed from a single file. Select with the mouse a proper section of the vocal part, and in other takes it is automatically turned off. We go through the take and collect a beautiful whole phrase.
The built-in tuner lets you pull up vocals by note right in the track editor. We press the button – worms-notes appear, like in Antares Auto-Tune. But no plugins need to be connected.
The built-in slice editor helps to cut the recording into pieces and move them to the rhythm. If the vocalist has missed the drums a bit, it's easy to fix and the editing won't be noticeable.
The program is also suitable for creating music. The producer is offered a lot of virtual instruments. The launch window immediately asks what we are going to do: record bass, beat drums, make a melody, or do something else. The set comes with an impressive number of high quality samples and loops. Each track has a transpose control on the panel. If the loop is out of key, it can be easily tweaked.
Steinberg Cubase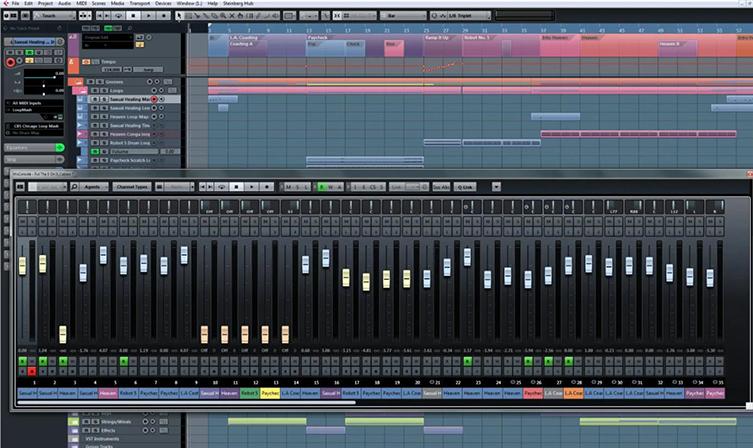 Many users find it's interface too confusing. But those who have been sitting at this workstation for a long time are very reluctant to transfer to another DAW software. So it's a matter of habit. Plus, the internet is full of instructions on how to use it. Cubase is a very old program and you can find many tutorials for it.
Few people use this DAW as an beat maker. Mostly they mix on it. Ten years ago the word "mixing" in the world was strongly associated with the word Cubase. In the amateur and semi-professional environment, it was considered as the best DAW software. Now it has many competitors.
The station is designed in the same way as Logic and many other similar DAWs. Even the take selection function is similar. There is also a built-in tuner, it is called here "VariAudio". But Cubase has an advantage over Logic in that it is cross-platform. Initially, it was DAW software for Windows, but then a version for Mac appeared.
Of the interesting functions – automatic synchronization of audio files to the rhythm. If the backings do not fall into the main vocal, you can set the main file, and the rest will be adjusted to it.
Cubase makes it possible to connect plugins separately for monitoring. They will not be reflected on exported files. For example, for yourself, you can process the entire mix with reverberation or put a utility that corrects headphones. But it will not affect the summed audio file. This function is called the Control Room.
PreSonus Studio One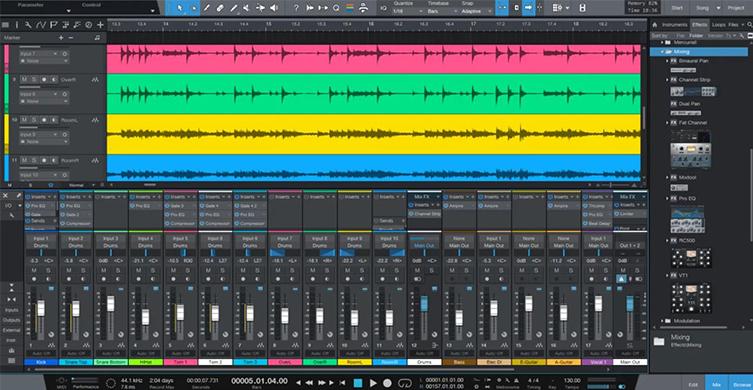 Even a conservative Cubase fan will be easy to switch to this program. The process logic is similar here. Users praise the software for it's stability, good optimization, convenient routing and competent arrangement of elements. Everything is close by and works like a clock. The creators of this DAW software have provided several interesting modes.
Patterns. Make producing feel like working in FL. To do this, create a track, draw a take, and click Convert to pattern in the context menu. The segment is converted to a mesh with cells: not as colorful as in FL, but enough to create beats;
Arranging line. Also includes the logic of pattern production. Allows you to duplicate a verse, extend a chorus, move whole compositions, etc. Allows you to collect several versions of the song. Cubase also has such a thing, so this is not a unique feature of Studio One;
Music score editor. This is not just a piano roll grid with black and white keys, but a stave, with sharps-flats, durations, treble and bass clef. It will come in handy for those who knows musical notation.
This music production software seems to be geared more towards arrangers. Here, too, you can create several layers of a track: play three or four options, and then make one part out of them. The multi-project format also serves for this. Studio One gives you the opportunity to produce in parallel in several projects open in different tabs. You may need this to create a song with multiple arrangements.
Cockos Reaper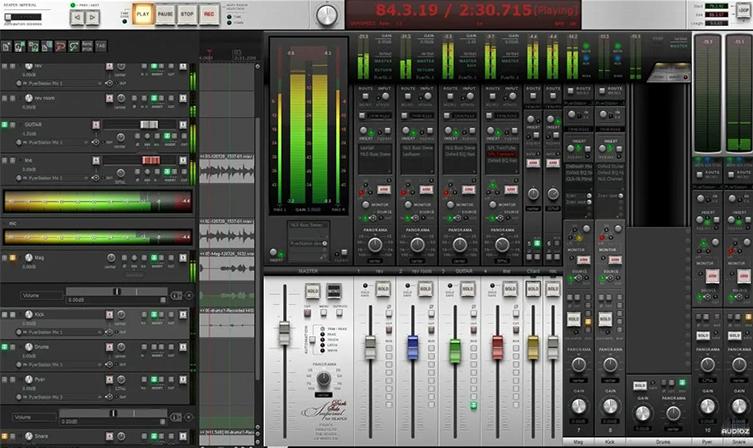 Reaper functionality is limitless, and the cost can be called symbolic. The demo version gives you all the features of the full version. Moreover, when the trial period ends, all functions remain available, just a reminder window pops up at startup. The DAW is extremely lightweight: about 100 mb.
But it's main feature is that you can customize anything here. At first glance, it looks like a simple DAW software, but if you go deeper, you can get lost in the endless settings.
Until you figure it out and remake Reaper your way, your production will be very slow. You will be constantly looking for how this or that function is turned on. But if you go to the end, you can optimize the process of creating music to the maximum.
There are a lot of macros and hotkeys here. You can create a script for any sequence of actions. Reaper fans are constantly sharing homemade scripts. Some even add their own buttons to the control panel. There are so many settings here that there is a search in the Preferences window: it helps you find the right checkbox faster.
But the program is not very convenient for creating bits. The interface is not as pretty, nice and friendly as other workstations. It is more of a DAW software for recording and mixing.
Built-in plugins are as simple as possible. Live performances and patterning are out of the question. Although the usual piano roll is available here. If you wish, you can beat the drums on it.
Propellerhead Reason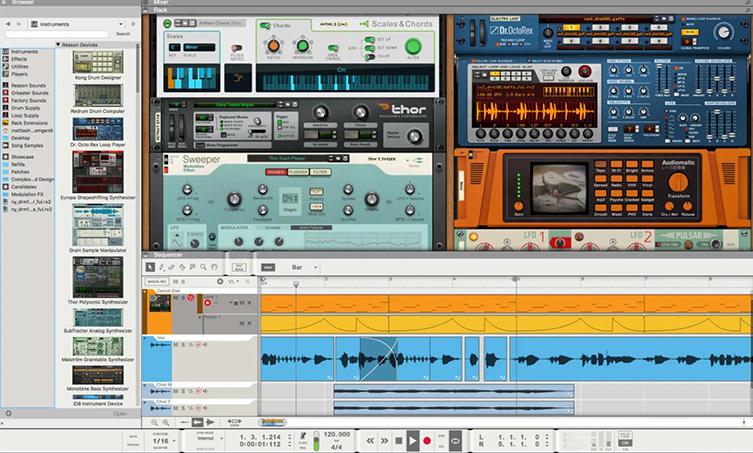 In the 2000s, musicians had a particular interest in this DAW. This music production software attracted everyone who was staring at analog synthesizers and similar devices, but could not afford them. Reason is an emulation of a production studio with an analog console, rack and patch cables. The set includes a large number of high-quality devices and tools.
synthesizers;
effects;
drum-machines;
arpeggiators;
samplers.
All this is absolutely exclusive. Also are included it's own unique sound libraries. Virtual cords are transferred from device to device. Each device can be turned with the back side, there are hidden additional settings. All details are visualized.
Although this is a completely independent music production and sound engineering software, it was originally designed to interact with other sequencers. It was connected as an external rack box. For this, Propellerhead even developed a special data exchange protocol – ReWire. But using two DAWs at the same time was not very convenient.
Moreover, in the early versions of Reason it was impossible to connect VST plugins. I had to limit myself to only those devices that Propellerhead created. As a result, this DAW software has become a fairly specific medium with a limited following. A kind of community has even formed around him.
Now the policy of the company has changed. Reason accepts external VSTs, arranges them in it's own way, and they appear in the form of rack modules. The company also developed it's own plugin – Reason Rack. It is a set of tools and treatments in one box. And no ReWire is needed.
Bitwig Studio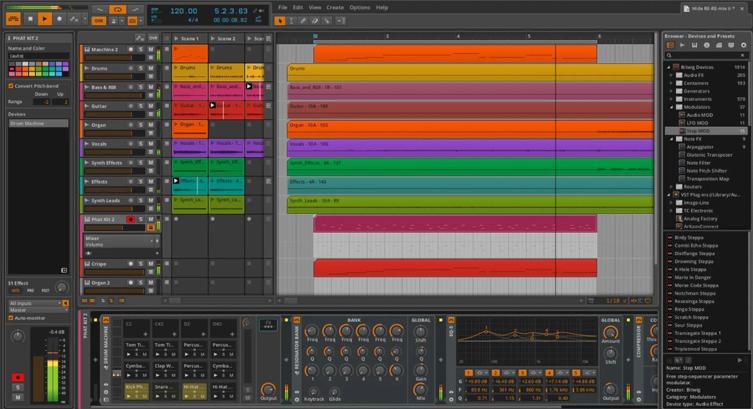 While we are making music, we throw loops into vertical modules, and the loops are constantly playing. So the composition is enriched, and the producer is in constant motion. You can also go from the opposite: play live and improvise, and copy successful combinations into the arrangement area.
It seems that the producers took Ableton as their basis, but decided to make a more versatile product for producing. It is not meant for something specific. It is convenient to work with sound recording, with samples, with live instruments, and with electronic music. This is software for producing music in a broad sense.
beatmaking;
arrangement;
sound design;
recording;
editing;
mixing;
mastering.
The ability to work with multiple projects is available, switching them through tabs. You can drag and drop entire tracks from song to song. Such an opportunity will come in handy for arrangers.
Beat makers will love the built-in arpeggiator, and for sound designers – a modulator. This utility manages any settings for the plugins to which it is connected. This way you can modulate any effect, and it will oscillate, fade in, fade out, move along the LFO wave or other envelope.
This DAW software works on Mac, Windows, and Linux. It even supports MPE, which is more flexible than MIDI. The programmers tried to make it as accessible as possible.
The most simple DAW software to use – GarageBand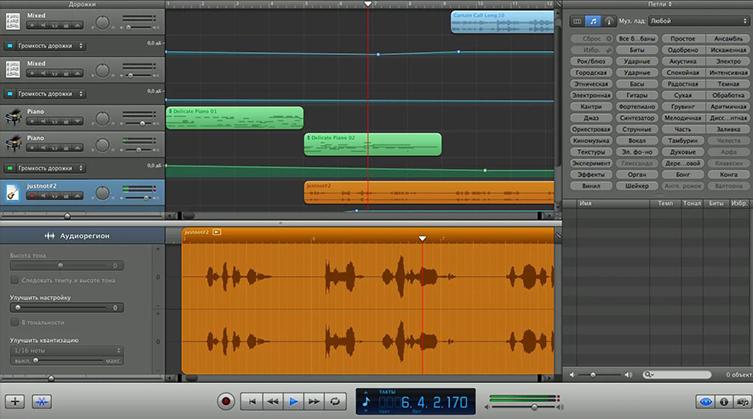 A sequencer with a friendly, intuitive, colorful interface. It is similar to FL in its bright design. It resembles a computer game, but at the same time offers serious functionality for producing. GarageBand literally guides the user, inspires and captivates. You don't have to take any lessons or study tutorials, the program itself tells how to use it.
Plus it's completely free DAW software. But, unfortunately, it is only available to owners of Apple devices. There is a version for macOS and an application for IOS. It allows you to play music on the go. Also it is compatible with projects in Logic. That is, you can make a sketch on an iPhone, continue working on a MacBook at home, and if you need to seriously expand production, you can go to Logic on the same computer.
At the beginning of the work, a window opens, which offers to select a tool. You can record a live guitar or voice, or you can work with virtual pianos, organs, drums, etc. Built-in amplifiers let you plug in your guitar and record rock-themed music.
Automatic mode is provided for MIDI instruments. We press one single key, and the program plays a rhythmic pattern, laying out a chord. If you enable recording, this pattern will appear as notes on the piano roll grid. And now they can be changed by creating something new. So even a beginner can create something interesting in GarageBand.
This is a DAW software for beginners. It is also good for touring composers. There is no extensive functionality here, but you can always continue working in Logic.
Acoustica Mixcraft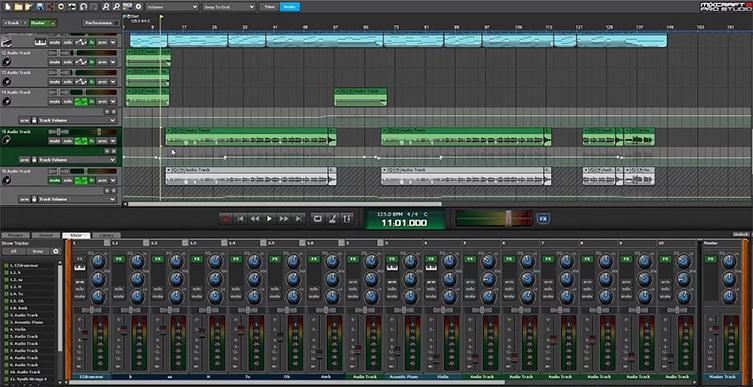 Looks like an amateur video editor with a clumsy design. This is a completely unknown DAW, and such an interface is unlikely to attract any of the creative people. But appearances are deceiving. Mixcraft surprises with its functional variety.
create MIDI parts;
sound recording;
audio editing;
VST connection;
piano roll;
automation;
multilayer tracks.
In addition to the possibilities that are in any software for producing music, there are also unusual modes.
music editor;
window for live sets;
video editor.
No wonder this software looks like an entry-level video editor. In addition to dubbing and cutting videos, it can be used to create a slideshow of photos with added text. It also has a guitar tuner on every track and an archaic CD burning function.
The Acoustica Mixcraft comes with a large library of sounds, which includes samples of guitars, bass, synthesizers, organs, pianos, drums and much more. Loops adjust to the tempo as they drop into the project. The Pro version also comes with Celemony Melodyne and the Izotope package.
So Mixcraft is quite a serious DAW software for music. It solves the main tasks of producing: records sound from microphones, provides an environment for editing, arrangement and mixing. It is suitable for creating beats, and even for editing video clips.
The oldest DAW software – Motu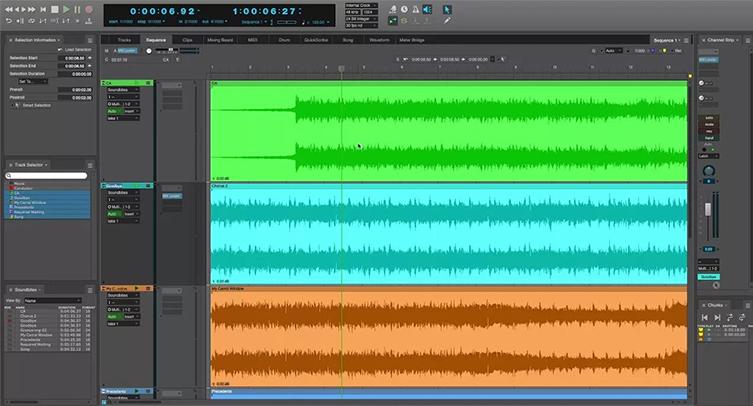 Motu Digital Performer is known for its audio interfaces. But it's DAW still remains in the shadows, although the first version was released back in 1985. Then it was almost the only decent DAW software for Mac. Then Cubase and Logic also adapted for Mac and bypassed Performer. In 2013, Motu made Digital Performer for Windows.
It has always been the standard multitrack DAW for music production, mixing, arranging, and general production. But in "Performer" version 10 there was a live performance mode. It is activated through the Clips tab. Files are dropped here and the musician plays them in real time. You can combine them into groups, run at the same time, create chains.
From the same DAW version, the software received a scalable interface. It seems that the developers have carefully studied Ableton and adopted something from it.
editing;
midi;
sequences;
tracks;
mixer;
drums.
It's as if a separate tab has been created for each stage of production. This is the originality of the Performer. Despite the congestion, the software looks stylish and futuristic. It's weird that it never caught up with other DAWs. Perhaps still to come.
The program is compatible with MPE. The set includes a large library of sounds, virtual synthesizers and sampler. But this will surprise no one.
The most expensive DAW software – Pro Tools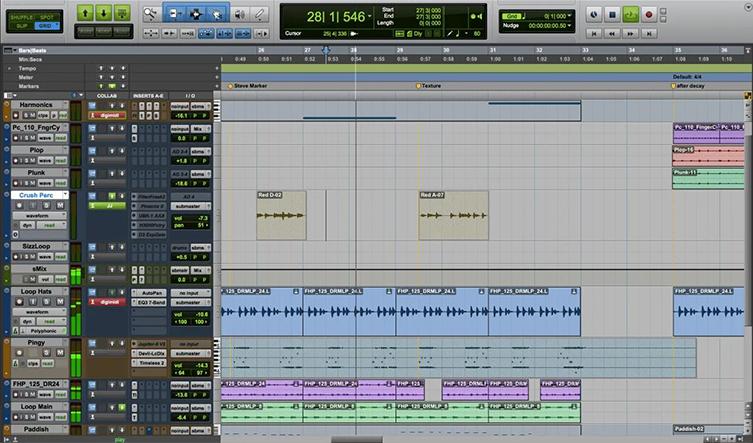 Some time ago, this music production software was surrounded by a mystical halo, and many believed that it produced the best sound. This opinion was formed due to the fact that it was used by world-famous professional sound engineers. The name Pro Tools was synonymous with professionalism.
Pro Tools used to be a hardware and software suite. The software was tied to hardware, it worked only with special DSP-processors, which took all the load on themselves. The computer processor did not strain at all, and the signal transmission delay became almost imperceptible. At the same time, it was impossible to just download the software and start making music.
Pro Tools is also distinguished by the fact that it does not support the VST format. Plugin developers create separate files for it. If you have ever installed compressors, reverbs or something similar, you probably noticed that, in addition to VST, the installer also offers to choose AAX or RTAS. This is the developers who took care of the owners of Pro Tools.
Pro Tools supports these formats to this day. But it has long been untied from hardware: it works autonomously with any audio interface. And even now all the software for producing music is approximately at the same level in terms of quality and functionality.
This DAW has always been positioned as the environment for editing and mixing audio tracks. It is very convenient to manage audio collections here. For example, there is an interesting feature called Strip Silence, which removes all silence from tracks. This frees up space and helps you better navigate the project.
Renoise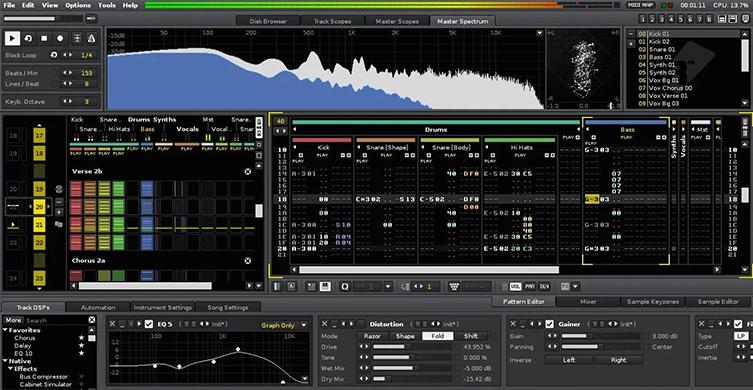 This is not a simple DAW software, it belongs to a special class called trackers. If we open the finished project, we will see vertical paths. The play cursor moves here not from left to right, but from top to bottom. Notes are also written from top to bottom. Each of them receives an alphanumeric designation.
The interface will surprise the user of a standard sequencer. But it will not surprise those who have already encountered trackers. Such programs use samples, notes, patterns, and effects (glissando, vibrato). We take a sound, change its pitch, apply effects, combine sounds into patterns and combine and that's it.
It uses regular VST plugins to generate sounds. There are also meta-devices that control the settings of instruments and treatments. But making music in this kind of software is more like programming than creating.
Production in the usual sense is out of the question here. The program allows you to create only electronic music, and in a rather specific way. But a whole musical culture has developed around the trackers. Although they are now being adapted for the general user, they still remain rather unusual. For the sake of interest, it's worth to familiarize: what if it pulls trackers into the underground culture?
What DAW software do professionals use
You can create music, mix, make arrangements, beatmaking in any DAW. But each of them has its own characteristics:
Amped Studio – low demands on computer resources, quick and easy access from anywhere in the world, ease of use, as well as the ability to collaborate on the process of creating music;
FL Studio is good for creating beats;
Cubase – for sound recording, arrangement and mixing;
Pro Tools is oriented for mixing and editing;
GarageBand – for fast mobile production;
Abletone Live is well suited for stage performances;
Feature Reaper – customization;
Reason attracts with an interface that simulates racks and analog instruments;
Logic Pro is for Apple users;
Studio One, Mixcraft, Digital Performer, Bitwig Studio are more neutral and versatile;
Renoise is something very specific.
But the general principles are similar for all DAW software. All sequencers offer roughly the same set of production tools. They do not differ in sound at all. The quality of your sound depends only on your sound card, studio monitors (or headphones), microphones and instruments. And also from plugins that process sound. But in different DAWs, the same plugins will sound the same.
Everyone rates the program on the attractiveness of the interface, ease of navigation, functionality, built-in plugins and sample libraries. To choose the best option for yourself, you just need to test: download the trial version and start making music.