BitCrusher
The BitCrusher is an effect producing distortion-like sounds and lofi artifacts by reducing the sample rate or resolution of audio signals.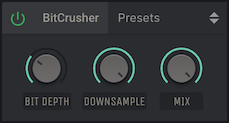 BIT DEPTH
Use to reduce the bit depth, or resolution, of audio signals.
DOWNSAMPLE
Use to reduce the bandwidth and sample rate of audio signals.
MIX
Set how much of the original or processed signal you want to hear. With a value of 1.0 you hear only the processed signal.