VST/Remote (experimental)
The VST/Remote application for Windows and macOS is a VST host that provides experimental support for VST plugins in Amped Studio. This functionality is in a beta stage and as such you may experience bugs with the host or issues with some plugins. If you run into issues with some plugins or the host, please report them to our support.
Current VST/Remote limitations:
• VST/Remote can only run 64-bit VST2 plugins. Other plugin formats are not supported.
• You can only use one active VST at any given time in a project. You can add several VST/Remote devices but only one will be active.
• It is not possible to automate VST parameters.
INSTALLING AMPED VST/REMOTE
On Mac, launch Amped VST Remote from the Applications folder to complete installation. This is required before it can be used in the studio.
USING VST/REMOTE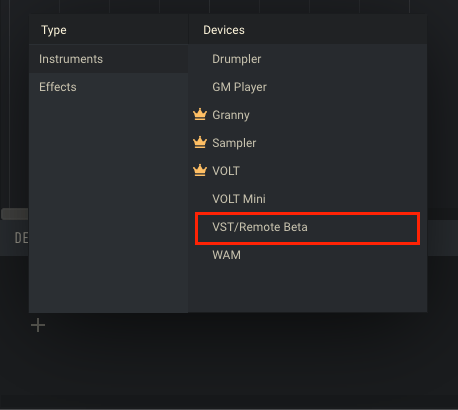 In the Device Chain in Amped Studio click to add a new Device and then select VST/Remote Beta in the list of devices. It does not matter if you select it from the Instruments or Effects list, VST/Remote will display all installed VST2 plugins on your computer.
If VST/Remote is not already running on your computer, you will see a pop up asking to launch the host application. When the application is launched you will see an icon in the System Tray on Windows or in the Menu Bar on macOS.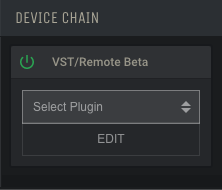 In the VST/Remote device in the studio, click Select Plugin, and from the list select the plugin you would like to use. The plugin will load and you can now use it in your project.
You can add several VST/Remote devices to your project but only one can be active at a time. When you add a new one other VST/Remote devices will by deactivated, indicated by the grey colored power button. You can toggle between different VSTs by pressing the power button on the VST/Remote. This will switch to the VST loaded in that device and deactivate the one you had active previously.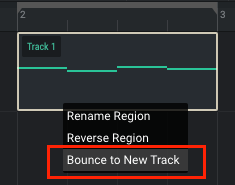 As a workaround to only being able to use one VST at a time you can right-click a region and select "Bounce to New Track". This will create a new audio region with all Devices from the original track mixed into the audio file.
NO VST PLUGINS LISTED?
The Amped VST/Remote host application will search for VST2 plugins in some default locations on your computer. If you have installed your VST plugins in a custom folder they wont be listed in the VST/Remote device.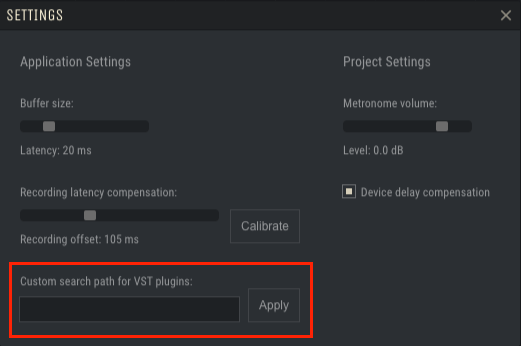 To add your custom VST2 folder, in Amped Studio, click the main menu and go to Settings. In the settings window paste the path to your VST2 plug-in folder.
To copy the folder path in Windows: Open your VST2 folder. Left-click in the empty space of the Windows Explorer address bar to see the folder path and then copy it.
To copy the folder path in macOS: right-click the folder, hold down Alt, and then select "Copy … as Pathname".
Paths searched by default on Windows:
C:\Program Files\VSTPlugins
C:\Program Files\Steinberg\VSTPlugins
C:\Program Files\Common Files\VST2
C:\Program Files\Common Files\Steinberg\VST2
Paths searched by default on Mac:
/Library/Audio/Plug-Ins/VST
~/Library/Audio/Plug-Ins/VST
QUITTING AMPED VST/REMOTE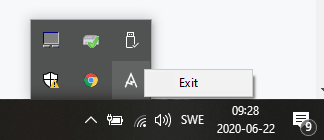 In Windows, right-click the application icon in the System Tray and select the option to exit.

In macOS, left or right-click the application in the Menu Bar and select the option to quit.