Chorus
Chorus is a delay modulation effect that can be used to create more lush and larger sounds out the original audio signal. It does this by creating delayed copies of the audio signal, modulating their delay with an LFO and mixing it together with the original audio.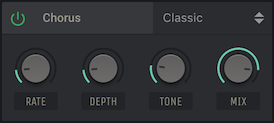 RATE
Set the frequency of the LFO. Higher frequencies means faster modulation.
DEPTH
Set the amount of modulation added to the incoming audio signal.
TONE
A highpass filter added to the effected signal.
MIX
Set the mix between the original and effected signal.