Granny
Granny uses granular synthesis to create unique sounds. Granular synthesis works by loading in a sample and splitting this into tiny pieces, or grains, and then rearranging the playback of these grains in almost any way imaginable to create new sounds.
When working with grains it is quite easy to create static sounds. To make these sound more interesting Granny has a LFO built in that can modulate certain parameters highlighted with green text. Either click the MODULATIONS text or hold down Shift to adjust the amount. Clicking PARAMETERS brings you back to default mode or simply release the Shift button.
WAVEFORM DISPLAY

Drag any sound from the library here to import samples. The yellow arrows determine the start and end position of the loop area from where the grains are fetched.
SAMPLE OSC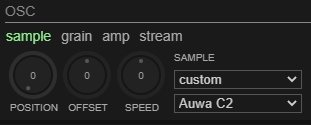 POSTITION
Determines start position within the loop.
OFFSET
Creates a stereo widening effect by offsetting either right or left channel.
SPEED
Sets speed and direction of how the position progresses through the sample.
GRAIN OSC

DURATION
Increases the grain period. The shorter the grains the pitch of the grains change to the frequency of which the grains repeat. The longer the grains the pitch changes more to the original sample pitch.
KEYFOL
Key follow determines how the duration changes according to what note you are playing.
PITCH R
Pitch Random sets the range of which the grains pitches are randomized.
LENGTH
Shortens the length of the grain but not its duration.
SHAPE
Selects the type of shape for the grain.
AMP OSC

LEVEL
Adjust overall output from the grain oscillator. Increasing number of grains naturally raises the output which can be compensated by lowering the level. Alternatively, if you have selected a very quiet portion of the sample you can raise the level to compensate for that.
GAIN
Adjust the output level of grains fetched from quieter parts of the sample. By doing so you can lose the natural dynamics of the original sample.
WIDTH
Narrows the stereo width.
STREAM OSC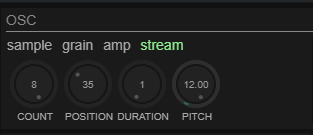 COUNT
Sets the number of grain streams.
POSITION
Sets the start position within the streams.
DURATION
Sets the duration of the streams.
PITCH
Adjust the pitch of the streams.
PITCH SECTION

OCTAVE
Adjust the pitch in octaves.
COARSE
Adjust the pitch in semitones.
FINE
Adjust the pitch in cents.
FORMANT
Changes the pitch of the original sample.
FILTER SECTION

ADSR
Adjusts Attack, Decay, Sustain and Release of the filter Envelope. To activate and set the amount click MODULATIONS or hold down Shift and the click and drag FREQ knob.
FREQ
In PARAMETERS mode this works as a simple lowpass filter, in MODULATION mode it sets Envelope amount.
RESO
Emphasizes the frequencies around the cutoff point.
AMP SECTION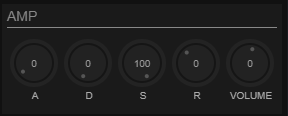 ADSR
Adjusts Attack, Decay, Sustain and Release of the Amplitude Envelope.
VOLUME
Adjust overall output level.